One Pot Lasagna Soup
Quick and easy one pot lasagna soup recipe made with simple ingredients on stovetop. This 30 minute meal is loaded with noodles, tomatoes, ground beef and cheese.
One pot meals and recipes like this quick lasagna soup are what makes dinner time manageable for me.
My family loves this soup. It has all the flavors of a classic lasagna with half the mess, half the time and just as good flavor, if not better.
I bet you already have these lasagna soup ingredients!
The ingredient list might look long but they are items that you probably already use in your daily cooking.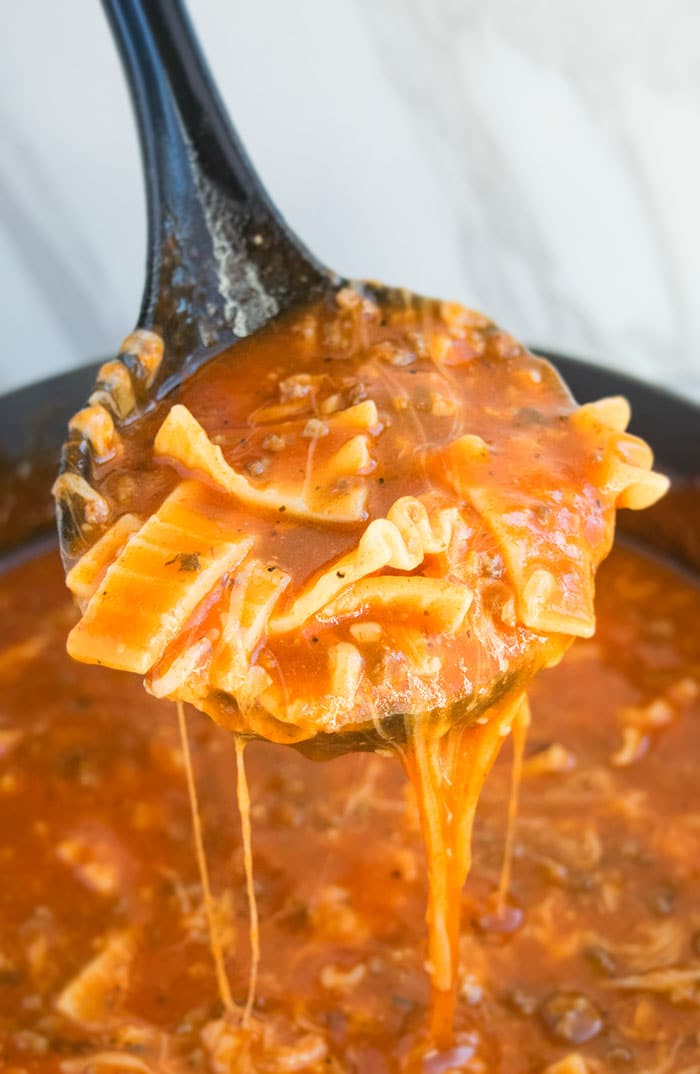 Lasagna soup recipes variations:
Healthy Lasagna Soup– Replace beef with frozen vegetables of your choice. Use vegetable broth and low fat cheese.
Cheesy Lasagna Soup– Add more mozzarella and parmesan cheese along with ricotta cheese to make a really creamy soup.
Chicken Lasagna Soup– Replace beef with 1-2 cups shredded rotisserie chicken.
Vegetarian Lasagna Soup/ Vegan Lasagna Soup– Use vegetable broth, vegan cheese, vegetarian beef crumbles and 1/2 cup frozen vegetables.
Don't use this recipe to make slow Cooker Lasagna Soup/ Crockpot Lasagna Soup or Instant Pot Lasagna Soup.
That's because less liquid needs to be used for those versions.

How to make lasagna soup?
Cook the ground beef with Italian seasoning and garlic and drain fat.
Add pasta sauce, broth, all the seasonings, noodles.
Cook until pasta is fully cooked and stir in heavy cream.
Turn off heat and sprinkle fresh basil, shredded cheese on top and you are done.
How to thicken lasagna soup?
There are 3 different ways:
Add more heavy cream
Add cream cheese
Dissolve 2-3 tsp cornstarch with water and stir that into the soup
How to make lasagna soup with leftover lasagna?
Mix leftover lasagna with 1 jar pasta sauce, 1 can crushed tomatoes, 1/3 cup heavy cream, 2-3 cups broth, Italian seasoning.
Mix and bring everything to a boil.
Garnish with fresh basil and shredded cheese and serve immediately.

Tips for easy lasagna soup recipe:
-More or less broth can be added, based on the soup consistency you like.
-More heavy cream can be added to make the soup even more creamy.
-Use low sodium broth to prevent the soup from becoming too salty.
-Vegetable broth can be used instead of chicken broth.
-Instead of heavy cream, 1/2 cup- 1 cup cream cheese can be mixed into the soup at the very end.
-Instead of lasagna noodles, 2-3 cups of small shells or small elbow pasta can be used too.
-Recipe can easily be doubled to serve a bigger crowd.

Other One Pot Soup Recipes: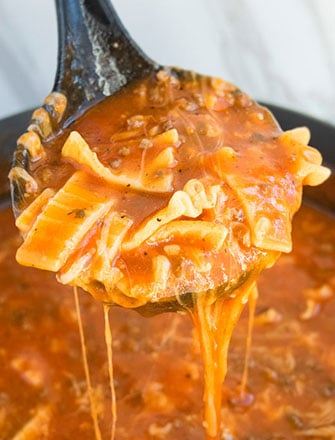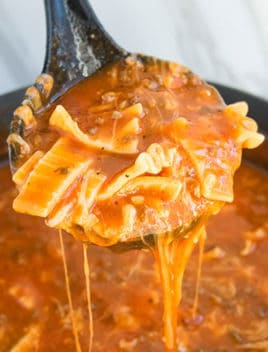 Easy Lasagna Soup Recipe
Quick and easy one pot lasagna soup recipe made with simple ingredients on stovetop. This 30 minute meal is loaded with noodles, tomatoes, ground beef and cheese.
Yield: People
Ingredients
2 tbsp Oil
1 pound Ground beef
1 cup Onion, Finely chopped
4 cloves Garlic, Finely minced
1 tsp Italian seasoning
1 jar Italian pasta sauce, 24 oz. jar
8-10 cups Chicken broth, Low sodium
1 can Crushed tomatoes, 14 oz. can
1 tbsp Vinegar
1 tsp Granulated sugar
Salt, To taste
Pepper , To taste
1 tsp Oregano, Dried
1 tsp Parsley, Dried
1/4 tsp Rosemary, Dried
1 Bay leaf
10-11 Lasagna noodles, Broken into 2 inch pieces, Uncooked
1/4 cup Basil, Fresh, Roughly chopped
1/3 cup Heavy cream
1/3 cup Mozzarella cheese, Shredded
1/3 cup Parmesan cheese, Shredded
Instructions
Add ground beef, onions, garlic, Italian seasoning and cook until until beef is brown.

Drain excess fat.

Add pasta sauce, broth, crushed tomatoes, vinegar, sugar, salt, pepper, oregano, parley, rosemary, bay leaf, lasagna noodles, half the basil.

Mix everything together and bring to a boil.

Reduce the heat to medium-low and let it simmer until noodles are fully cooked. Stir often to prevent the soup from burning and sticking to the pot.

Remove and discard the bay leaf.

Stir in heavy cream and the remaining basil.

Turn off heat and sprinkle shredded mozzarella and parmesan cheese and the cheese will start to melt immediately. Serve and enjoy!
Notes
Read all my tips above.
Leftovers can be stored in a sealed container in the fridge for up to 2 days. 
Nutrition
Calories: 579kcal, Carbohydrates: 52g, Protein: 27g, Fat: 29g, Saturated Fat: 11g, Cholesterol: 80mg, Sodium: 2305mg, Potassium: 1254mg, Fiber: 5g, Sugar: 11g, Vitamin A: 970IU, Vitamin C: 44.5mg, Calcium: 210mg, Iron: 5.2mg
Happy cooking everyone!