Creamy Mashed Potatoes Recipe (One Pot)
Quick and easy creamy mashed potatoes recipe, made with simple ingredients in one pot on stovetop. Loaded with butter and heavy cream to create silky smooth texture.
This creamy mashed potatoes recipe is one of my all-time favorites and a side I go to for almost every party or big meal we host! They are just as good as my One Pot Mashed Sweet Potatoes Recipe.
I love that I can add in different ingredients to make them the best mashed potatoes around. They are super easy, silky smooth take little time and are so creamy and delicious. They are also great MAKE AHEAD mashed potatoes for parties and potlucks.

TIPS for the best mashed potatoes recipe
Use UNSALTED butter or else these potatoes will become very salty.
You must use Russet potatoes because I believe they create the best mashed potato texture.
This recipe can easily be DOUBLED or TRIPLED to serve a larger crowd.
On the day that you are serving this, you can also make this creamy mashed potatoes recipe ahead of time and keep it covered in a warm oven or transfer them in a crockpot to keep them warm until you're ready to serve!
The potatoes must be cooked whole . DO NOT chop them!
This is NOT the low fat creamy mashed potatoes recipe – use butter because it gives this recipe flavor and adds creaminess to.
Also, only soften the butter. DO NOT not melt it because that really deteriorates the creamy texture of these mashed potatoes and makes them very "mushy" and "gooey"
You must use warm milk because it also allows everything to blend together more smoothly.

Flavor VARIATIONS for Homemade Mashed Potatoes
You can use leftover mashed potatoes to make a mashed potato casserole
.
 For garlic creamy mashed potatoes, roast the garlic first and mix that into the boiled potatoes.
For creamy cheesy mashed potatoes, add 1 cup of your favorite cheese (ricotta, feta, cream cheese, cheddar e.t.c.).
For spicy kick, add 1 finely chopped jalapeno or you can add 1-2 tsp red chili flakes. Adjust the spice factor, based on your preference.

How to make mashed potatoes?
Peel and boil potatoes.
Whip them while adding milk and heavy cream.
Add butter, salt, pepper and whip until smooth.
I have also made this smooth, creamy mashed potato recipe with:
Half and half
Heavy cream
Evaporated milk
Without cream
Cream cheese
Sour cream
However, my recipe below is no fail and family-approved and people always ask for the recipe.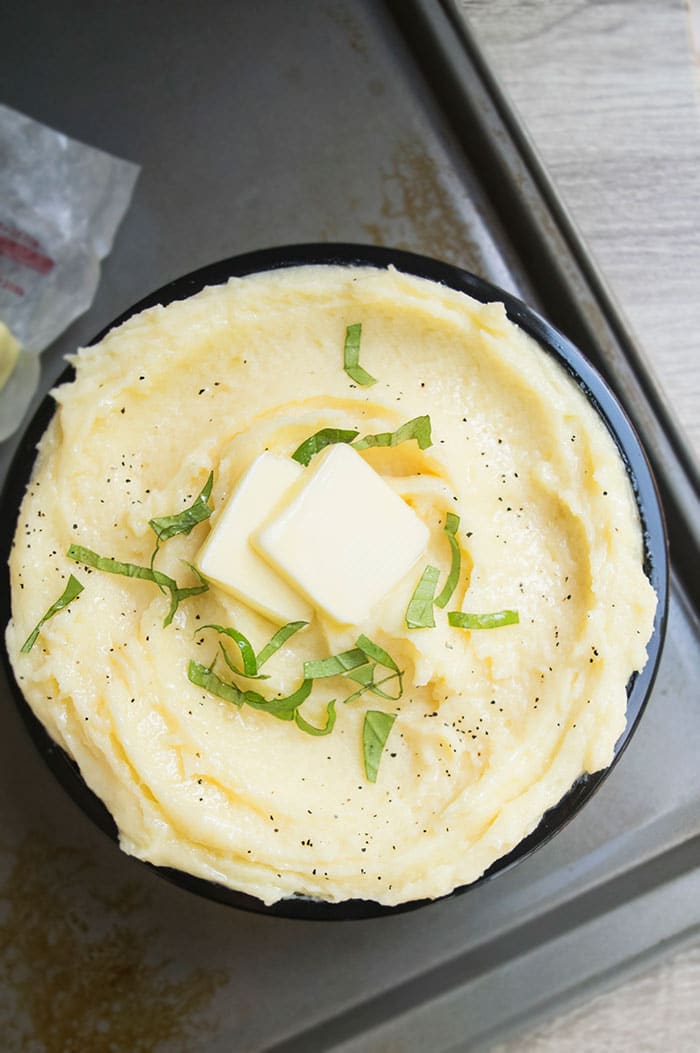 Other Side Dishes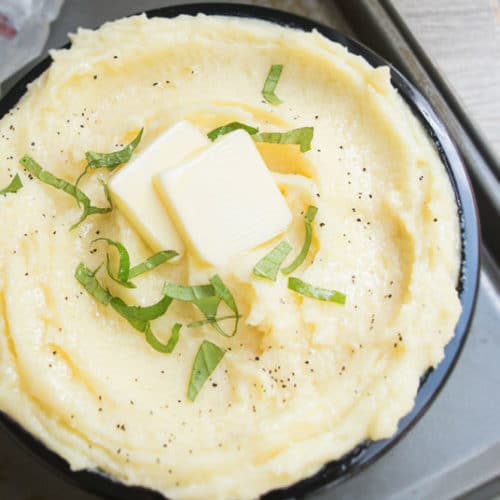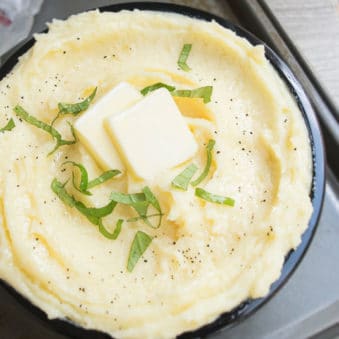 Creamy Make Ahead Mashed Potatoes (One Pot)
Quick and easy creamy mashed potatoes recipe, made with simple ingredients in one pot on stovetop. Loaded with butter and heavy cream to create silky smooth texture.
Yield: People
Ingredients
12 Russet potatoes, Peeled
3/4 cup Milk, Whole, Warm
1/2 cup Heavy cream, Warm
3/4 cup Butter, Unsalted
Salt, To taste
Pepper, To taste
2 tbsp Garnish, E.g. Parsley, chives, basil, cilantro
Instructions
In a large pot, add the peeled potatoes and boil them on medium high heat until they are soft.Tip: You will know it's time to remove the stockpot from heat when the center of potatoes can easily be pierced with a fork.

Drain water and place potatoes in the same pot.

Whip them, while adding milk and heavy cream.

Finally, add butter, salt and pepper and whip until fluffy.

Garnish with finely chopped parsely, chives, cilantro, basil e.t.c and enjoy!
Notes
Read all my tips above. 
Leftovers can be stored in a sealed container in the fridge for up to 2 days. 
Nutrition
Calories: 752kcal, Carbohydrates: 94g, Protein: 12g, Fat: 38g, Saturated Fat: 23g, Cholesterol: 109mg, Sodium: 293mg, Potassium: 2206mg, Fiber: 6g, Sugar: 5g, Vitamin A: 1260IU, Vitamin C: 29.1mg, Calcium: 131mg, Iron: 4.4mg
Happy cooking everyone!