Pasta Fagioli /Pasta E Fagioli (One Pot)
Quick & easy pasta fagioli recipe/ pasta e fagioli, made in one pot in 30 minutes on stovetop. Packed with simple ingredients: Italian herbs, beef, beans, vegetables.
This one pot pasta fagioli is also known as pasta e fagioli is a popular Italian soup, which translates into "pasta and beans." It's one of my favorite Italian soups just like this One Pot Tomato Tortellini Soup or this One Pot Lasagna Soup.
This is the best pasta fagioli soup recipe/ pasta e fagioli soup ever!
Trust me, this is no boring soup! It's hearty and loaded with flavor from lots of Italian herbs and the addition of pasta makes it a filling meal, unlike many other soups.
This is very similar to the Olive Garden pasta fagioli recipe!
However, I wouldn't call this an exact copycat because I feel like there is still a subtle difference between my recipe and the original recipe from the restaurant.

Tradition Italian pasta fagioli recipe
Based on my readings, pasta fagioli is literally means "pasta and beans." It doesn't have lots of vegetables aside from onion and garlic. It seems that traditional recipe has changed and evolved into what we all enjoy today, becoming very similar to minestrone soup.
How do you make pasta e fagioli? How do I make pasta fagioli? How to make pasta fagioli?
Cook the ground beef and drain fat.
Add onions, celery, carrots, garlic, ginger.
Add tomatoes, broth, herbs and seasonings and bring to a boil.
Add pasta until halfway cooked.
Add beans and let it all simmer until pasta is al dente.
Garnish with fresh parsley or basil and you are done.
What is the difference between minestrone and pasta e fagioli recipe?
They are both very similar. Minestrone soup is typically vegetarian without any beef and the other one has beef. However, I have also read that fagioli was a very simple soup with just pasta, beans, broth and herbs and there was no meat or many vegetables aside from onion and garlic.

Vegetarian pasta fagioli
Just omit the ground beef or sausage and replace chicken broth with vegetable broth to make this recipe totally vegetarian.
Crockpot/ Slow cooker pasta e fagioli
Add all the ingredients except for the pasta and beans in the slow cooker and cook on high for 3-4 hours. Add the pasta and beans and cook on high for an additional 30-35 minutes or until pasta is fully cooked.
What are the ingredients in pasta fagioli? What's in pasta fagioli?
Ground beef
Ditalni pasta
Tomatoes
Celery
Onion
Carrots
Zucchini
Broth
Beans
Lots of herbs and spices (salt, pepper, basil, parsley, marjoram, thyme, oregano, rosemary)
Does pasta e fagioli have meat?
Yes, traditionally it is made with ground beef or ground Italian sausage.
What sides do you serve with this soup?
Breadtsticks
Garlic bread
Cornbread
Biscuits
Pull apart bread
Dinner rolls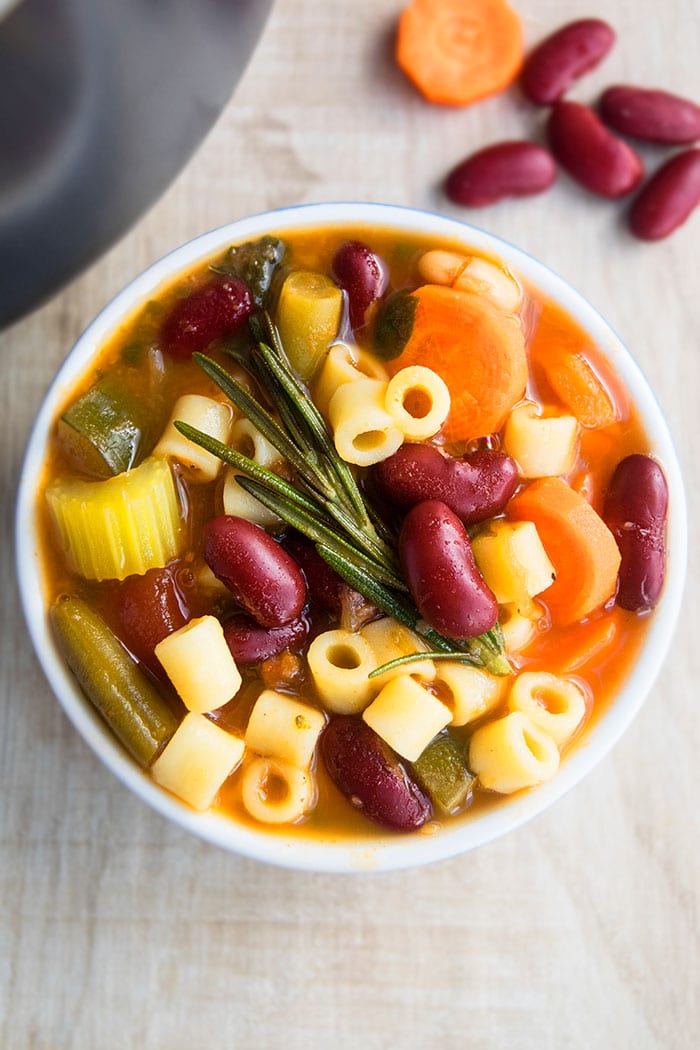 Tips for easy pasta fagioli recipe:
Use low sodium broth to prevent the meal from becoming too salty.
If you don't have Ditalini pasta, you can use small shells too.
If the soup is too thin, cook it on high heat for a bit longer until liquid is reduced and soup is thickened to your desired consistency.
If the soup is too thick, add more broth or water and cook for a few minutes until you are satisfied with consistency.
Zucchini is entirely optional but I add it since that's the only way I can get my family to eat zucchinis.
Adjust the amount of seasonings, based on your preference.
To make this soup creamy, add 3/4 cup heavy at the end and garnish with 1/2 cup parmesan cheese.
Don't drain or wash the beans. Just dump the whole can into the pot.
Other One Pot Soup Recipes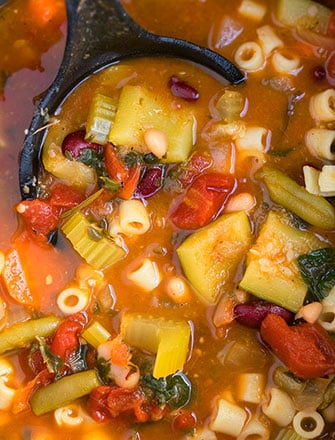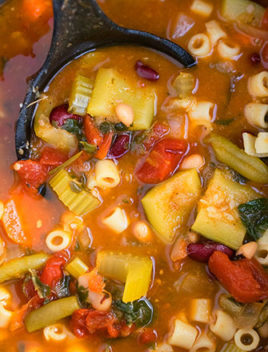 One Pot Pasta Fagioli/ Pasta E Fagioli
Quick & easy pasta fagioli recipe/ pasta e fagioli, made in one pot in 30 minutes on stovetop. Packed with simple ingredients: Italian herbs, beef, beans, vegetables.
Yield: People
Ingredients
2 tbsp Olive oil
1 pound Ground beef, Or spicy Italian sausage with casing removed
3 tbsp Garlic, Finely minced
1 tbsp Ginger, Finely minced
1 Onion , Medium size, Finely chopped
1 cup Carrots, Peeled, Diced
1 cup Celery, Diced
6 cups Chicken broth, Low sodium
1 can Tomato sauce, 16 oz. can
1 can Diced tomatoes, 15 oz. can
1 tsp Basil, Dried
1.5 tsp Oregano, Dried
1 tsp Thyme, Dried
1 tsp Parsley, Dried
1/2 tsp Marjoram, Dried
1/4 tsp Rosemary, Dried
Salt , To taste
Pepper, To taste
1 1/3 cup Ditalini pasta, Uncooked
1 can Red kidney beans, 15 oz. can
1 can Great Northern beans, 15 oz. can
1 Zucchini, Medium size, Diced, Optional
1-2 tbsp Fresh basil or parsely, Roughly chopped, For garnish
Instructions
Add ground beef or Italian sausage and cook until brown. Drain fat.

Add garlic, ginger, onion, carrots, celery, zucchini and cook until tender all vegetables are tender.

Add broth, tomato sauce, diced tomatoes, basil, oregano, thyme, parsley, marjoram, rosemary, salt, pepper and bring everything to a boil.

Reduce the heat to medium low and add the pasta and let it simmer until pasta is halfway cooked. Be sure to stir occasionally to prevent soup from burning and sticking to the pot.

Add beans and zucchini and cook until pasta is al dente.

Garnish with fresh basil or parsley and freshly shredded parmesan cheese and serve immediately.
Notes
Read all my tips above.
Leftovers can be stored in a sealed container in the fridge for up to 3 days. 
Nutrition
Calories: 383kcal, Carbohydrates: 38g, Protein: 20g, Fat: 16g, Saturated Fat: 6g, Cholesterol: 53mg, Sodium: 1587mg, Potassium: 1198mg, Fiber: 5g, Sugar: 10g, Vitamin A: 4310IU, Vitamin C: 41.2mg, Calcium: 104mg, Iron: 4.6mg
Happy cooking everyone!