Spinach Artichoke Dip (One Bowl)
The best, quick and easy spinach artichoke dip recipe, homemade with simple ingredients in one pot in 20 minutes. Rich, creamy, cheesy. Great for spreading or dipping!
This dip is always a favorite at parties, on game day (football season), and even for weeknight dinners or formal dinner parties. It's warm and creamy and can be eaten with vegetables, crackers, bread, just like this Tzatziki Sauce (One Bowl) or this Buffalo Chicken Dip (One Pot). I love to serve this dip in a bread bowl for parties to make it visually beautiful as well.
The versatility of dips like this, where they can be used as a dip or as a topping for something else, make them a go-to recipe that I use all year long.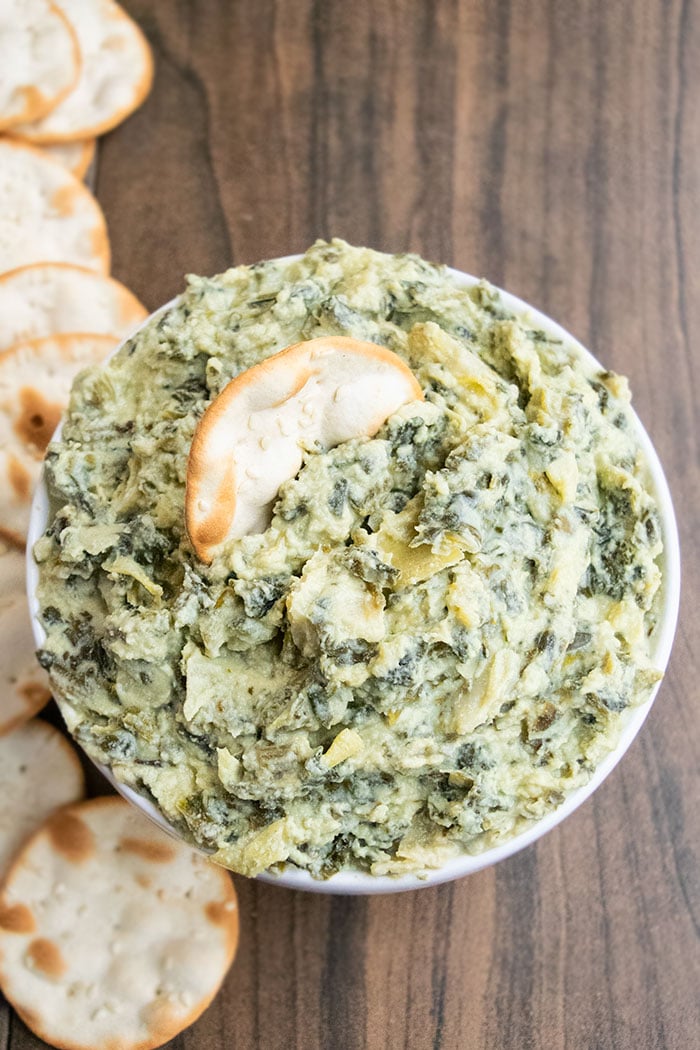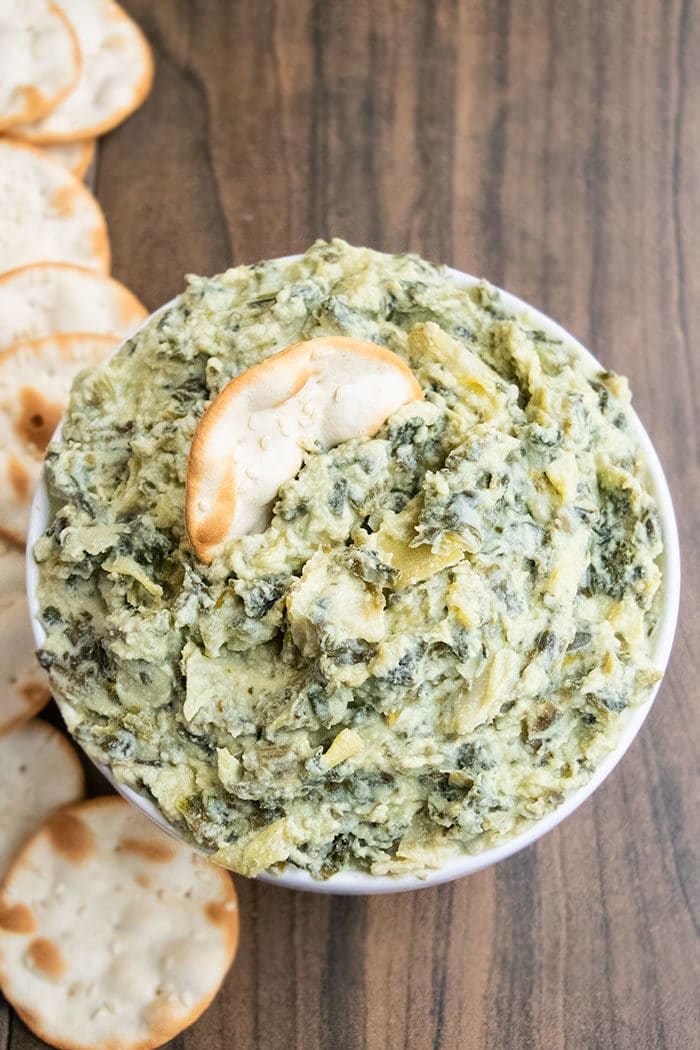 How to make spinach artichoke dip?
Heat cheese– Warm cream cheese in 30 second increments in the microwave.
Mix in other ingredients– Add artichoke, spinach, mayo, sour cream, mozzarella cheese, parmesan cheese, garlic, salt, pepper and mix until everything is just combined.
Heat again– Microwave for 1 minute and stir again.
Enjoy– Serve with crackers or veggies. Enjoy!
What to serve with hot spinach artichoke dip?
It's usually served as an appetizer with crackers, tortilla chips and pita chips. But, you can also serve it with vegetables like carrots, peppers, cucumbers, celery. They are firm veggies and perfect for dipping.
Get creative and serve the dip in bread bowl for a beautiful presentation. If you are a bread lover, serve along with breadsticks, slices of flatbread, naan, crostini
Is spinach and artichoke dip recipe supposed to be served hot or cold?
I prefer it hot, warm or even at room temperature but it can also be served cold. It's entirely a personal preference.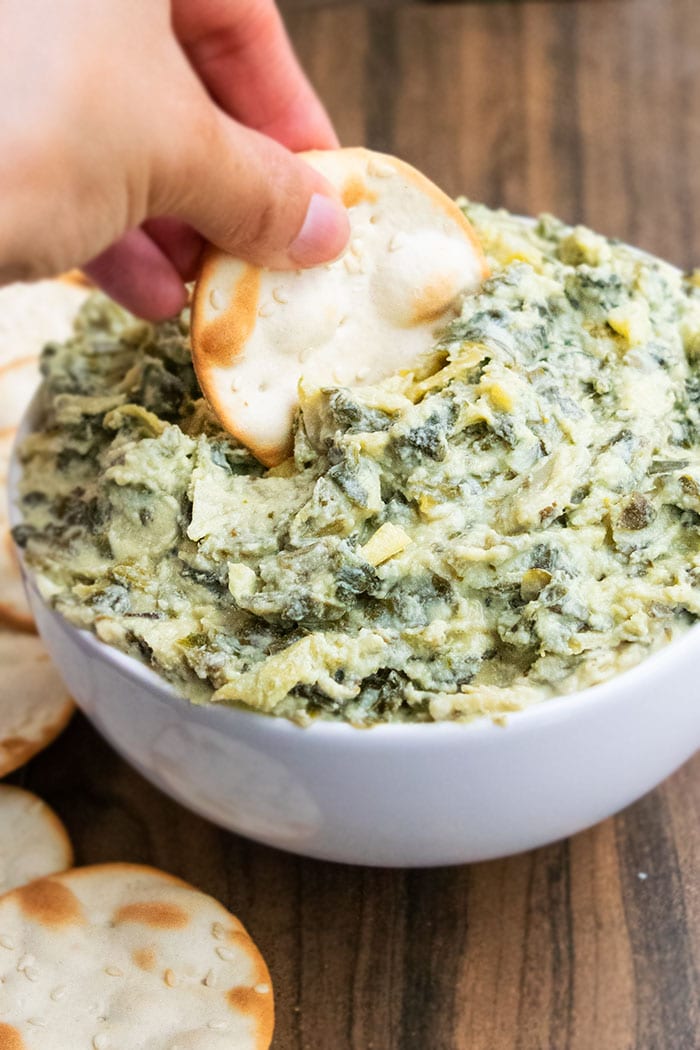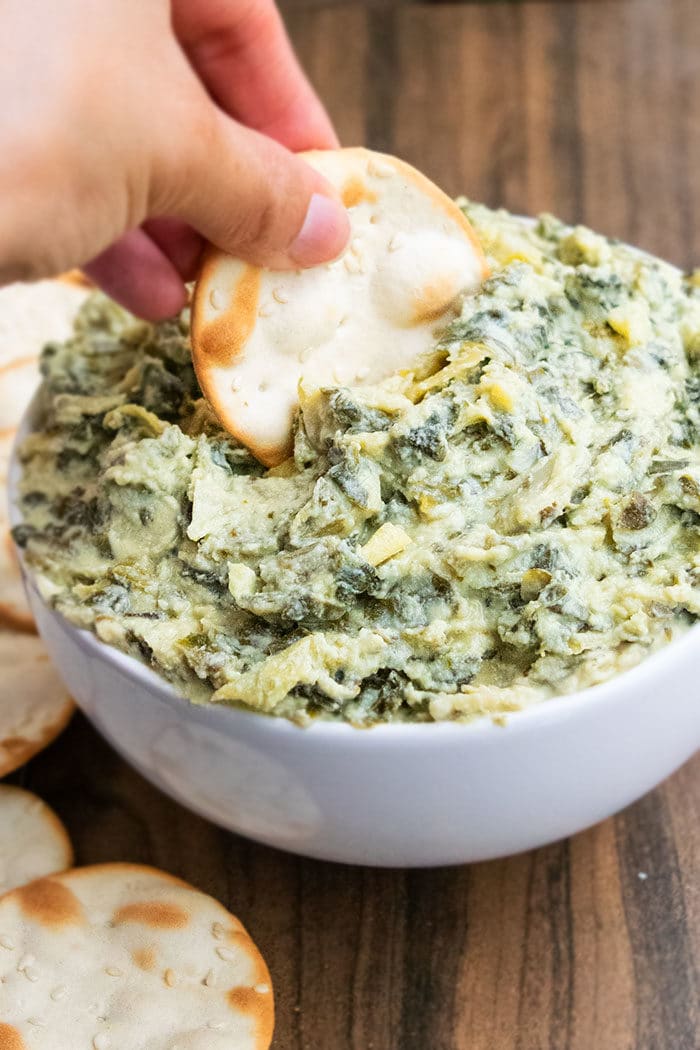 Variations
Slow cooker/ crockpot spinach artichoke dip– Mix all ingredients in the crockpot and cook on low for 2 hours. Stir halfway through.
Oven baked spinach artichoke dip– Spread dip mixture in a casserole dish and top off with lots of shredded mozzarella cheese. Bake uncovered at 350 degrees for 5-10 minutes, until golden brown on top and cheese is fully melted and bubbly.
Make it more cheesy and creamy– Add more cream cheese or another cheese like Asiago, Gruyere, or Swiss Cheese. This will also make it creamier too.
Add some herbs and spices– Add smoked paprika for a warm flavor. Italian seasoning or garlic would also be delicious additions.
Omit artichokes– That will make a simple spinach dip.
Make it healthier– Use low-fat cheese, or use Greek yogurt instead of sour cream to increase the protein and lower the fat content.
Use dip as a topping or stuffing– Bake chicken breasts in the oven. Then top them with the dip and broil 1-2 minutes. Watch carefully because all ovens vary when it comes to broiling. Broil till lightly golden on top. You can even butterfly your chicken breasts and stuff this dip in the middle, and then bake in the oven.
Make it spicy– Add red chili flakes or cayenne pepper for some spice. You could even add a can of green chilis!
Add bacon– Sprinkle cooked crumbled bacon bits on top, prior to serving.
Add seafood– Add cooked and diced shrimp, or cooked crab to this dip for a hearty and healthy addition.
Serve over pasta– Add a little cream or whole milk to the dip, and mix it into your favorite pasta. Mix it into a mac n' cheese recipe to elevate a simple meal.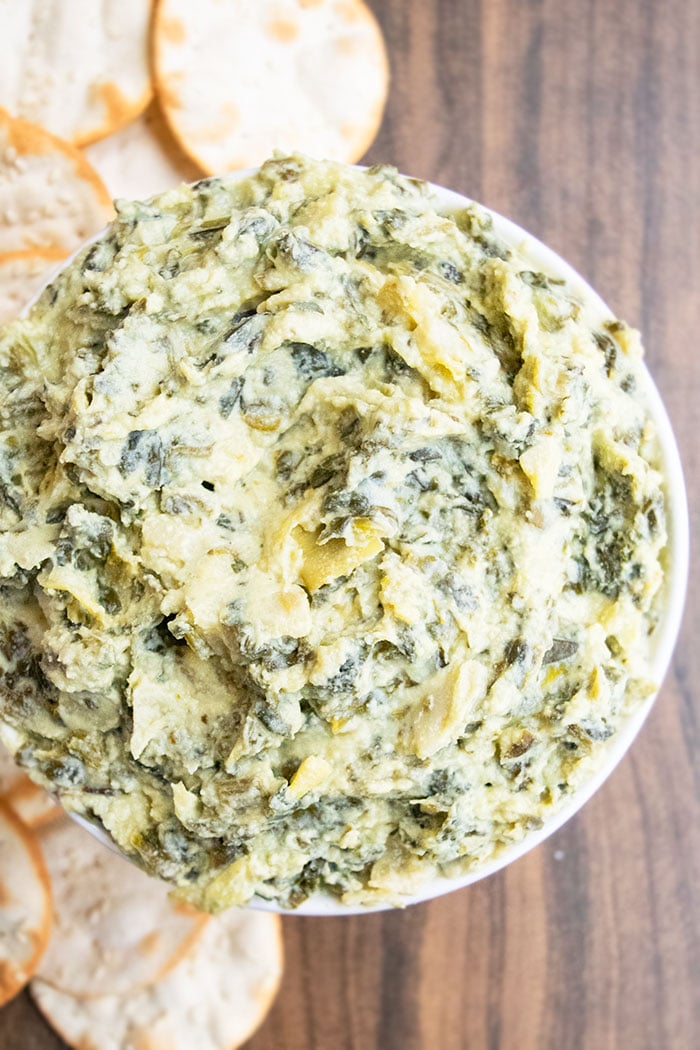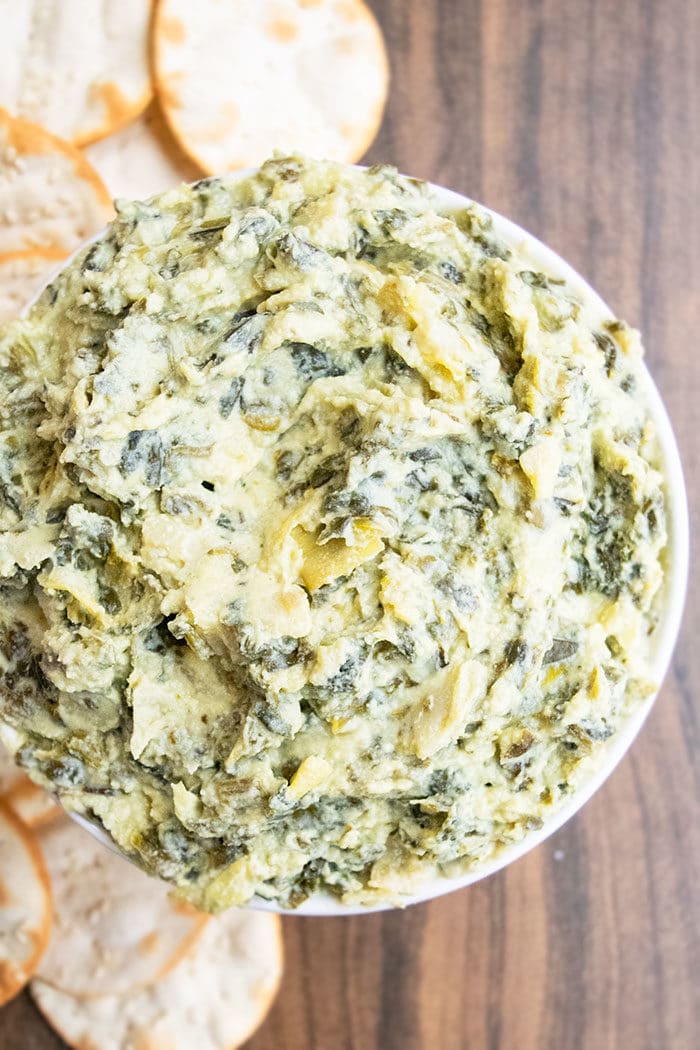 Tips and Techniques
Fresh spinach vs. Frozen spinach– Either can be used. I prefer frozen since I always have it on hand. Be sure to let it thaw and squeeze out excess water. If you are using fresh spinach, steam it and blanch it in ice cold water. Then, squeeze out excess liquid and chop it all up. There is definitely more work involved, if using fresh spinach.
How to squeeze out excess liquid from spinach? You can use a cheesecloth to wring out the excess water, or even a thick paper towel will usually work well. Place the wet spinach in the center, grab all 4 corners together and squeeze the liquid out. Be a little more gentle if you are using a paper towel, so it doesn't rip and causes your spinach to fall out.
Fresh artichokes vs. Frozen artichokes– Fresh artichokes would require steaming and then cutting the hearts out of the artichokes. You wouldn't be using the leaves. So, you can eat them separately or discard them. Frozen or jarred artichokes are much easier to use. Simply, thaw and drain the frozen artichokes and then chop them up to add into the dip. If you are using jarred artichokes, drain the liquid and chop the artichokes before adding them.
You must drain canned artichokes– Make sure to drain the artichokes! The excess liquid will make the dip watery and runny if it isn't drained. You want the dip to be thick and creamy.
How to store this spinach dip? How long is it good for? Store the dip in a sealed container in the fridge for up to 2 days.
Can this dip be made ahead? Yes, the dip can be mixed all together. Then, store in the fridge in a sealed container until you are ready to heat it in the microwave or oven.
Use full fat ingredients– This is what gives this dip the creamy, cheesy, gooey fullness. Full-fat ingredients will taste the best!
Can I use marinated canned artichokes? I wouldn't recommend it because it will make the whole dip taste like the marinade. Use artichokes packed in plain oil or water.
Can this dip be frozen? No, I don't recommend it because cream cheese does not thaw well and the consistency becomes lumpy and watery.
More One Pot Appetizers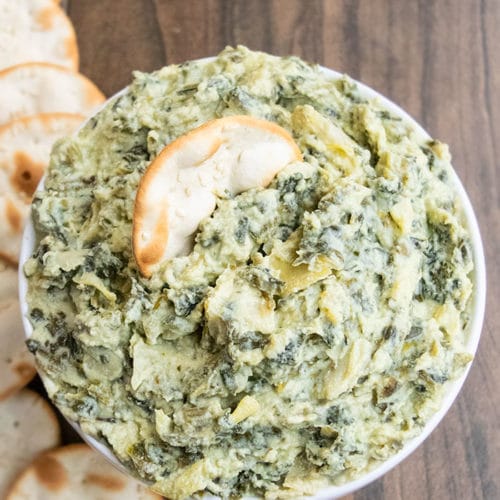 One Pot Spinach Artichoke Dip
Quick & easy spinach artichoke dip recipe, homemade with simple ingredients in one pot in 20 minutes. Rich, creamy, cheesy, great for spreading or dipping!
Yield: People
Ingredients
1 package Cream cheese, 8 oz. package, Full fat
1 can Artichoke hearts, 14 oz. can, Liquid drained, Chopped up
8 oz. Frozen spinach, Thawed and excess liquid squeezed out, Roughly 3/4 cup
1/3 cup Mayonnaise, Full fat
1/2 cup Sour cream, Full fat
3/4 cup Mozzarella cheese, Shredded, Full fat
1/3 cup Parmesan cheese, Shredded
1 tsp Garlic powder
Salt, To taste
Pepper, To taste
Instructions
In a large microwave-safe bowl, add cream cheese.

Heat in the microwave in 30 second increments, mixing often, until cheese becomes soft and smooth.

Add artichoke, spinach, mayo, sour cream, mozzarella cheese, parmesan cheese, garlic, salt, pepper.

Mix until just combined (I mixed it a bit too much and the artichokes broke apart but it still tasted great and no one cared).

Heat in the microwave for another 1 minute until cheese is melted and dip is warm and ooey gooey.

If you are baking this, spread it it in a medium-sized casserole dish. Bake uncovered at 350 degrees F for about 10 minutes or until top is golden brown.

Serve with crackers and veggies. Enjoy!
Notes
Read all my tips above.
Tastes best when served immediately but leftovers can be stored in a sealed container in the fridge for up to 2 days and reheated in the microwave. 
Nutrition
Calories: 399kcal, Carbohydrates: 8g, Protein: 10g, Fat: 37g, Saturated Fat: 14g, Cholesterol: 71mg, Sodium: 671mg, Potassium: 227mg, Fiber: 2g, Sugar: 3g, Vitamin A: 5856IU, Vitamin C: 16mg, Calcium: 256mg, Iron: 1mg
Happy cooking everyone!