Bacon Wrapped Dates (One Pan)
Quick and easy bacon wrapped dates recipe, stuffed with goat cheese. This 30 minute appetizer is made with simple ingredients in one pot/ pan.
These are a delicious appetizer that are perfect for serving at dinner parties, tailgating, Super Bowl game day parties  and even New Year's parties. It's a bite-sized finger food that's sweet and salty and always a crowd-pleaser, just like these Bacon Wrapped Smokies (One Pan) or this Bacon Cheddar Ranch Dip (One Bowl).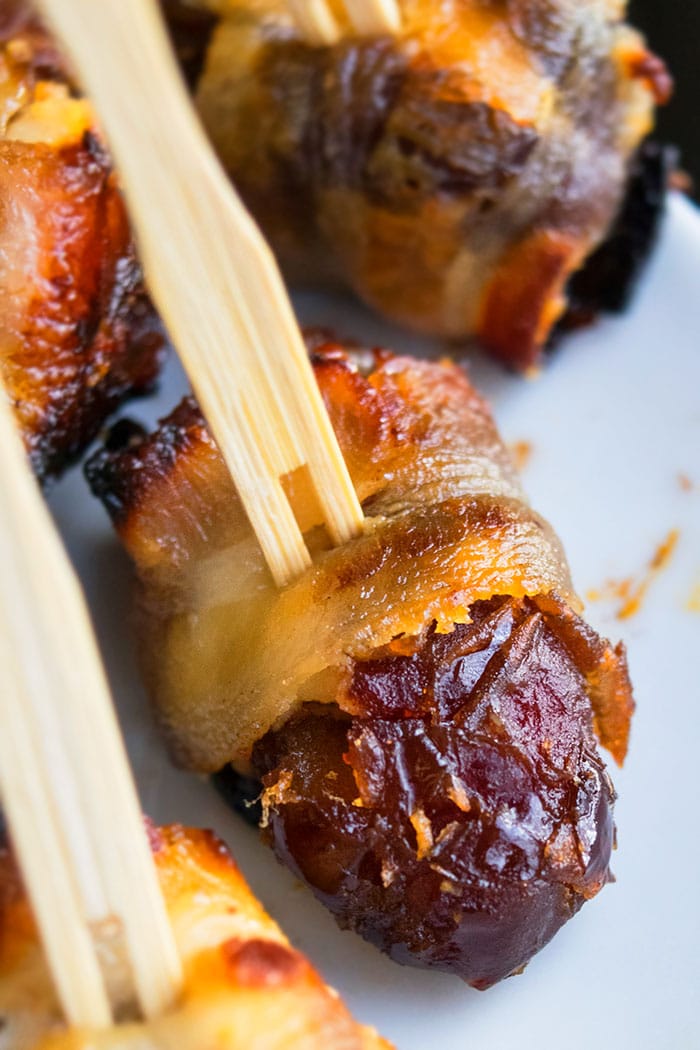 How To Make Bacon Wrapped Dates From Scratch?
Fill dates-With goat cheese.
Press them– Back together.
Wrap them– With slices of bacon.
Secure– With toothpick.
Bake– Until bacon is cooked through.
Enjoy– Serve immediately!
What To Serve With Bacon Dates And Goat Cheese?
Serve them with other bite-sized items on a charcuterie board. Include some or all of the following:
Crackers– Such as Ritz crackers, butter crackers, cracked pepper, wheat, or whatever you prefer.
Breadsticks–  Hard breadsticks work well.
Bread– Like French bread, sourdough, or ciabatta.
Cured meats– Summer sausage, salami, or other smoked meats.
Nuts– Such as walnuts, almonds, pecans, cashews, pistachios, or peanuts.
Fruit–  Apples, pears, grapes, cherries, or dried fruit like apricots.
Puff pastry- Try these Garlic Cheese Bombs (One Pan) or these Chicken Puff Pastry (One Pan) or these Cheesy Spinach puffs (One Pan) or even these Cranberry Brie Bites (One Pan).
Dips- Try this Homemade French Onion Dip (One Bowl) or this Spinach Artichoke Dip (One Bowl) or this Creamy Dill Dip (One Bowl).
What Cheese Pairs With Dates?
The best cheese options are:
Brie
Ricotta
Camembert
Smoked gouda
Sharp cheddar
Parmesan
Gorgonzola
Mozzarella
How Do You Pit Dates?
Simply slice an opening in the end of the date and dig the pit out with your fingers or the end of a knife. You can also make a small cut on the side of the date and push against the back of the date to make it pop out. Another option is to buy pitted dates if you want to skip this step entirely.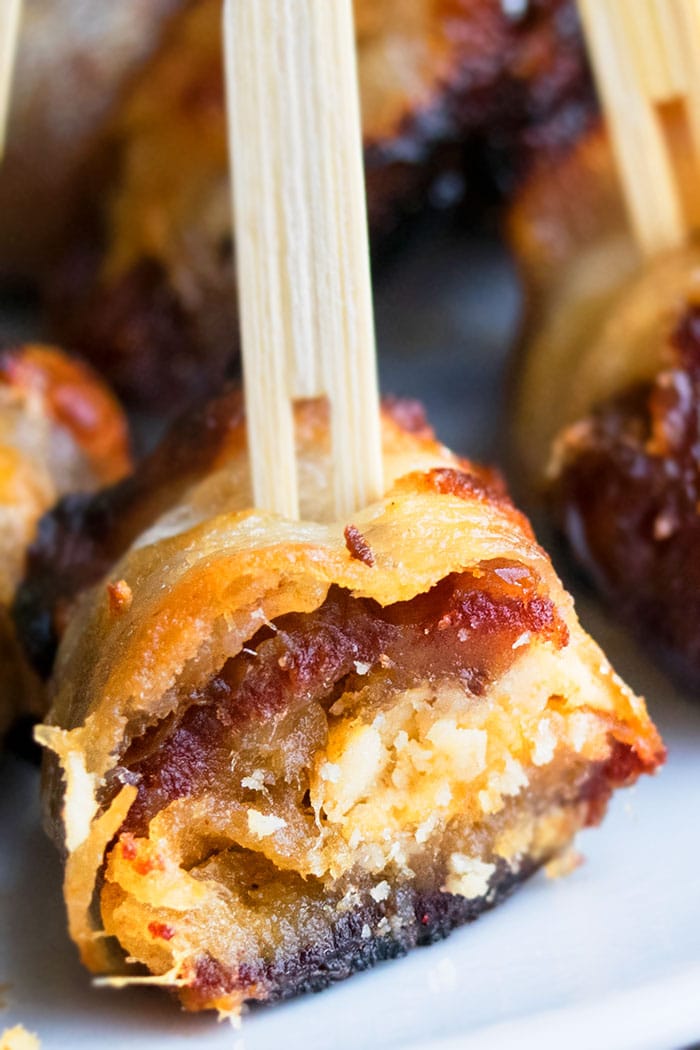 Variations For Bacon Wrapped Stuffed Dates
Wrap in prosciutto– Instead of bacon, simply wrap in prosciutto or even pancetta.
Add maple syrup topping– Drizzle with maple syrup for a sweet and salty version.
Add sugar topping– You can sprinkle brown sugar on top of the bacon and bake accordingly for a caramelized/ candied bacon version.
Try different cheeses– Stuff with cream cheese, ricotta, whipped feta, blue, brie, or gorgonzola cheese.
Add herbs and spices to cheese filling– Min in fresh basil, chives, dill, parsley, garlic powder or red chili flakes for spice.
Stuff nuts in too– Pistachios or almonds are popular choices.
Leave out cheese– Simply skip this step if you prefer a dairy free option.
Make it vegetarian– Omit the bacon, and bake for a few less minutes.
Tips And Techniques
Don't use thick cut bacon– It takes too long to cook. It will either be underdone bacon, or the dates will be overdone.
Line the baking tray with aluminum foil– Because this prevents the bacon from sticking to the tray and ripping when being removed.
Use pitted dates– Because this makes preparation even easier and faster.
Remove toothpicks before serving– This is optional but some people do it for better presentation. However, keeping it intact makes it easy for guests to help themselves.
Make sure to turn the dates during baking- Because this ensures that all sides get crispy and cooked through.
How do I know when bacon wrapped dates are done? They are done when bacon is cooked through. Bake at 350 degrees for 8 minutes. Turn the dates, then cook for another 5-7 minutes.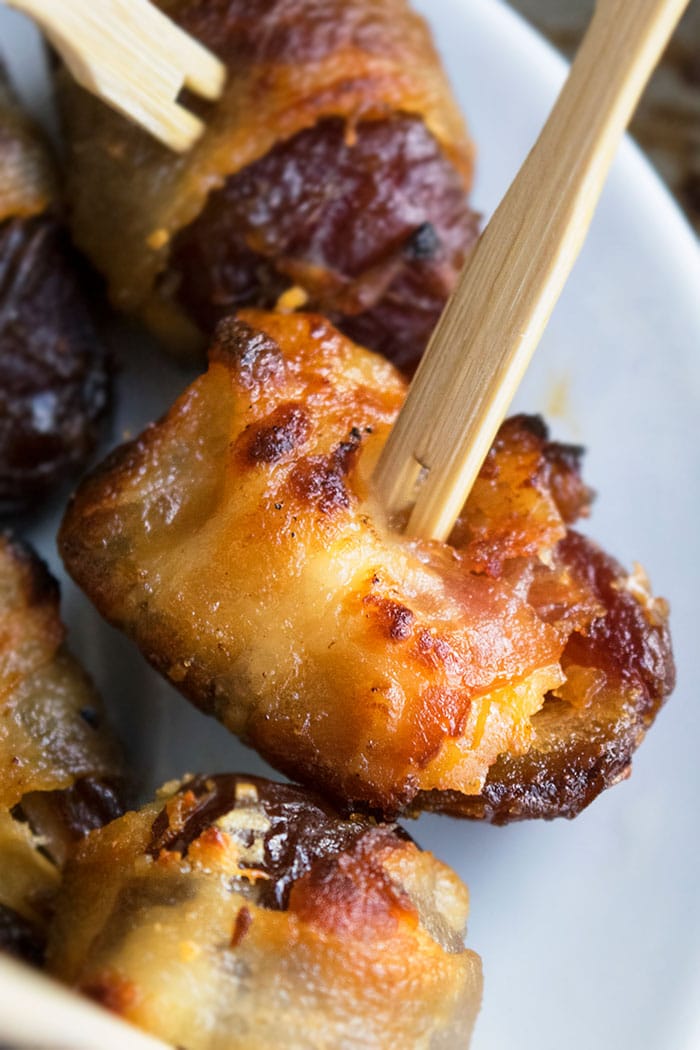 Storage
Make ahead instructions–  These can be assembled a day in advance, refrigerated, and bake before guests arrive.
Refrigerate– These are best served immediately, but can be stored in a sealed container in the fridge for up to 2 days. The bacon won't stay as crispy.
Freeze- Unbaked prepared dates can be stored in a sealed container for up to 1 month.
Reheat– Thaw in the fridge overnight and then, bake according to the instructions below. If refrigerated, reheat in the microwave or oven. The bacon will not be as crispy this time.
Other One Pot Bacon Recipes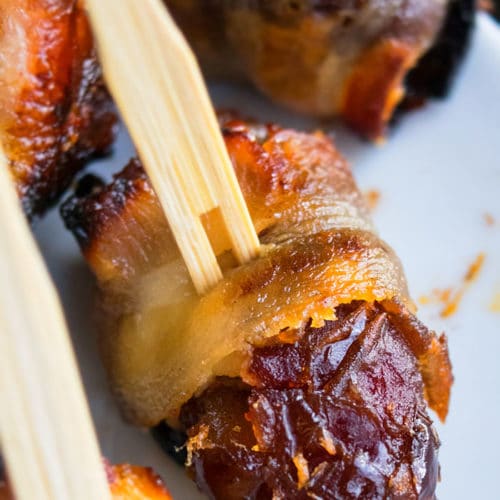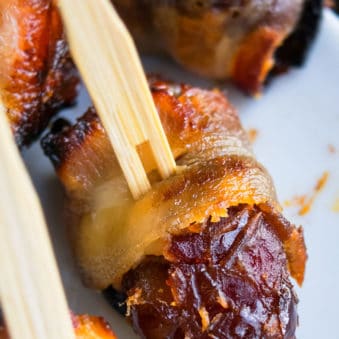 One Pan Bacon Wrapped Dates
Quick and easy bacon wrapped dates recipe, stuffed with goat cheese. This 30 minute appetizer is made with simple ingredients in one pot/ pan.
Yield: Dates
Ingredients
8 slices Bacon, Cut each strip into half
16 Dates, Preferably Medjool dates, Pitted
3/4 cup Goat cheese
Instructions
Spread out the opening on top of the dates and fill the cavity with some goat cheese. Press the sides together to close.

Wrap each date with a slice of bacon and secure with a toothpick.

Bake for at 350 degrees for about 8 minutes. Then, turn them on their sides and bake them for another 5-7 minutes or until bacon is fully cooked.

Serve immediately!
Notes
Read all my tips above.
Tastes best when served fresh out of the oven but can be stored in a sealed container in the fridge for up to 2 days. 
Nutrition
Calories: 93kcal, Carbohydrates: 5g, Protein: 3g, Fat: 6g, Saturated Fat: 3g, Cholesterol: 12mg, Sodium: 112mg, Potassium: 70mg, Sugar: 4g, Vitamin A: 115IU, Calcium: 18mg, Iron: 0.3mg