Carrot Ginger Soup (One Pot)
The best, quick, easy, creamy carrot ginger soup recipe, homemade with simple ingredients in one pot over stovetop in 30 minutes. Rich, flavorful and hearty! Also known as carrot soup.
This soup is a wonderfully comforting Fall or Winter meal. It is warm, fragrant, healthy, and quick enough to make on a busy weeknight and enjoy leftovers for lunches throughout the week too.
This recipe is a great way to sneak those extra veggies into your food. It also makes a fantastic side dish for your Thanksgiving meal.
If you have a lot of carrots, you can also use them up in these Honey Glazed Carrots (One Pot).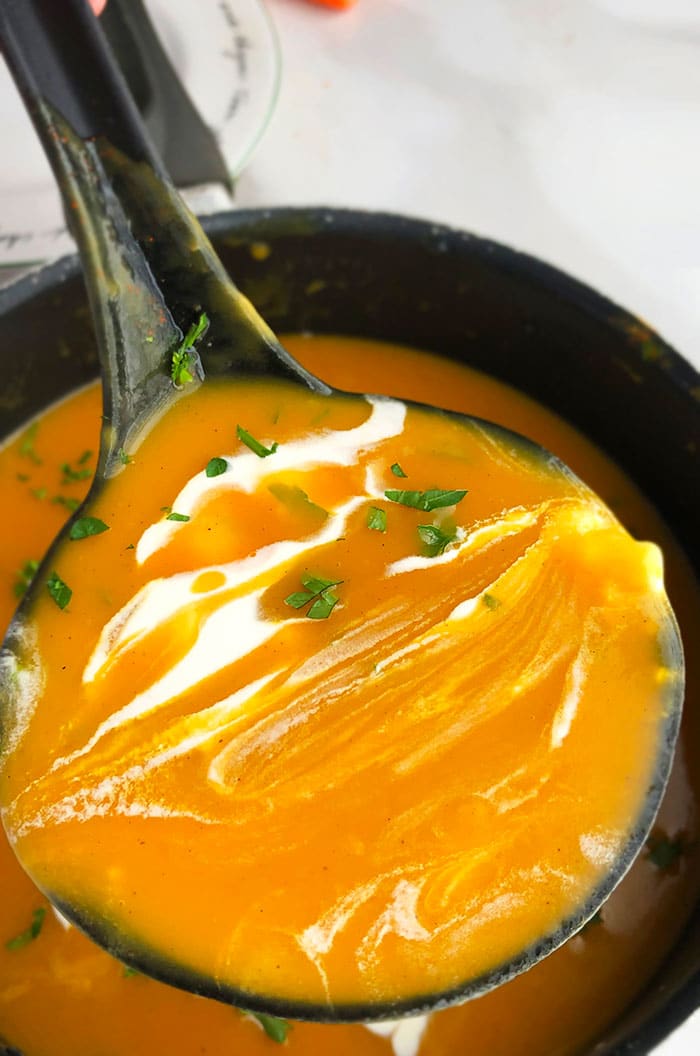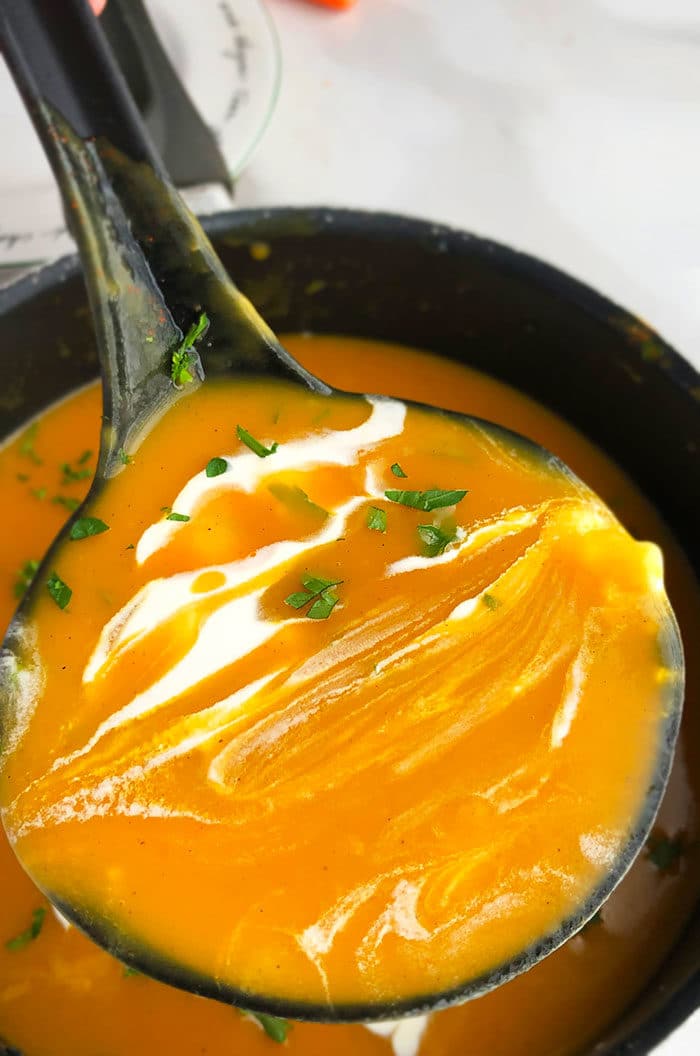 How to make carrot ginger soup?
Sauté vegetables– Sauté onion and carrots in some butter.
Sauté garlic and ginger– Do this only for a couple of minutes until the mixture is fragrant.
Add broth and spices– Mix in salt, pepper, thyme, broth and bring to a boil.
Cover and cook– About 20-25 minutes is enough to make the carrots very tender.
Puree– Use a hand-held immersion blender to puree soup until smooth.
Add heavy cream– This makes the soup thick and creamy.
Enjoy! Garnish with parsley and dig in.
What sides to serve with carrot and ginger soup recipe?
Typically, anything you can dip into a soup like ciabatta bread, breadsticks, garlic bread, or homemade biscuits will go very well with this soup, or most soups in general.
You can also serve it with a simple green salad or a grilled cheese sandwich.
To make it more filling, top it off with some seasoned croutons.
Should this soup be served hot or cold?
I prefer this soup hot, but it's a personal preference. It can be served cold too.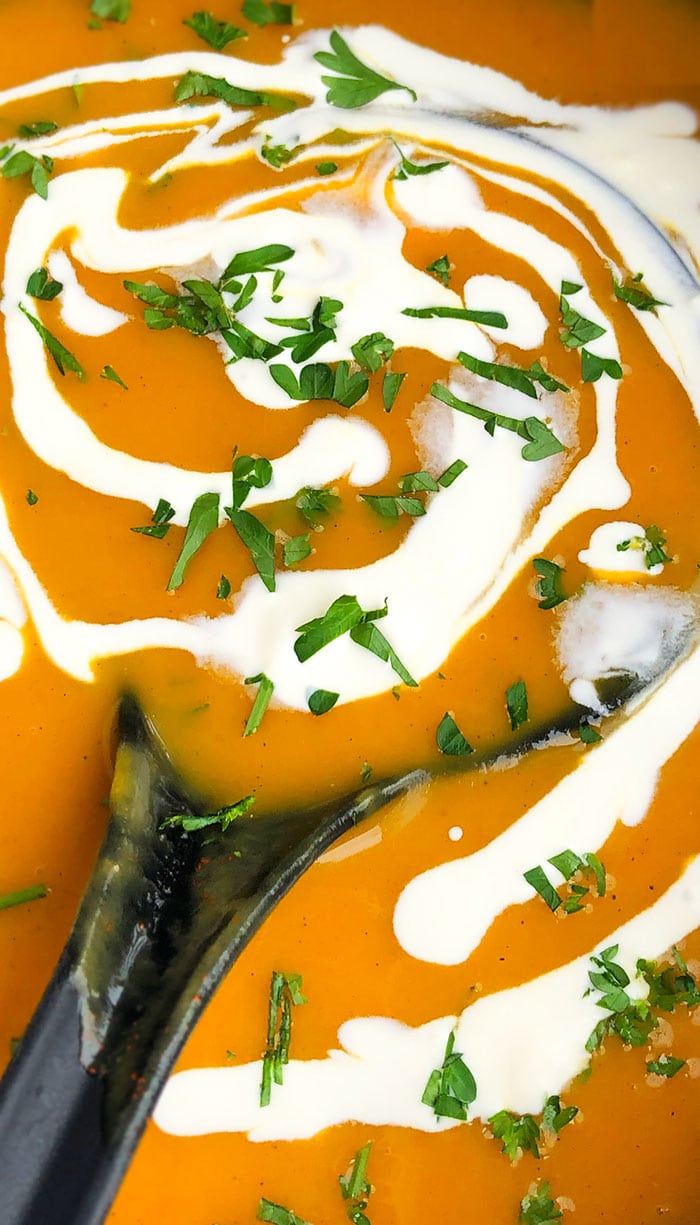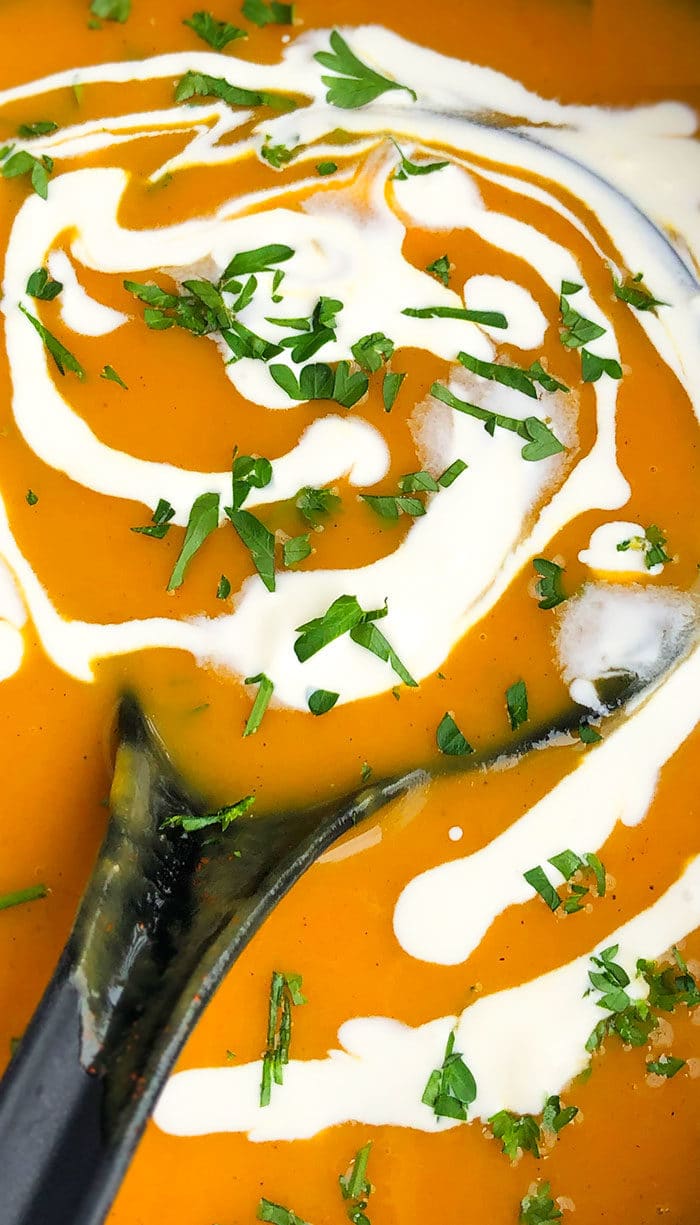 Variations
Roasted carrot ginger soup- Make these Oven Roasted Carrots (One Pan). Then, use them in the recipe.
Carrot ginger coconut soup- Add 1 can of full-fat coconut milk to add a delicious flavor. Use this instead of heavy cream.
Sweet potato carrot ginger soup– Add 1 cup of diced sweet potatoes for additional nutrients and heartiness.
Add other vegetables– Such as tomatoes, celery, broccoli, butternut squash or pumpkin, leek, parsnip, beet, cauliflower.
Make it spicy (Thai inspired)– Add red curry paste to the soup and garnish with cilantro.
Make it creamy– There are many options. You can use heavy cream, half and half, whole milk, coconut milk (vegan option) or even coconut cream.
Add lentils – Any lentils of your choice can work well here. Add them when you add the broth and this will add heartiness to the dish.
Add other spices– Curry spice would be awesome! Turmeric, paprika, or a dash of nutmeg would add additional flavor.
Garnish options– Sprinkle shredded Parmesan cheese or toasted almonds or cashews or finely chopped fresh herbs like parsley, cilantro or basil. I prefer a light drizzle of heavy cream.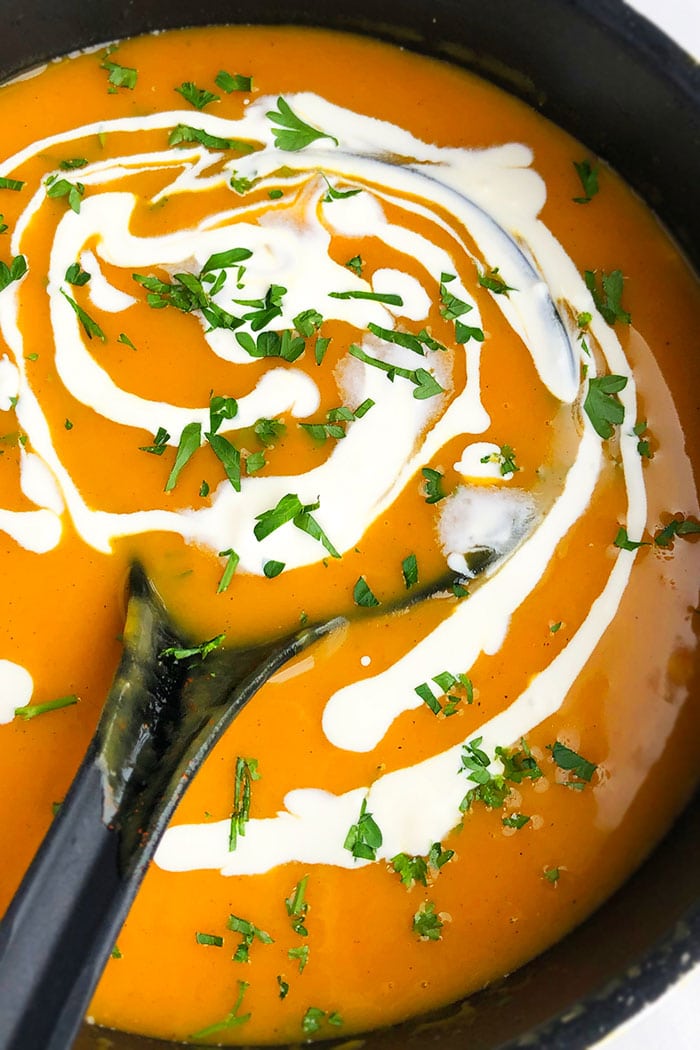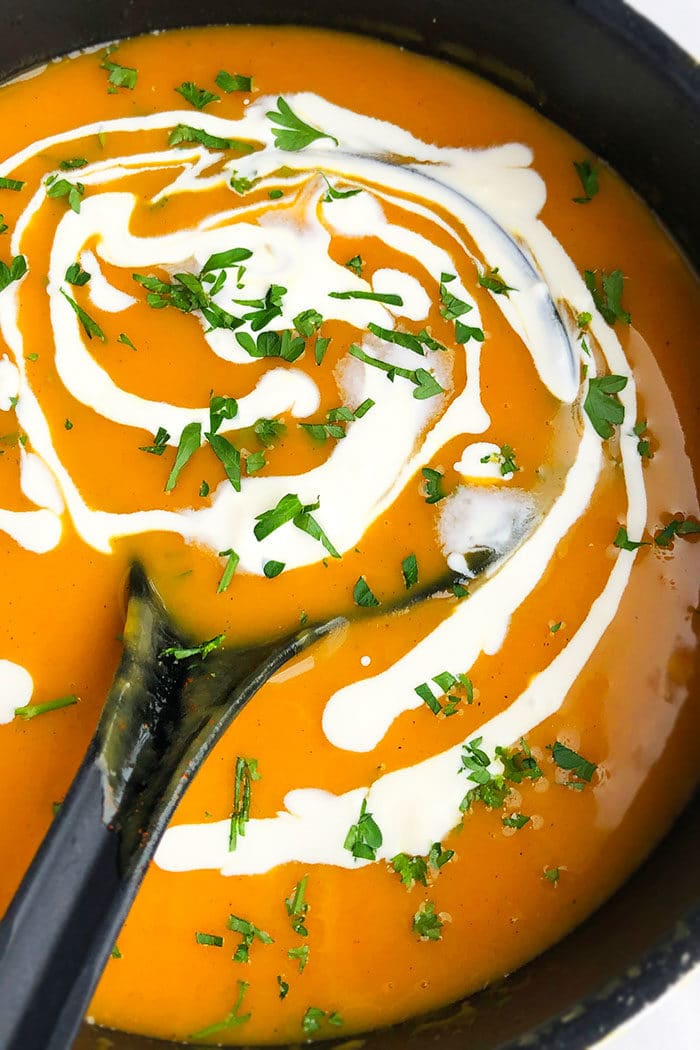 Tips and Techniques
Can you freeze carrot soup? Yes, it can be frozen in an airtight container for up to 1 month and reheated in the microwave or over the stovetop.
How to store soup? How long to store soup in fridge? Store it in a sealed container in the fridge for up to 3 days.
How to thicken soup? Simmer until some of the liquid evaporates and mixture is reduced. You can also cook and blend in potatoes to add thickness. Adding more heavy cream also helps with the thickness.
How to thin soup? Simply mix in more broth or water.
Dice carrots very small– Because they will cook the fastest.
Heavy cream substitution– Use full-fat canned coconut milk as a vegan option. You can also try half and half or even whole milk. Another option is to soak and puree cashews to add as cashew cream instead. This adds creaminess, protein, and healthy fats.
Can heavy cream be omitted? Yes, it can be omitted completely but the soup will be thinner and not as creamy.
Control the saltiness– Use low sodium broth and unsalted butter to keep the sodium content low and prevent the soup from becoming too salty.
Can the soup be made in an Instant Pot? Yes, follow the original recipe and use the Saute function on the instant pot. Set the pressure cooker to Manual for 8 minutes. Then, allow the pressure to naturally release for 10 minutes. Blend all ingredients together with a hand-held immersion blender. Stir in heavy cream, if you choose and you are done.
Use nonstick pot– Because this prevents soup from sticking and burning.
More Soup Recipes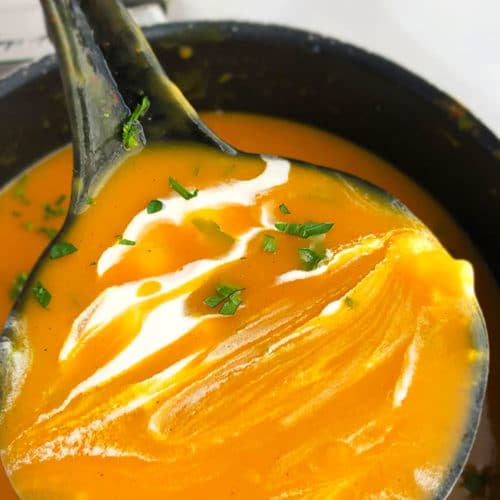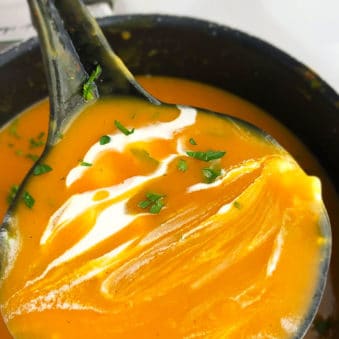 One Pot Carrot Soup
Best, quick, easy, creamy carrot ginger soup recipe, homemade with simple ingredients in one pot over stovetop in 30 minutes. Rich, flavorful and hearty!
Yield: People
Ingredients
2 tbsp Butter, Unsalted
1 cup Onion, Finely chopped
2 pounds Carrots, Peeled, Sliced
2 tbsp Ginger, Grated
2 cloves Garlic, Minced
Salt, To taste
Pepper, To taste
1 tsp Dried thyme
4-5 cups Broth, Low sodium, Chicken or vegetable
1/2- 3/4 cup Heavy cream, Or coconut milk
1-2 tbsp Fresh parsley, Roughly chopped, For garnish
Instructions
Heat butter in a large nonstick pot over medium-high heat.

Add onion, carrots and sauté for a few minutes minutes until onions are tender.

Add ginger, garlic and saute for 1 more minute until fragrant.

Add salt, pepper, thyme, broth and mix until combined.

Bring to a boil.

Then, cover and cook for about 20-25 minutes or until carrots are tender.

Use a hand-held immersion blender to puree the soup until smooth.

Mix in heavy cream. The quantity depends on your preference. Using the full 1 cup will make it super thick, rich and creamy.

Garnish with parsley and a light drizzle of heavy cream. Enjoy!
Notes
Read all my tips above.
Leftovers can be stored in a sealed container in the fridge for up to 3 days. 
Nutrition
Calories: 290kcal, Carbohydrates: 21g, Protein: 3g, Fat: 23g, Saturated Fat: 14g, Cholesterol: 78mg, Sodium: 786mg, Potassium: 570mg, Fiber: 5g, Sugar: 10g, Vitamin A: 26493IU, Vitamin C: 12mg, Calcium: 93mg, Iron: 1mg
Happy cooking everyone!