Oven Roasted Carrots (One Pan)
Quick and easy oven roasted carrots recipe, made with simple ingredients in one pan/ pot. This 30 minute side dish is flavored with salt, pepper and garlic.
I am finally adding these carrots to my long list of easy roasted vegetable recipes:
All of them make a delicious and healthy side dish that can be served at regular weeknight meals or even dinner parties. They are crispy but tender and slightly caramelized. They are also bite-sized and obviously kids love that! Serve them with baked or grilled chicken or pork chops or even pasta.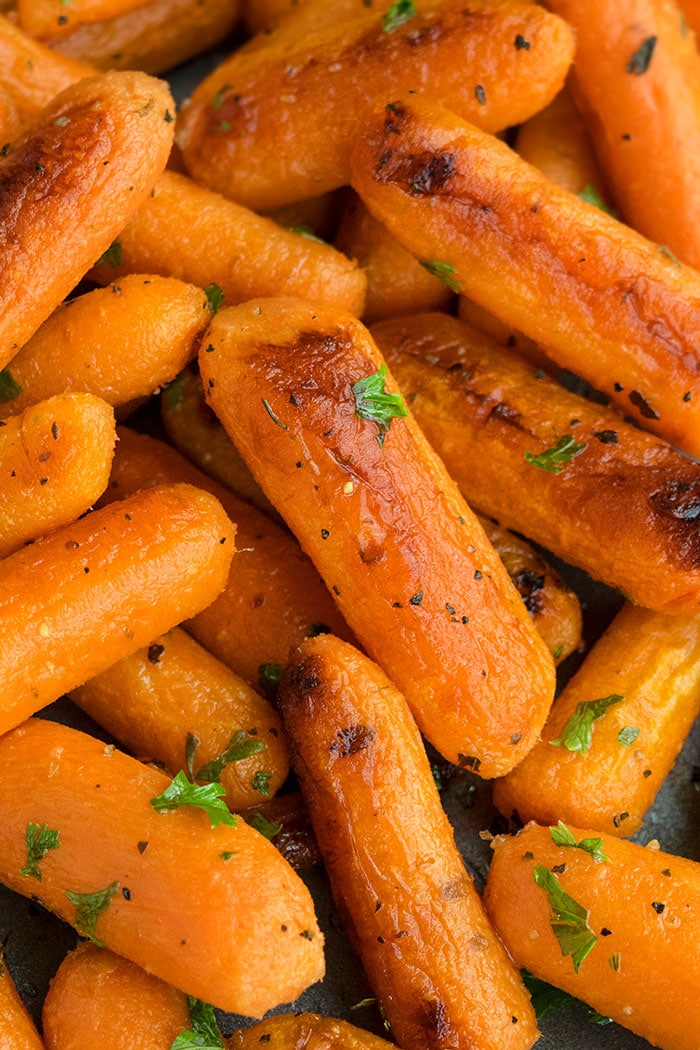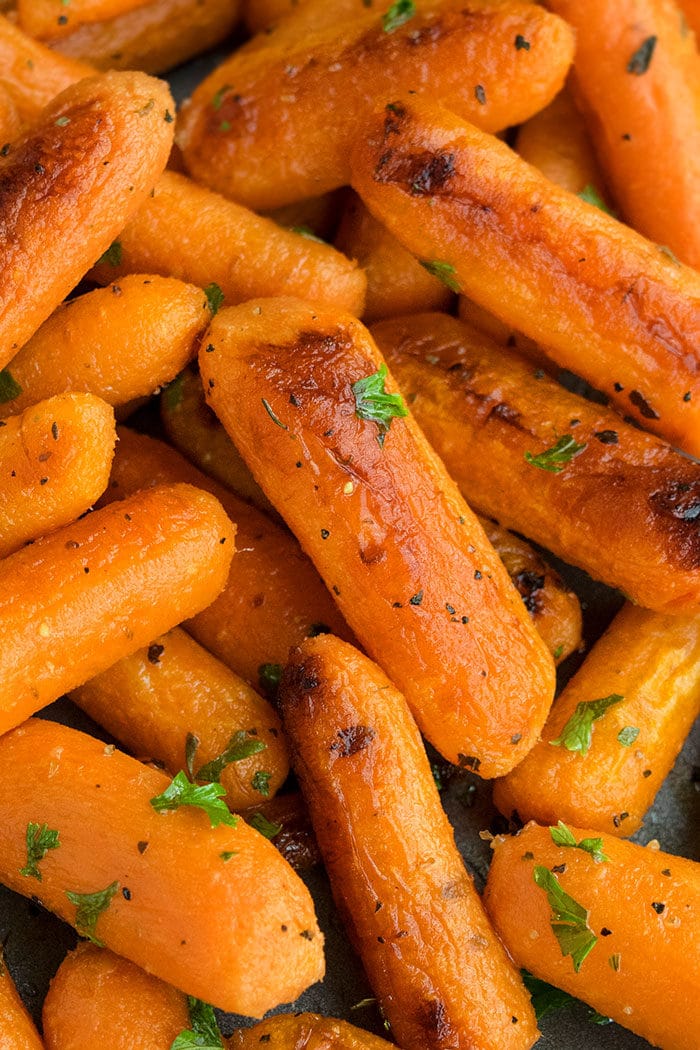 How to make roasted carrots in the oven?
Spread carrots in a baking tray.
Mix in olive oil and seasonings and toss everything together.
Bake and mix in fresh parsley and you are done.
How do you make best honey roasted carrots?
Also known as glazed carrots. Mix in 2 tbsp of brown sugar, honey or maple syrup with all the other ingredients and then bake. Be sure to toss everything a couple of times to prevent burning.
How long does it take to roast carrots at 425 degrees? 450 degrees?
I prefer baking at 450 degrees. The high temperature evaporates moisture quicker in less than 30 minutes and makes them nice and crispy. 425 degrees requires baking for an additional 5-8 minutes.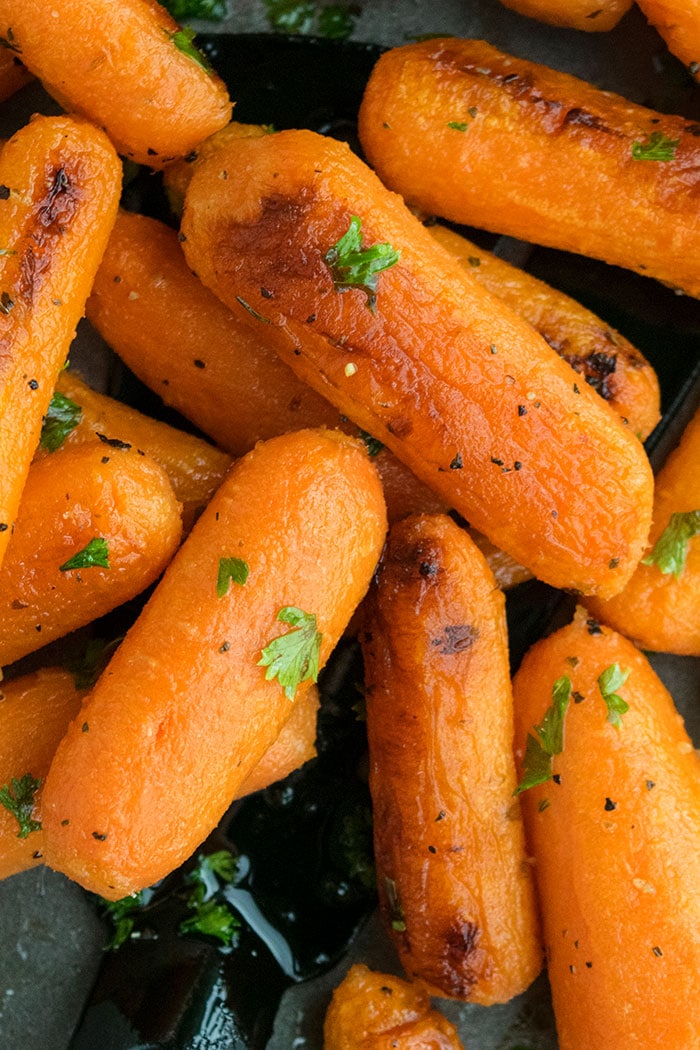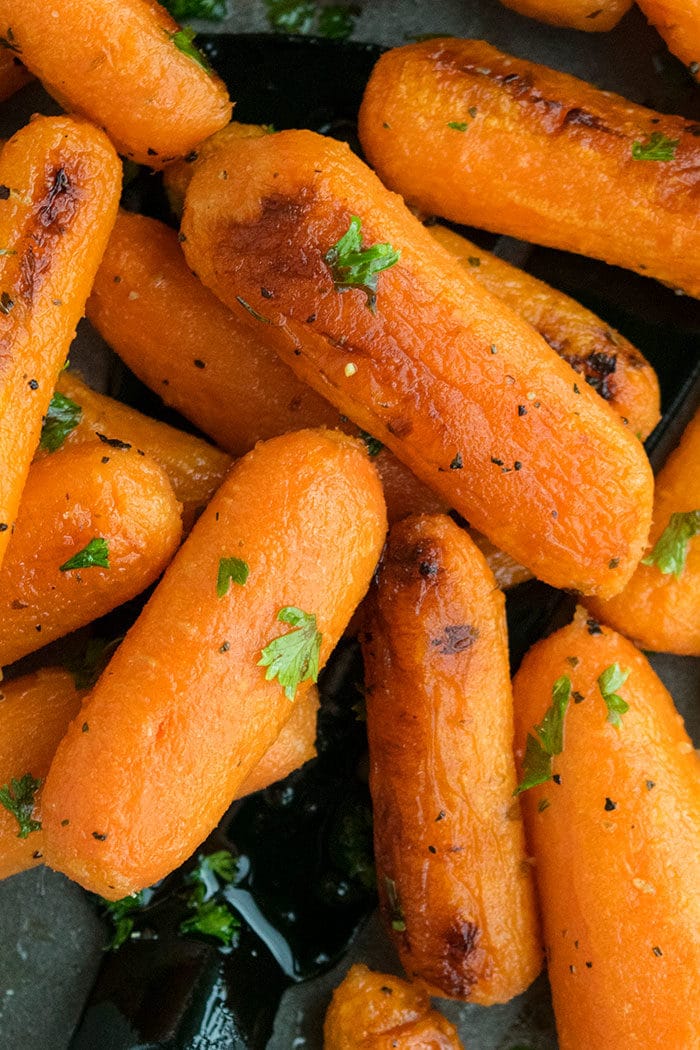 Tips and variations
Line the baking tray with aluminum foil for easy cleanup.
Spread out the carrots so they are not overlapping because this allows even baking.
Do not cover the pan with foil because that steams instead of roasting and makes the carrots mushy instead of crisp.

Rainbow carrots or even whole carrots can be used, although I prefer baby carrots.
For a deeper flavor, use a combination of unsalted butter and olive oil.
I used salt, pepper, parsley and garlic powder but you can mix in Italian seasoning and other fresh herbs like rosemary, thyme, oregano, sage, cilantro e.t.c.
Fresh garlic can be used instead of garlic powder.
If you like cheese, mix in about 2-3 tbsp of finely shredded parmesan cheese, as soon as you take the tray out of the oven. My son loves this!
For a spicy kick, add 1/2 tsp red chili flakes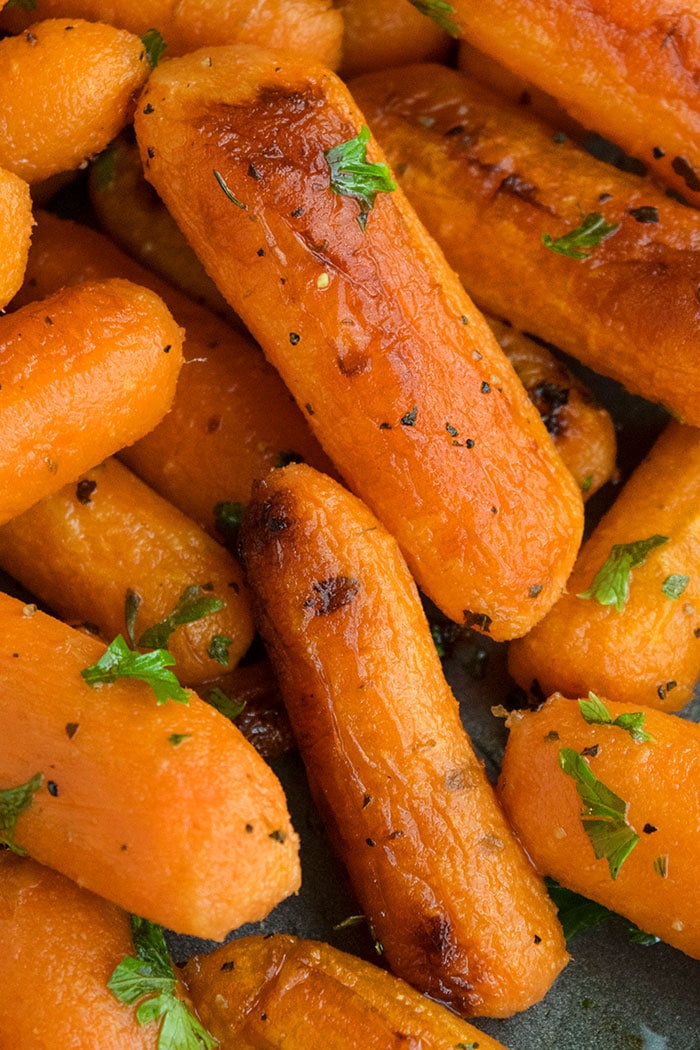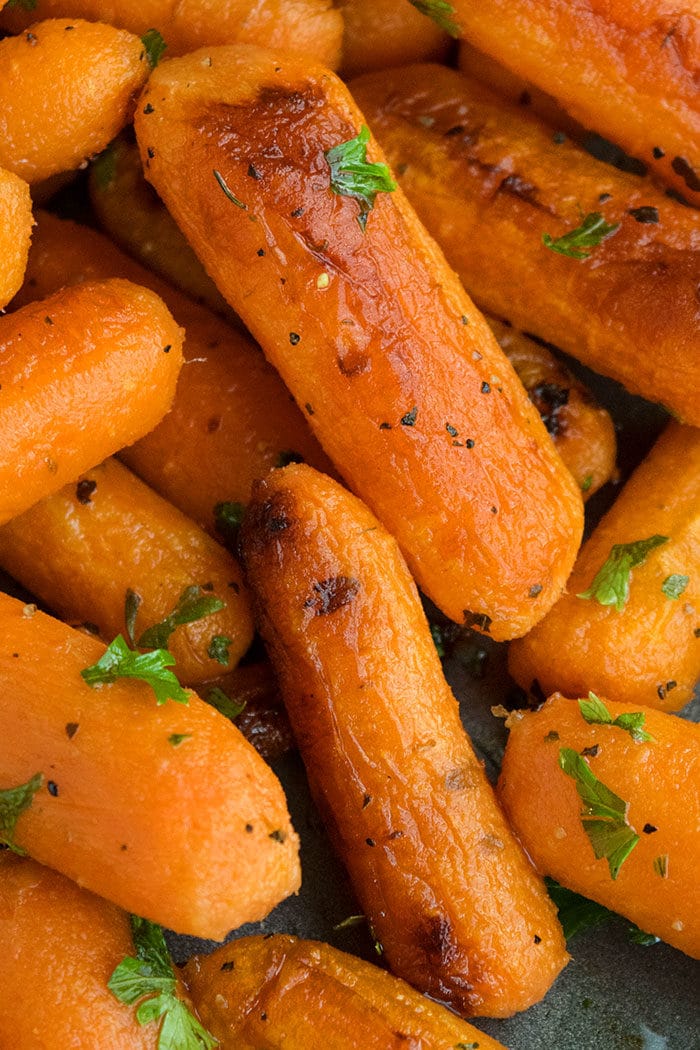 You can also make one pan roasted baby carrots with:
Broccoli
Beets
Potatoes
Sweet potatoes
Parsnips
Brussel sprouts
Cauliflower
Onions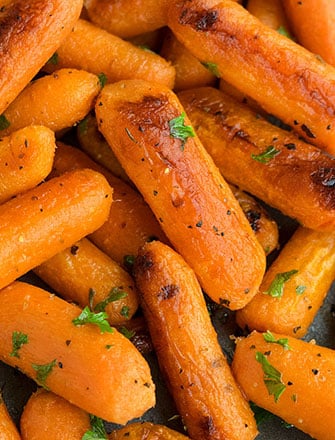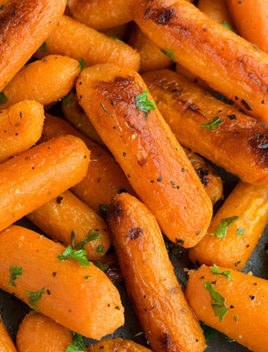 One Pan Roasted Carrots Recipe
Quick and easy oven roasted carrots recipe, made with simple ingredients in one pan/ pot. This 30 minute side dish is flavored with salt, pepper and garlic.
Yield: People
Instructions
Spread carrots on a baking tray, lined with aluminum foil.

Drizzle oil all over the top and sprinkle salt, pepper, garlic powder. Toss everything together.

Spread them out and make sure they are not overlapping each other, for even baking.

Bake at 450 degrees for 25-30 minutes or until tender, golden brown and slightly charred, making sure to toss everything halfway during baking.

Garnish with fresh parsley and serve immediately. Enjoy!
Notes
Read all my tips above.
Tastes best when served fresh but leftovers can be stored in a sealed container in the fridge for up to 2 days. 
Nutrition
Calories: 60kcal, Carbohydrates: 12g, Protein: 1g, Sodium: 180mg, Potassium: 364mg, Fiber: 4g, Sugar: 7g, Vitamin A: 20865IU, Vitamin C: 4mg, Calcium: 50mg, Iron: 1.4mg
Happy cooking everyone!