Honey Glazed Carrots (One Pot)
Quick and easy honey glazed carrots recipe, homemade with simple ingredients in one pot over stovetop in 30 minutes. A classic Thanksgiving side dish! Also known as candied carrots or caramelized carrots.
How to make glazed carrots?
Heat butter– Use unsalted butter and heat until it melts. Make sure it doesn't burn.
Add carrots– Either baby carrots of regular diced carrots can be used.
Mix in sweeteners and other spices– Use a combination of brown sugar and honey. Keep spices simple with just salt and pepper.
Cover and cook– Use medium heat.
Uncover and cook– This allow excess liquid to be reduced and makes a thick sugar sauce and caramelizes the carrots.
Garnish– You can use any fresh herbs like dill, parsley, basil, cilantro.
Enjoy! Can be served immediately or made ahead to be served later.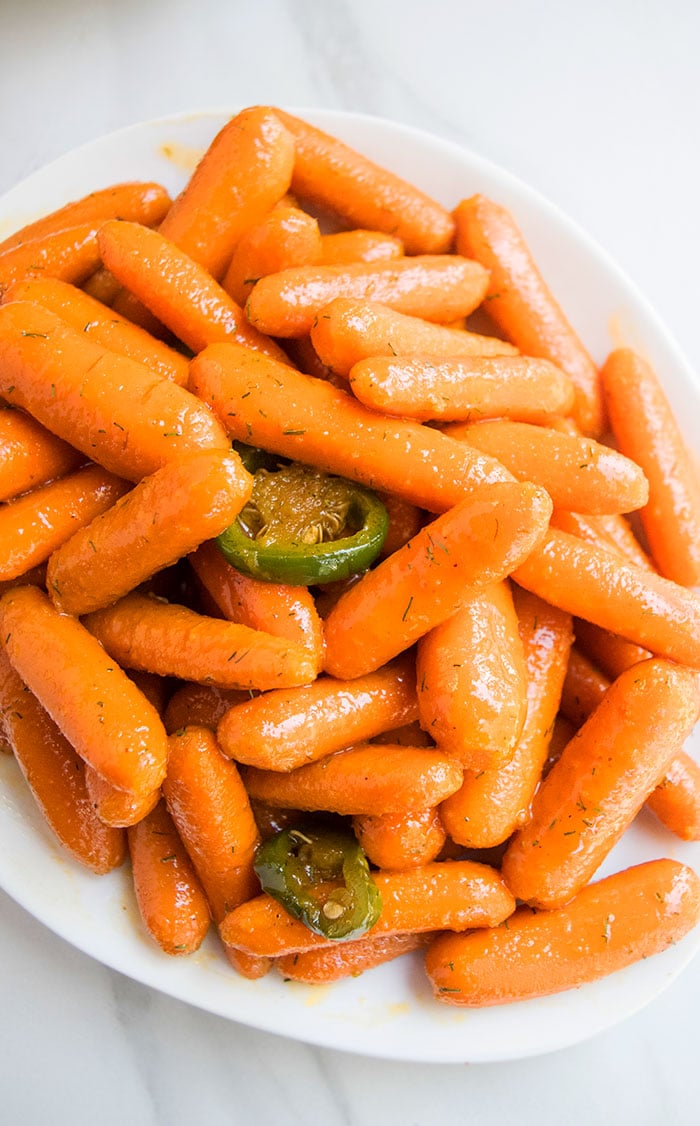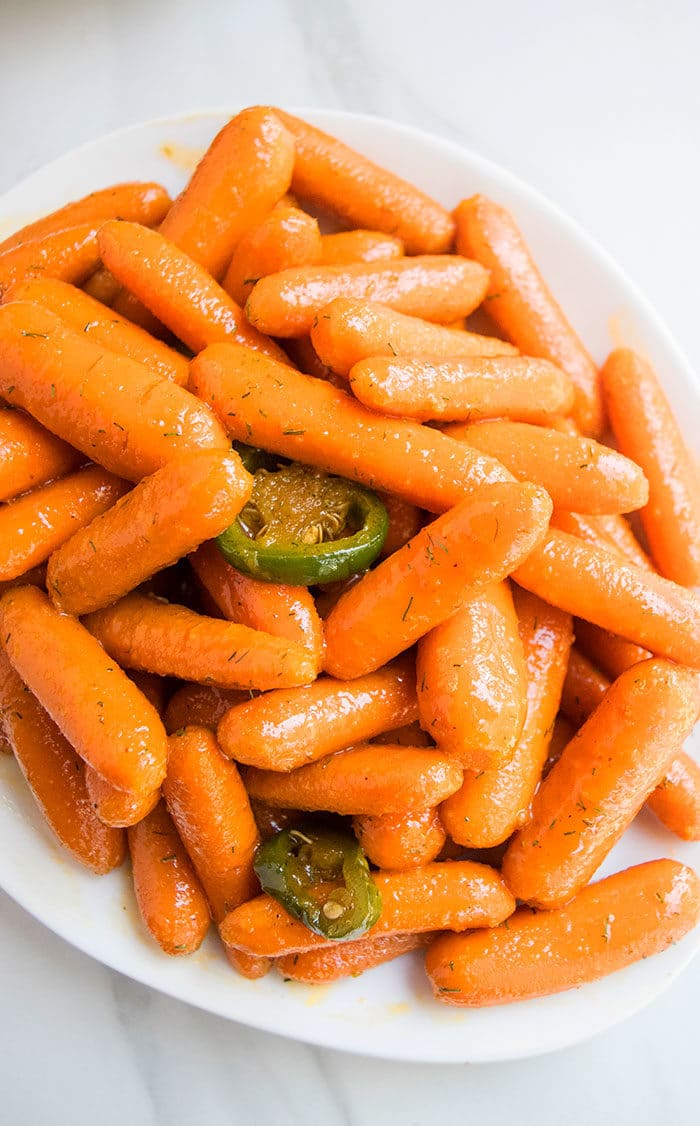 What to serve with glazed baby carrots?
It's typically served as a side dish at Thanksgiving parties. My family loves it with our classic Thanksgiving turkey.
You can also serve it with baked or grilled chicken, steak, ham, pork chops, salmon (or other seafood).
It also goes great with Hawaiian pizza because both are sweet.
Storing and reheating glazed carrots
Once they have cooled down completely, place them in a sealed container and store in the fridge for up to 3 days. You can reheat in the microwave or stovetop. If you are reheating on stovetop, be sure to add a splash of water to thin out the sauce and prevent burning.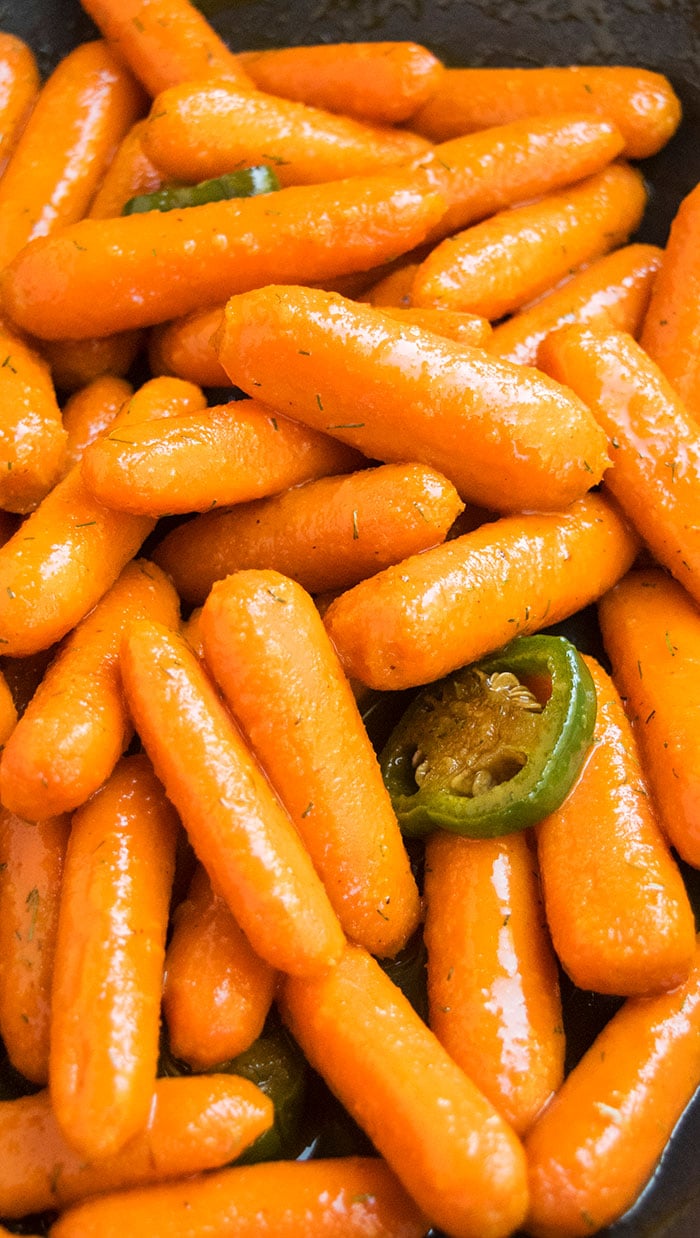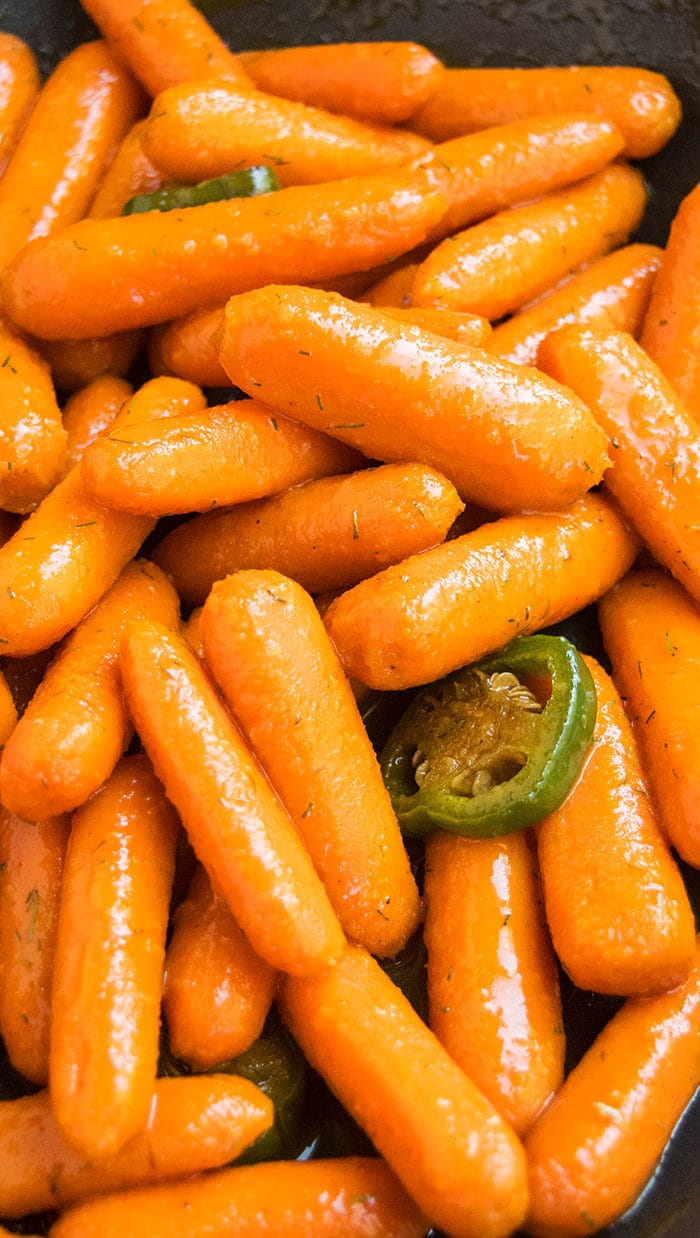 Variations
Maple glazed carrots– Replace honey with maple syrup.
Brown sugar glazed carrots– Replace honey with brown sugar too.
Orange glazed carrots– Replace with water with orange juice and also, add 1 tsp orange zest.
Add balsamic glaze- Add 1 tbsp balsamic glaze (not balsamic vinegar). It adds a little sweetness and tanginess. You can also just do a light drizzle on top, prior to serving.
Baked or Oven roasted glazed carrots– Mix everything together in a baking tray. Bake at 425 degrees for about 25-30 minutes, tossing halfway through.
Add alcohol– Such as a splash of whiskey or bourbon.
Make it spicy– By adding some jalapenos, red chili flakes or paprika.
Add other herbs and spices– I kept it very simple with some salt and pepper but you can add garlic, ginger, parsley, chives, cilantro, basil e.t.c.
Use rainbow carrots– These are fun for the holidays. They taste the same but have fun colors like purple and white.
Garnish options- Dried or fresh dill, rosemary, thyme, basil, cilantro.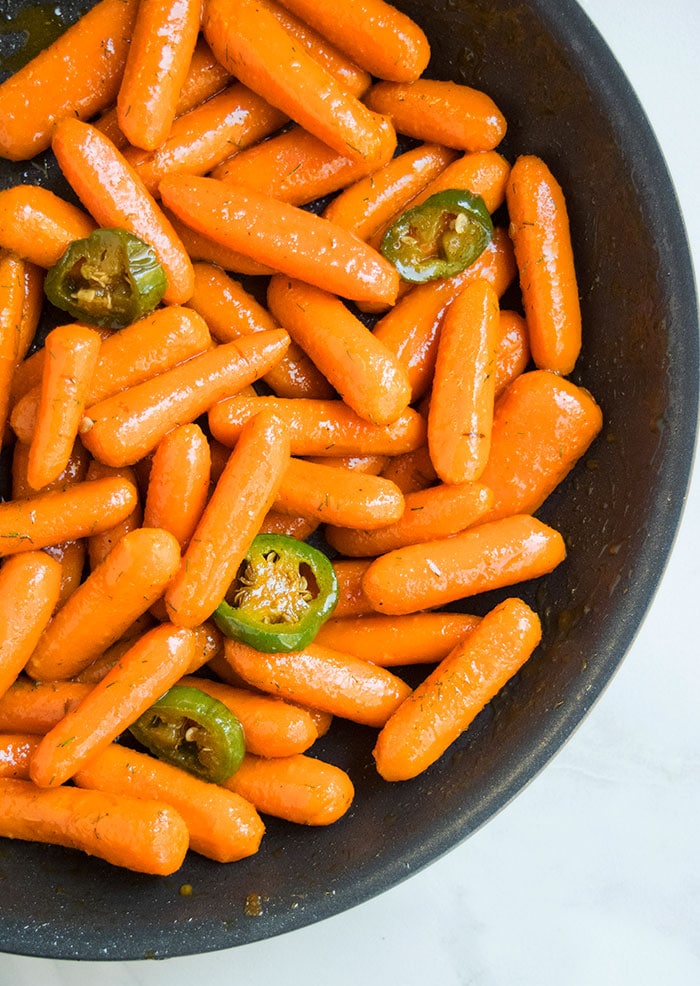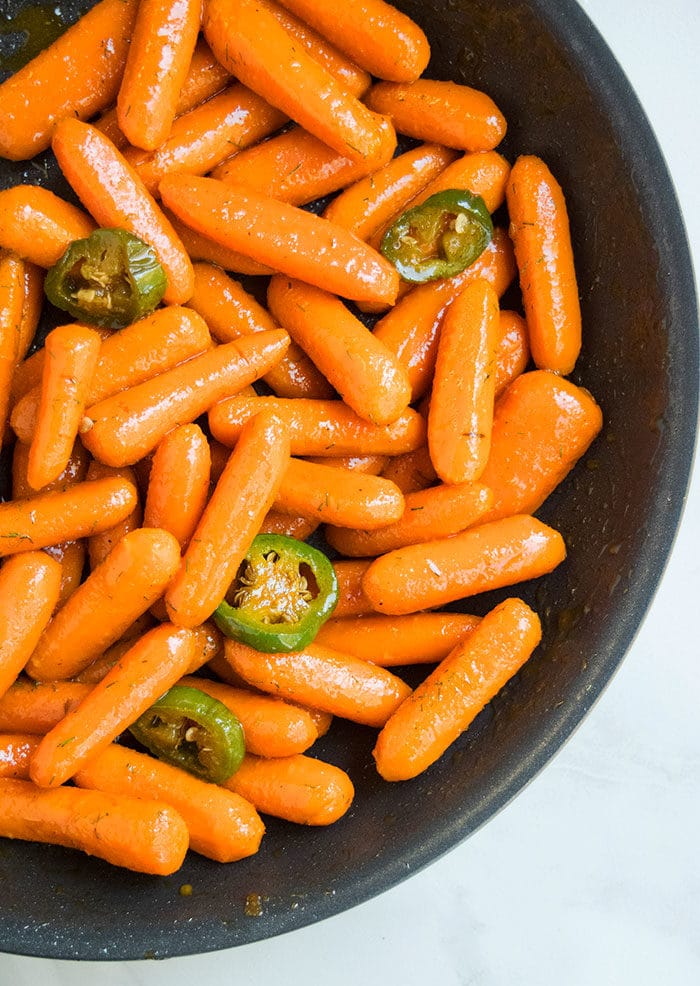 Tips and Techniques
Make ahead instructions– Make this recipe 1 day in advance and prior to serving, reheat in the microwave or stovetop.
Baby carrots vs. standard carrots– Either can be used but I prefer baby carrots since they are all uniform in size and cook the fastest. If you are using regular carrots, be sure to wash and peel them and then, dice them into similar sizes so they all cook through at the same time.
Adjust sweetness– These carrots are supposed to be sweet but you can adjust the amount of honey and brown sugar to make it even sweeter or make it less sweet.
Don't replace butter- Because it tastes the best and adds so much richness to the overall dish. Also, use unsalted butter to prevent carrots from becoming too salty.
How to thicken sauce for candied carrots? Continue to cook for longer without the lid on medium heat until excess water is reduced or evaporated to your desired consistency.
More Thanksgiving Recipes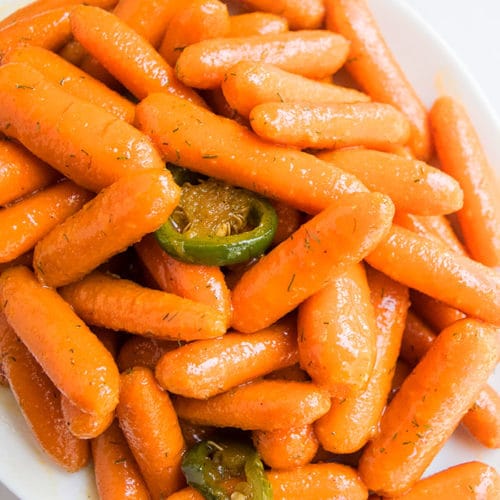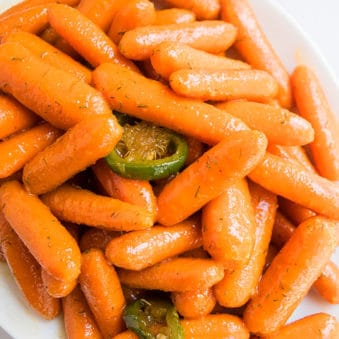 One Pot Honey Glazed Carrots
Quick and easy honey glazed carrots recipe, homemade with simple ingredients in one pot over stovetop in 30 minutes. A classic Thanksgiving side dish!
Yield: People
Ingredients
Instructions
Heat butter in a non-stick pan over medium heat.

Add baby carrots, brown sugar, honey, salt, pepper, water and mix everything together. 

Cover and cook for about 6-7 minutes.

Then, uncover and add jalapenos (optional) and mix. 

Continue to cook uncovered for another 6-7 minutes or until the water is reduced and you end up with a thick syrup.

Garnish with dill. Enjoy!
Notes
Read all my tips above.
Leftovers can be stored in a sealed container in the fridge for up to 3 days and reheated in the microwave. 
Nutrition
Calories: 144kcal, Carbohydrates: 23g, Protein: 1g, Fat: 6g, Saturated Fat: 4g, Cholesterol: 15mg, Sodium: 143mg, Potassium: 303mg, Fiber: 4g, Sugar: 19g, Vitamin A: 15966IU, Vitamin C: 20mg, Calcium: 40mg, Iron: 1mg
Happy cooking everyone!