Chili Mac Recipe (One Pot)
Quick and easy chili mac recipe, made with simple ingredients in one pot. This 30 minute meal is loaded with beans, ground beef, tomatoes and cheese.
This rich, creamy, cheesy stovetop meal brings together two old fashioned, classic comfort foods: One Pot Easy Chili Recipe and One Pot Mac and Cheese Recipe.
How to make homemade chili mac recipe? How do you make easy chili macaroni and cheese?
Brown beef.
Drain grease.
Min tomatoes, beans, seasoning, milk, cheese, macaroni.
Cover and cook.
Then, uncover and cook until liquid is reduced/absorbed to your desired consistency.
Top off with more cheese until melted.
Garnish with parsley and enjoy.
How do you make best vegetarian chili mac and cheese?
Use vegan ground beef or replace it completely. Add 1 cup frozen vegetables. The rest of the recipe is the same.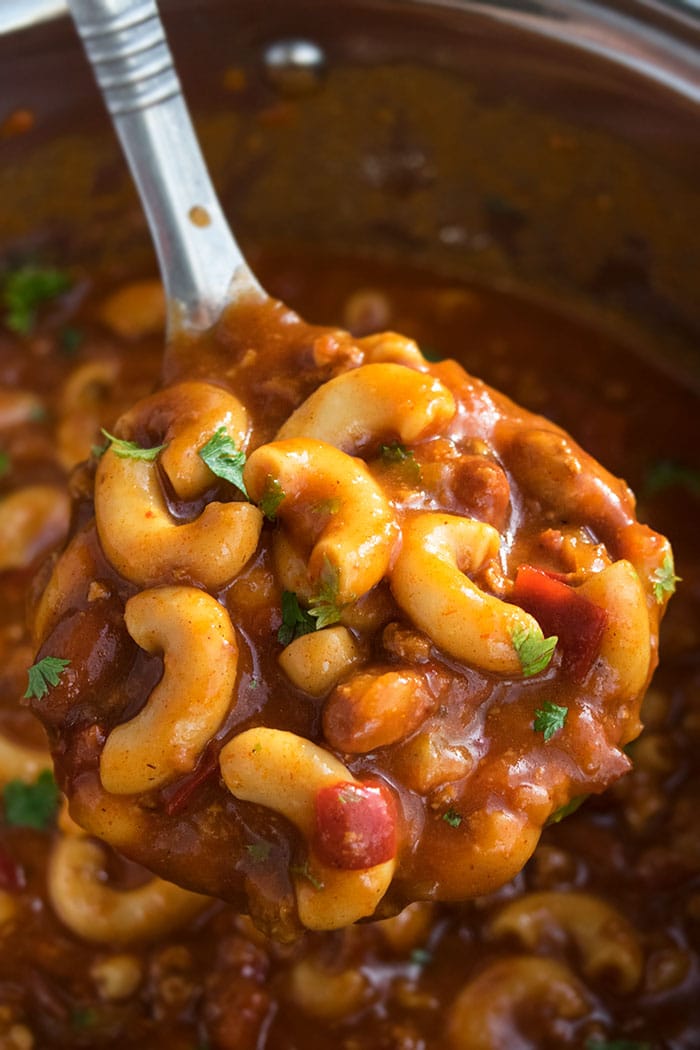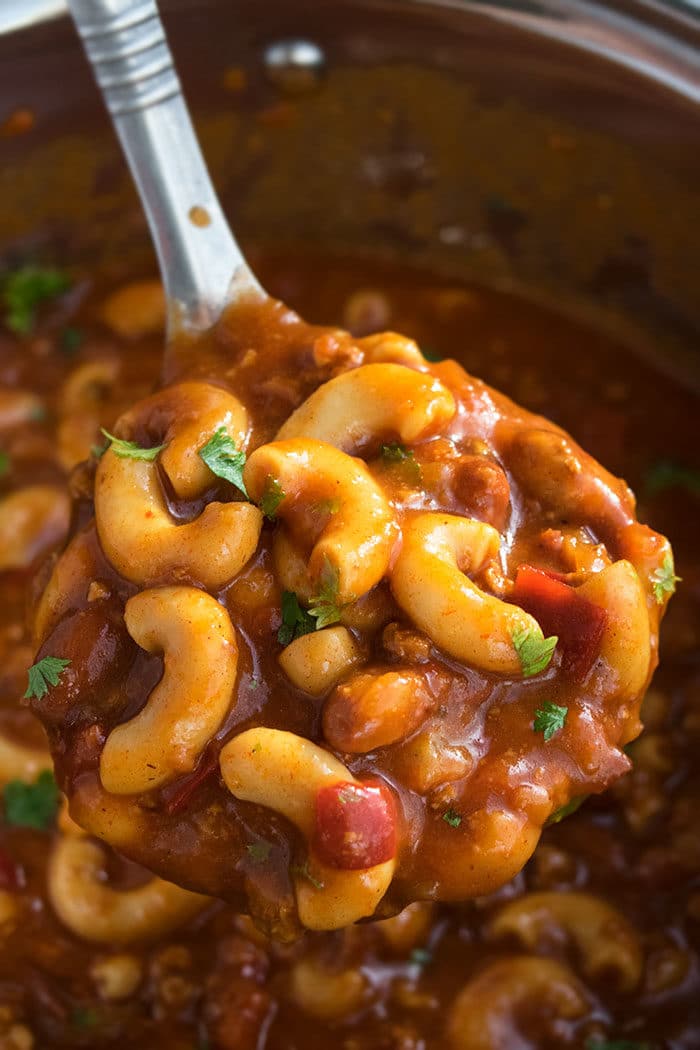 What sides to serve?
Cornbread
Simple salad
Buttermilk biscuits
Coleslaw
Breadsticks
Garlic bread
Dinner rolls
Toppings
Shredded cheese– Cheddar or Mexican cheese blend are awesome!
Sour cream– Use full fat for maximum flavor.
Jalapeno slices– For a spicy kick.
Fresh herbs– Such as roughly chopped cilantro, parsley, green onions
Avocado slices– You an dice them into small pieces too.
Finely chopped onions– Red onions taste the best
Tortilla chips– To add a little crunch.
Black olives– Not a traditional topping but I love it.
Ingredients
Beef– ground beef is best and be sure to drain fat to prevent meal from becoming too oily/greasy.
Herbs and spices– Homemade or store-bought chili seasoning is best but taco seasoning can be another great choice.
Beans– i like to use chili beans because they already have some chili seasoning in them
Milk– Use whole milk because it has a higher fat content. Some people also replace that with low sodium chicken or beef broth but milk makes it creamier.
Cheese– There is a huge variety to choose from but I highly recommend cheddar and colby jack cheese. Mexican cheese blend is another great choice.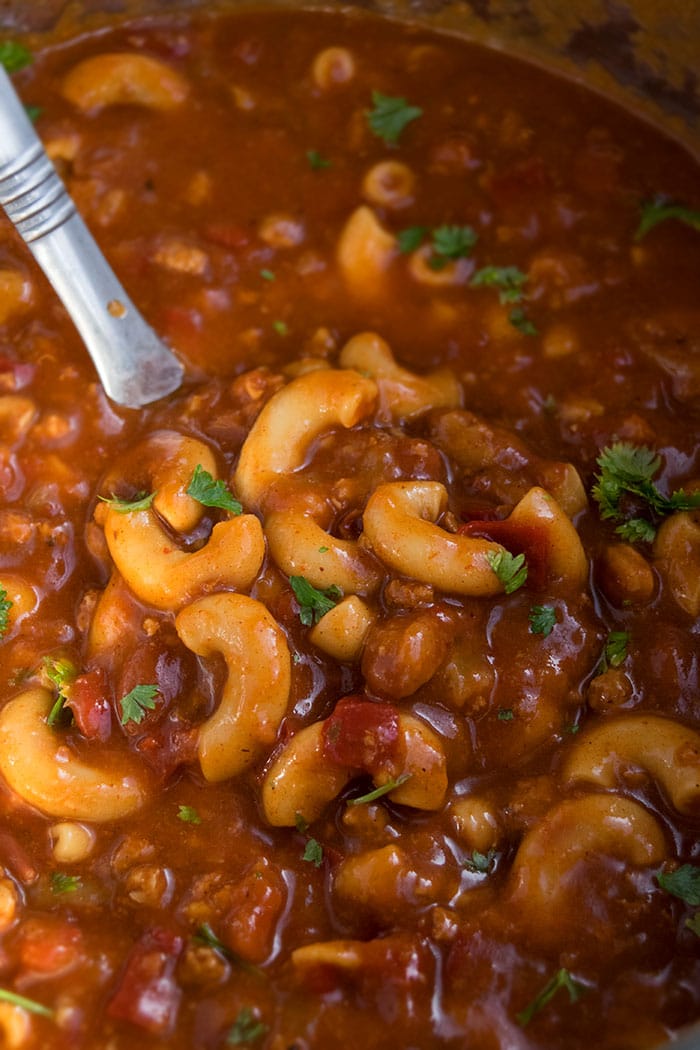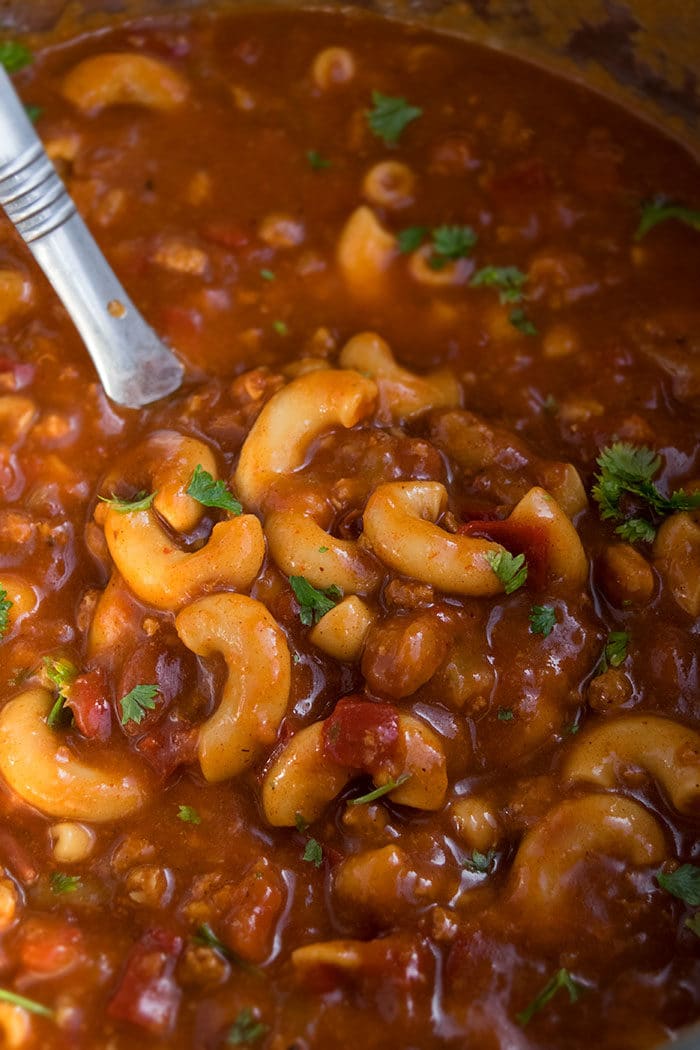 Tips and techniques
If you don't have chili beans, use your favorite beans- pinto, kidney e.t.c
Use a nonstick pot and stir often to prevent sticking and burning.
Adjust the amount of chili seasoning, based on your preference.
Use any other small pasta of your choice instead of macaroni but note that it should be uncooked. It cooks and becomes tender as it absorbs the liquid.
If everything looks too thick at the end, add a little broth or water to thin it out to your desired consistency. If it's too thin, cook uncovered on high heat until liquid is reduced.
You can replace the store-bought packet with DIY homemade chili seasoning– Mix together the following: 1 Tbsp chili powder, 1 tsp ground cumin, 1/4 tsp cayenne pepper, 1/4 tsp garlic powder, 1/2 tsp onion powder, 1 tsp salt, 1/4 tsp black pepper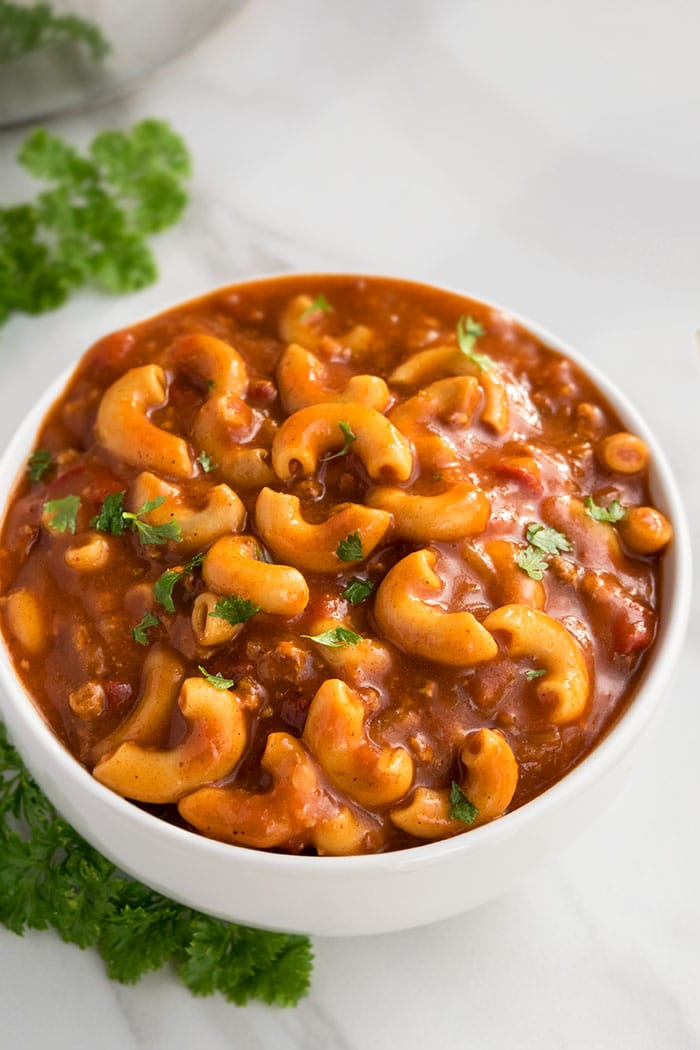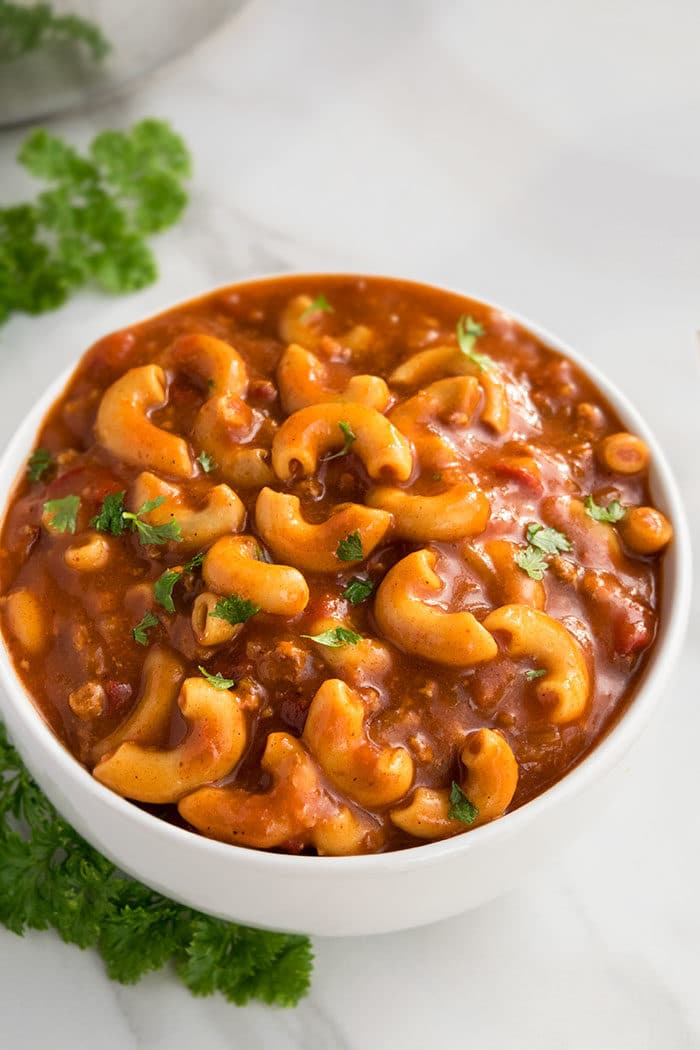 Variations
Slow cooker chili mac/ Crockpot chili mac– Add browned beef and all the other ingredients, except for the pasta in a crockpot and cook on high for 4-6 hours. In the final 20 minutes, stir in the uncooked pasta and cook until tender.
Chili mac soup– Add 1-2 cups chicken or beef broth (low sodium) to thin it out into a soup consistency near the end and bring to a boil.
Other one pot dinner recipes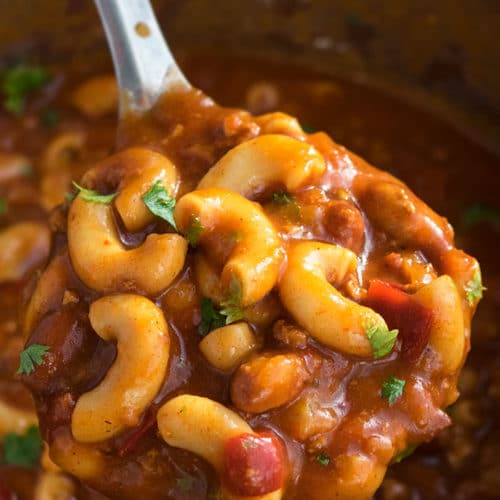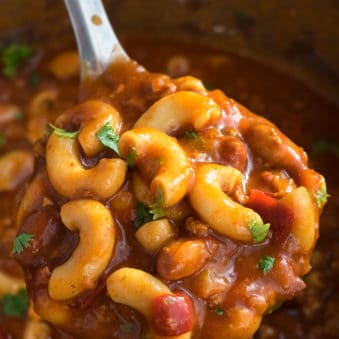 One Pot Chili Mac Recipe
Quick and easy chili mac recipe, made with simple ingredients in one pot. This 30 minute meal is loaded with beans, ground beef, tomatoes and cheese.
Yield: People
Ingredients
1 tbsp Oil
1 pound Ground beef
1 cup Onion, Finely chopped
3 cloves Garlic, Finely minced
Salt , To taste
Pepper, To taste
1 can Chili beans, 15 oz. can, Undrained
1 can Diced tomatoes, 14.5 oz. can
1 can Tomato sauce, 8 oz. can
1 packet Chili seasoning, 1.25 oz.
1 tsp Cumin powder
1 1/3 cup Milk, Whole
1.5 cups Macaroni, Uncooked
1 cup Cheddar cheese, Shredded
1 cup Colby jack cheese, Shredded
Instructions
Add beef, onion, garlic, salt, pepper and cook until beef is cooked and no longer pink.

Remove from heat and drain fat/grease.

Add beans, tomatoes, tomato sauce, chili seasoning, cumin powder, milk, macaroni, half the cheddar cheese, half the colby jack cheese.

Mix, cover and cook for about 10 minutes over medium heat.

Then, uncover and cook for another 6-10 minutes or until pasta is tender and liquid is reduced/absorbed. Stir often to prevent sticking and burning.

Top off with the remaining cheddar cheese and colby jack cheese. Mix.

Garnish with roughly chopped fresh parsley and enjoy.
Notes
Read all my tips above.
Leftovers can be stored in a sealed container in the fridge for up to 2 days. 
Do not freeze this meal because pasta does not thaw well and tastes weird. However, you can brown and beef and mix together all the other ingredients and freeze that. When you are ready to enjoy this meal,  add the frozen mixture in a large pot and cook it over low heat, covered, until it thaws. Add the macaroni and cook until it's tender. 
Nutrition
Calories: 627kcal, Carbohydrates: 47g, Protein: 34g, Fat: 34g, Saturated Fat: 15g, Cholesterol: 99mg, Sodium: 1441mg, Potassium: 1254mg, Fiber: 6g, Sugar: 14g, Vitamin A: 1155IU, Vitamin C: 18mg, Calcium: 437mg, Iron: 5.6mg
Happy cooking everyone!