Easy Cranberry Relish (One Bowl)
Quick and easy cranberry relish recipe, made with simple ingredients in one pot/ bowl in 10 minutes. It's a classic, fresh, sweet and tart side/ condiment.
This homemade and old fashioned cranberry relish from scratch is always a big hit at our Christmas and Thanksgiving feasts and people enjoy it just as mush as my One Pot Cranberry Sauce.
This is not a cooked cranberry orange relish recipe!
The cooked version is actually called a cranberry sauce and the recipe for that is entirely different.
Tips for easy cranberry relish recipe
Adjust the amount of sugar, based on your preference.
Honey or maple syrup can be used instead of sugar but that can make everything very watery. So, be cautious!
For a hint of spice, add 1/4  ground cinnamon and 1/4 tsp ground ginger.
You must allow this to sit undisturbed in the fridge for at least 1 hour to allow all the flavors to deepen.
Garnish with some fresh mint or parsley.
Don't use frozen or dried cranberries!
Don't process the fruits for too long in the food processor because it's supposed to be rough and chunky.
If you don't have a food processor, you can roughly chop the cranberries, apple, orange and mix it all together with sugar and zest in a serving bowl. It will be tedious work though.
This fresh cranberry relish requires 4 ingredients!
The wonderful flavor and texture comes from fresh fruits. Don't even think about using dried or frozen cranberries!
Also known as a cranberry orange apple relish salad!
It's definitely not your typical salad. Apples are optional and can be omitted, if you are not fond of them but my family always adds them and it adds a subtle sweetness.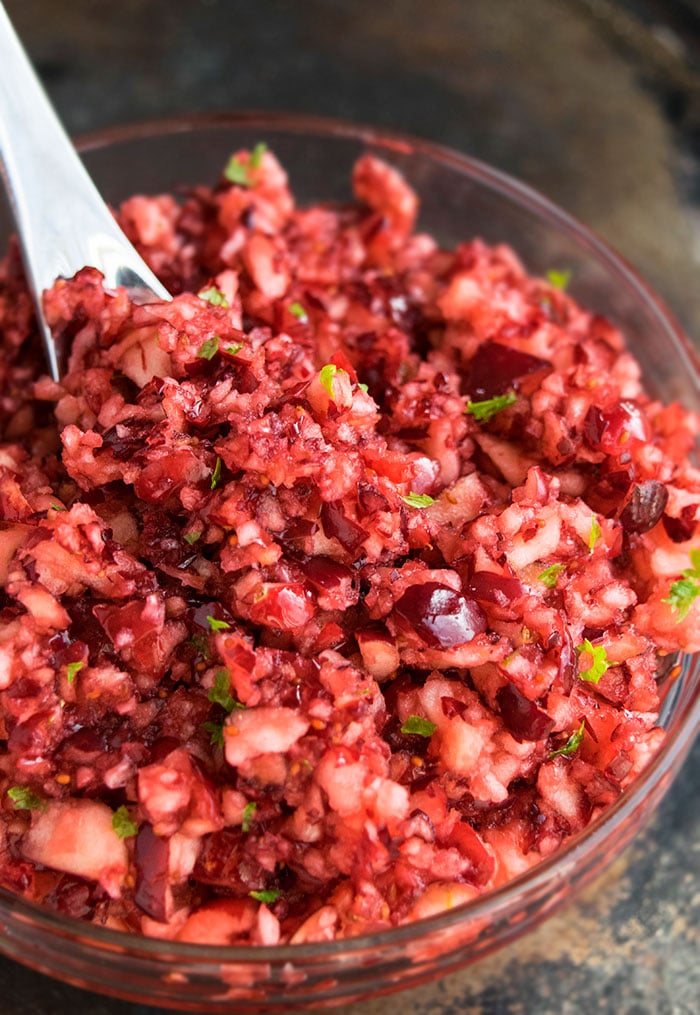 How do you make cranberry relish?
Roughly chop cranberries, apples, oranges in a food processor.
 Mix in sugar and zest.
Transfer to a bowl and chill before serving.
How to freeze cranberry relish?
No, don't do it!  That's because when it thaws, it will release a lot of water.
How long will cranberry relish last?
It stays fresh for up to 3 days, when stored properly but I like to serve it within 2 days.
Can you make cranberry relish ahead of time?
Yes, it can be made about 2 days in advance. It should be stored in a sealed container in the fridge until you are ready to serve.
What is cranberry relish used for?
It's a side dish or condiment that is made with raw cranberries. It's sweet and tart and most often combined with apples, oranges and some sugar. Nuts are sometimes sprinkled on top for a slight crunch. This is different from cranberry sauce because the sauce is cooked and has an entirely different, relatively smoother consistency.
It can be served alongside meats such as turkey, pork tenderloin, ham (such as this Slow Cooker Ham). Leftovers can be used as a filling or spread in burgers and sandwiches. It can also be served over brie or cream cheese as a Thanksgiving or Christmas holiday appetizer.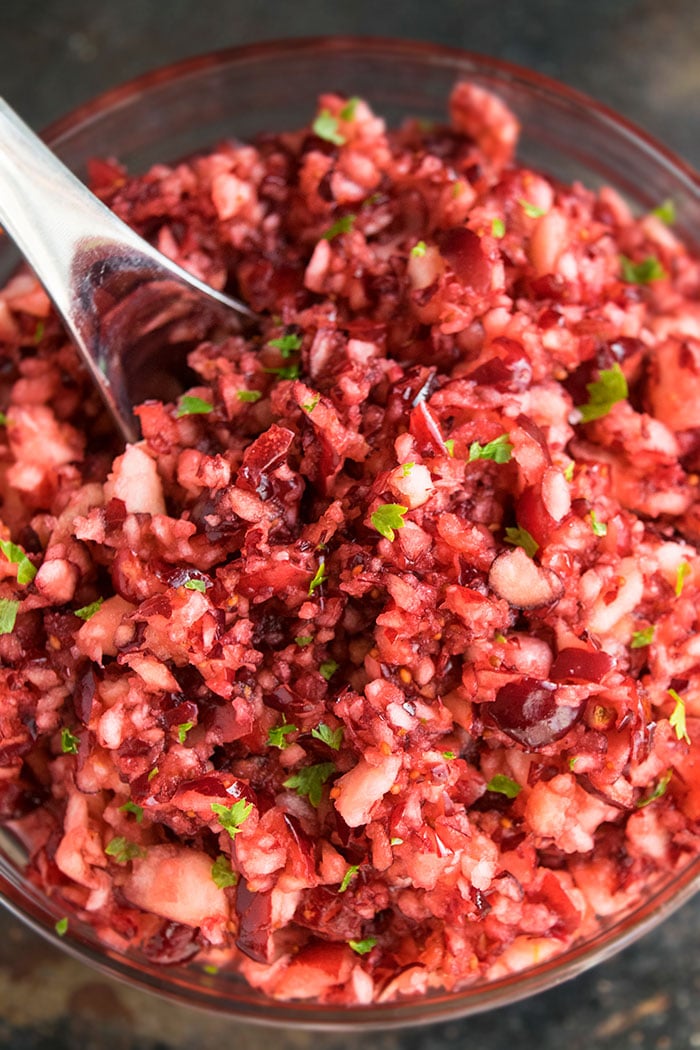 Cranberry pineapple relish
Replace apple with drained, crushed pineapples.
Cranberry jalapeno relish
For a hint of spice, add half a jalapeno.
Raw cranberry relish with nuts
I don't add them but typically, they are sprinkled on top, prior to serving to add a little crunch. Roasted pecans and walnuts are the most popular choice.

Other One Pot Sides/ Side Dishes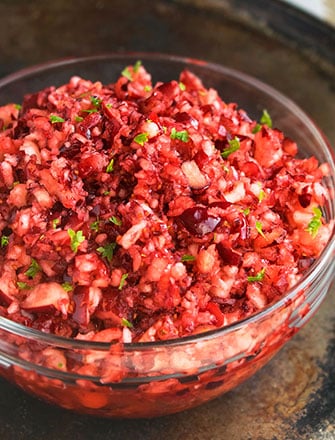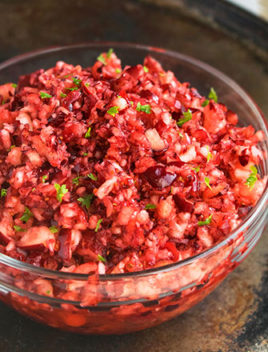 Cranberry Relish Recipe
Quick and easy cranberry relish recipe, made with simple ingredients in one pot/ bowl in 10 minutes. It's a classic, fresh, sweet and tart side/ condiment.
Yield: People
Ingredients
1 package Cranberries, Fresh, Washed and patted dry, 12 oz.
1 Apple, Cored, Cut into quarters, Optional
1 Orange, Medium size, Peeled, Seeds removed, Cut into quarters
3/4 cup Granulated sugar
1 tsp Orange zest
Instructions
Add cranberries, apple, orange, sugar, zest in a food processor and pulse until coarsely chopped. Do not try to make this smooth! It's not eaten that way.

Transfer this to serving bowl. Cover and chill for at least 1 hour so that the flavors deepen.

Garnish with mint leaves (optional) and enjoy.
Notes
Read all my tips above.
Leftovers can be stored in a sealed container in the fridge for up to 2 days. 
Nutrition
Calories: 123kcal, Carbohydrates: 31g, Potassium: 71mg, Fiber: 1g, Sugar: 30g, Vitamin A: 65IU, Vitamin C: 13.4mg, Calcium: 11mg
Happy cooking everyone!