Homemade Brown Gravy Recipe (One Pot)
Quick and easy homemade brown gravy recipe from scratch, requiring simple ingredients and one pot. It's thick, rich, flavorful and ready in 20 minutes.
Thanksgiving just won't be complete without this homemade brown gravy or this Homemade Cranberry Sauce Recipe or even this One Pot Creamy Mashed Potatoes. This gravy is silky smooth, glossy, rich, thick and packed with a lot of flavor.
This easy homemade gravy recipe/ easy brown gravy recipe is so much better than store-bought brown gravy mix!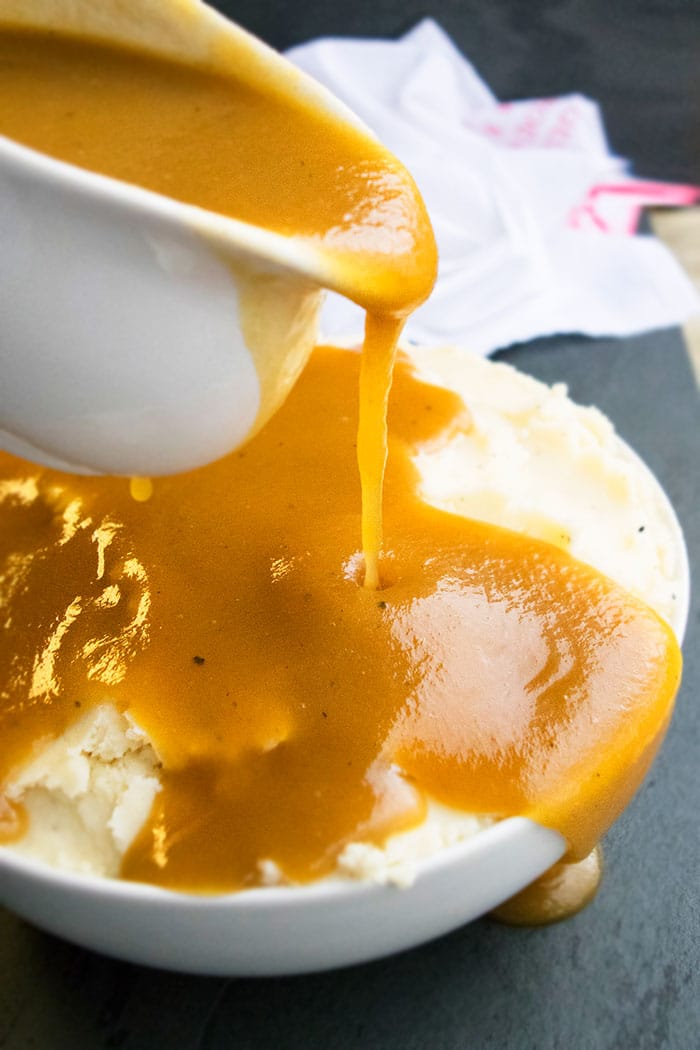 How to make homemade gravy? How do you make homemade gravy? How do you make homemade brown gravy from scratch? How to make brown gravy with flour?
Start off by heating butter and beef drippings in a non-stick saucepan.
Add flour and mix until golden brown.
Add broth gradually, while constantly mixing.
Add salt and pepper and let it simmer and thicken to the desired consistency.
Remove from heat and stir in some butter to
Can you make gravy with flour and water?
Yes, the recipe below uses flour and broth. Some people replace broth with water or use a combination of water and broth. It's a personal choice.
How do you make gravy with flour and milk?
That's a white gravy and you reduce the amount of broth and replace that with heavy cream or whole milk. So, use 1 cup broth and 1 cup milk in the recipe below.
How to thicken gravy?
Use cornstarch or flour. I prefer cornstarch.
How do I make brown gravy without drippings?
That's usually made with beef bouillon cubes and beef broth bit it's really was not as good as this homemade classic gravy.
Can you freeze brown gravy?
Since this is not a milk-based gravy, it can be frozen in sealed freezer bags for up to 1 month. Milk-based gravy should not be frozen because they will separate when thawing.

Homemade sausage gravy
Use sausage drippings and some of the cooked sausage too to give it a chunky texture. Perfect for serving with biscuits.
Homemade white gravy/ Homemade country gravy
This is lighter in color than traditional gravy because of the addition of milk or heavy cream.
Homemade turkey gravy
Use turkey drippings. This is great for Thanksgiving when you have made a turkey and have all that leftover dripping.
Homemade chicken gravy
Use chicken drippings instead of beef drippings.
Homemade beef gravy
Use beef drippings and that's the recipe I have below.
Homemade biscuits and gravy recipe
Make a batch of your favorite biscuits and pour this gravy on top or dip your biscuits in it.
Homemade gravy with drippings vs. Gravy without drippings
For best flavor, you must use drippings because that adds an immense amount of flavor that you can't replicate with any other ingredients.
Meatloaf with brown gravy
Make your favorite meatloaf and pour this gravy on top, which really takes your meal over the top.
This makes a great homemade breakfast gravy too!

Tips for old fashioned brown gravy
Use unsalted butter and low sodium broth to prevent the gravy from becoming too salty.
If you have some extra time, toast the flour on the stovetop until it's golden brown and use that in the recipe. It gives a darker color and better overall flavor (a wonderful nutty flavor!).
Don't use vegetable broth because it does not taste as good as beef broth.
Use a nonstick saucepan because that prevents  sticking and burning.
You must add the broth slowly, while whisking constantly to prevent lumps from forming.
To fix lumpy gravy, use a hand held immersion blender and that will make the gravy smooth again.
Gravy tends to thicken the longer it sits and that's why it's best served immediately.
To fix thick gravy, mix in some water or broth to thin it out to your desired consistency.
You can make this ahead of time and just reheat on the stovetop, prior to a dinner party or Thanksgiving feast.
Recipe can be doubled or tripled easily to serve a larger crowd.
Other one pot sides/ side dishes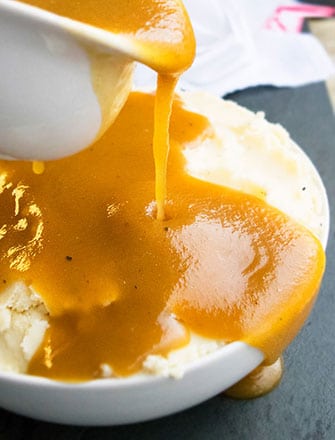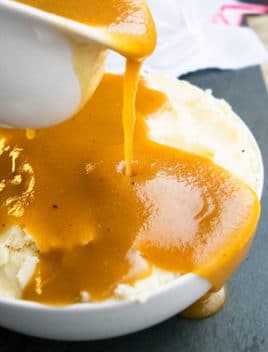 One Pot Homemade Brown Gravy Recipe
Quick and easy homemade brown gravy recipe from scratch, requiring simple ingredients and one pot. It's thick, rich, flavorful and ready in 20 minutes.
Yield: Cups
Ingredients
2 tbsp Butter, Unsalted, Divided
4 tbsp Beef drippings
4 tbsp All-purpose flour
2 cups Beef broth, Low sodium
Salt, To taste
Pepper, To taste
Instructions
Add flour and mix continue stirring until the mixture golden brown.

Gradually, add broth (1/2 cup at a time) while constantly mixing to prevent formation of any lumps.

Continue mixing until smooth. If you ever get lumps, you can get use a hand-held blender to get rid of them.

Add salt and pepper and let it simmer for a few more minutes until it thickens to your preference.

Stir in 1 tbsp butter for a shiny finish and serve immediately. Enjoy!
Notes
Read all my tips above.
Leftovers can be stored in a sealed container in the fridge for up to 2 days. If it becomes thick, just heat in a non-stick saucepan on the stovetop over medium heat with some beef broth to thin it out. 
Nutrition
Calories: 173kcal, Carbohydrates: 11g, Protein: 4g, Fat: 12g, Saturated Fat: 7g, Cholesterol: 30mg, Sodium: 994mg, Potassium: 129mg, Vitamin A: 355IU, Calcium: 14mg, Iron: 1.1mg
Happy cooking everyone!