Homemade Cranberry Sauce Recipe (One Pot)
Quick and easy homemade cranberry sauce recipe, made from scratch with 5 simple ingredients in one pot in 20 minutes on stovetop. Loaded with orange juice and zest.
Thanksgiving is approaching quickly and this homemade cranberry sauce recipe is a classic side dish or condiment that you need to serve, along with my  Easy Cranberry Relish Recipe. This sauce is fresh, flavorful, beautifully red with a hint of orange flavor as well. It's sure to be a hit at your Thanksgiving feast.
This fresh cranberry sauce beats canned cranberry sauce recipe in flavor and texture!

How to make cranberry sauce? How do you make the best cranberry sauce recipe? How do you make a simple cranberry sauce?
Combine orange juice, water and sugar in a saucepan and cook until combined.
Mix in cranberries, cinnamon and zest.
Cook for 10 minutes until you have a chunky mixture.
Cook on medium high heat until liquid is reduced and you are done.
Is cranberry sauce supposed to be hot or cold?
It can be served either way. I believe that it should at least be warm or at room temperature, when being enjoyed with a hot turkey.
Can you make cranberry sauce with dried cranberries?
Yes, you can use dried cranberries but you would need to add more juice/water to add more moisture to the recipe. However, I still prefer the fresh version over the dried version because it's fresh and it looks better and is also quicker to make.
Cranberry Orange Sauce / Cranberry sauce with orange juice and orange zest
Both, juice and zest, are required in this recipe to give it that amazing citrus flavor and aroma. However, if you don't have orange zest, you can replace that with 1-2 tablespoons of orange marmalade. It's still not as strong as using zest but still very good.
Use this cranberry sauce for pork, meatballs, turkey, chicken!

Tips for easy cranberry sauce
Use fresh cranberries because they yield the best flavor and texture.
Adjust the amount of sugar, based on your preference.
Adjust the amount of cinnamon and zest, based on your spice preference.
If you prefer a very smooth sauce, you can use a hand-held blender and puree it into a smooth consistency. I highly recommend the chunky texture because it's the BEST!
Use a nonstick pot to prevent burning and sticking.
Get creative and use other juices and zests for a different flavor profile.
If sauce is too thin, cook for longer until liquid is reduced and sauce thickens.
If sauce is too thick, add some more water to thin it out.
Thanksgiving cranberry sauce
This is a classic side dish for Thanksgiving but it's also great side for serving at a Christmas dinner party too.
Jellied cranberry sauce
That usually requires the addition of some gelatin to give it the jelly-like consistency.
Cranberry apple sauce
Add 1/2 cup leftover applesauce to this recipe and it won't affect the flavor or texture at all.

Sugar free cranberry sauce
Replace granulated sugar with artificial sweeteners like Splenda. You can also use agave syrup, molasses and even honey.
Healthy cranberry sauce
To make this recipe healthier, replace sugar with honey or molasses.
Other One Pot Sides/ Side Dishes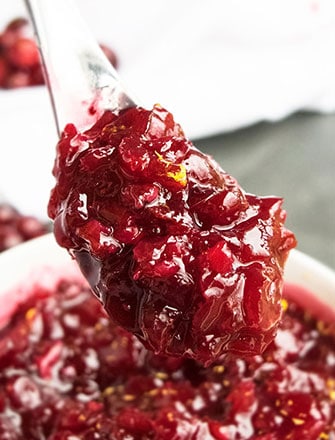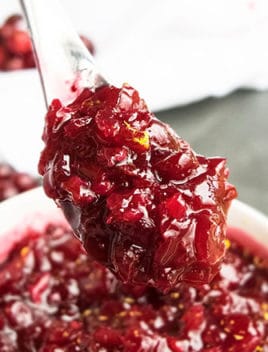 One Pot Cranberry Sauce Recipe
Quick and easy homemade cranberry sauce recipe, made from scratch with 5 simple ingredients in one pot in 20 minutes on stovetop. Loaded with orange juice and zest.
Yield: People
Instructions
In a nonstick saucepan, mix together orange juice, water, sugar and cook over medium heat for 1-2 minutes until everything is fully combined.

Add cranberries, cinnamon stick and orange zest.

Continue cooking on medium high heat for about 8-10 minutes or until most of the cranberries have popped and liquid has reduced to your desired consistency.

Remove from heat and let it cool down completely.

Then, cover and refrigerate until you are ready to serve. Enjoy!
Notes
Read all my tips above.
Leftovers can be stored in a sealed container in the fridge for up to 3 days. 
Nutrition
Calories: 100kcal, Carbohydrates: 26g, Sodium: 2mg, Potassium: 67mg, Fiber: 2g, Sugar: 21g, Vitamin A: 55IU, Vitamin C: 14.4mg, Calcium: 9mg, Iron: 0.2mg
Happy cooking everyone!