Slow Cooker Ham
Quick and easy slow cooker ham recipe (crockpot ham) with simple ingredients. Tender and juicy. Loaded with pineapples, brown sugar, ginger, garlic.
This slow cooker ham recipe will be a big hit with your guests at Christmas and Easter parties. It's made with only 6 simple ingredients and it is very soft and tender, melts in your mouth plus it has the perfect sweet and fruity flavor with a hint of spice.
You can even use this recipe to make a cheap and easy weeknight meal by using a smaller 2-3 pound ham. The cook time would  also be obviously be shorter too.
This is the best brown sugar pineapple ham recipe ever!
I have tried a few different variations but this one yields the best flavor and texture.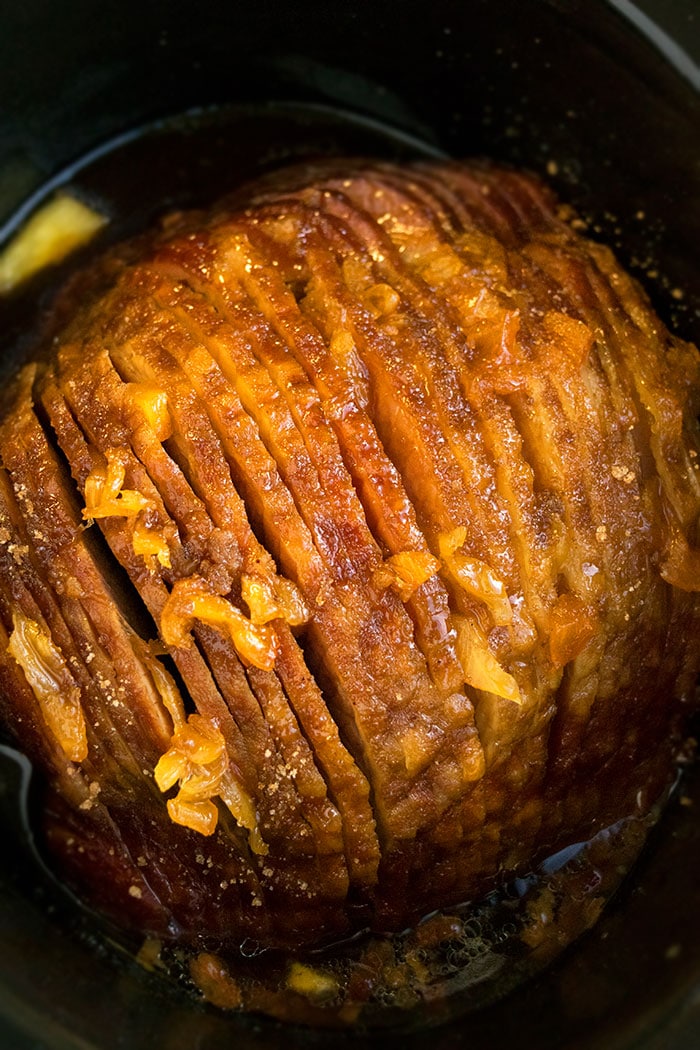 How do you cook a precooked ham in a slow cooker? How to cook a ham in a slow cooker?
Sprinkle ham with garlic powder, ginger powder, pineapples, red chili flakes and brown sugar.
Cook in the slow cooker for 4 hrs.
In the final 30 minutes, add the remaining spices and brown sugar.
Cover and cook to make a nice caramelized crust and you are done.
Can I put a ham in a slow cooker?
Yes, you can absolutely do this.  You may have to trim the sides or bottom to make it fit properly.
What to serve with slow cooker ham recipes?
These are the best sides:
How long should I cook ham in a slow cooker?
Cook for about 4 hours on low heat. It needs to get to a temperature of 140 degrees.

Slow cooker smoked ham
You can use smoked or non-smoked ham. In my opinion, the subtle smoky flavor is lovely in this recipe.
Slow cooker spiral ham
I used half a spiral cut ham because I love that the slices are already pre-cut and they are so convenient for serving but you can also use bone-in ham or even whole ham without any issues.
Slow cooker precooked ham
I highly recommend buying it precooked because it's faster and convenient and get the crockpot to do all the work. You also won't occupy the oven and keep it free for all the other food and sides that you need to prepare for the holiday party.  This ham is already cooked and cooking it in the slow cooker is simply heating it and infusing it with more flavor to take it over the top.
Slow cooker ham with pineapple and brown sugar
Among all the recipes I have tried, this one has the best and most balanced sweet, spicy and smoky flavor.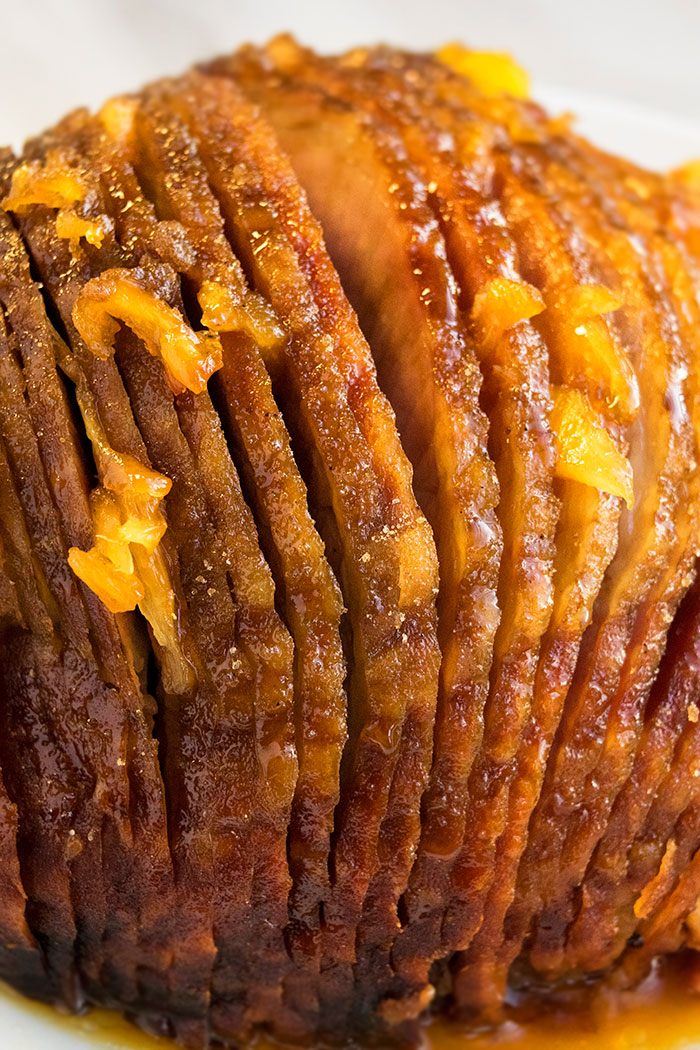 Tips for crockpot ham recipe
You must use cooked ham for this recipe.
Discard the glaze packet that comes with the ham.
Add half the brown sugar and spices in the beginning and the remaining amount near the end. That's because the first amount will fully melt into liquid but the final amount will create a nice caramelized crust on top with an amazing flavor.
Add a sprig of thyme and sage to infuse even more flavor and aroma into the ham.
For a firm crispy crust, transfer the ham into an oven-safe baking dish with all the juices and pineapples and bake at 375 degrees for 15-20 minutes and serve immediately.
If your ham is not fitting in the crock pot, trim the bottom of the ham to make it fit nicely. In the worst case scenario, cover the slow cooker tightly with heavy duty foil paper. Be very careful of the hot steam when you finally remove the foil.
Don't over-cook the ham because that will lead to a tough dry ham. You simply need to get a temperature of 140 degrees.
If you are using a smaller ham, just halve all the other ingredients.
Don't keep opening the lid because that causes heat to escape and it will take longer for the ham to cook/heat up.
Instead of pineapple juice, you can use the same amount of orange juice or apple juice.
To make a thick glaze that you can brush on top of the ham, remove the juices from crock pot and strain it through a sieve into a nonstick saucepan. Dissolve 1-2 tbsp of cornstarch in water and add that slurry in the juices and keep whisking until mixture thickens. Never add cornstarch powder into the juices because that will create disgusting starchy lumps that will not dissolve properly.
With regards to the number of servings, it should be approximately 1/2 pound of boneless ham per person and 3/4 pound of bone-in ham per person.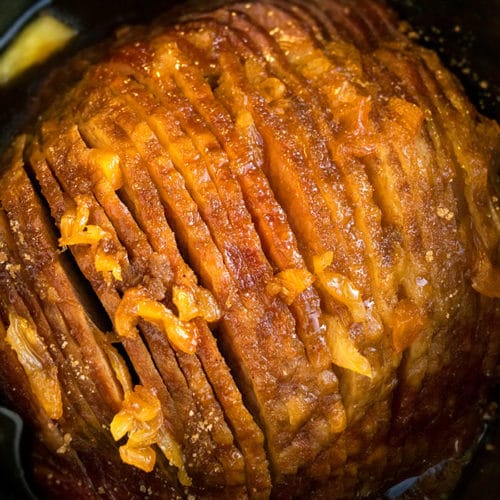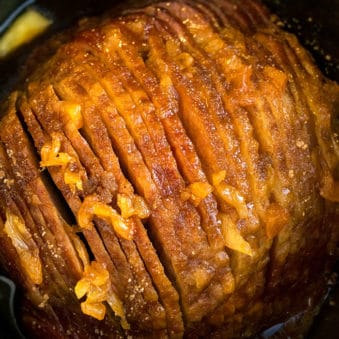 Slow Cooker Ham Recipe (Holiday Ham)
Quick and easy slow cooker ham recipe (crockpot ham) with simple ingredients. Tender and juicy. Loaded with pineapples, brown sugar, ginger, garlic.
Yield: people
Ingredients
6-7 pound Ham, Fully cooked, Spiral cut
1/4 tsp Red chili flakes, Optional
1 tsp Garlic powder
1 tsp Ginger powder
1 can Pineapples, Crushed, chunks or tidbits, 20 oz. can
1 cup Brown sugar
Instructions
Sprinkle a dash of red chili flakes, 1/2 tsp garlic powder, 1/2 tsp ginger powder all over the ham.

Then, pour the can of pineapples with the juices gently over the ham.

Sprinkle 1/2 cup brown sugar on top of the ham. Don't worry if some of it falls over to the side.

Cook on low for 4 hours.

In the final 30 minutes, sprinkle the remaining 1/2 tsp garlic powder, 1/2 tsp ginger powder, a dash of red chili flakes (optional), 1/2 cup brown sugar on top of the ham. This gives the ham a nice caramelized crust, color and flavor on the top. Cover and continue cooking on low heat.

Serve slices of ham with pineapples and juices. Enjoy!
Notes
Read all my tips above.
Tastes best when served fresh but leftovers can be served in a sealed container in the fridge for up to 3 days. 
Nutrition
Calories: 622kcal, Carbohydrates: 18g, Protein: 49g, Fat: 38g, Saturated Fat: 13g, Cholesterol: 140mg, Sodium: 2698mg, Potassium: 676mg, Sugar: 17g, Vitamin A: 10IU, Calcium: 31mg, Iron: 2.1mg
Happy cooking everyone!