How to Make Easy Thanksgiving Turkey (One Pan)
Learn how to make easy Thanksgiving turkey with simple ingredients in one pan. It's the best, moist, juicy & roasted in oven with lots of garlic and butter.
Today, I am sharing the ultimate guide on making the easiest, simplest, juiciest roasted Thanksgiving turkey. It's so delicious that you can make it for other holidays too like Christmas and Easter. Also, if you are having a small gathering, consider making this Thanksgiving Roast Turkey Breast (One Pan).
This is the best Thanksgiving turkey recipe ever!
It's perfect, moist, juicy, flavorful and requires no brining, no marinating and no basting!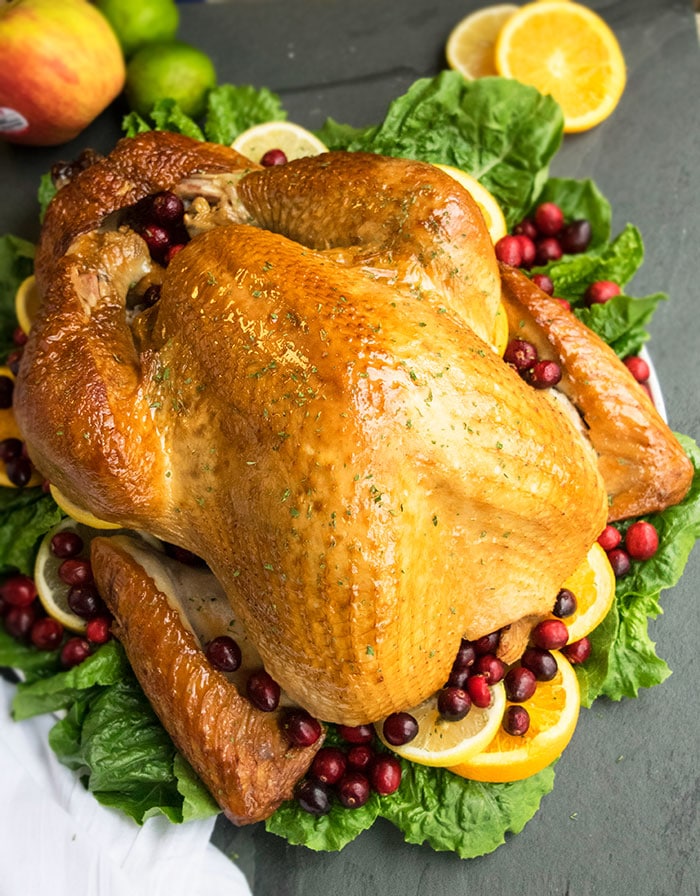 Cooking Thanksgiving turkey requires planning!
Since turkeys usually come frozen and they are so big, you will need to plan ahead and make sure it thaws and defrosts in time.
How to cook a turkey for Thanksgiving? How to make Thanksgiving turkey?
Pat the turkey dry with paper towels
Sprinkle salt and pepper in the cavity.
Stuff it with citrus and herbs.
Loosen the skin underneath the breast and rub garlic herb butter under the skin as well as all over the skin too.
Roast in the oven.
Halfway through roasting, cover pan with aluminum foil to protect turkey from becoming too dark and dry.
Continue roasting until internal temperature reaches 165 degrees F.
Remove from oven and let the turkey rest.
Then, carve and enjoy.
PRINTABLE RECIPE CAN BE FOUND BELOW.
What sides should I serve with Thanksgiving turkey?
Should you brine turkey?
No, you don't have to brine if you bought a high quality turkey like Butterball or Norbest. Those turkeys are already brined. However, it's recommended that wild turkey should be brined to retain moisture during baking. I have a fantastic recipe for Turkey Brine Solution (One Pot), if you are interested.
How to brine a turkey for Thanksgiving (Thanksgiving turkey brine)?
I did not have to do this in my recipe because I always buy turkeys that are already brined. Anyways, brining means that the turkey is soaked overnight in a solution of salt, water, herbs and spices. During this process, the turkey absorbs extra moisture, which helps it to stay moist and juicy during baking and prevents over-drying during baking. Also, since the brine is seasoned, it adds a little flavor to the turkey as well. 
How much turkey per person at Thanksgiving? What size turkey to buy?
This is the rule of thumb: Buy 1.5 pounds of turkey per person. My mom used to get a 10 pound turkey for a family of 5 and we always had leftovers to enjoy the next few days.  
How do you make a moist turkey?
Make sure not to overcook it! Make sure you are not opening the oven constantly because that lets out hot air, causing it to take longer for turkey to fully cook, and further causing it to become dry.
What is the best way to cook a Thanksgiving turkey? 
The best way to cook it is by roasting it in the oven slowly for a few hours. Use simple herbs and lots of butter for best flavor.
How to marinate a turkey for Thanksgiving?
Basically, prepare your favorite marinade and fully coat your turkey in that mixture. Marinate for at least 10 hours so that the flavors go deep into the meat.
How to season a turkey for Thanksgiving?
Season the inside with salt and pepper and rub underneath the skin and all over the skin with garlic herb butter.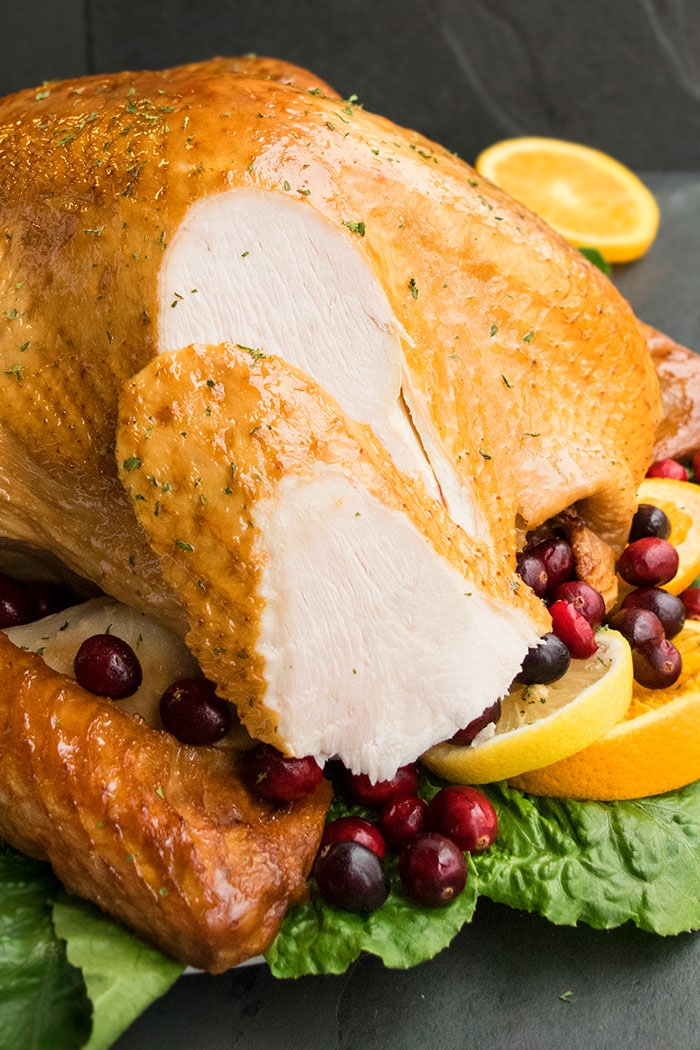 How to thaw turkey?
Since the turkey is so big and typically frozen, it takes time for it to thaw it in the fridge. So, make sure to leave you yourself with plenty of time! Typically, leave the turkey one day in the fridge to defrost for every 5 pounds of turkey.  Make sure to place the turkey on a large baking tray so that all the liquid that drips from the turkey while defrosting stays in the tray rather than dripping all over your fridge.
Do you need to wash the turkey before cooking?
No, the reason for this is simple: If you wash the turkey in your kitchen sink, you will just contaminate it and that can potentially spread deadly bacteria like salmonella all over your kitchen. Any bacteria that's on the turkey will be killed off by the intense heat in the oven during baking.
Instead of washing, remove the turkey from its packaging. Dry it off with paper towels. Then, prepare it for the oven. 
Is basting turkey necessary?
NO! I don't recommend it because you need to open the oven constantly and that lets out heat, making the baking/cooking time longer and that can obviously make the turkey dry.
Rubbing the garlic herb butter all over the turkey is enough to make a moist and flavorful turkey without any need for basting.
Should you put stuffing inside turkey? Is it safe to eat stuffing inside a turkey? What temperature should be stuffing inside turkey?
There is a huge debate surrounding this issue. My family always served this bread stuffing on the side but I did some research and found that if you stuff a turkey with stuffing, you have to use a long thermometer to ensure that the center of the stuffing cooks to 165 degrees. Only at that temperature, the stuffing is considered safe for consumption. Check out the USDA's detailed safety guidelines for stuffing turkey.
What type of pan do I need to cook turkey?
You should use a roasting pan, which has a wire rack for the turkey. However, don't buy one if you don't have it. Just use a disposable foil roasting pan. Obviously, those don't have a rack but you can make your own by placing lots of chopped vegetables (carrots, onions e.t.c) at the bottom and then placing the turkey on top of these vegetables. These veggies will give the turkey some height and it won't be drenched in its own drippings.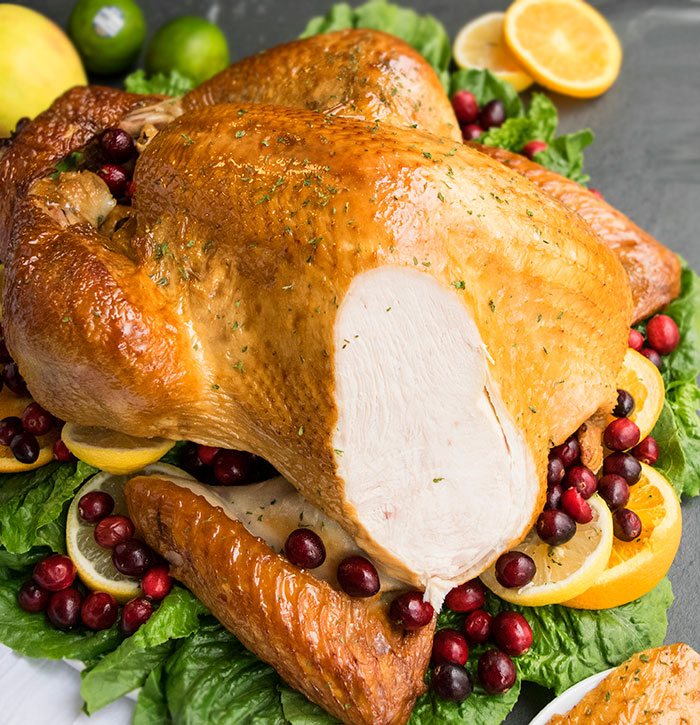 Cooking turkey the day before thanksgiving
Roast the turkey and then cover it in aluminum foil to keep all the moisture in.
When it cools down, refrigerate it overnight.
Roast it in the oven again WITHOUT removing the foil for about 45 minutes at 350 degrees or until the turkey is hot again.
Remove from oven and remove foil.
Carve and enjoy.
I have done this once before once and my family and friends liked it but honestly, I still prefer making my turkey on Thanksgiving day. I feel like it's more juicy when it's not reheated.
Thanksgiving turkey recipe with stuffing
I don't like stuffing that's cooked inside a turkey because it becomes very moist and almost soggy. I prefer my stuffing moist but firm and cooking on the side on stovetop ensures that it's not too soft. I suggest making the turkey in the oven, using my recipe below and then making this Thanksgiving stuffing on the side.
Smoked thanksgiving turkey is also becoming very popular!
If you have a smoker, you should try it out but the recipe and instructions would be different than what I have provided below.
Thanksgiving turkey seasoning
You can buy dry rubs and seasonings and season the entire turkey with it, prior to baking. I prefer using garlic herb butter instead.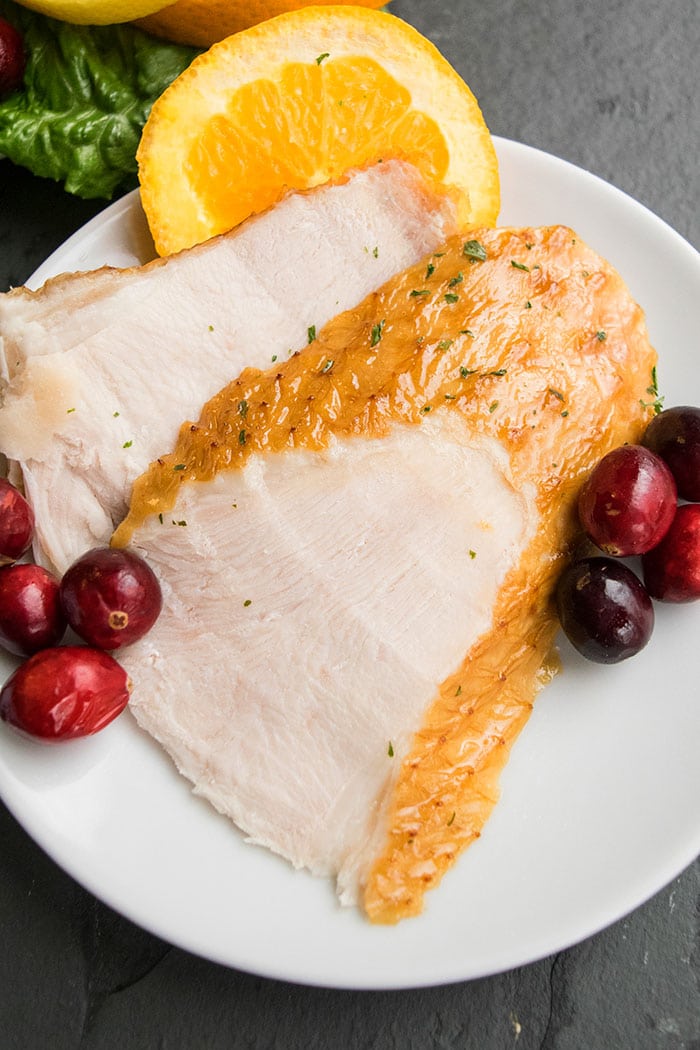 Tips for juicy Thanksgiving turkey recipe
Use a meat thermometer: This is the best and safest way to ensure your turkey is fully cooked. Turkey is ready when the temperature in the breast reaches 165 degrees F.
Let the turkey rest: This means that after your turkey is ready, you remove it from the oven, cover it and let it sit at room temperature for 20-230 minutes. Resting allows the natural meat juices to redistribute throughout the muscles, relaxing the meat fibres, allowing you to savor the delicious tender, juicy meat.
Don't throw away the drippings: Use it to make homemade turkey gravy.
Be sure to tuck the wings in to prevents them from burning during baking.
You can buy garlic herb butter or make it at home yourself. It's very easy and takes 5 minutes. Recipe is in the printable recipe card below.
Let the turkey rest! It's very important to get the juices flowing.
Buy a turkey that's already been brined (E.g. Butterball or Norbest).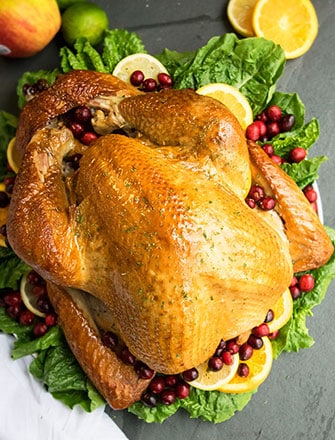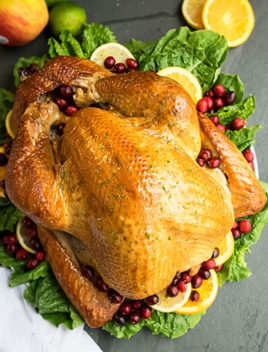 One Pan Thanksgiving Turkey Recipe
Learn how to make easy Thanksgiving turkey with simple ingredients in one pan. It's the best, moist, juicy & roasted in oven with lots of garlic and butter.
Yield: People
Ingredients
1 Whole turkey, 15-20 pound
1/2 tsp Salt
1/2 tsp Pepper
1 Lemon, Cut into 4 big pieces
1 Orange, Small, Cut into 4 big pieces
1 Onion, Medium, Cut into 4 big chunks
1 Apple, Medium, Cut into 8 large cubes
2-3 cloves Garlic
3 stalks Sage, Fresh
3 stalks Rosemary, Fresh
3 stalks Thyme, Fresh
1 cup Garlic herb butter, Room temperature
Instructions
Remove thawed turkey from the fridge 1 hour before you plan on roasting and allow it to come to room temperature.

Remove turkey from packaging and remove the giblets from the cavity. It's very gross and I recommend wearing disposable gloves.

Place the turkey on a roasting rack in a roasting pan.

Use paper towels to pat the turkey as dry as possible.

Sprinkle salt and pepper inside the the cavity.

Stuff it with lemon, orange, onion, apple, garlic, sage, rosemary, thyme.

Then, use your fingers to loosen and lift the skin on top of the turkey breast and spread a 1/4 cup of the butter underneath this skin.

Brush the remaining butter all over the turkey. Make sure to get into all the tight spots.

Be sure to tuck the wings underneath the turkey because it sits better this way and also doesn't burn.

Roast at 325 degrees. As for the roasting time, the general rule of thumb is to roast for about 15 minutes per pound of turkey.

When the turkey has been roasting for 1.5 hours or when you notice the skin has become nice and golden brown, cover the top of the turkey with aluminum foil. This will protect it from becoming too brown, dry and over-cooked.

Remove the turkey when an inserted thermometer in the breast of the turkey reaches 165 degrees. That internal temperature is crucial!

Allow it to rest, covered, for 20-30 minutes. Then, carve and enjoy!
Notes
Read all my tips above.
Use drippings in in your roasting pan to make gravy.
If you don't have GARLIC HERB BUTTER, make it at home:
INGREDIENTS
– 1 cup Butter (Unsalted, Room temperature)
– 1 tsp Salt
– 1/2 tsp Black pepper
– 8 cloves Garlic (Finely minced)
– 1 tbsp Thyme (Fresh, Finely chopped)
– 1 tbsp Rosemary (Fresh, Finely chopped)
– 1/2 tbsp Sage (Fresh, Finely chopped)
INSTRUCTIONS
– In a mixing bowl, combine all the ingredients until smooth and creamy.
Nutrition
Calories: 259kcal, Carbohydrates: 4g, Protein: 37g, Fat: 9g, Saturated Fat: 2g, Cholesterol: 123mg, Sodium: 270mg, Potassium: 434mg, Fiber: 1g, Sugar: 2g, Vitamin A: 150IU, Vitamin C: 10.2mg, Calcium: 34mg, Iron: 1.7mg