Creamy Dill Dip (One Bowl)
The best, classic, quick, easy, creamy dill dip recipe, homemade with simple ingredients in one pot or bowl in 10 minutes. Serve it with with chips, vegetables and pretzels for an easy appetizer!
This dip is also known as "dill sauce (dipping sauce)," but is not to be mistaken with dill pickle dip that's much more tangy. To be honest, I prefer this one since it has a milder flavor. It's always a hit at parties and loved by guests as much as this Spinach Artichoke Dip (One Pot).
The creamy fresh flavor is enjoyed by adults and kids alike. In fact, it is a staple at just about any party I have been to because of its versatility. It pairs well with pretzels, vegetables, potato chips, chicken, salmon, and the list goes on.
Prep this dip ahead of time for football games, tailgating, birthday parties, or the holidays.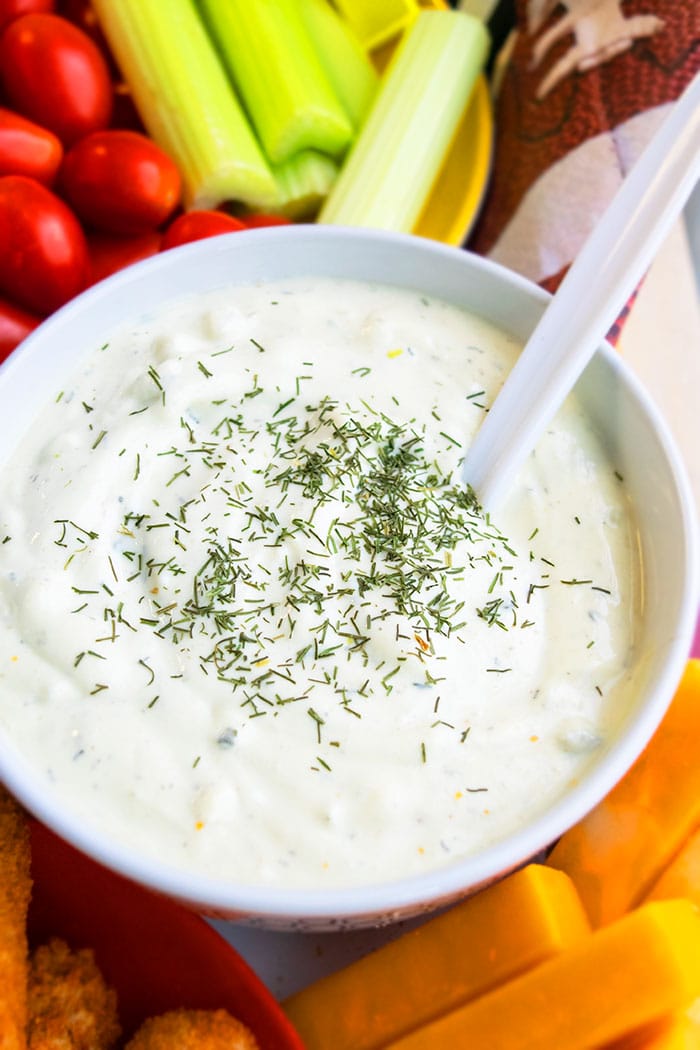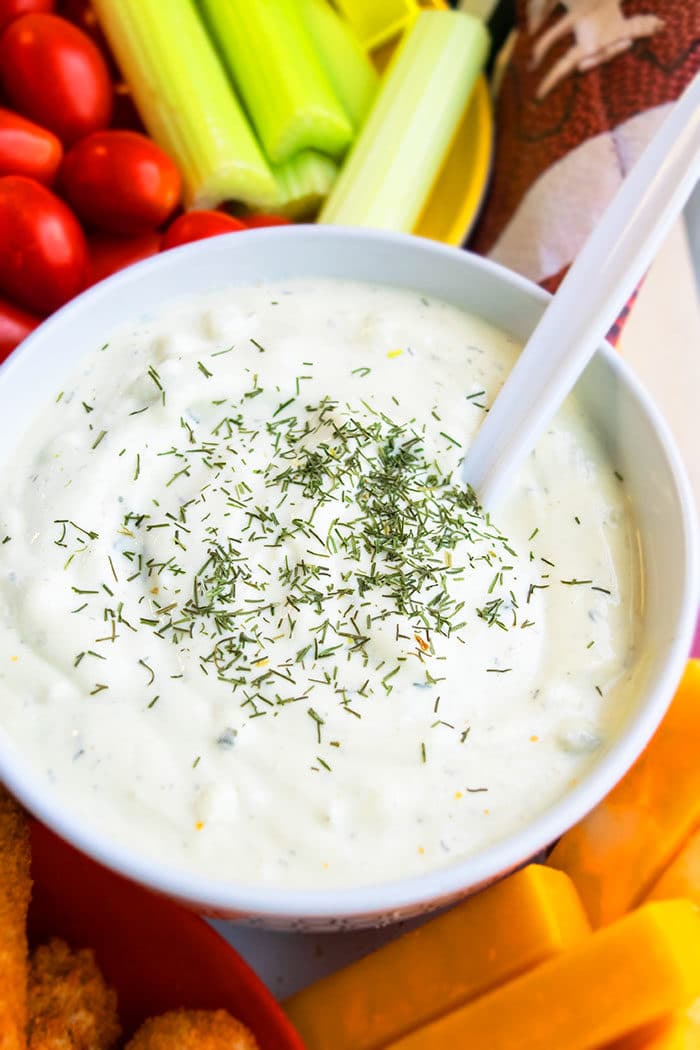 How to make dill dip?
Mix the dairy- Combine cream cheese, sour cream, and mayonnaise and mix till smooth.
Season it- Add garlic, onion powder, salt, pepper, dill, and green onions.
Thin it- Add a little milk if it's too thick.
Chill it- Cover and chill for at least 1 hour to develop flavor.
Enjoy- Serve with chips or vegetables!
What to serve with fresh dill veggie dip recipe?
There are so many options to serve with dip! Here are a few:
Chips– Potato, tortilla, or pita all work well.
Vegetables– Carrot, celery, bell peppers, cucumber, broccoli, cauliflower. Basically, serve firm veggies.
Protein– Use as a sauce on salmon, or for dipping with chicken.
Crackers– Homemade or store-bought.
Pretzels– Hard or soft.
Breadsticks– Cheese-filled ones or plain or even garlic ones.
Mozzarella sticks- These paired surprisingly well.
Cheese sticks– Serve a variety so that guests have some choices.
Garlic bread– Cut small slices.
Can dill dip be frozen?
It's is best served fresh. When it is frozen and then thawed, the fats will separate and the dip will become watery.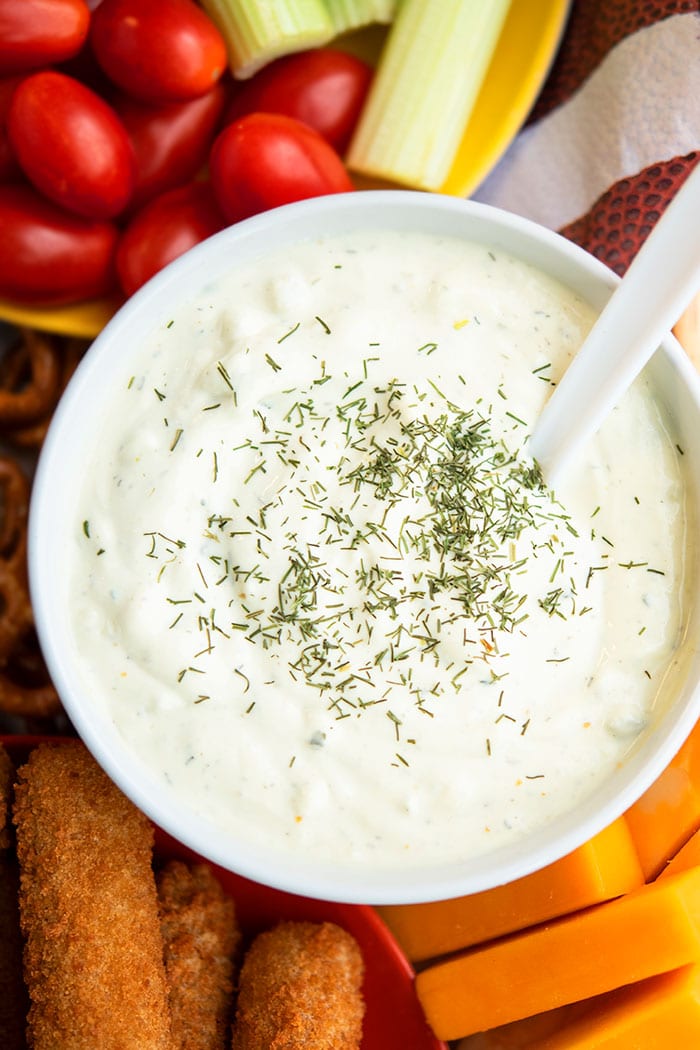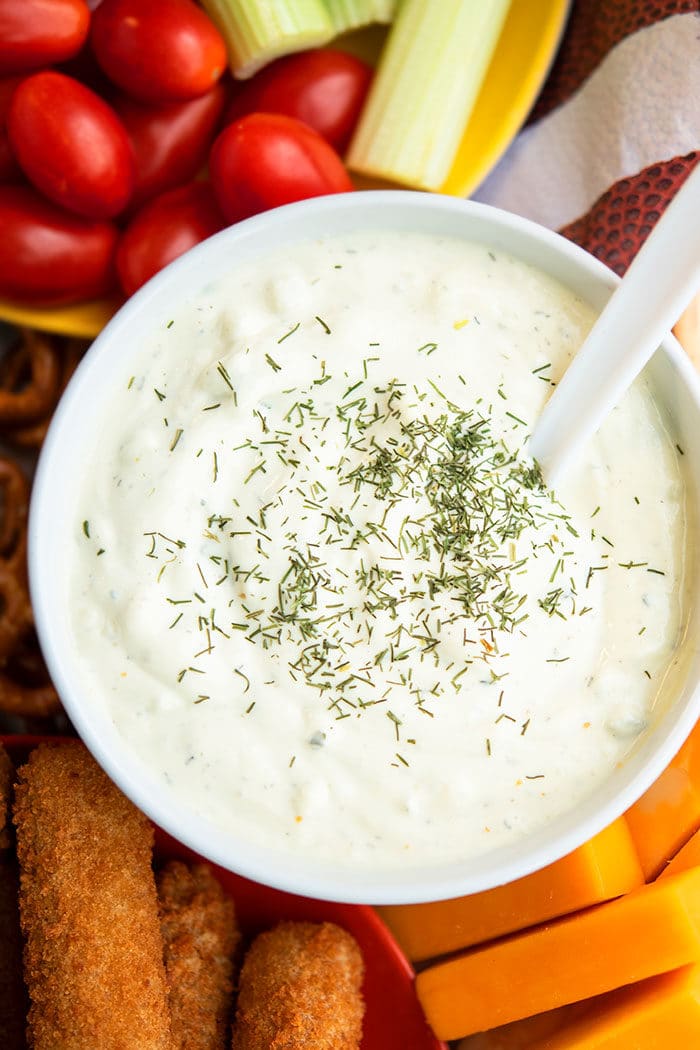 Variations
Greek yogurt dill dip– Use Greek yogurt in place of the sour cream to add some protein and more tanginess. Greek yogurt works well because it is thicker than other yogurts.
Cumber dill dip– Finely dice some cucumbers and mix it in.
Make a dip bread bowl– Hollow out a bread bowl and fill it with dip. Cut up the portion of bread you hollowed out and use it for dipping.
Make it healthier– Using Greek yogurt instead of 1 or all 3 creams will decrease the fat and increase the protein content in this dip. You can use low-fat creams, but the dip will be thinner and have a slightly less rich taste.
Use other herbs and spices– Add Italian Seasoning, Greek Seasoning, or add some red pepper chili flakes for a little spice.
Use as a sauce- Use this dip as a sauce to drizzle over salmon. The dill pairs very well with this fish choice. It also makes a nice sauce for baked chicken and even chicken nuggets for the kids. This sauce would also taste delicious as a spread on this Mediterranean Veggie Sandwich.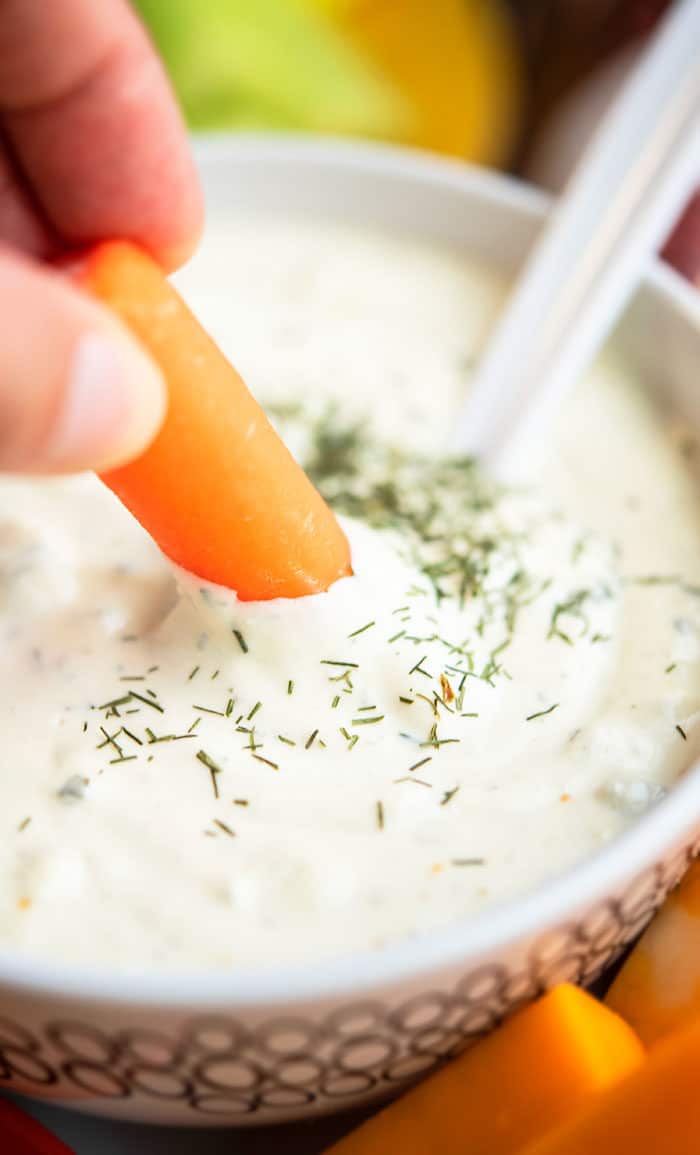 Tips and Techniques
How long does does homemade dill dip last at room temperature? Serve it chilled. Leave it out for no longer than 2-3 hours because the dairy in it is perishable. Place a bowl of dip on a slighlty larger bowl full of ice to ensure freshness if it will be left out for awhile.
Fresh dill vs. Dried dill– Fresh dill is always better because it is just that, fresh! Dried dill can be substituted, but it will need to chill longer than an hour for the flavor to develop. Dried herbs release their flavor best when heated, and this dip is not heated so if you have the choice choose fresh.
Sour cream dill dip vs. Cream cheese dill dip– My recipe uses sour cream, cream cheese and mayo for maximum richness and creaminess. Sour cream or mayonnaise, alone will be very tangy and cream cheese alone, would be very cheesy. You need all 3 ingredients for a balanced flavor.
Can you make this savory party dip in advance? Yes! Make this dip the night before the big event and the flavors will be even more developed and delicious.
How to use leftovers? Use leftovers as a sauce on a main dish the next night such as these Grilled Chicken Breasts, on a sandwich, or even drizzled over a simple green salad.
Make it warm- Add a shredded white cheese to it like mozzarella or monterey jack cheese, and then heat it in an oven safe dish, and serve it as a warm dip with bread or crackers.
Let it rest!!!!!! This is crucial to developing the flavors in this dip. It will not taste as dill flavored and will taste disjointed if it's eaten right away.
More One Pot Appetizer Recipes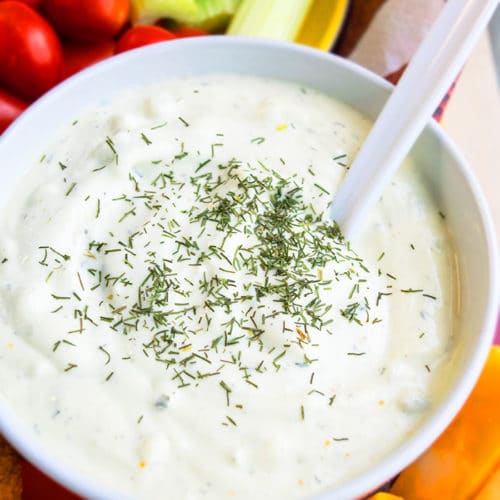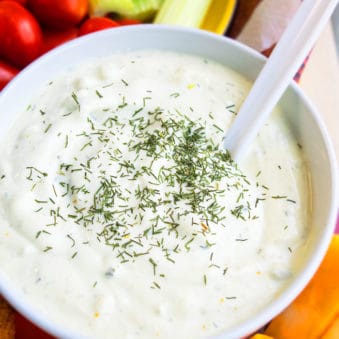 Creamy Dill Dip
Classic, quick, easy, creamy dill dip recipe, homemade with simple ingredients in one pot or bowl in 10 minutes. Serve it with chips and veggies.
Yield: People
Instructions
In a large mixing bowl, mix together cream cheese, sour cream, mayonnaise until smooth

Add garlic powder, onion powder, salt, pepper, dill, green onions, and mix until combined.

Mix in some milk if the dip is too thick for your liking. I like mine thick!

Cover and chill for 30 minutes to 1 hour for flavors to develop.

Serve with veggies or chips. Enjoy!
Notes
Read all my tips above.
Leftovers can be stored in a sealed container in the fridge for up to 3 days. 
Nutrition
Calories: 273kcal, Carbohydrates: 4g, Protein: 3g, Fat: 28g, Saturated Fat: 13g, Cholesterol: 66mg, Sodium: 214mg, Potassium: 119mg, Fiber: 1g, Sugar: 3g, Vitamin A: 767IU, Vitamin C: 1mg, Calcium: 85mg, Iron: 1mg
Happy cooking everyone!