Instant Pot Mac and Cheese
Quick and easy instant pot mac and cheese recipe, homemade with simple ingredients. Super creamy and loaded with cheese. No evaporated milk! No Velveeta!
This meal is ready in only 10 minutes and perfect for busy days. It screams comfort food just like these other Instant pot meals:
Tender macaronis are loaded with creamy cheese sauce (made of 3 cheeses!) and simple seasonings. You will surely be coming back for more and leftovers are perfect for school lunches that kids will love!
How to make easy instant pot mac and cheese recipe?
Add uncooked pasta, seasonings and broth.
Cover and cook.
Release pressure.
Add cheese and milk.
Mix until smooth and you are done.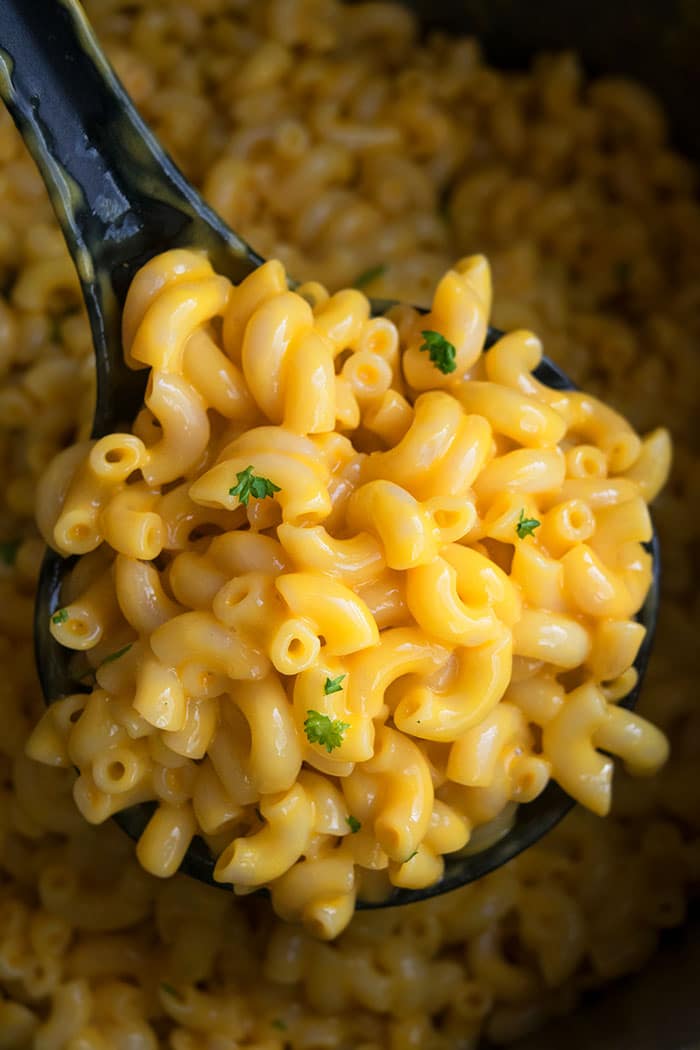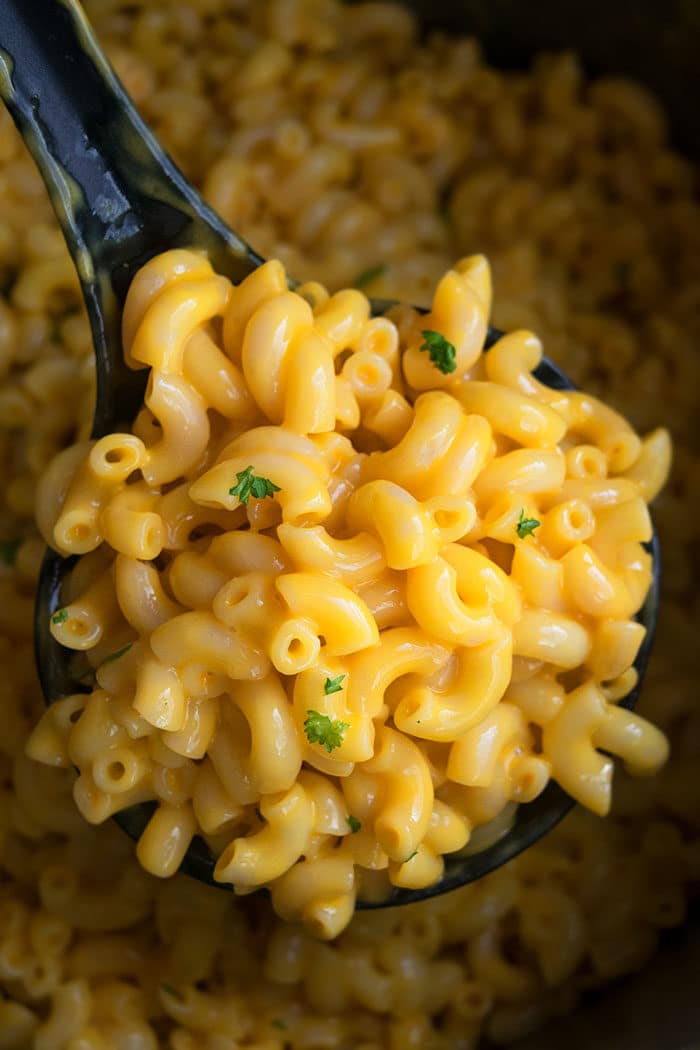 What cheeses to use for best mac and cheese (instant pot)?
The best combination is sharp cheddar, mozzarella and parmesan, hands down. However, you can also use a blend of other cheeses for a different flavor profile
Gouda
Gruyere
Ricotta
Parmesan
Feta
Pepper jack
Colby jack
Swiss
Mexican cheese blend
Blue cheese
Tips and Techniques
-Adjust amount of seasonings– This can be done, based on your preference. Add more or less of salt, pepper, garlic, onion powder, mustard, Sriracha.
-Use low sodium ingredients– Because this prevents the meal from becoming too salty. This is especially with regards to butter and broth.
Pasta thickens as it cools– This is normal and nothing to worry about. It will be slightly runny but it will continue to thicken as it cools down. Also, you can add more or less milk, based on your preference.
-Use small sized pastas- Such as elbows, daltini or shells. If you use jumbo pastas, the quantity of broth and water may have to be adjusted.
-Use full fat ingredients-For maximum richness and creaminess, use full fat cheeses and whole milk. However, my mom likes to use evaporated milk and that works really well too.
-Can you freeze this meal? No, it does not taste as good when it thaws.
-What type of milk to use? Can you use evaporated milk instead of milk? The best choice is whole milk since it yields the creamiest results. However, you can also use 2% milk or even evaporated milk or even a combination of heavy cream, 2% milk and evaporated milk. Test it out and see what works best for your palette.
-Make baked mac and cheese- This is very popular. Spread the prepared pasta in a large oven-safe dish. Top off with shredded cheddar cheese and crushed Ritz crackers or breadcrumbs. Bake at 400 degrees for about 15 minutes or until top is toasted and golden brown.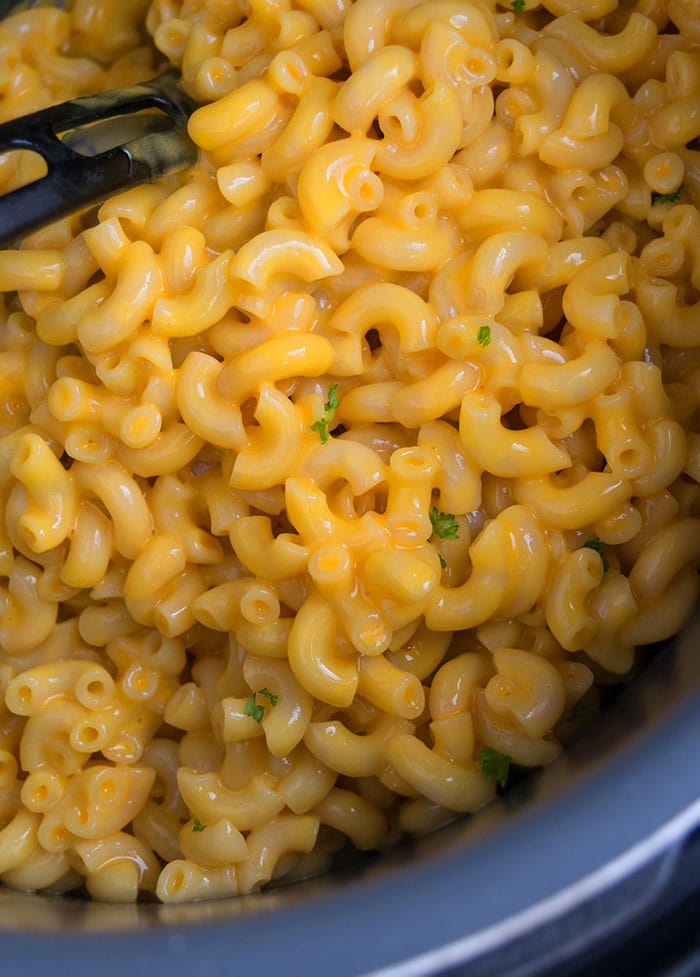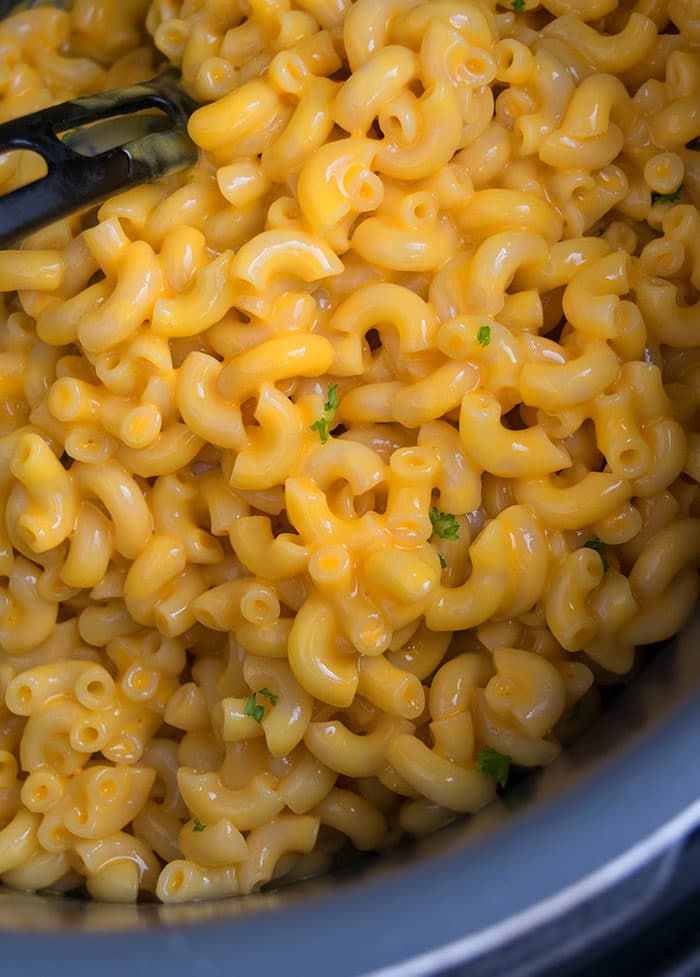 What sides to serve?
Since this is such a heavy meal, I highly recommend keeping the sides simple such as :
Crusty bread
Breadsticks
Garlic bread
Sald
How to reheat macaroni and cheese?
Honestly, it tastes the best when served fresh, all warm, cheesy and ooey gooey. However, this meal has a tendency to become thick, as it cools down because the pasta absorbs all the liquid and moisture, making it feel very dry.
Thankfully, this can easily be fixed. Before you reheat in the microwave, just add a splash of milk, heat, and then, mix everything together until creamy again.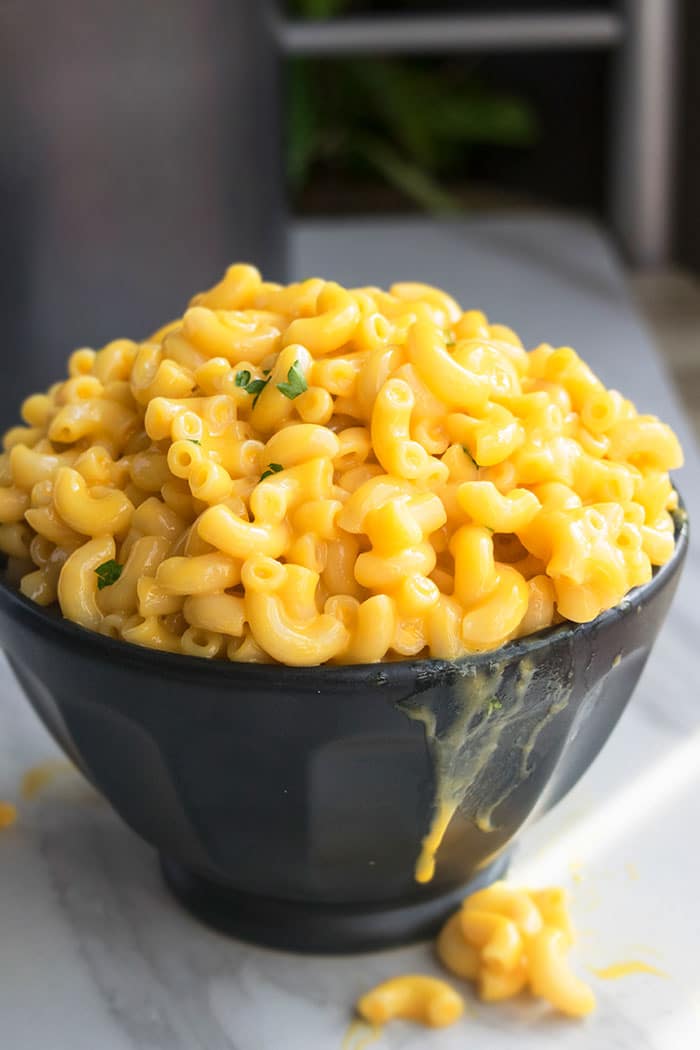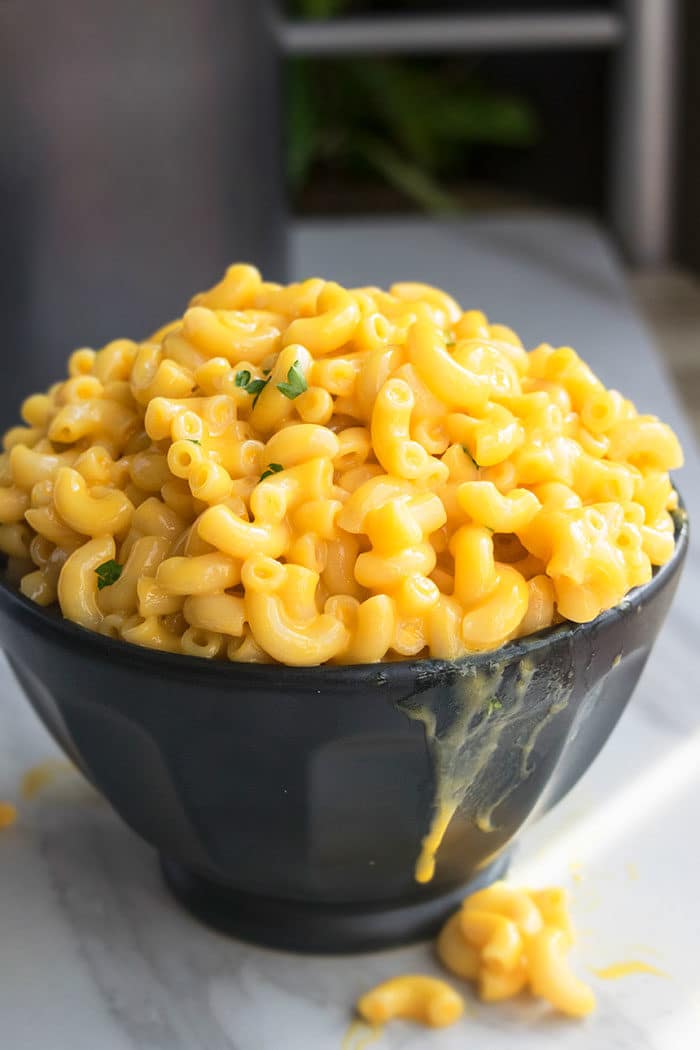 What can I add to mac and cheese?
You can try many flavor variations, just by the addition of a few simple ingredients.
– Use your favorite cheeses– I like to use a combination of cheddar and mozzarella but my son loves the Mexican cheese blend. Get creative!
-Bacon– Everything is better with bacon. When pasta is ready, sprinkle cooked crumbled bacon on top to add a little crunch.
-Sausage– Slice it into small round pieces and cook it first on the "Saute" setting. Then, add all the other ingredients and cook, as per instructions below.
-Ground beef- Cook it first on the "Saute" setting and drain fat. Then, add all the other ingredients and cook, as per instructions below.
-Chicken- Mix in The easiest choice is rotisserie chicken or leftover baked/grilled chicken from a previous meal. Shred it cut it into cubes and mix it into the prepare pasta at the end.
-Spinach– Use frozen but be sure to thaw and drain excess liquid before adding it into the pot.
-Get creative with garnish– The classic choice is parsley but you can also use finely chopped green onions or cilantro or basil or chives.
-Seasonings– There are so many pre-made seasonings in the market these days. Use an Italian spice blend or Cajun seasoning or Mexican taco seasoning to really take this dish over the top.
-Jalapenos– This jalapeno popper version is my personal favorite. I only add 1 large jalapeno. Make sure it's finely chopped. De-seed if you don't want it too spicy.
-Make it spicy- Do this by adding some red chili flakes or even finely chopped green chilies.
– Make this meal vegan– Use vegan milk (almond milk, coconut milk, soy milk, cashew milk) and vegan cheese.
-Make it smoky- You can do this by adding a little liquid smoke or using a smoker.
-Make it healthier– This can be done by using low fat milk and cheeses or even cauliflower cheese sauce (although I must admit that I really don't like the cauliflower version).
Other One Pot Pasta Recipes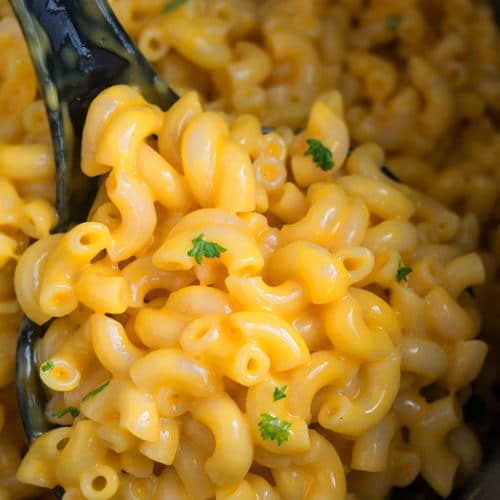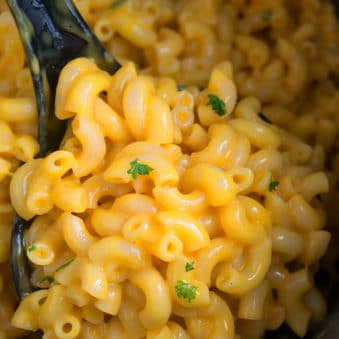 Instant Pot Mac and Cheese Recipe
Quick and easy instant pot mac and cheese recipe, homemade with simple ingredients. Super creamy and loaded with cheese. No evaporated milk! No Velveeta!
Yield: People
Instructions
Add the macaroni, broth, butter, garlic powder, onion powder, salt, pepper, mustard, sriracha sauce or hot sauce (optional) in the instant pot and mix everything together.

Put the lid on and turn up the the valve to "Sealing." Select "Manual" mode and set the time for 5 minutes.

When the cook time is over, let the pressure release by turning the valve to "Venting."

Remove lid and mix in all the cheeses and milk until smooth and creamy.
Note: Start off by adding 1/2 cup milk and add more, as necessary, until you are satisfied with the consistency.

Garnish with finely chopped parsley (optional) and serve immediately.
Notes
Read all my tips above.
This tastes best when served fresh but leftovers can be stored in a sealed container in the fridge for up to 2 days. It can be reheated in the microwave with a splash of milk. 
Nutrition
Calories: 477kcal, Carbohydrates: 58g, Protein: 21g, Fat: 17g, Saturated Fat: 10g, Cholesterol: 48mg, Sodium: 965mg, Potassium: 331mg, Fiber: 2g, Sugar: 2g, Vitamin A: 475IU, Vitamin C: 11.6mg, Calcium: 321mg, Iron: 1.5mg
Happy cooking everyone!