Instant Pot Shredded Beef
Quick and easy instant pot shredded beef recipe with simple ingredients- Juicy, soft, tender meat that melts in your mouth. Use it in tacos, sandwiches, pasta.
This multi-purpose beef makes meal planning so easy because it can be used in so many recipes. It also freezes well and my family loves it just as much as this Mexican Shredded Chicken (One Pot) and this Shredded BBQ Beef (One Pot)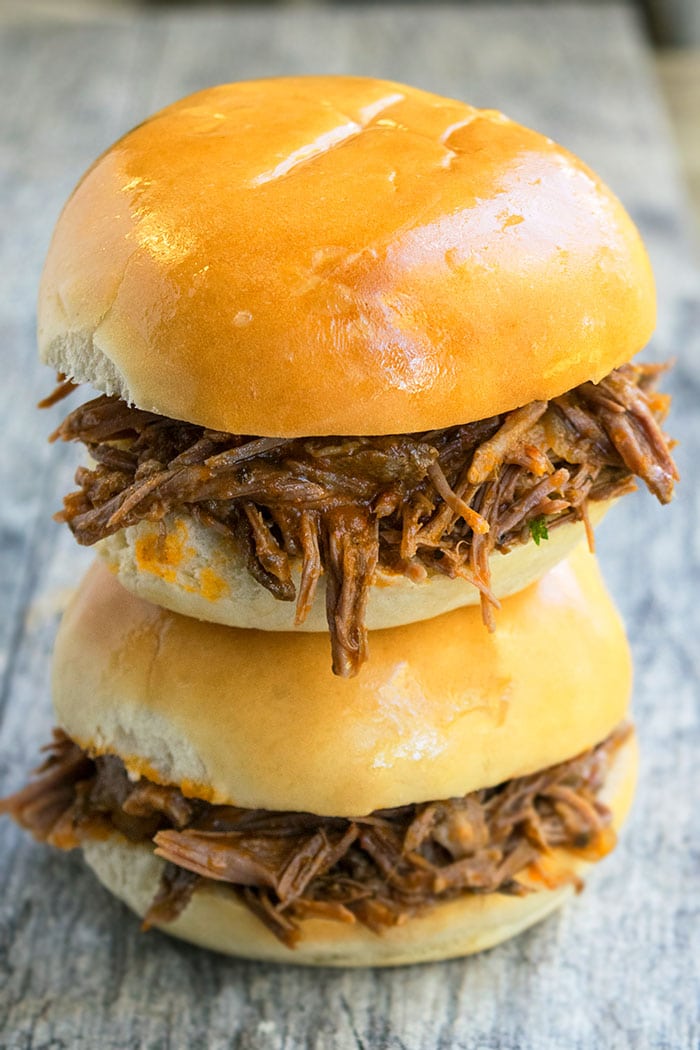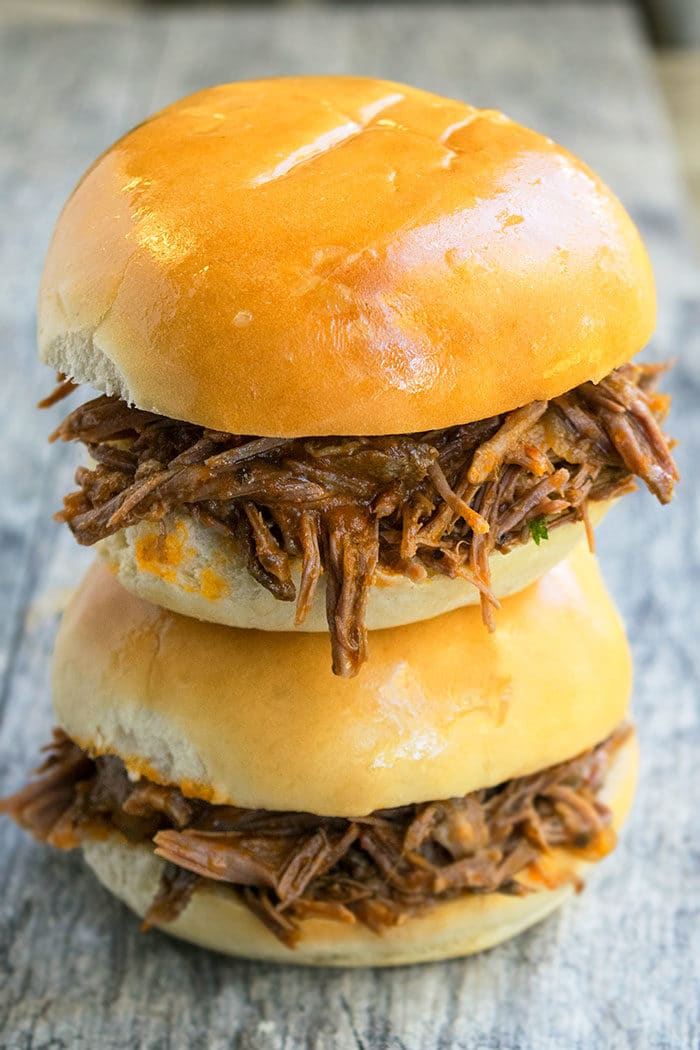 How to make shredded beef in instant pot?
Sear the meat until brown on all side.
Mix in broth, herbs and spices.
Cover and "Seal."
Cook on "Manual" mode.
Let the pressure release via "Venting."
Shred meat.
What cut of meat is best for shredded beef recipes?
Tough meat like chuck roast is my preference because it has lots of connective tissue and very little fat. Thus, when it's cooked slowly for a few hours, the high amount of collagen and tissues in this tough cut breaks down, which yields the most tender and succulent meat.

How do you shred cooked beef?
The best way to do this is to use 2 forks to scrape the beef and rip off small portions. Mix everything together at the end so that all the shreds are coated in the sauce.
I have also heard some people do it successfully in a stand mixer with the paddle attachment but I have not tried this. However, I have used a stand mixer for shredding chicken and that worked very well.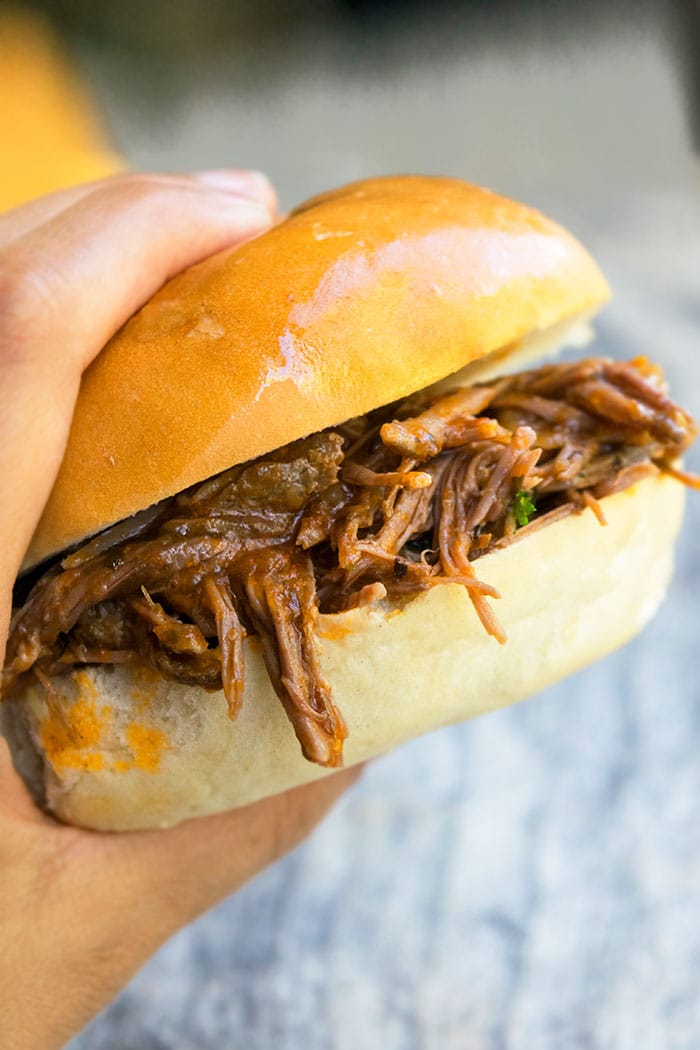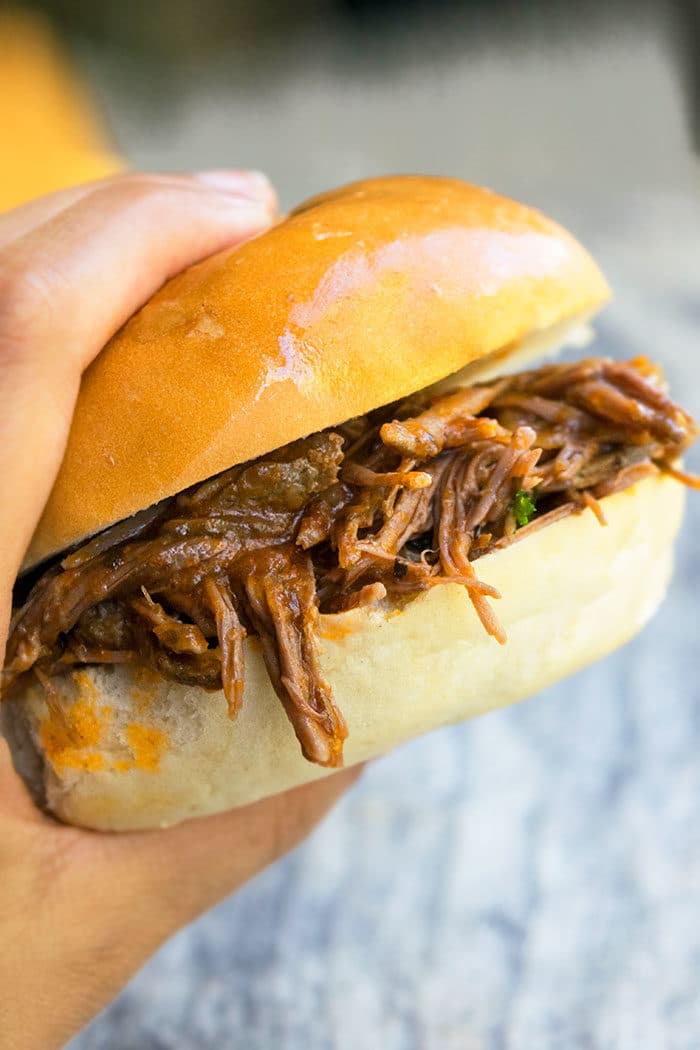 Shredded beef tacos are my favorite way to enjoy them!
Use soft or hard tacos and fill them with the beef, lettuce and any of these toppings: guacamole, sour cream, green onions, shredded cheese (cheddar, mozzarella), finely chopped tomatoes, onions, jalapenos.
How to use leftover shredded beef?
Sandwiches– Use hamburger buns or pretzel buns and fill them beef and a topping of bbq sauce and some lettuce.
Quesadillas, Enchiladas, Burritos, Taquitos– Omit oregano and instead, use 1.5 tbsp taco seasoning, when preparing the beef in the pressure cooker. Then, follow the basic steps of putting together a burrito, enchilada or quesadilla. Use Mexican toppings like guacamole, jalapenos, shredded Mexican cheese blend and enjoy.
Pasta– Mix the prepared beef with your favorite pasta sauce and serve it over boiled noodles.
Grilled cheese sandwiches– This is amazing with lots of mozzarella cheese and juicy beef.
Casseroles– Use it in beef casseroles.
Pizza– Use these tender shreds as a topping.
What sides to serve with pressure cooker shredded beef/ pulled beef ?
Salad– Make your favorite green salad with vegetables of your choice and toss in some of this beef too as a source of protein and make a basic salad more filling.
Instant Pot Spaghetti Squash -A healthy alternative to regular pasta.
Zoodles or zucchini noodles– Another healthy alternative to regular pasta
Roasted vegetables– Such as Roasted Carrots (One Pan) or Roasted Sweet Potatoes (One Pan) or even Oven Roasted Cauliflower (One Pan).
Crusty bread or dinner rolls– The thicker the bread, the better. That's because this beef is ver juicy and the thicker breads can absorb those juices better without becoming soggy.
Pita bread– Fill the pockets with beef and any toppings you like, similar to a shawarma.
Rice or couscous- Simply boil them with a splash of lemon juice and make a rice bowl with beef and other toppings of your liking.
Coleslaw- A classic option that you can also use in sandwiches.
Creamy Mashed Potatoes– This is my favorite!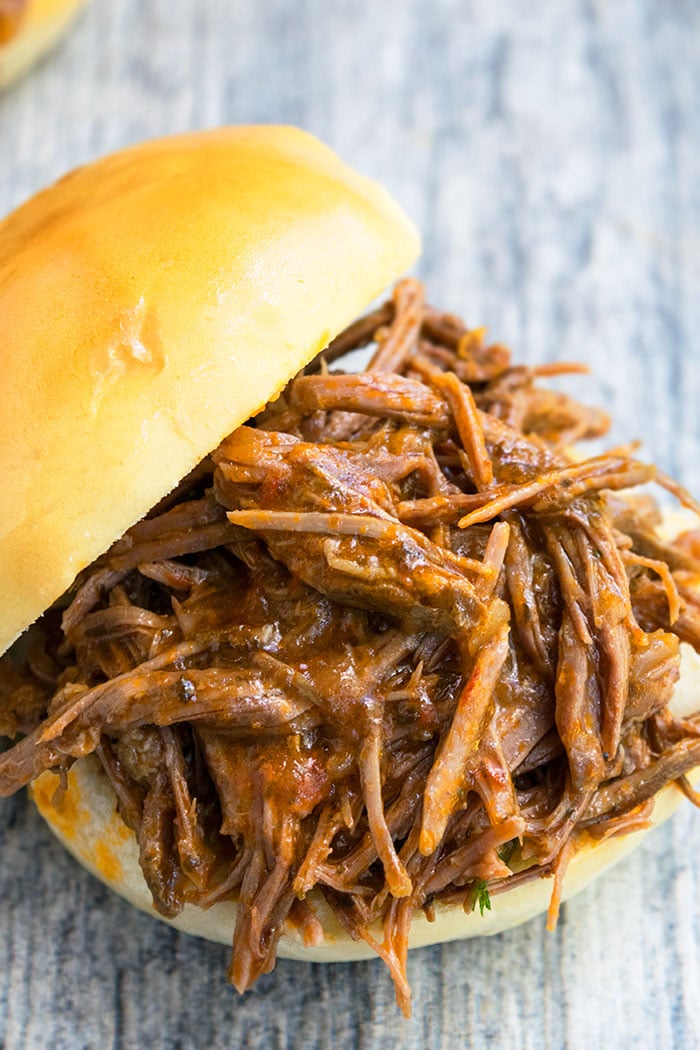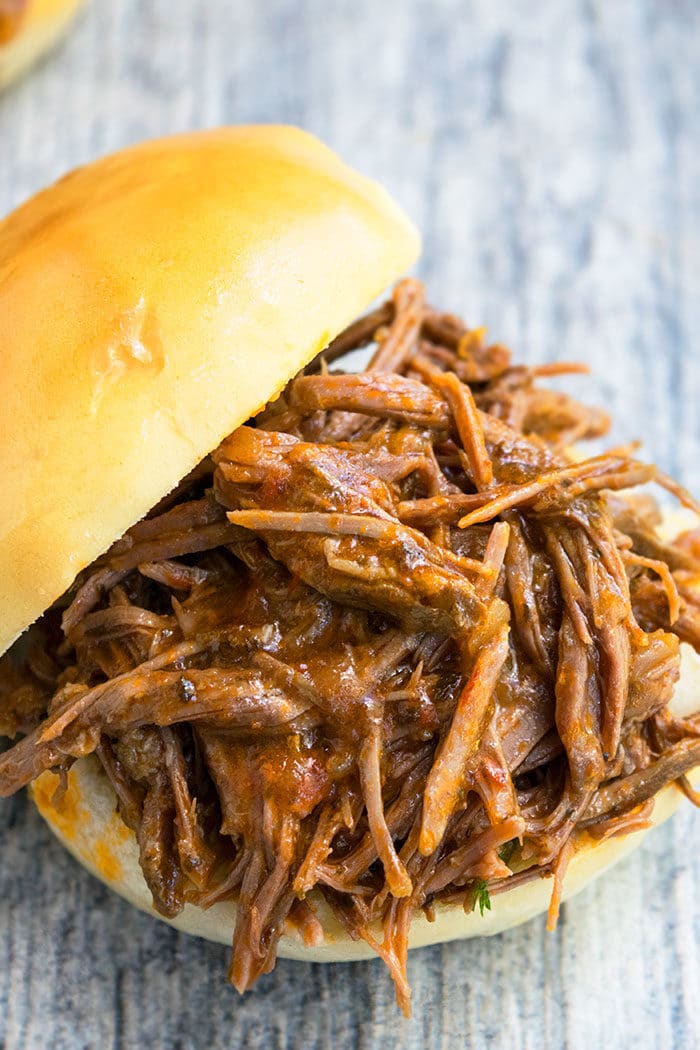 Tips and Techniques
Trim excess fat– This is important because it prevents the beef from becoming too greasy.
Shredded beef sauce-The thickness of sauce can be adjusted, based on your preference. If it's too thin or watery, cook on the "Saute" setting without lid until liquid is reduced. If it's too thick, add some water and cook for a few minutes.
Adjust amount of seasonings– This is all based on your preference. Add more of less of spices you like and/or dislike.
Use low sodium broth– Because this prevents the beef from becoming too salty.
Add a spicy kick– Do this by adding some red chili flakes. This is entirely optional though.
Sear the meat– Because it gives it a nice crispy exterior and helps with the overall texture.
Cooking time may vary– This depends on the type of pressure cooker you use as well as a personal preference of how you like your beef. If it's not tender enough to your liking, just cook for longer (up to 80 minutes).
How to store shredded or pulled beef? When it cools down completely, store in an air-tight, sealed freezer container for up to 1 month. When you are ready to use, thaw in the fridge overnight and then heat in microwave or stovetop.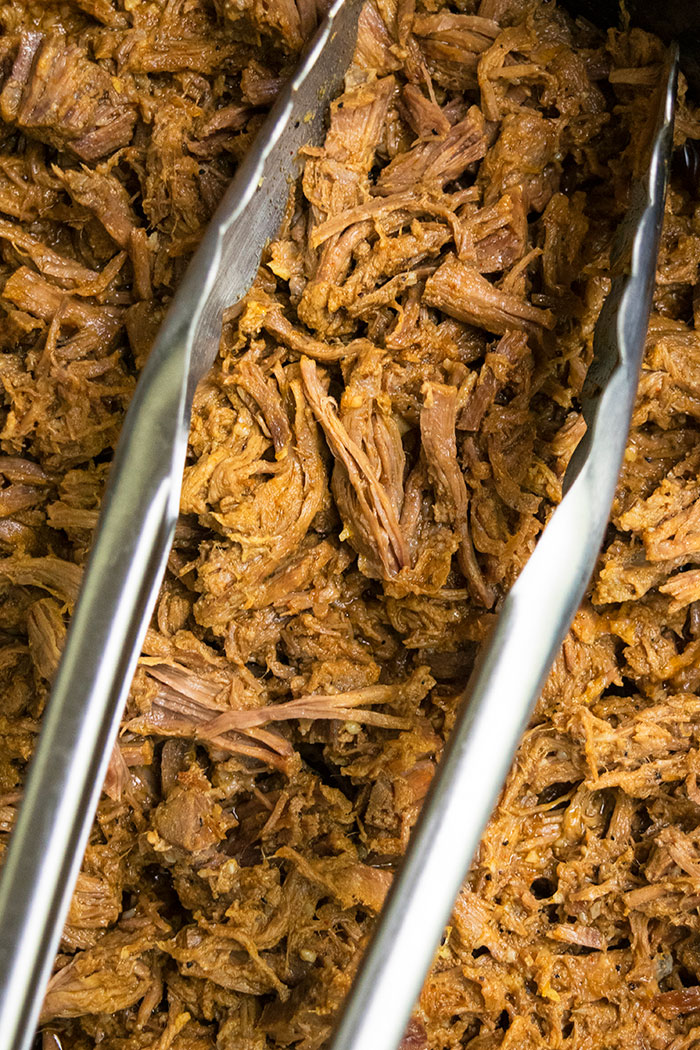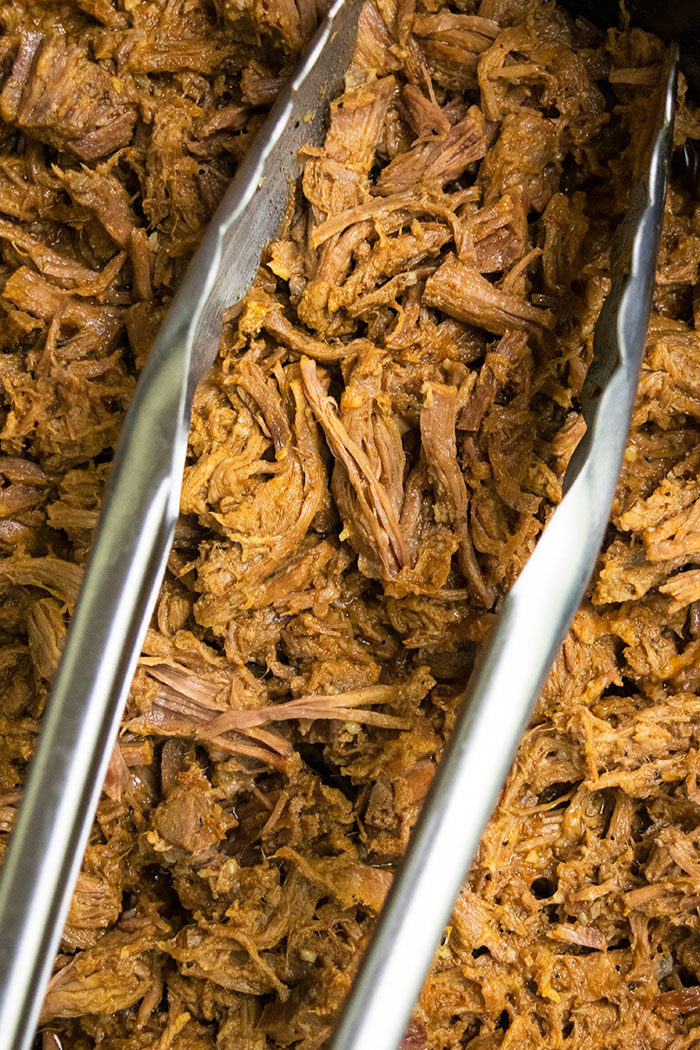 Other Instant Pot Meals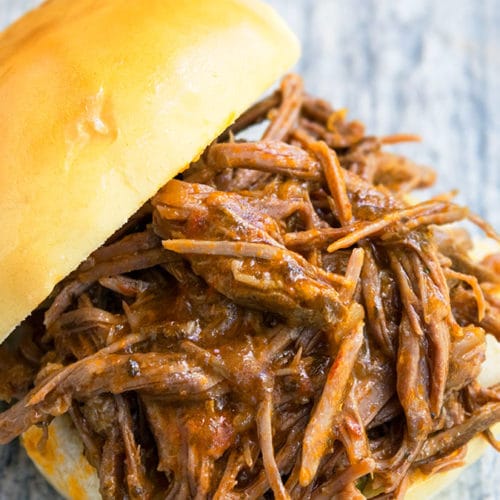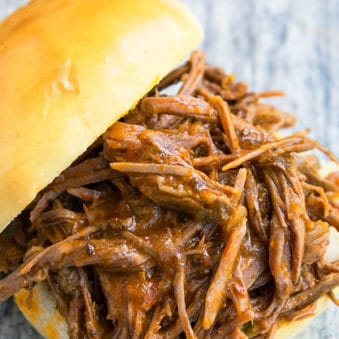 Instant Pot Shredded Beef Recipe
Quick and easy instant pot shredded beef recipe with simple ingredients- Soft, tender meat that melts in your mouth. Use it in tacos, sandwiches, pasta.
Yield: Servings
Instructions
Add roast and sear one side until golden brown. Then, flip it over and sear the other side.

Sear and brown the sides of the roast too.

Add broth, salt, pepper, oregano, garlic powder, onion powder, paprika powder, chili powder, vinegar, red chili flakes and mix to combine everything together.

Put the lid on and turn the the valve to "Sealing."

Select "Manual" mode and set the timer for 60 minutes.

When the cook time is over, let the pressure release naturally for 10 minutes before turning the valve to "Venting."

Open the lid and shred beef with 2 forks.

Select the "Saute" mode and cook until liquid is reduced to your desired consistency. I like the sauce to be thick and really coating the beef and thus, I reduce a lot. Enjoy!
Notes
Read all my tips above.
Leftovers can be stored in a sealed container in the fridge for up to 3 days.
Nutrition
Calories: 393kcal, Carbohydrates: 1g, Protein: 37g, Fat: 26g, Saturated Fat: 9g, Cholesterol: 130mg, Sodium: 453mg, Potassium: 685mg, Vitamin A: 50IU, Vitamin C: 0.2mg, Calcium: 42mg, Iron: 4.2mg
Happy cooking everyone!