Italian Spaghetti Salad
The best, classic, quick and easy spaghetti salad recipe, homemade with simple ingredients in one pot in 20 minutes. This Summer salad is served cold with lots of fresh vegetables, noodles, zesty Italian dressing.
This colorful salad is also known as Italian spaghetti pasta salad, California spaghetti salad or California pasta salad. It's perfect for picnics, potlucks, BBQ parties and dinner parties too. If you are having an Italian feast, this should definitely be on the menu.
Just like some of my other classic salads such as this Three Bean Salad (One Bowl), the main thing to remember here is "marination." Toss everything together and chill for at least 1 hour so that the spaghetti soaks up all the flavors of the dressing. If you skip this step, it will taste very bland.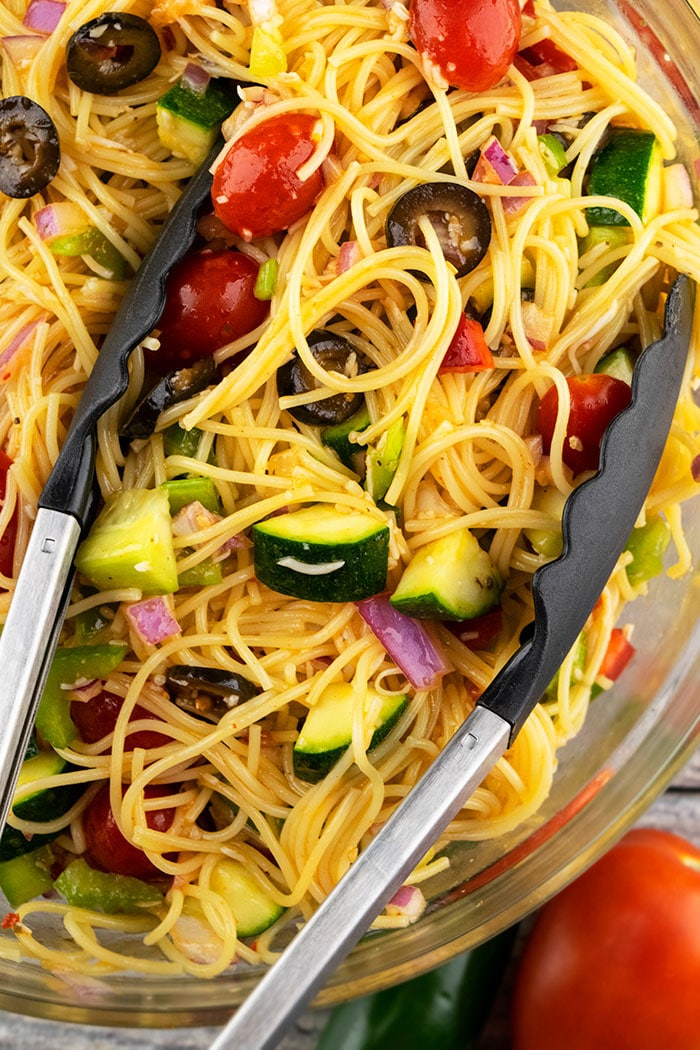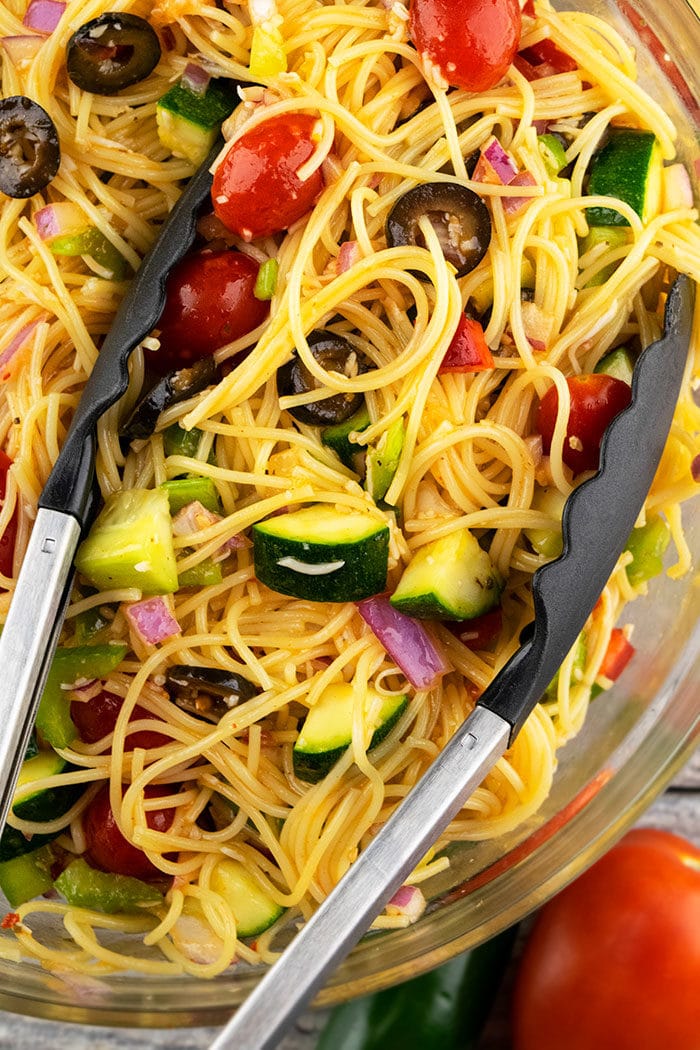 How to make spaghetti salad?
In a large bowl, add boiled pasta, vegetables (cucumbers, tomatoes, onions, peppers, celery, zucchini), herbs and spices, olives, cheese, Italian dressing.
Toss everything together.
Chill.
Enjoy!
What to serve with spaghetti salad recipe?
This salad can be served as a side dish or a vegetarian main dish/ entree.
If you are serving it as a side, it pairs great with fried, roasted, baked or grilled chicken, steak or fish.
If you are serving it as a main dish, you can enjoy it on its own or perhaps serve with some breadsticks or garlic bread to make this meal even more hearty.
How to make Italian dressing?
It's usually made by mixing together olive oil, red wine vinegar, along with lots of dried or fresh Italian herbs, spices and of course, parmesan cheese. You can also use your favorite store-bought dressing in this recipe, especially when you are short on time.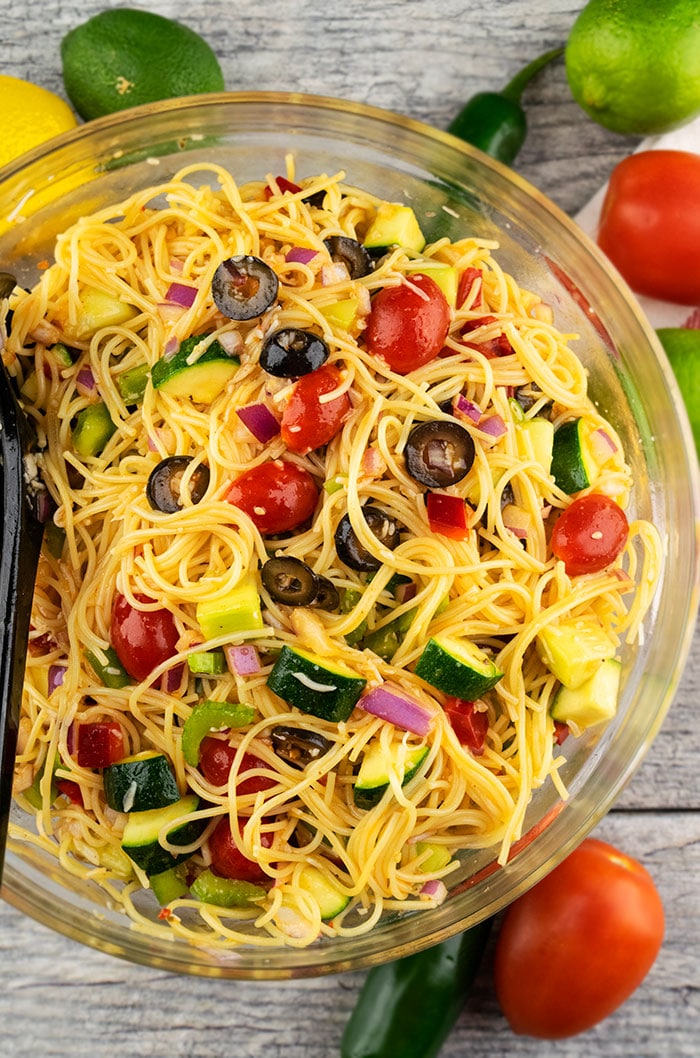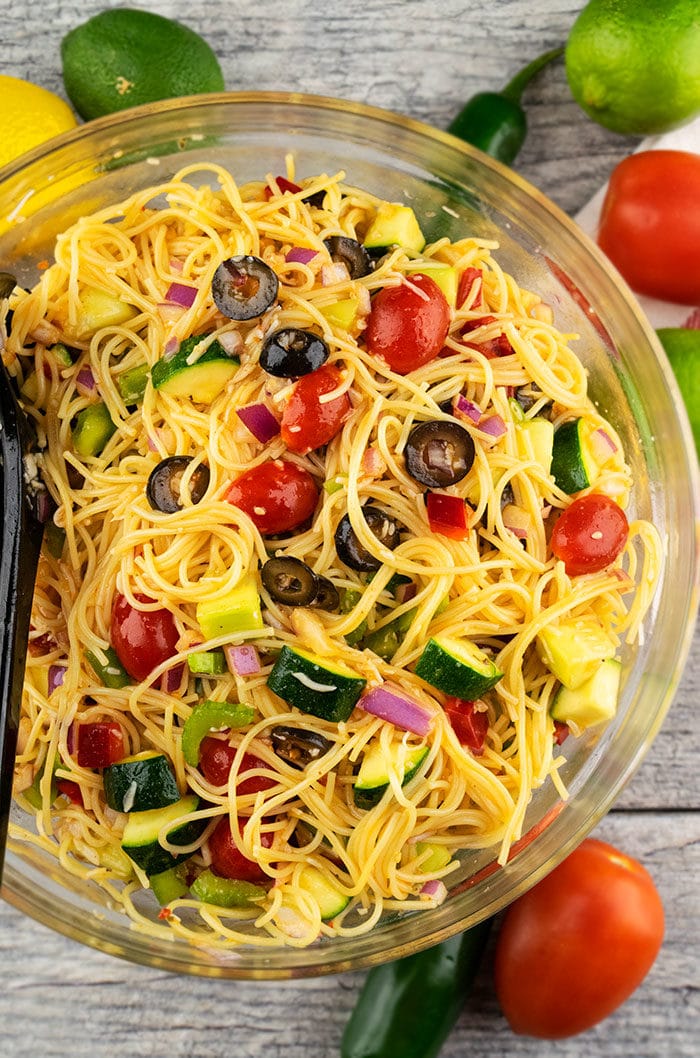 Variations
Try other cold spaghetti salad dressings– Change it up! Use whatever dressing you like for a different flavor profile. They can be store-bought of homemade.
Add meat– Top off this salad with slices of grilled or baked chicken or shredded rotisserie chicken for a more filling meal. You can also mix in leftover cooked steak or shrimps.
Add beans or chickpeas- If you are using canned, be sure to drain and rinse them before mixing in the salad. This is a fantastic vegetarian way to add more protein and turn this salad into a hearty meal.
Make it spicy– Add some red chili flakes or even finely chopped jalapenos.
Use other vegetables– This is a very versatile recipe. You can use whatever veggies you have on hand or switch up the veggies in the given recipe. Try using small broccoli or cauliflower florets, shredded carrots, lettuce, kale, spinach, avocados, corn.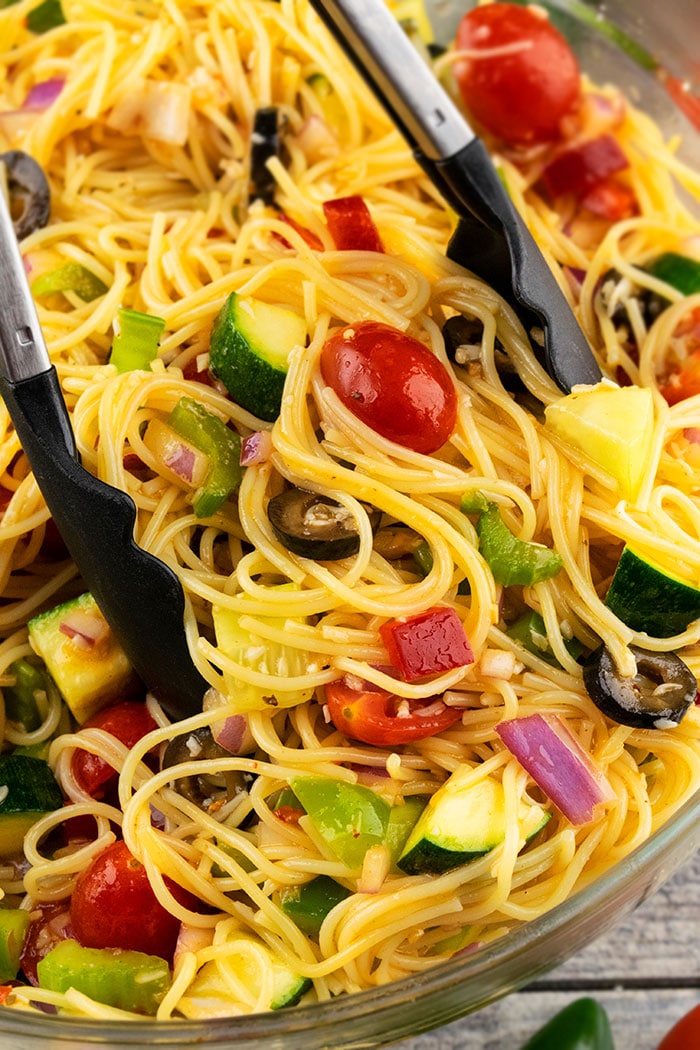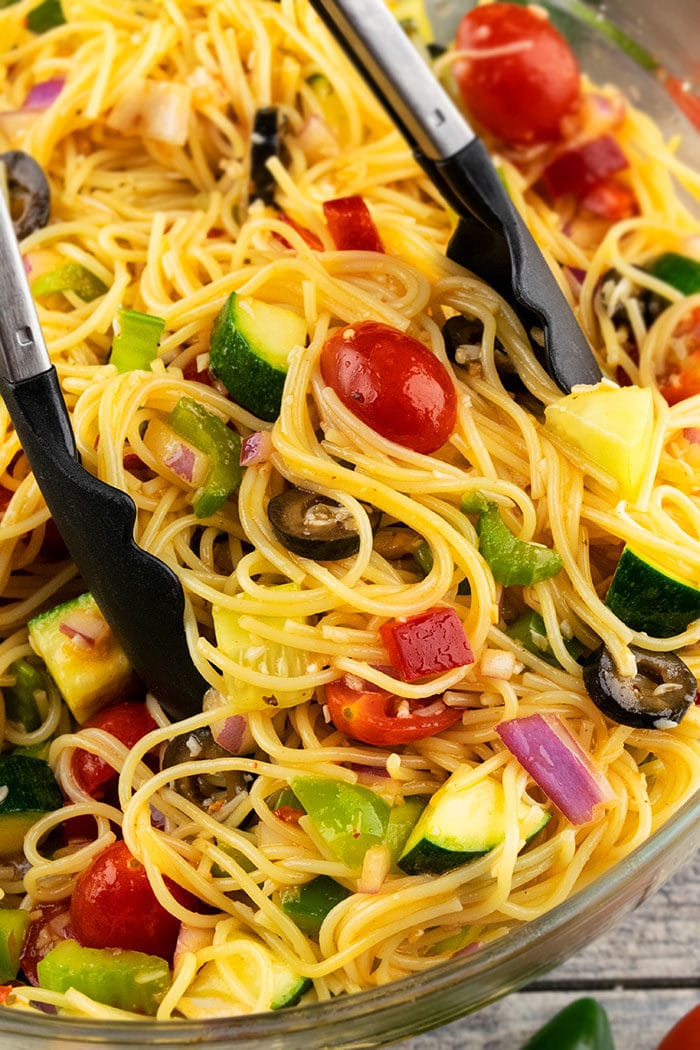 Tips and Techniques
Adjust amount of herbs and spices– This is based on your preference. Add more or less of whatever you like or dislike.
What cheese to use? I love mozzarella but parmesan cheese would be another delicious alternative.
Black olives vs. green olives– Black olives is my first choice since it compliments all the other flavors in this salad wonderfully. Green olives are slightly tart and tend to overpower the other flavors.
Use full fat ingredients- This applies to the salad dressing and cheese. Maximum fat adds maximum flavor.
Let it rest- You cannot serve this salad immediately. Let it rest and marinate in the fridge for at least 30 minutes or overnight to really allow the flavors to deepen and get absorbed in the pasta. It's totally worth it!
Use thin spaghetti or angel hair pasta– Because they are thinner in size than traditional spaghetti and will thus, absorb flavors more quickly.
Break up the pasta- When you are about to boil pasta, break it it into smaller pieces first. That's because smaller pieces are easier to toss and also, easier to eat without making a mess.
Serve a crowd– Double the recipe and it will feed a lot of people.
Serve it warm or cold? It's usually served cold but you can heat it in the microwave for 30 seconds to make it slightly warm, if you like.
More Salad Recipes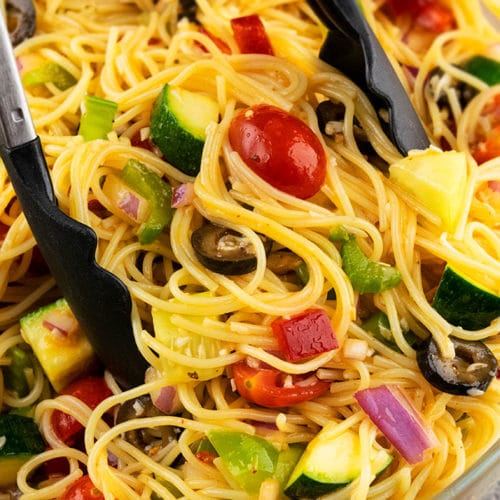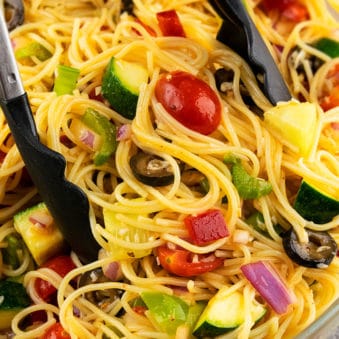 Italian Spaghetti Salad
Quick, easy spaghetti salad recipe, homemade with simple ingredients in one pot in 20 minutes. Served cold with fresh vegetables, noodles, Italian dressing.
Yield: People
Ingredients
1 pound Thin spaghetti, Boiled, Drained, Rinsed, Room temperature
3/4 cup Red onions, Finely chopped
1 cup Zucchini, Diced
1/2 cup Celery, Diced
1/2 cup Red peppers, Finely chopped
1/2 cup Green peppers, Finely chopped
1 cup Cucumbers, Peeled, Diced
1 cup Cherry Tomatoes, Sliced in half
1/2 cup Black olives, Sliced
1 tsp Ginger powder
1 tsp Garlic powder
1/2 tsp Paprika
Salt , To taste
Pepper , To taste
1 tbsp Sesame seeds
1 1/2 cups Italian dressing
1/3 cup Mozzarella cheese, Shredded, Or parmesan cheese
Instructions
In a large mixing bowl or salad bowl, add spaghetti, onions, zucchini, celery, peppers, cucumbers, tomatoes, olives, ginger powder, garlic powder, paprika, salt, pepper, sesame seeds, Italian dressing, Mozzarella cheese.

Toss everything together.

Cover and chill for at least 1 hour. Enjoy!
Notes
Read all my tips above.
Leftovers can be stored in a sealed container in the fridge for up to 2 days. 
Nutrition
Calories: 494kcal, Carbohydrates: 70g, Protein: 13g, Fat: 17g, Saturated Fat: 3g, Cholesterol: 4mg, Sodium: 815mg, Potassium: 468mg, Fiber: 4g, Sugar: 11g, Vitamin A: 855IU, Vitamin C: 37.9mg, Calcium: 93mg, Iron: 1.9mg
Happy cooking everyone!