Grilled Chicken Breast (One Pan)
Quick and easy grilled chicken breast recipe, homemade with simple ingredients in 30 minutes. Uses a dry rub of spices like paprika, cumin, coriander, garlic, ginger, onion, salt, pepper.
This is a great recipe if you want something grilled or barbecued for dinner without a marinade. It's juicy, tender, and loaded with rich and bold flavors. All you need is a homemade dry rub and olive oil and that's it. We have been enjoying it just as much as this Chili Lime Chicken.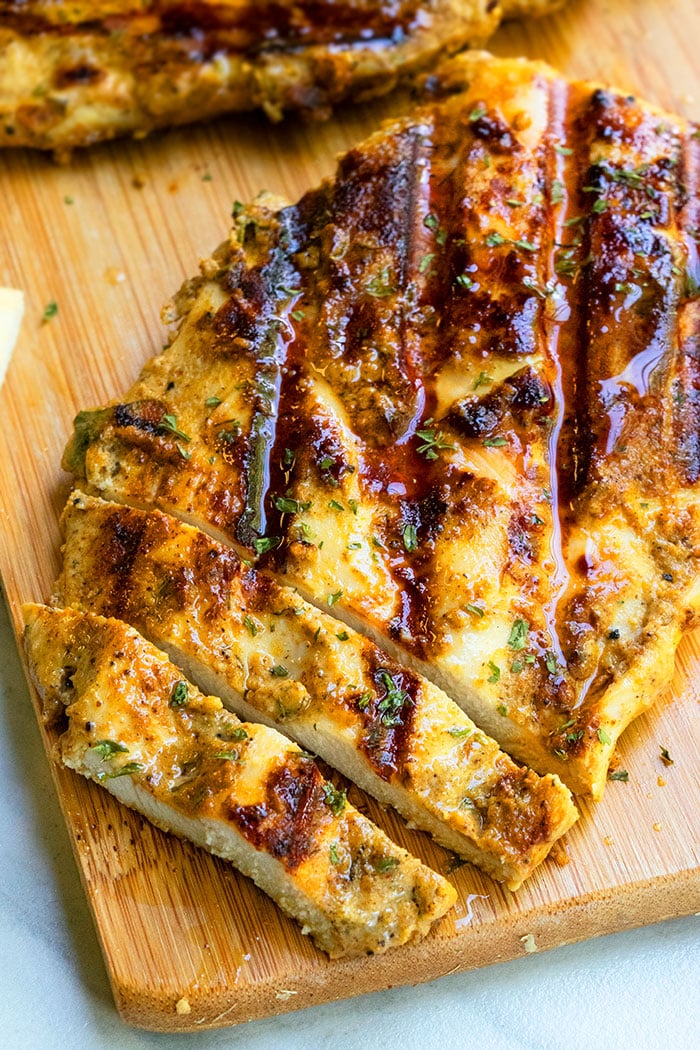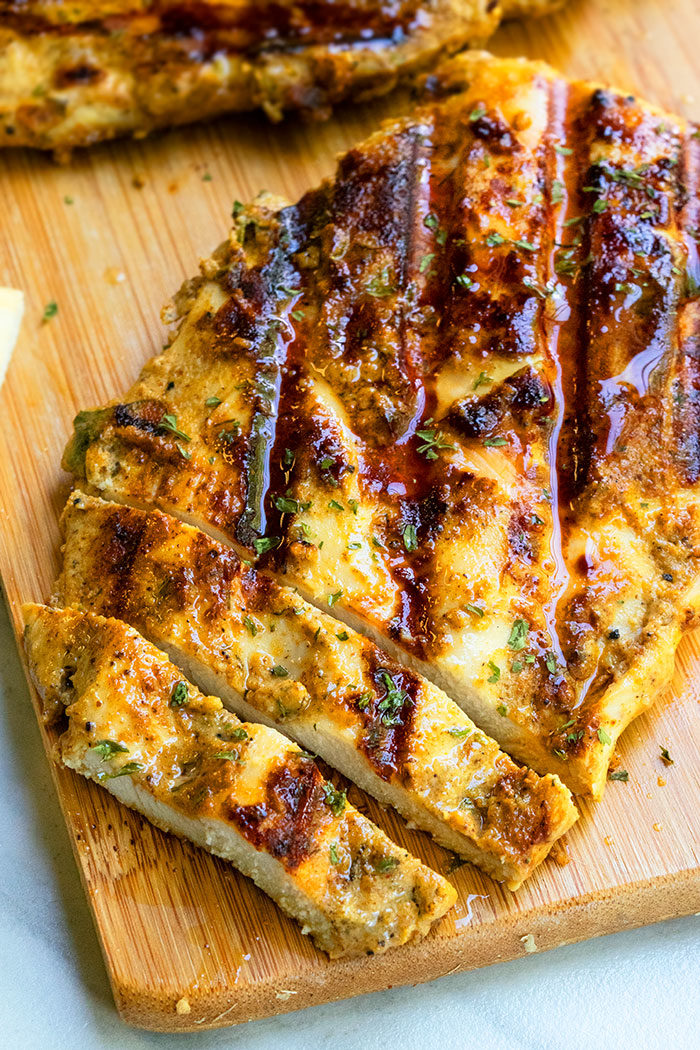 Also known as grilled bbq chicken!
Regardless of what it's called, you can use this recipe to make grilled chicken thighs, wings, legs and even whole chicken. However, grilling time will vary. The drumsticks require 8-12 minutes per side, the legs require 10-15 minutes per side, the thighs require about 10-15 minutes per side, the wings require 8-12 minutes per side and whole chicken requires about 60 minutes.
How to grill chicken at home?
Sprinkle dry rub spices all over the breasts.
Pour some oil on each breast.
Rub spices and oil together with your fingers.
Grill on direct heat.
Then, grill on indirect heat.
Let it rest.
Slice and enjoy!
How long to grill chicken breast on grill?
Typically, it takes about 15-20 minutes. However, this time will vary, depending on the the thickness of the meat. The thicker it is, the longer it takes. The ideal internal grilled chicken temperature is 165 degrees F. That's when chicken is considered to be done. Use a digital meat thermometer. Insert the tip into the thickest part of the breast to check the temperature for doneness before removing it from grill.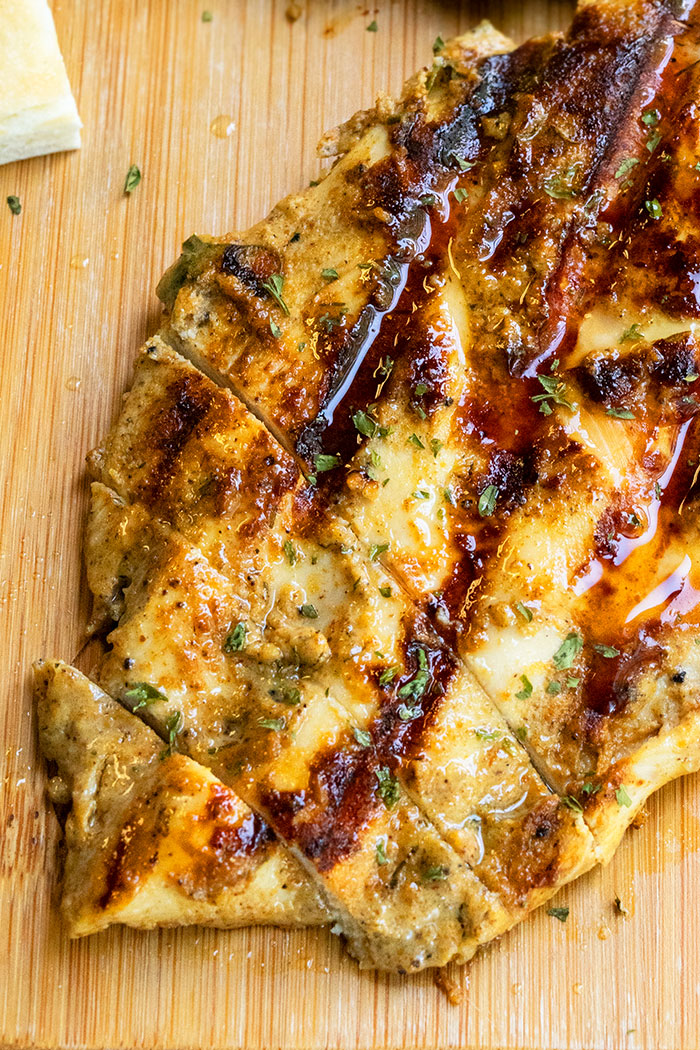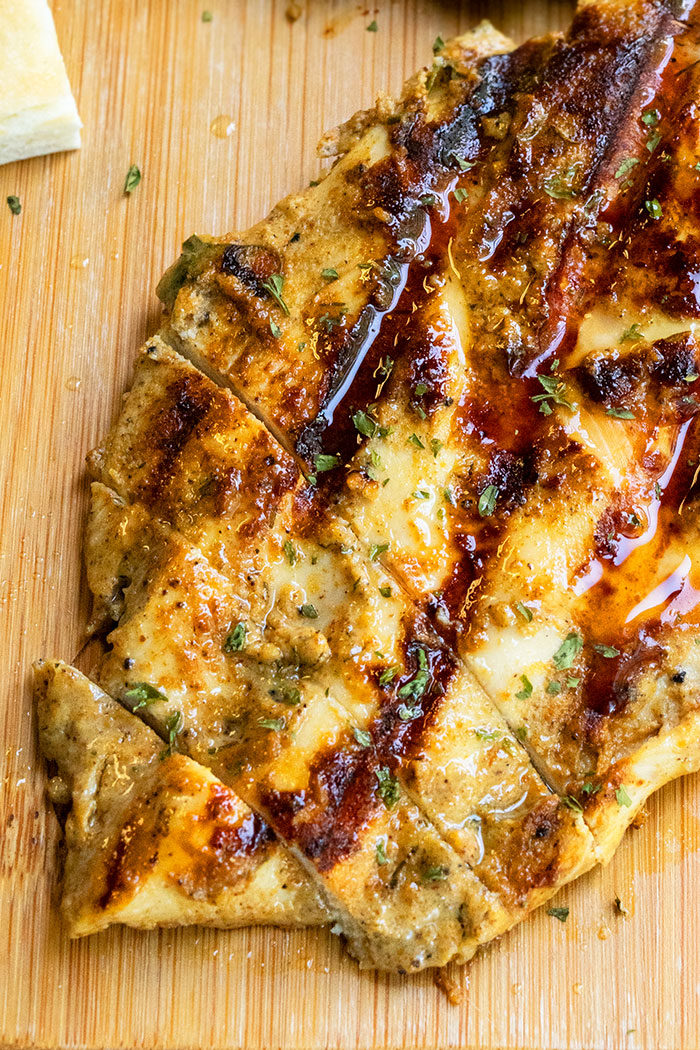 How to cook chicken without burning?
Make sure grill grates are clean.
Place a pan of water next in the grill, which helps keep the chicken moist as it cooks.
Trim fat on chicken since it tends to stick to the grill.
Grease chicken well with oil to prevent it from sticking to grill.
Cook each side directly over heat for a few minutes. Then move chicken to indirect heat and continue cooking until chicken is done. This move from direct to indirect heat avoids burning.
How to use leftover grilled, roasted or baked chicken?
Obviously, you can enjoy it immediately with your favorite sides but leftovers (especially shredded or sliced) can be used in other meals such as:
Sandwiches and wraps
Tacos
Salads
Pizzas
Soups
Pasta
Dips
What sides to serve with best grilled chicken recipes?
Salads– Such as this Three Bean Salad (One Bowl) or this Best Macaroni Salad (One Bowl) or my Creamy Cucumber Salad (One Bowl) or this classic Broccoli Salad (One Bowl).
Coleslaw- A classic option that always works well!
Grilled or roasted vegetables– Such as roasted potatoes, Oven Roasted Carrots (One Pan), Oven Roasted Cauliflower (One Pan), Oven Roasted Green Beans (One Pan).
Bread– Such as dinner rolls, cheesy garlic bread or breadsticks.
Rice– Use steamed jasmine rice or basmati rice or a simple seasoned pilaf.
Mashed potatoes– Such as my popular Creamy Mashed Potatoes (One Pot) or mashed cauliflower or even Mashed Sweet Potatoes (One Pot).
Grilled chicken seasoning
This simple seasoning can be used various cuts of chicken as well as salmon, shrimp and beef. It's made by combining the following dry spices together:
Paprika
Cumin
Coriander
Salt
Pepper
Ginger
Garlic
Onion powder
Salt
Pepper
Add 1 tbsp brown sugar to this blend if you prefer a subtle sweetness or add 1/2 tsp chili flakes if you want it to be spicy.
You can make a grilled chicken marinade by tweaking the recipe below a little bit. Mix together the dry rub but also add in 1/4 cup oil, 1/4 cup soy sauce and 2 tbsp honey. Marinate chicken in this mixture for 1 hour or overnight.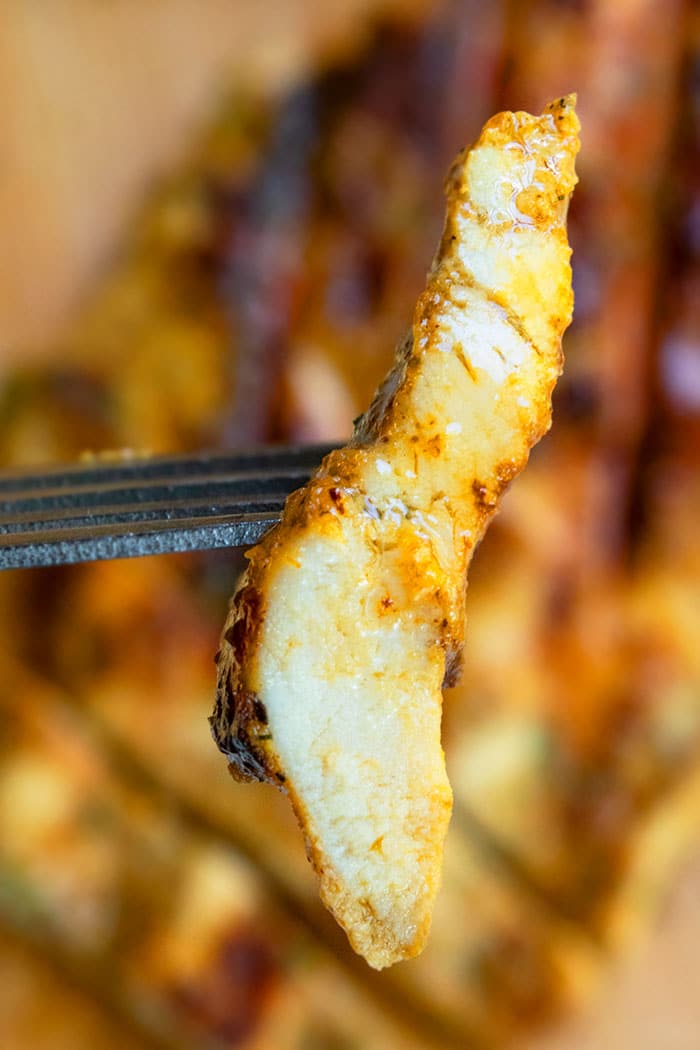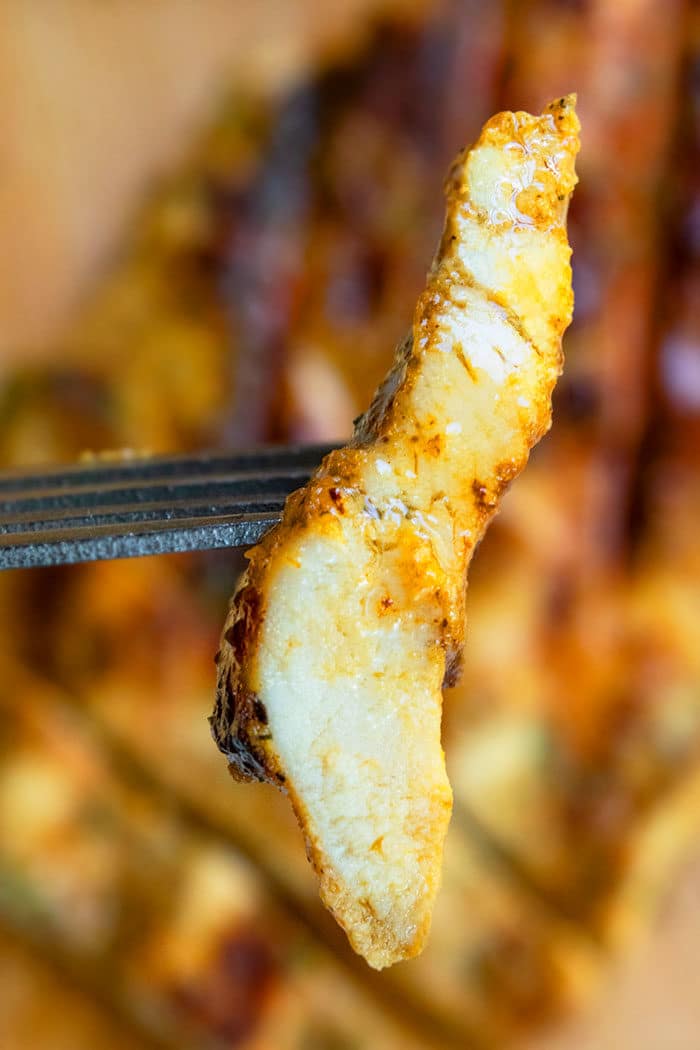 Tips and Techniques
Can I make pan grilled chicken on stove? Yes. Rub the chicken with dry spices and olive oil. Place it on a nonstick pan, along with a 1/4 tsp liquid smoke (to give it a smoky flavor) and cook over medium heat on both sides until done.
Let the chicken rest– This is a very important step because it allows the juices to settle back into the meat and this makes the overall flavor very tasty. Just place the cooked chicken on cutting board, loosely covered with foil for 5-10 minutes before slicing.
Make the dry rub in advance- Mix together this dry rub and keep in a sealed jar in your spice cabinet. This way, it's always ready to be used for your grilled and baked recipes and you save time.
Adjust amount of seasonings– This is based on your preference. Add more or less of whatever you like or dislike.
Use high smoke point oil– Such as like extra virgin olive oil, corn oil, grapeseed oil to prevent burning.
Garnish options– Freshly chopped parsley, basil or cilantro all taste and look good.
Can I use frozen chicken for grilling– You can, but it needs to thaw first.
Use store-bought dry rub– If you are short on time, this would be a great option. The grilling technique and process would still be the same.
Use dry rub on vegetables and seafood– It's a versatile spice blend and works on many veggies and various sources of protein.
More Chicken Recipes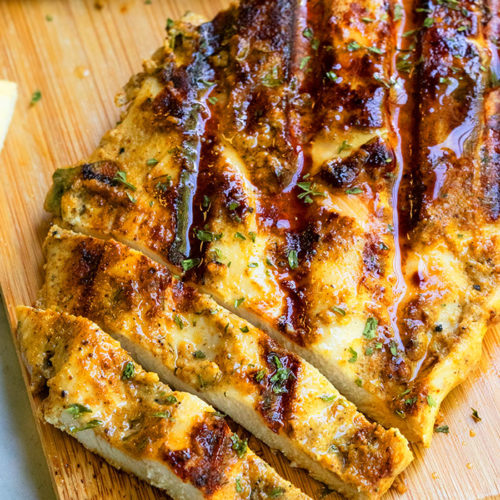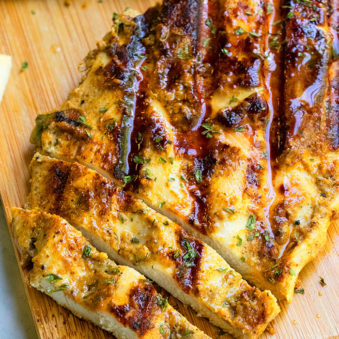 Easy Grilled Chicken Breast
Quick and easy grilled chicken recipe, homemade with simple ingredients in 30 minutes. Uses a dry rub of paprika, cumin, garlic, ginger, onion, coriander.
Yield: People
Instructions
In a small mixing bowl, combine all the spices together.

Sprinkle each side of chicken with this mixture.

Drizzle oil on each side and rub everything evenly with your fingers.

Place these breasts on greased grill grates over direct heat at about 400 degrees. Close lid. Remember to keep one burner off for indirect heating.

Cook each side for about 5-8 minutes, depending on the chicken's thickness.

Move breasts over to indirect heat. Cover lid and continue cooking until internal temperature of 165 degrees F is reached and chicken is done.

Remove from grill and place on a cutting board.

Cover loosely with foil and let them rest for 5-10 minutes before slicing.

Garnish with fresh parsley and drizzle some lemon juice on top, if you like. Enjoy!
Notes
Read all my tips above.
Tastes best when served immediately after resting but leftovers can be stored in a sealed container in the fridge for up to 2 days.
Nutrition
Calories: 411kcal, Carbohydrates: 3g, Protein: 48g, Fat: 21g, Saturated Fat: 6g, Cholesterol: 145mg, Sodium: 1050mg, Potassium: 568mg, Fiber: 1g, Vitamin A: 630IU, Vitamin C: 0.2mg, Calcium: 46mg, Iron: 3.1mg
Happy cooking everyone!