Quick Pickled Vegetables (One Pot)
The best quick and easy pickled vegetables recipe, homemade with simple ingredients in one pot over stovetop in 20 minutes. Loaded with vegetables, fresh herbs, spices, and simple vinegar brine.
One of the best ways to use up Summer veggies is either in this Oven Roasted Sausage and Vegetables (One Pan) or this Easy Vegetable Soup (One Pot) or obviously today's recipe, which can be stored for months!
The pickling method below is the simple quick and easy refrigerator method that requires no canner or hot water baths. However, I have included canning instructions below, if you want to do that for longer storage.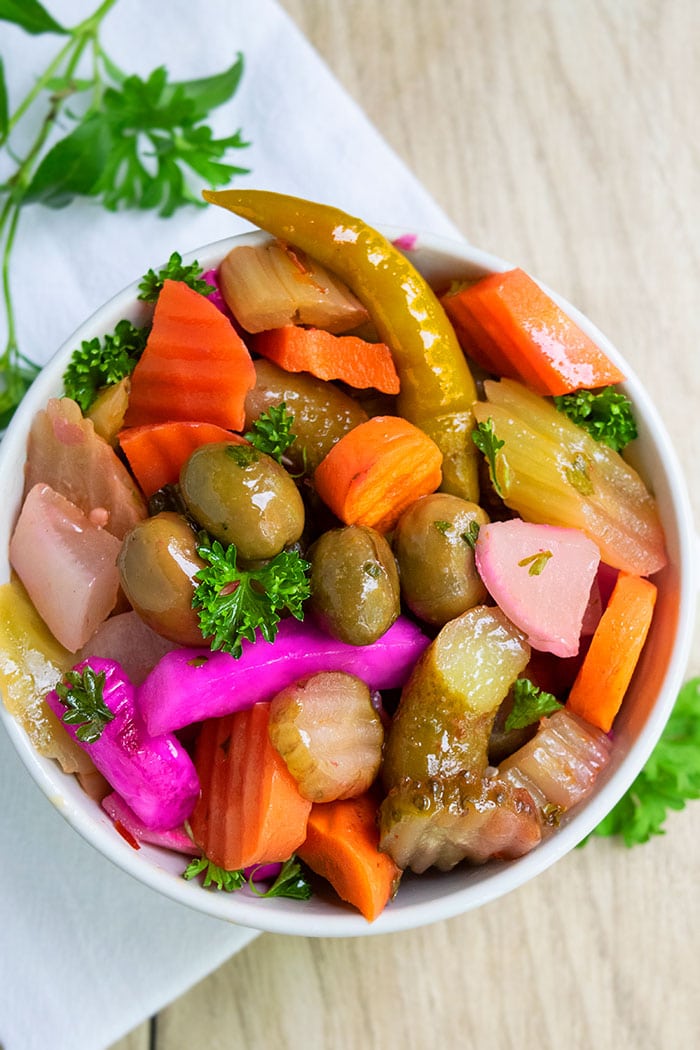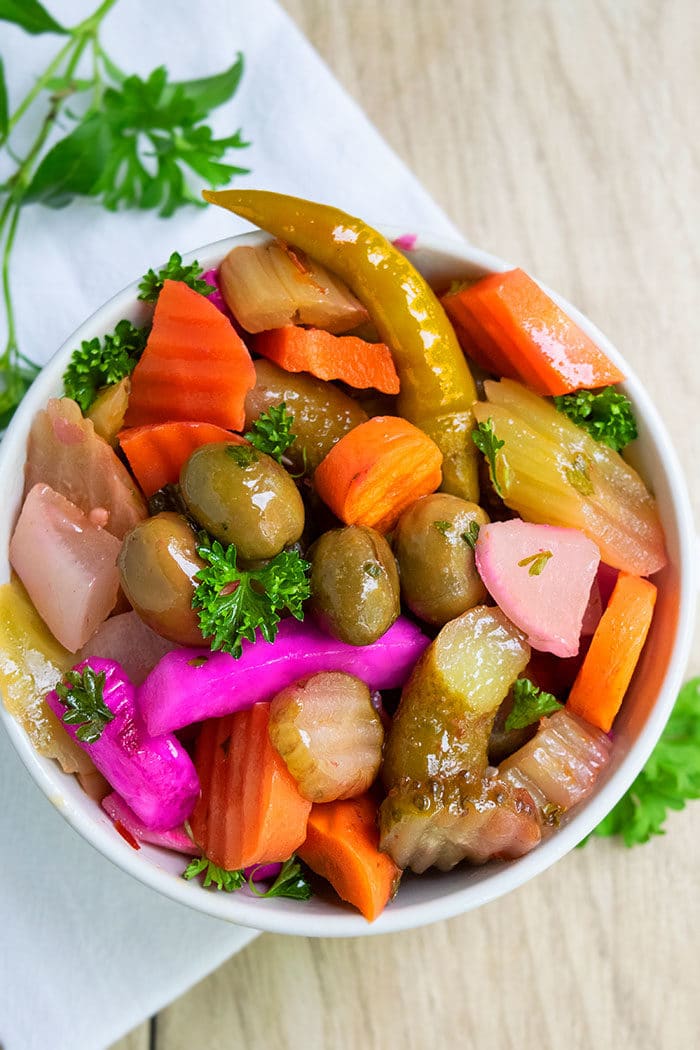 How to pickle vegetables? How to make pickled vegetables?
Prepare vegetables– Wash them and chop them and fill them in mason jars.
Add herbs and spices- Divide them evenly in 2 jars.
Prepare brine– Bring water, vinegar, sugar, salt to boil and pour in jars.
Seal jars– Make sure they are sealed tightly.
Chill– Once they cool down completely, chill in the fridge.
Enjoy- Can be enjoyed after 24 hours but will taste better after a few days.
What vegetables are good for pickling?
There are so many choices. You can pickle just one vegetable or a variety of them together:
Cucumbers
Radishes
Turnips
Carrots
Asparagus
Green beans
Jalapeno
Onions (Especially red onions)
Cauliflower
Peppers
Tomatoes (Especially cherry tomatoes and green tomatoes)
Garlic
Broccoli
Cabbage
Brussel sprouts
Okra
What to serve with pickled vegetables?
They are usually served as a topping or condiment in sandwiches, burgers, hot dogs, tacos.
You can also serve it as an appetizer on a charcuterie board. You can also serve it as a crunchy vinegary side dish with dinner, especially pizza.
How do you you keep pickled vegetables crisp?
The crisp texture is majorly dependent on the vegetables that you used. If you like the crispy, crunchy texture, use vegetables that are on the harder side in texture such as cauliflower, turnips, radishes, carrots, cucumbers e.t.c.
Avoid softer vegetables such as peppers, onions, okra e.t.c.
Also, the longer the vegetables sit in the brine the softer and tender they will get but they will also get more flavorful.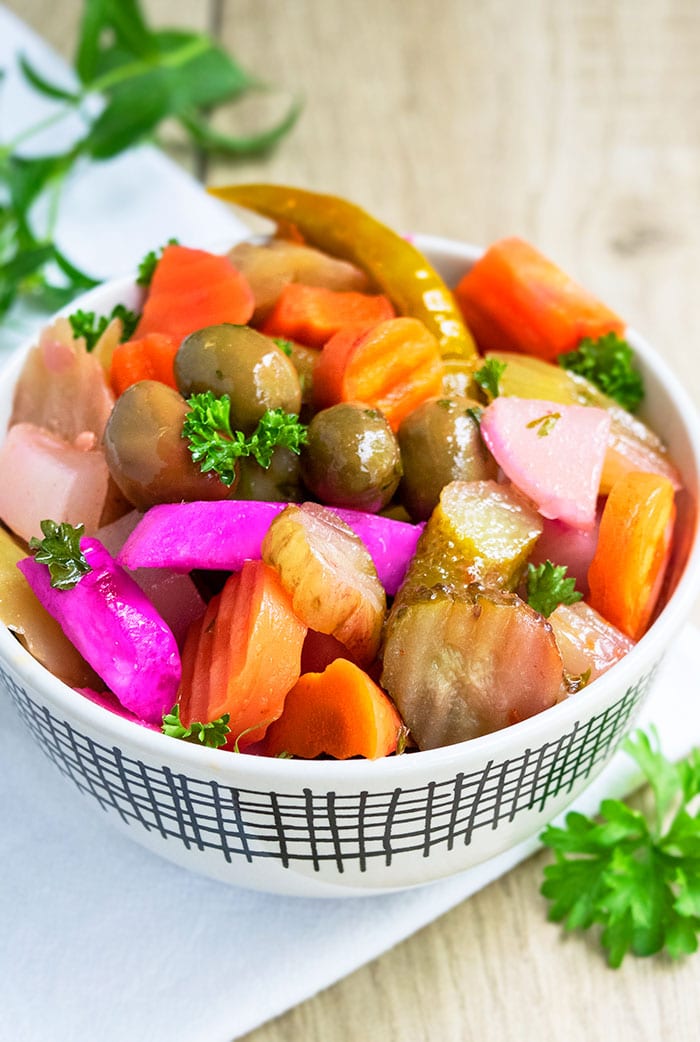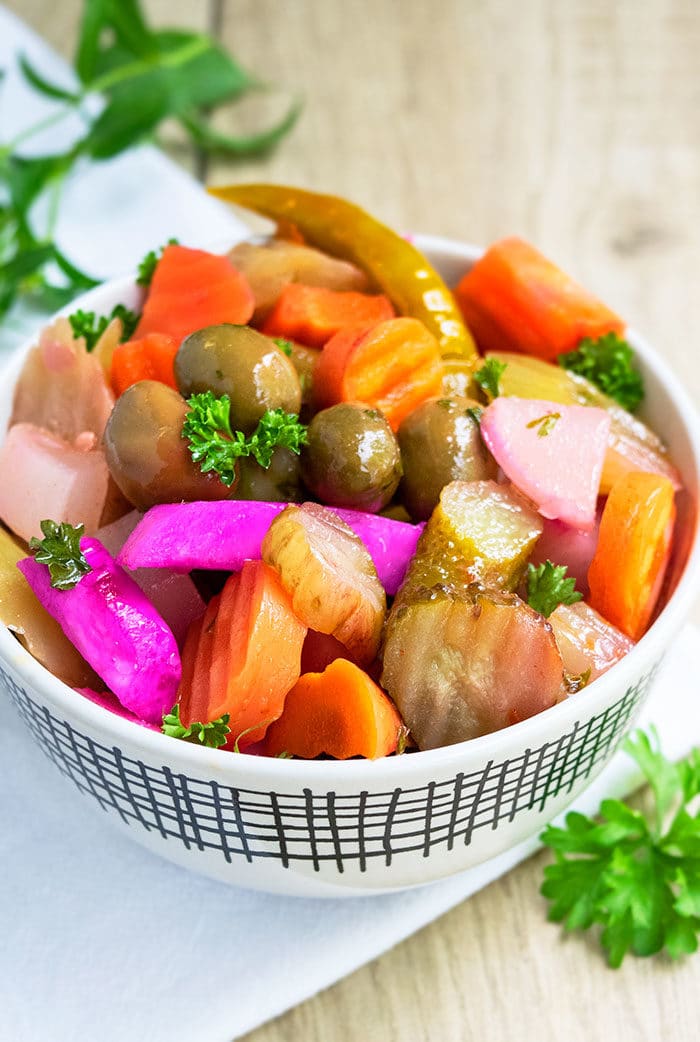 Are pickles a vegetable or fruit?
That depends on the ingredients that are used. They are typically made with vegetables. Cucumbers are a very popular choice in vegetables.
However, some fruits such as peaches, pears, grapes, figs, tomatoes, lemons, pineapples can also be used.
What is pickling?
Pickling is the process of preserving food in a vinegar brine, which alters the food's texture, making it soft and tender. It also alters taste and flavor by making it more sweet and tangy.
In some cultures, an oil-based vinaigrette is also used for pickling.
Fruits, vegetables and even some meats, fish, dairy and eggs can all be pickled.
How to can pickles?
For long-term storage, canning is the best option.
Bring a large pot of water to a boil.
Sterilize two mason jars and their lids.
Fill the jars with vegetables.
Pour hot brine over them, leaving 1/2 inch space on top.
Remove air bubbles by gently tapping the jars against the counter a few times.
Place lids over the jars and screw on the rings until tight.  
This is something my Mom does: Place these jars in a boiling pot of water to can them. It takes about 5 minutes. Make sure the lids pop down.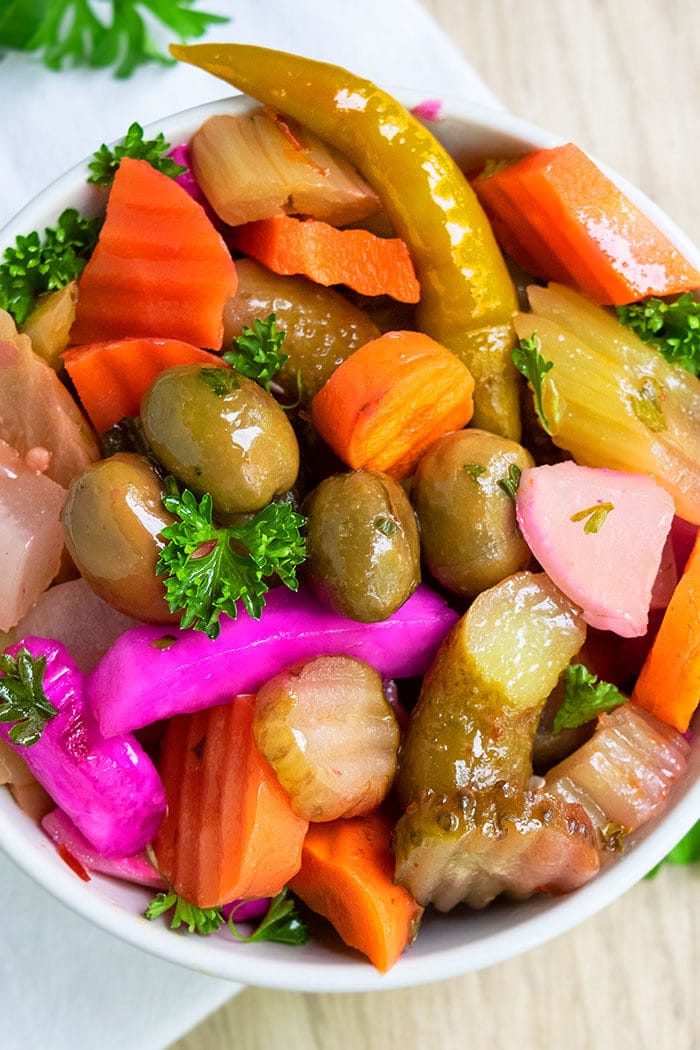 Tips and Techniques
Adjust amount of spices– Use your favorite blend of herbs and spices and since this recipe is so versatile, adjust quantities, based on your own preference.
Make it spicy– By adding more red chili flakes, jalapenos or green chillies.
Adjust sweetness- The sweetness in this recipe comes from granulated sugar. Add more or less, based on how sweet you like your pickled. Brown sugar can also be used as a sweetener but I don't like the color it adds to the brine.
Use vegetables of your choice– The recipe below includes all the vegetables that my likes but you can use any combination of veggies you like. You can also just use one variety too such as just cucumber or just carrots e.t.c.
Pack vegetables in jars– Make sure each jar is loaded with veggies.
What type of vinegar to use? White wine, red wine, rice wine, apple cider or a combination of multiple different vinegars.
What herbs and spices to use? The sky is the limit here. Use ginger, garlic, red chili flakes, black peppercorns, fennel seeds, coriander seeds, mustard seeds, bay leaves and any fresh herbs you like such as dill, parsley, thyme, oregano, rosemary, sage.
Flavor deepens the longer it sits– The veggies need to sit in the brine for a few hours to really allow the flavor to develop.
Refrigerate pickles once they fully cool down– Don't refrigerate warm pickles. They must come down to room temperature first. If you place the hot glass jar in the fridge, it might crack! 
Halve or double this recipe– Just reduce all the ingredients or double all the ingredients, based on how much pickles you want to make.
Use other spices and herbs- Pickling doesn't have to mean Kosher dills! Get creative and use Mexican taco seasoning or Indian seasoning (like curry powder or garam masala) or Jamaican jerk seasoning, Italian seasoning blend and even Asian seasoning or Mediterranean seasoning.
More Condiments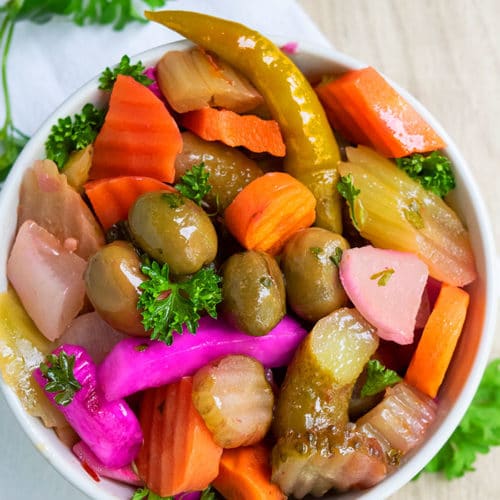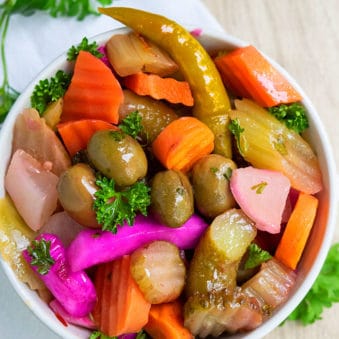 One Pot Pickled Vgetables
Quick and easy pickled vegetables recipe, homemade with simple ingredients in one pot over stovetop in 20 minutes. Loaded with vegetables, fresh herbs, spices, vinegar brine.
Yield: Quarts
Ingredients
6 cups Vegetables , Your choice of turnips, radishes, carrots, cucumbers, green chilies, raw green olives, cauliflower, green beans e.t.c.
Herbs and Spices
6-8 cloves Garlic
2 tsp Ginger, Thinly sliced
1 tbsp Coriander seeds
2 tsp Fennel seeds
1 tsp Mustard seeds
1 Bay leaf
1 tsp Red chili flakes
1 tsp Black peppercorns
3 sprigs Fresh herbs, Your choice of dill, parsley, thyme, oregano, rosemary, sage or a combination
Brine
3 cups Water
2 cups Vinegar
2 tbsp Salt
3-4 tbsp Granulated sugar, Adjust according to your preference
Instructions
Wash and roughly dice vegetables of your choice. Some veggies such as green beans and red chilies don't have to be sliced and chopped.

Fill 2 wide-mouthed quart size mason jars with these veggies and make sure to really pack them in. Leave about 1 inch space at the top of the jar.

Divide all the herbs and spices between the two jars. Keep aside.

In a nonstick saucepan, add water, vinegar, salt, sugar and and bring to a boil.

Gently pour this brine, using a funnel in each jar. Make sure the pickle juice completely covers the vegetables and be sure to leave at least a 1/2 inch of space between the brine and lid.

Cover tightly with lid and let it sit at room temperature until it cools down completely.

Then, store in the fridge for up to 1 month. These pickled are ready to be enjoyed after 6-8 hours but taste even better after 24 hours.
Notes
Read all my tips above.
Can be stored in the fridge for up to 1 month and can also be canned for longer storage (instructions within the post).
Nutrition
Calories: 508kcal, Carbohydrates: 99g, Protein: 20g, Fat: 4g, Sodium: 7279mg, Potassium: 1307mg, Fiber: 24g, Sugar: 18g, Vitamin A: 28150IU, Vitamin C: 62.5mg, Calcium: 231mg, Iron: 6.7mg
Happy cooking everyone!