Portobello Mushroom Pizza (One Pan)
Quick and easy portobello mushroom pizza recipe, homemade in 20 minutes in one pan. Vegetarian, gluten free, low carb, healthy alternative to regular pizza.
We are a big pizza loving family but sometimes, we like to change things up and make Zucchini Pizza (One Pan) or even replace mushrooms for a regular pizza dough crust. It's so good that even kids approve of it!
Honestly, this gluten free pizza is so much better than that weird cauliflower crust pizza I tried once.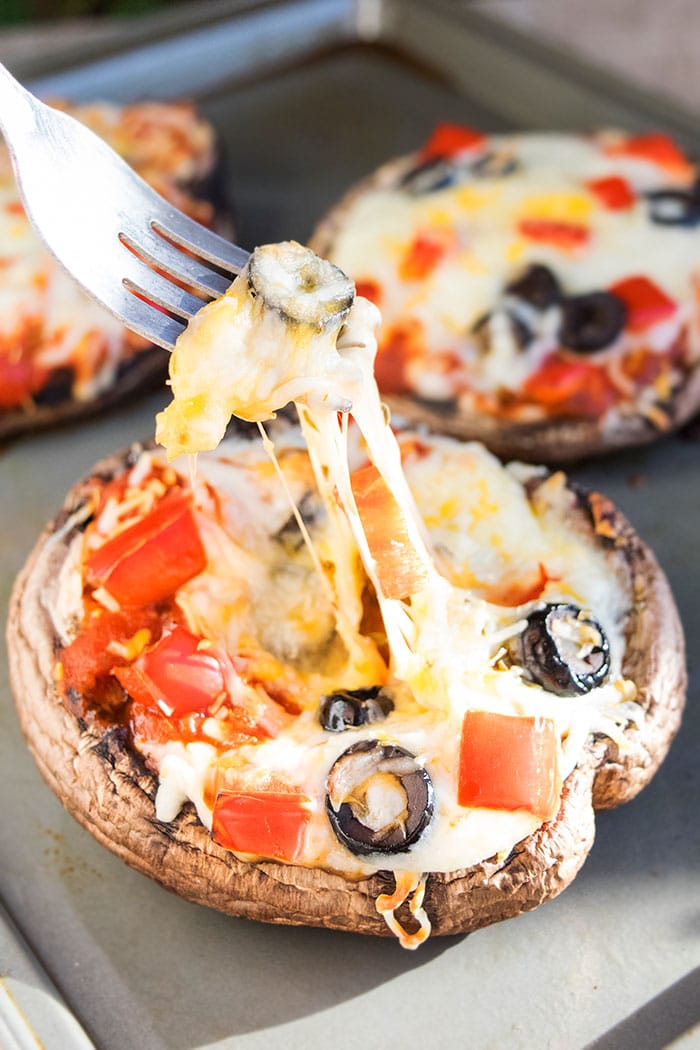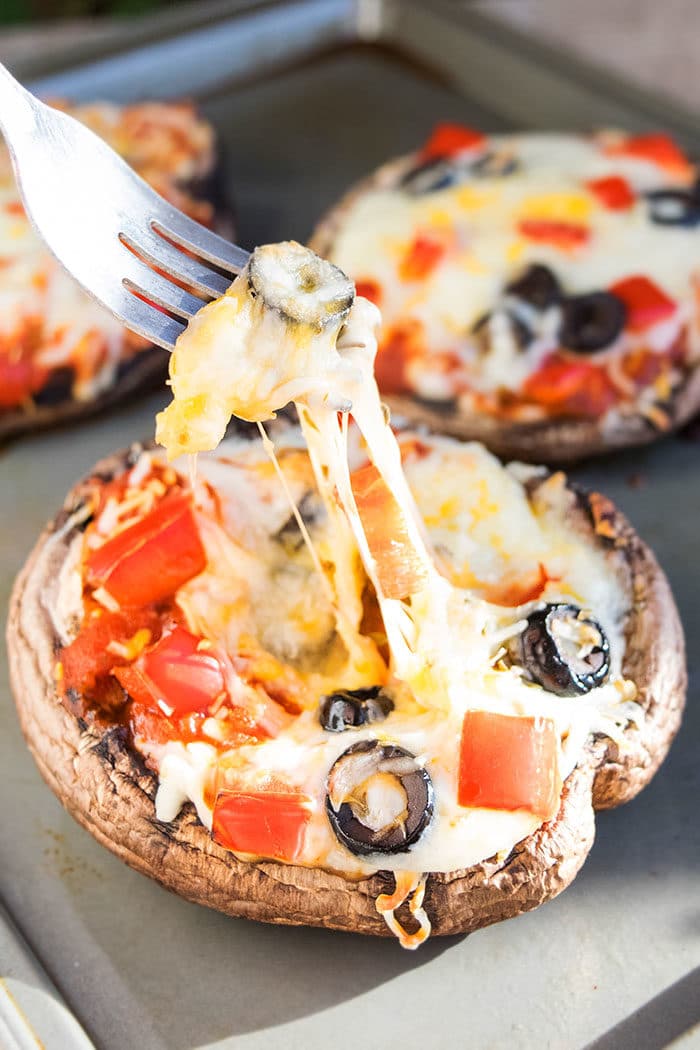 How to make healthy portobello mushroom pizza recipe?
Clean mushrooms.
Spread pizza sauce, toppings, cheese, Italian seasoning.
Bake.
Sprinkle parmesan cheese.
Enjoy!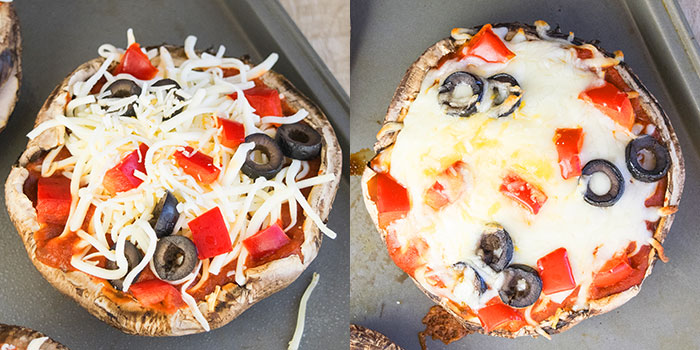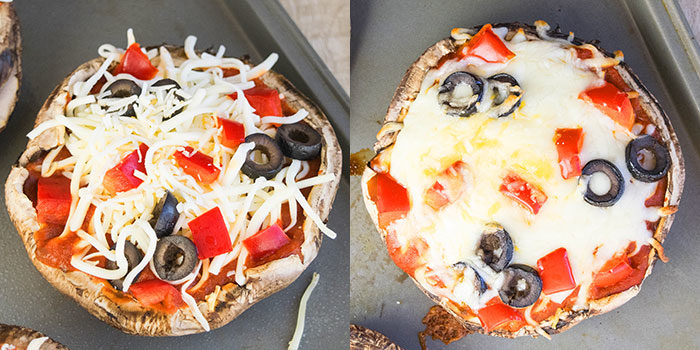 How do you clean a portobello mushroom cap?
Preparing mushrooms for pizza can be tricky but not difficult at all. I suggest removing the stem with a knife and wiping everything clean with a damp paper towel. Do not wash them under running water or soak them in water because they are like a sponge and will absorb everything. Some people quickly rinse them under cold water and dry them immediately.
What kind of mushrooms are used on pizza?
Big mushrooms like portobello mushrooms are highly recommended for this recipe. That's because they can hold a lot of toppings.
What sides to serve with pizza?
This is good enough to serve on its own but if you really want a side, then, think of what you would typically order as a side dish with pizza. Those same things will also compliment this healthy pizza. Some family favorites are: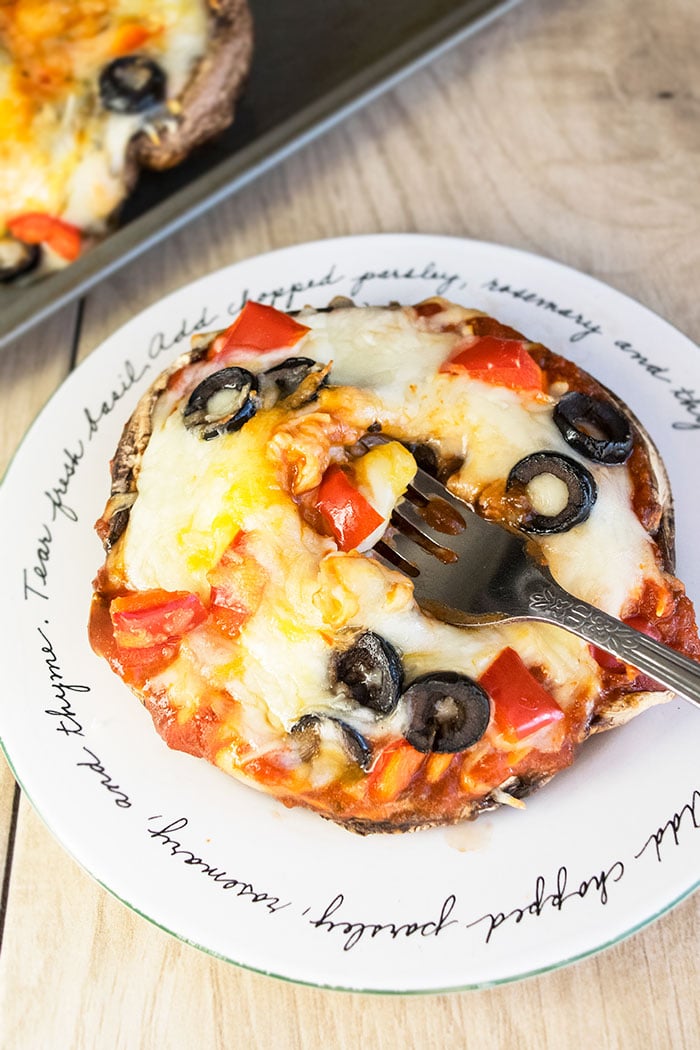 Pizza toppings
Just like regular pizza, you can get as creative as you like with toppings. Try some of these ideas:
Peppers– Variety of red, green, yellow, orange.
Jalapeno and red chili flakes– For a spicy kick.
Meats– Such as shredded or cubed chicken, beef (steak), bacon, ham, mini pepperoni, sausage. All meats should be cooked. Leftover baked or grilled meat and even store-bought rotisserie chicken work very well.
Pineapples– For a tropical Hawaiian flavor.
Tomatoes– Use thin slices of Roma tomatoes or cherry tomatoes.
Onions– Use thinly sliced red onions.
Olives– Use thinly sliced black or green olives.
Cheese- Use one kind of cheese or a blend of multiple cheeses such as parmesan, cheddar, mozzarella, colby, pepper jack, feta e.t.c.
Spinach– Fresh is best. Frozen releases too much water during baking.
Seasoning- I used Italian seasoning but you can use Mexican, Indian, Greek seasoning or any other blend you like.
Pesto sauce– Replace tomato sauce with store-bought or homemade pesto for a nice change.
Garlic– This is my personal favorite. Finely chop a garlic and sprinkle that over the pizza sauce. It's so good!
Tips and Techniques
Keep this meal low carb– By using a low sugar or no sugar pizza sauce.
If you are using meat– It must be cooked beforehand.
Don't serve these pizzas as appetizers– Because Portobellos are huge and not bite sized.
Don't over-bake– Because that will cause the mushrooms to release a lot of water and make a huge mess.
Oven must be hot- Make sure it's preheated at 400 degrees before you place the tray inside so that the pizzas cook quickly.
Serve immediately- They taste the best when they come out of the oven. I don't recommend refrigerating leftovers because they don't taste that good afterwards.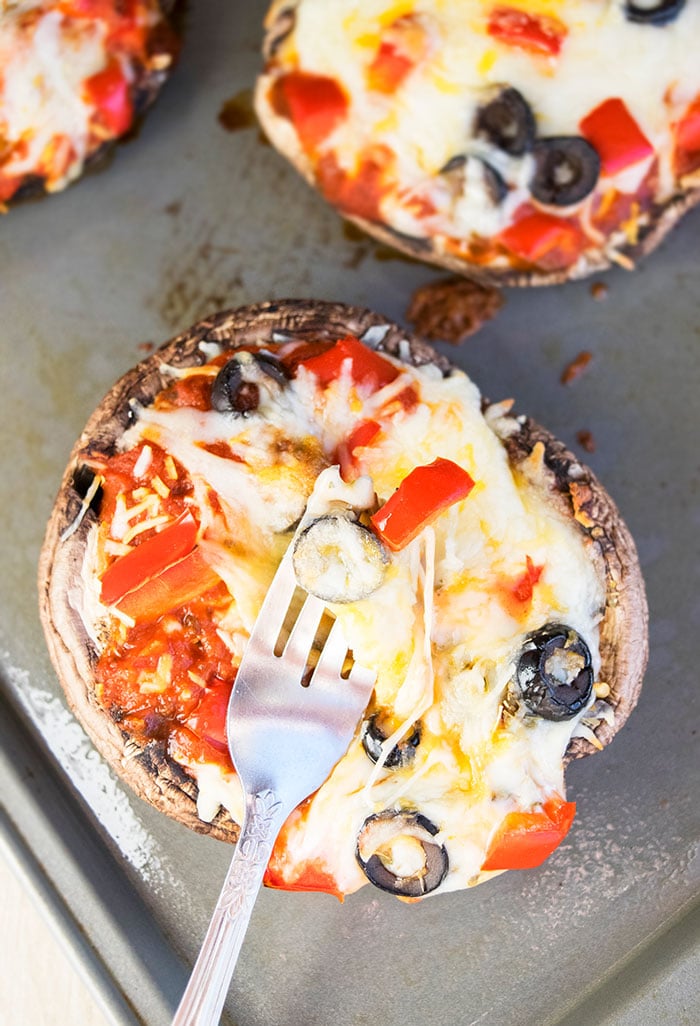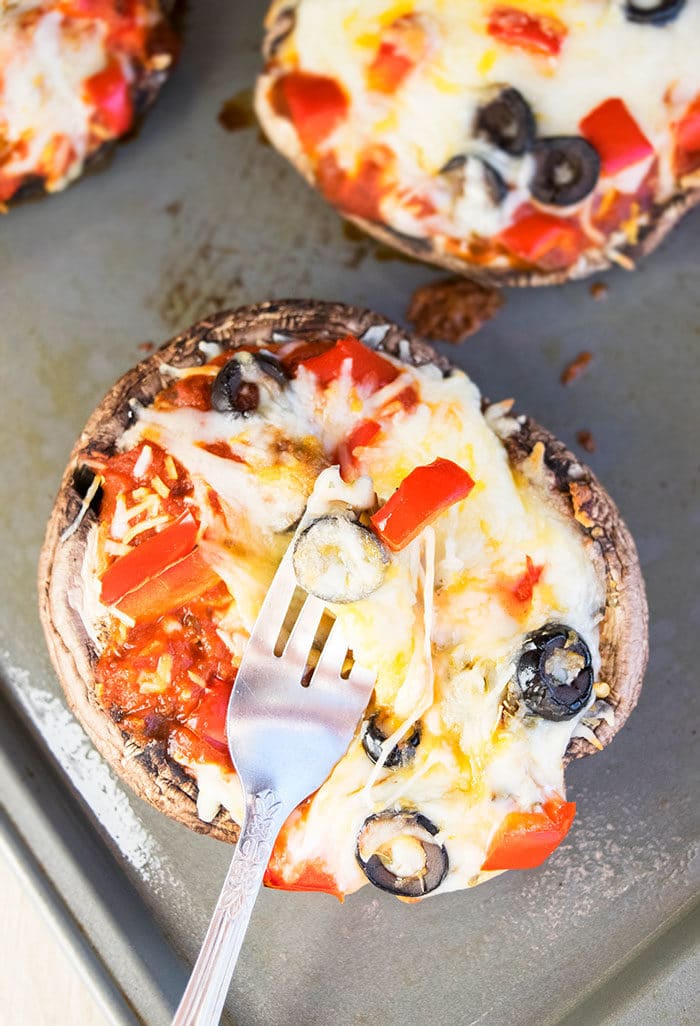 More Healthy One Pan Vegetarian Meals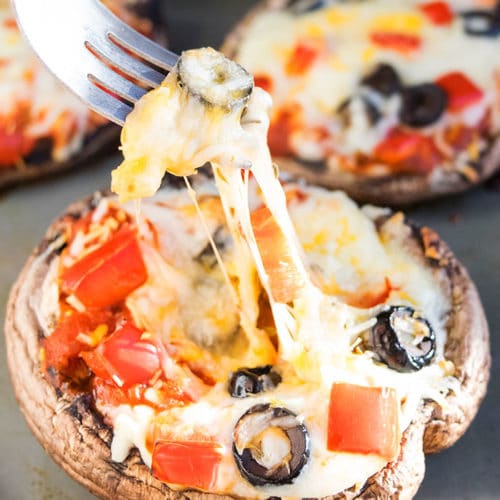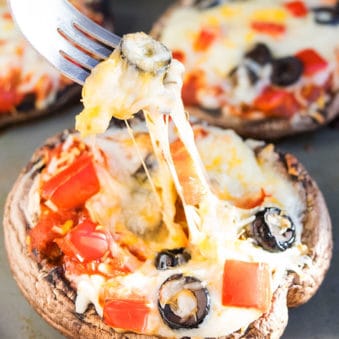 One Pan Portobello Mushroom Pizza
Quick and easy portobello mushroom pizza recipe, homemade in 20 minutes in one pan. Vegetarian, gluten free, low carb, healthy alternative to regular pizza.
Yield: People
Instructions
Clean mushrooms with a damp cloth and remove the stems and gills with a spoon (Some people don't remove gills. It's a personal preference).

Place the mushrooms on a cookie tray sprayed with oil. Make sure the tops are facing down.

Spread pizza sauce on each mushroom.

Top off with your choice of vegetables and meats and lots of mozzarella cheese.

Sprinkle some Italian seasoning on top of the pizzas.

Place the tray in the middle rack of the oven and bake at broiled/grill setting for 10 minutes or until the cheese has melted and is slightly golden brown.

Remove tray from oven and top off each portobello pizza with parmesan cheese, additional Italian seasoning and crushed red peppers. Enjoy!
Notes
Read all my tips above.
Tastes best when served immediately. Leftovers can be stored in a sealed container in the fridge for up to 1 day but won't taste that good, when reheated. 
Nutrition
Calories: 174kcal, Carbohydrates: 9g, Protein: 13g, Fat: 10g, Saturated Fat: 5g, Cholesterol: 30mg, Sodium: 713mg, Potassium: 582mg, Fiber: 3g, Sugar: 5g, Vitamin A: 745IU, Vitamin C: 4.3mg, Calcium: 340mg, Iron: 2.1mg