Creamy Cucumber Salad (One Bowl)
Quick and easy creamy cucumber salad recipe, homemade with simple ingredients in one pot or bowl in 20 minutes. A Summer salad, loaded with sour cream, mayonnaise and red onions. Also known as creamy cucumber dill salad recipe!
My family and friends adore this light Asian Cucumber Salad but this rich and creamy version is so popular and truly a classic recipe that everyone should know how to make.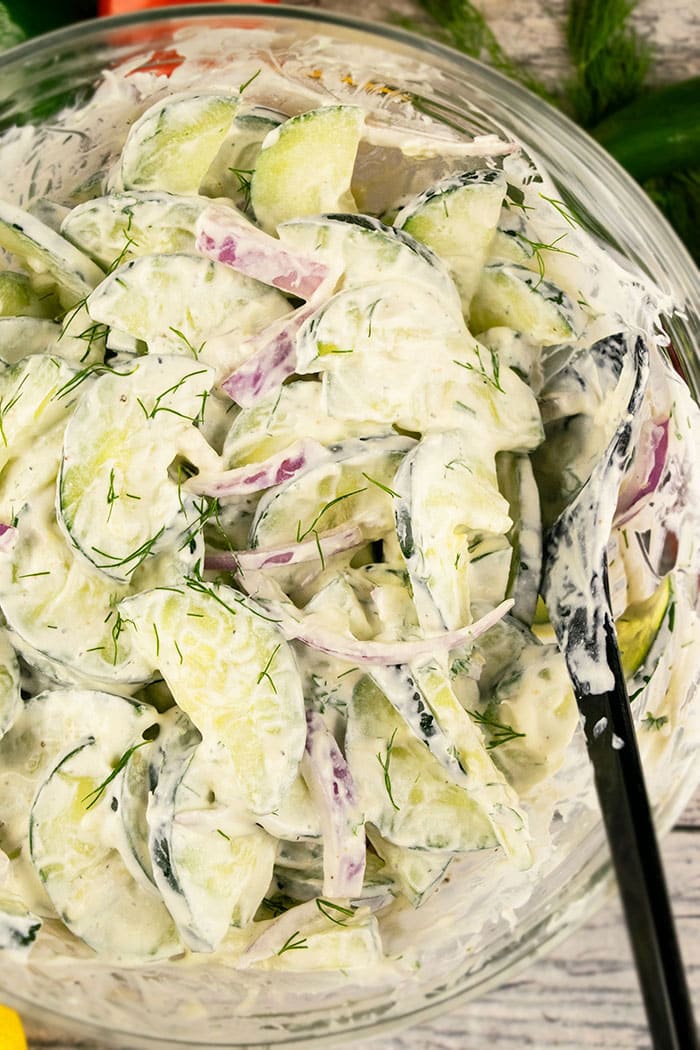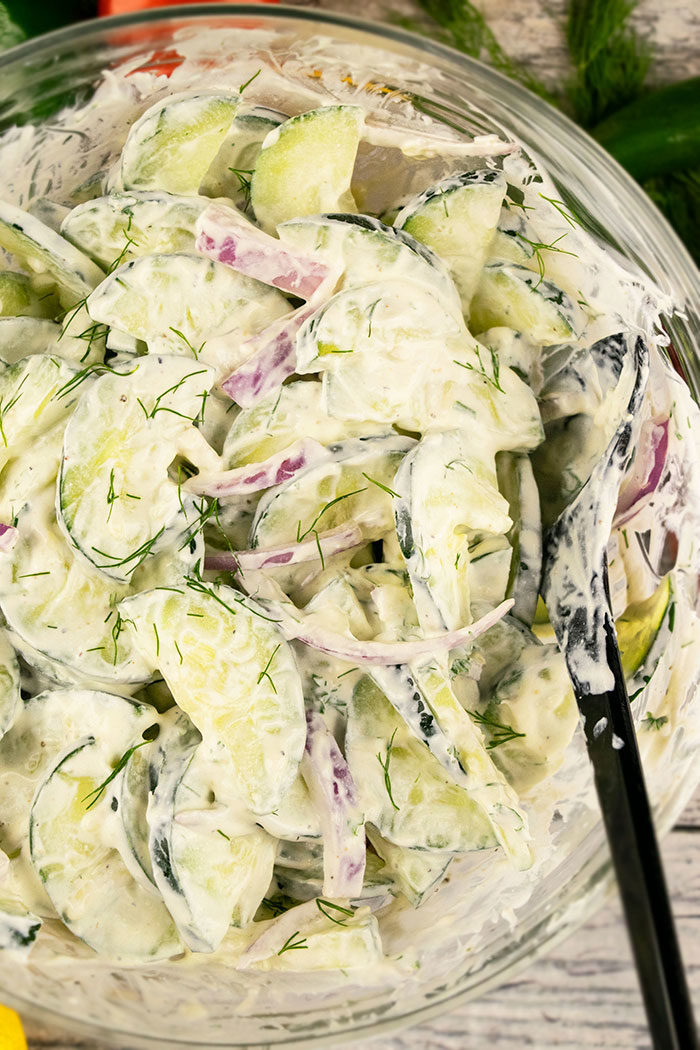 How to make creamy cucumber salad?
Make a simple but creamy salad dressing by mixing together sour cream, mayonnaise, salt, pepper, garlic powder, ginger powder, parsley dill.
Mix in cucumbers and onions.
Serve immediately.
What to serve with cucumber salad?
This is a fresh Summer salad that makes a wonderful side dish with smoked, baked or grilled chicken, steak and even fish (salmon). It's a classic side dish for picnics, potlucks and Summer BBQ parties.
Try it with some of these family favorite main dishes: Honey Garlic Chicken (One Pan)or this Chili Lime Chicken (One Pan), and even this Easy Pot Roast (Stovetop & Oven).
How do you sweat cucumbers?
This step is not required in my recipe. Typically, it involves sprinkling salt over sliced cucumbers and letting it sit for 20 minutes. Then, discarding the water that was released and pat the cucumber dry. Use these cucumbers in salad now.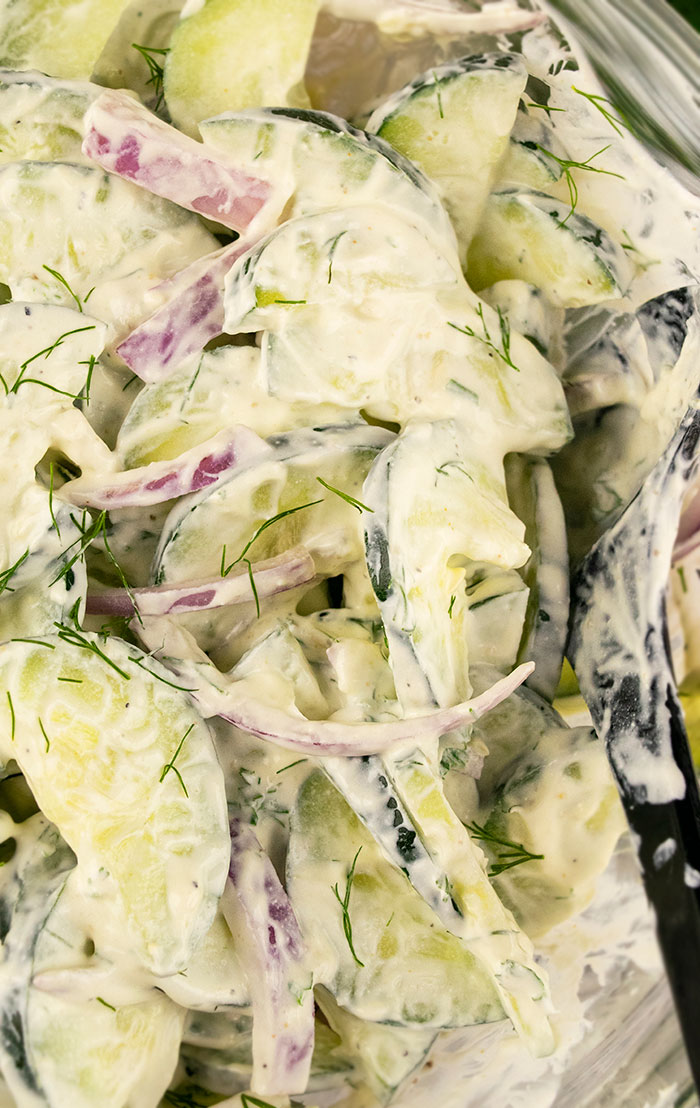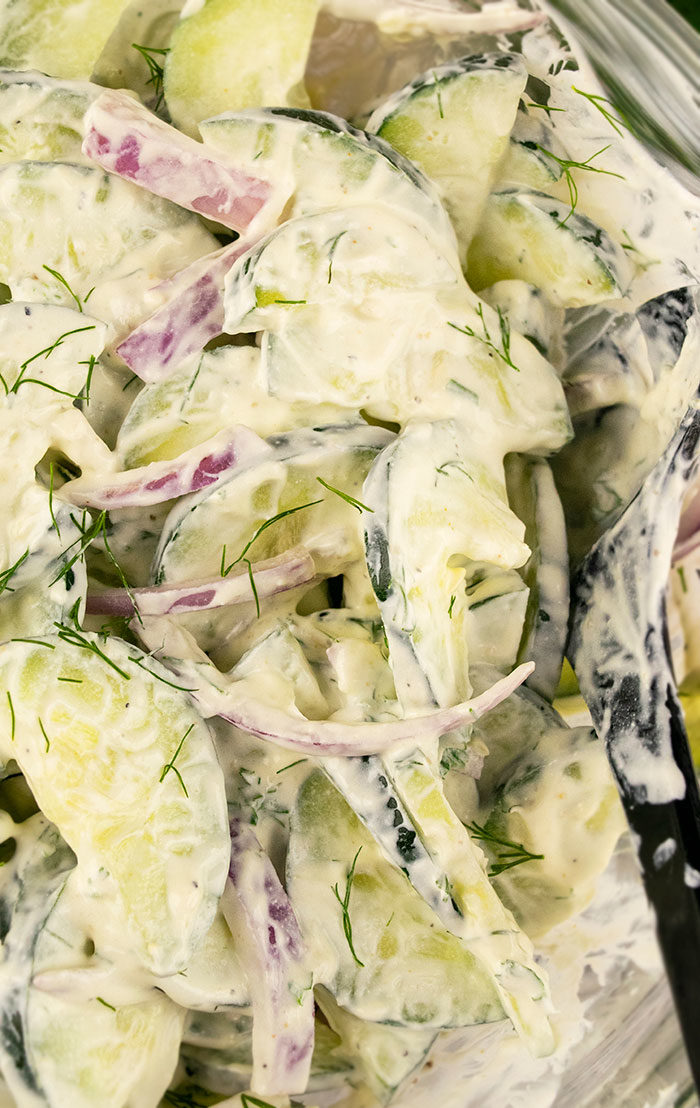 Variations
Cucumber tomato salad– Mix in 1 cup roughly chipped tomatoes.
Cucumber and onion salad– I like to add red onions but typically, they are not added. You can omit them, if you like.
Add radish– Mix in 1/2 cup thinly sliced radishes.
Make it spicy- Add some red chili flakes or finely chopped jalapenos.
Add nuts- To add a little crunch and nutty flavor. Try roasted cashews, almond, pecans or walnuts.
Tips and Techniques
Use full fat ingredients– For maximum creaminess and richness. This is especially with regards to sour cream and mayo. You can also use Miracle Whip instead of mayo.
Can you make creamy salad with Greek Yogurt? Yes! It's a healthier alternative to sour cream or mayo but has a strong tangy flavor. You can also make this salad healthy by using low fat mayo and sour cream.
Adjust amount of herbs and spices- This is based on your personal preference. Add more or less of whatever you like or dislike. You can also add some Ranch seasoning or dressing.
Serve immediately- That's because this salad does not have a very long shelf life. When it sits for too long in the fridge, the cucumbers start releasing water, become limp and loose their "crispiness." The salad becomes a watery mess.
What herbs to use in salads? Typically, only dill is used but I like to use a combination of dill and parsley together for a better flavor profile. You can also use basil, chives, green onions or even cilantro. Make sure to use fresh herbs since they taste the best.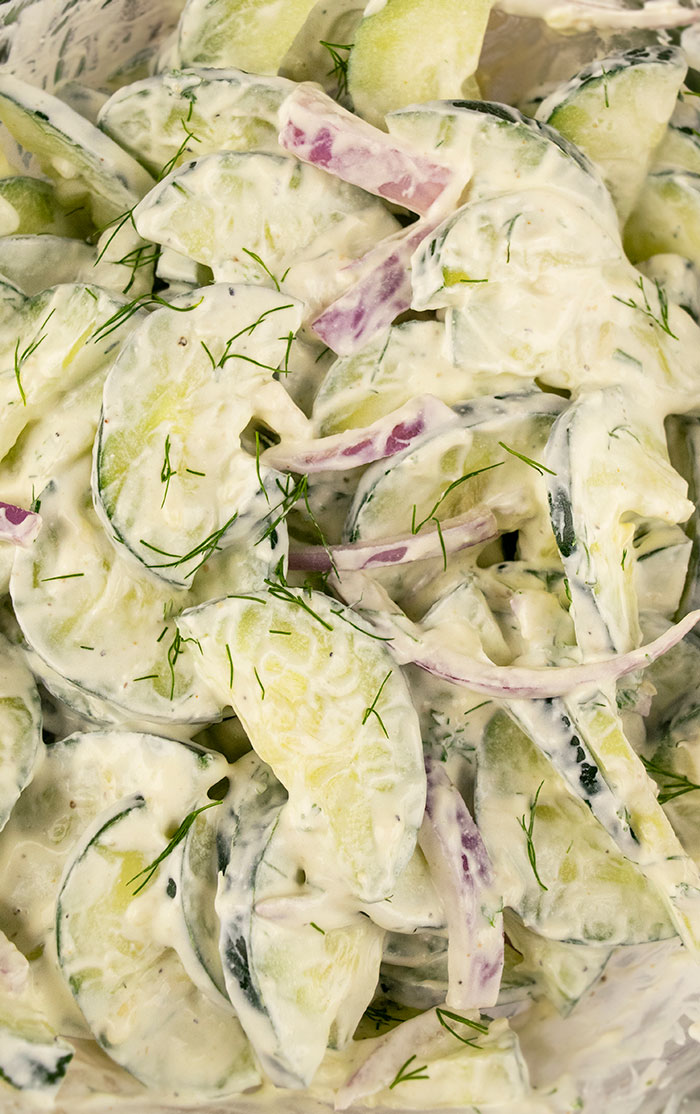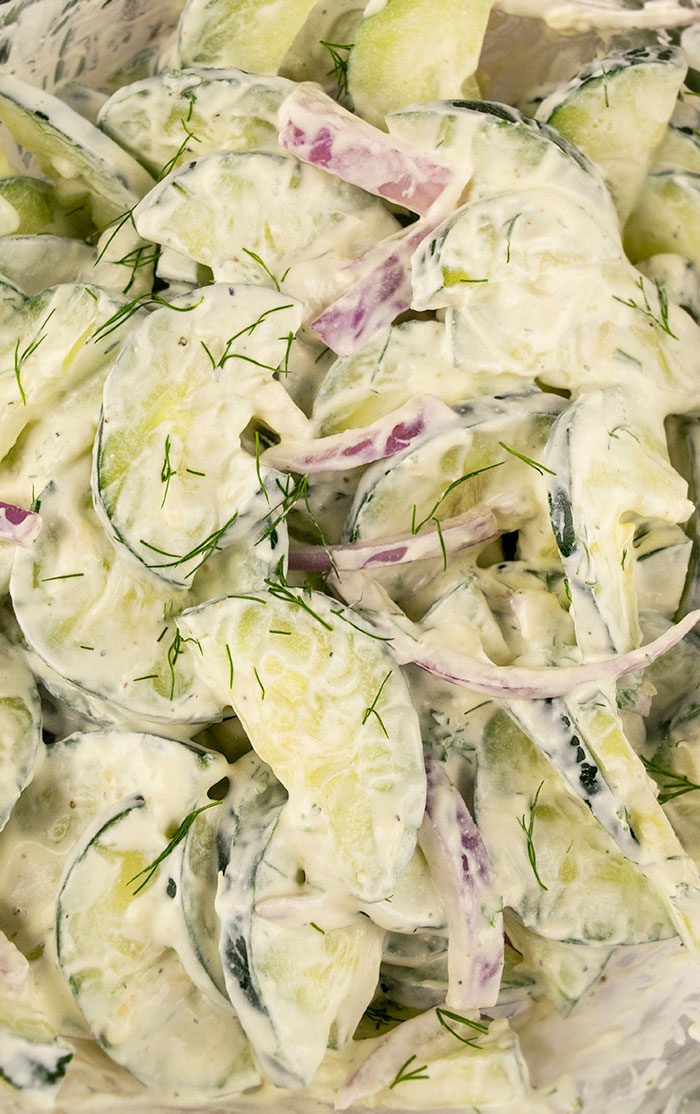 Other Classic Salad Recipes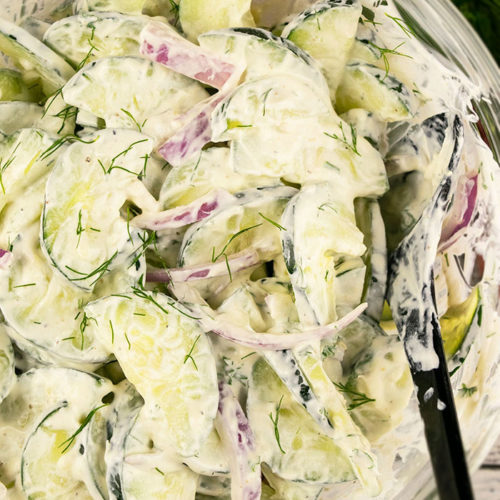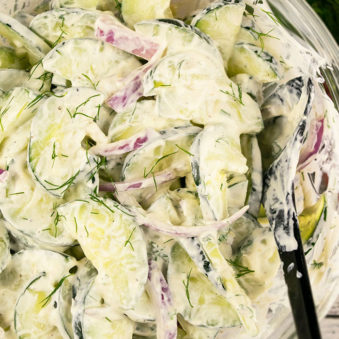 Creamy Cucumber Salad
Quick and easy creamy cucumber salad recipe, homemade with simple ingredients in one pot in 20 minutes. A cool Summer salad, loaded with sour cream, dill and onions.
Yield: People
Ingredients
1/2 cup Sour cream, Full fat
1/4 cup Mayonnaise, Full fat
1 tbsp Olive oil
1 tbsp Lemon juice, Or vinegar
Salt, To taste
Pepper, To taste
1 tsp Garlic powder
1 tsp Ginger Powder
1.5 tbsp Parsley, Fresh, Finely chopped
1.5 tbsp Dill, Fresh, Finely chopped
3 Cucumbers, English cucumbers, Thinly sliced into circles and then cut into semi circles
1 cup Red onions, Thinly sliced
Instructions
In a large salad bowl, add sour cream, mayonnaise, oil, lemon juice, salt, pepper, garlic powder, ginger powder, parsley, dill.

Mix everything together until smooth.

Add cucumbers, onions and mix until fully coated in the creamy dressing.

Serve immediately and enjoy!
Notes
Read all my tips above.
Tastes best when served immediately but leftovers can be stored in a sealed container in the fridge for up to 1 day. 
Nutrition
Calories: 202kcal, Carbohydrates: 10g, Protein: 2g, Fat: 16g, Saturated Fat: 5g, Cholesterol: 20mg, Sodium: 150mg, Potassium: 414mg, Fiber: 2g, Sugar: 6g, Vitamin A: 460IU, Vitamin C: 13.8mg, Calcium: 72mg, Iron: 0.8mg
Happy cooking everyone!