Zucchini Pizza (One Pan)
Quick and easy zucchini pizza recipe, homemade with simple ingredients in one pan in 15 minutes. Healthy, low carb appetizer bites, snack or main dish.
If you like my cheesy Oven Roasted Tomatoes, you are going to enjoy today's recipe too.
Now, we are a family of zucchini-lovers and I am always looking for new ways to cook it up. When I first made these healthy mini pizzas, my husband and son quickly gave it a big thumbs up and couldn't stop eating them. That's when I knew I had a winning recipe that all of you need to try too.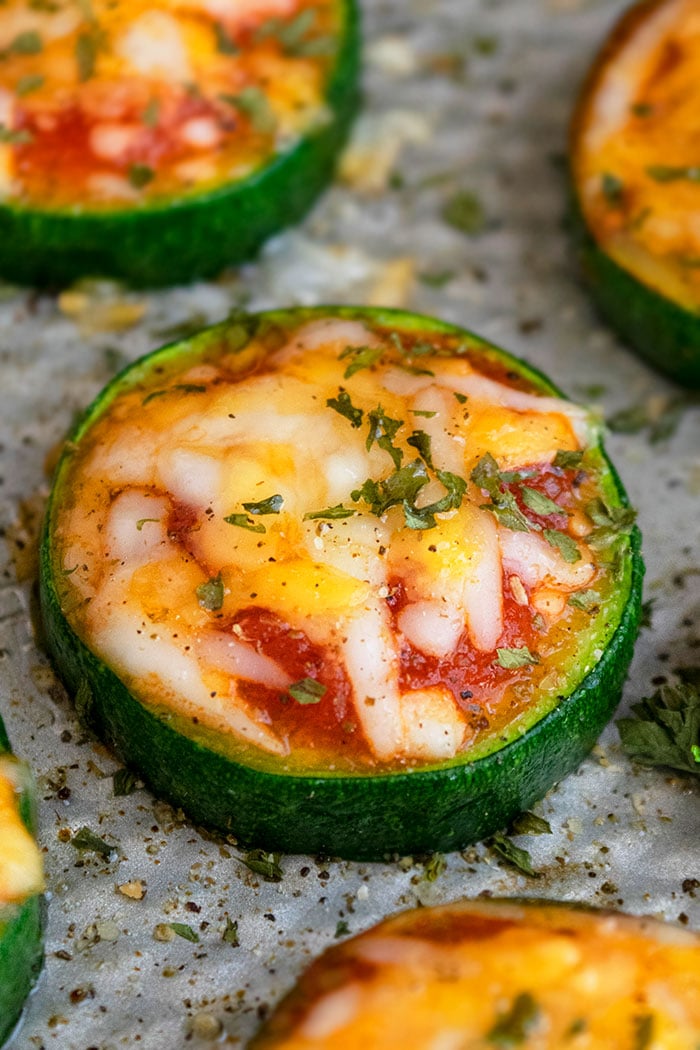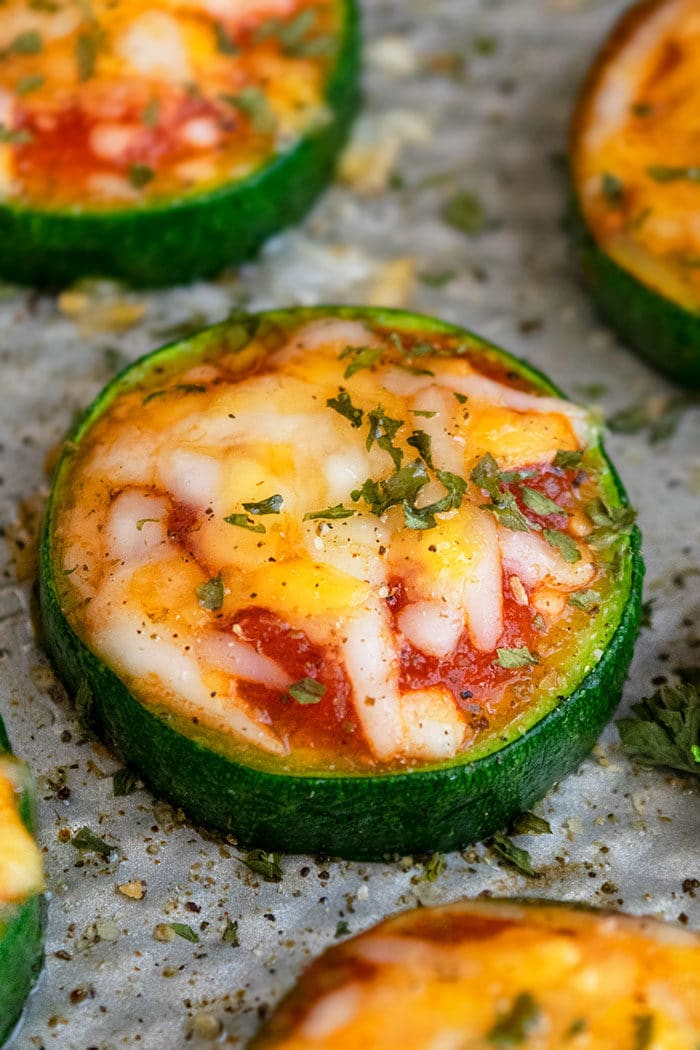 How to make zucchini pizza?
Place zucchini slices on a baking tray
Broil zucchini slices on both sides.
Remove tray from oven.
Sprinkle salt, peppers, Italian seasoning, and cheese.
Broil again until cheese melts.
Garnish with parsley.
Serve immediately.
What to serve with mini zucchini pizza bites or slices?
This dish is good enough to serve on its own, but below, you will find some of my favorite side dishes. Basically, think of what you would typically order as a side dish with pizza. Those same things will also compliment these zucchini bites.
Breadsticks: As simple as it may be, bread sticks are always a great option to add for an American Italian dish like this one. You can either make plain bread sticks with better and garlic seasoning or you can make cheesy breadsticks, which are delightful.
Mashed potatoes: Because of the simplicity of mashed potatoes, they work so well, alongside these mini pizzas. You have to try these Creamy Mashed Potatoes, but if you're looking for an extra blend of flavor with cabbage and bacon, I would recommend this Colcannon Recipe.
Salads: A classic choice! A favorite salad of mine is this Italian Tortellini Salad. It's a super easy and only requires 15 minutes in total to put together. The leftovers make a great snack too.
Roasted Vegetables: There are numerous options you can choose from to complete your meal such as: Whole Roasted Cauliflower, Oven Roasted Carrots, Oven Roasted Sweet Potatoes, Oven Roasted Broccoli, Oven Roasted Green Beans, and more!
Fries: The best side ever! Their light and crunchy texture makes it a more enjoyable side for kids! You can also make sweet potato fries, which are considered to be healthier.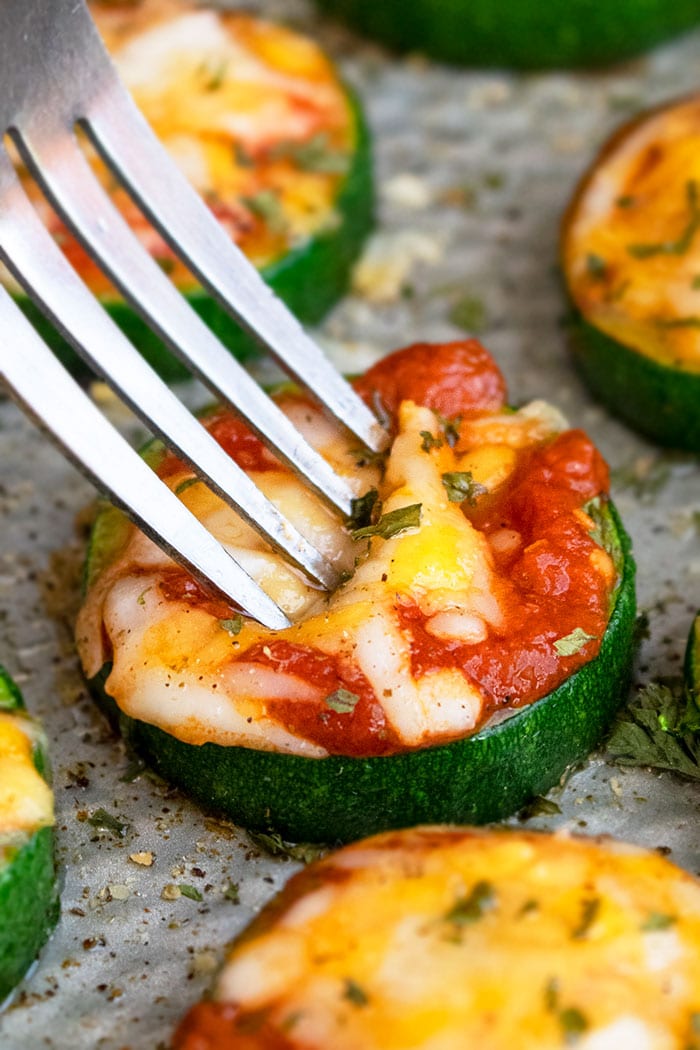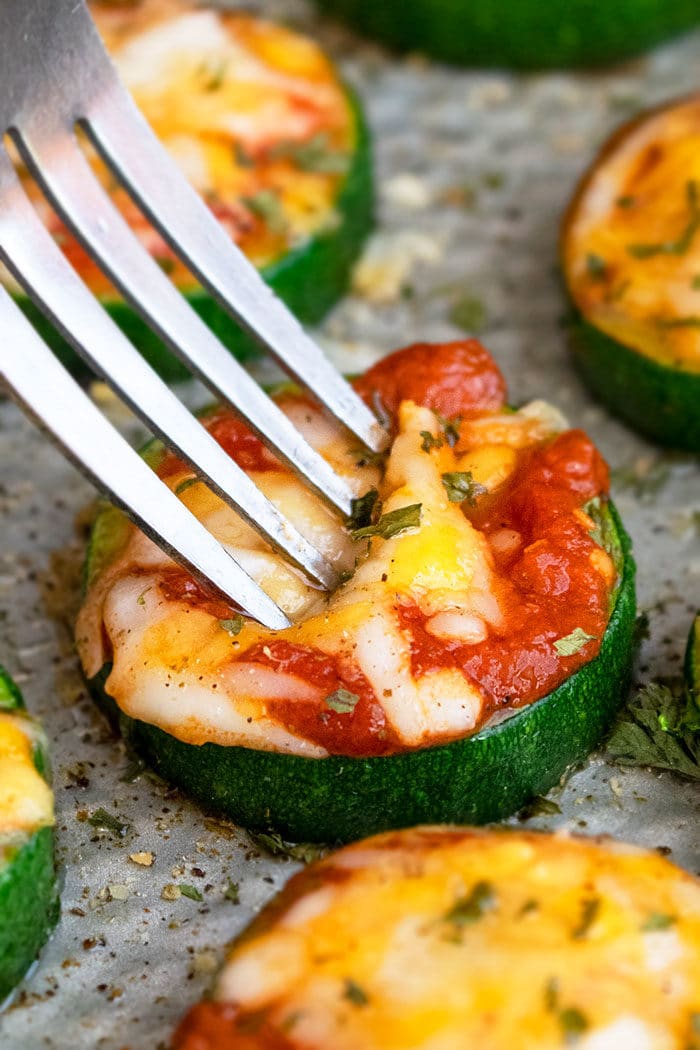 Variations
Zucchini pizza casserole bake- For any fun and new recipe, the more the better is always key. You can actually turn this simple appetizer dish into a main dish by creating a casserole with layers of rice or pasta, cheese, cooked, more pizza sauce or marinara sauce.
Zucchini pizza boats– Another easy and aesthetically pleasing looking dish. Cut the zucchini lengthwise into 2 slices. Scoop out and discard the seeds. Fill with pizza sauce, veggies and lots of cheese. Not only will the zucchini slice work as the carrier of your ingredients, but it also provides you more room to add more toppings.
Zucchini pizza crust: This is an entirely different recipe. The recipe involves combining mashed zucchini with flour, eggs, salt and pepper into a thick, wet dough. Spread it thinly on a pizza tray and bake. Then, add toppings and bake again.
Make it healthier– By using low fat cheese and to keep it low carb, make sure to use no sugar pizza sauce.
Pizza topping ideas- The possibilities are endless! Try black olives, peppers, mushrooms, your choice of meat toppings, cheese, and anything else that you and your family love on pizza!
Tips and Techniques
Space out slices– Make sure zucchini slices are spread and not placed close together because this will allow them to bake evenly.
Grease pan- Because this prevents the slices from sticking to the pan. Nonstick sprays work really well. Don't use butter to grease your pan, not only is there a risk of your zucchinis burning, but it will also smoke up the kitchen.
Don't over- bake! Because that would shrivel up teh zucchinis and also release a lot of water, leading to a watery "mushy" mess. Zucchinis are ready when they are crisp but tender.
Serve immediately- Do not bake in advance! You want to make sure that the cheese is melted and ooey gooey but when it sits out for a while, the cheese looses that amazing texture. Also, the zucchinis start to loose their crisp texture and can become soggy.
Bake or grill pizza? Both options work well. However, baking is more convenient, especially in Winter when you can't fire up the grill. Grilling, however, does add a lovely smoky flavor.
What cheese to use? There are no specific cheese recommendations,. Use any that you like! I used a blend of mozzarella, cheddar and parmesan. Use finely shredded cheese since it melts quicker in the oven.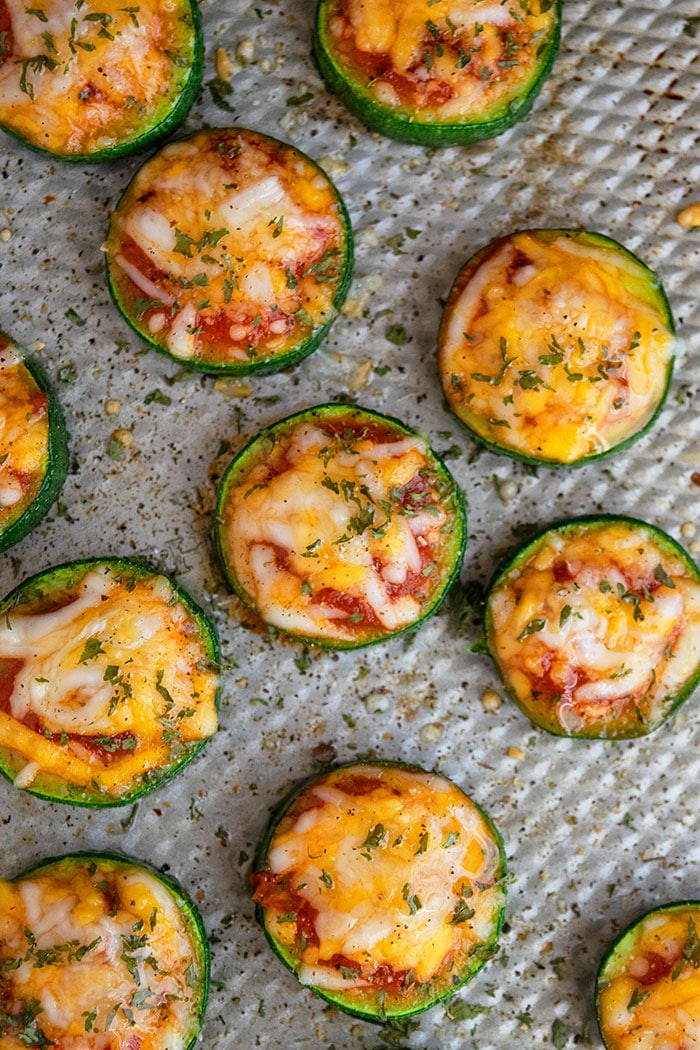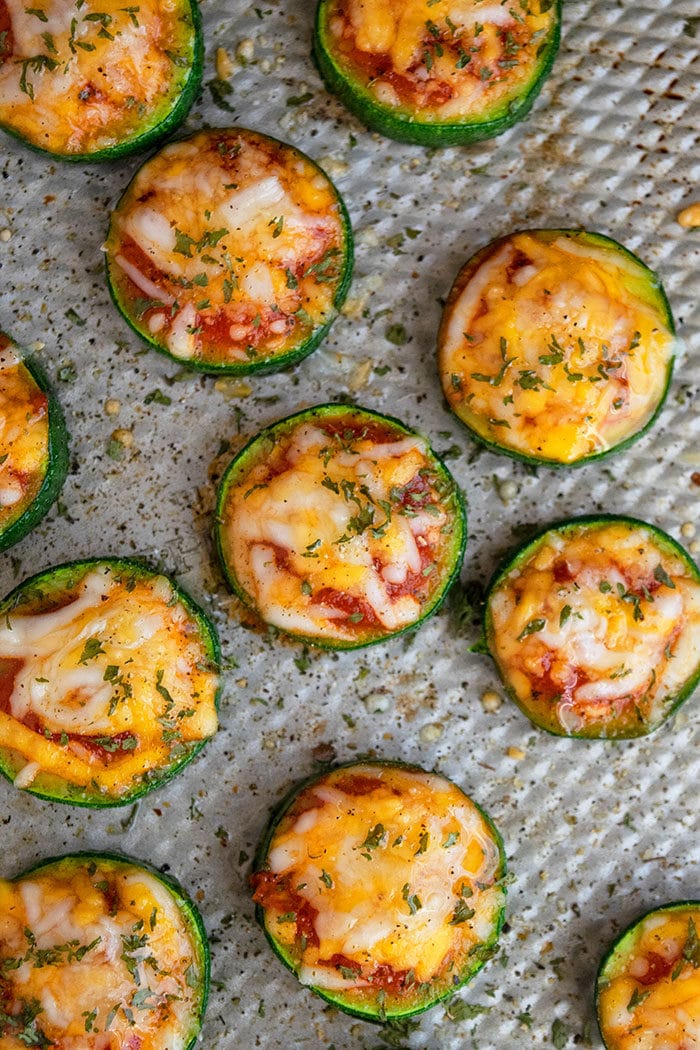 More One Pot Vegetarian Meals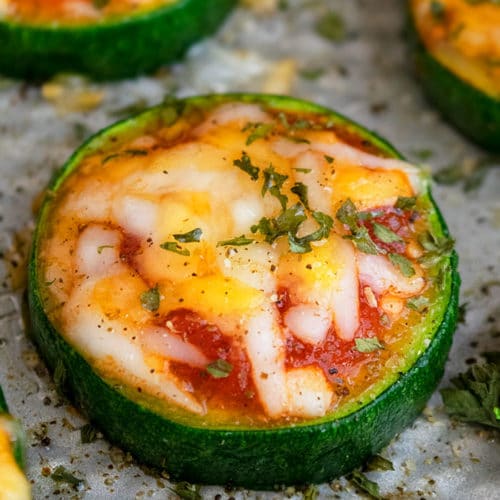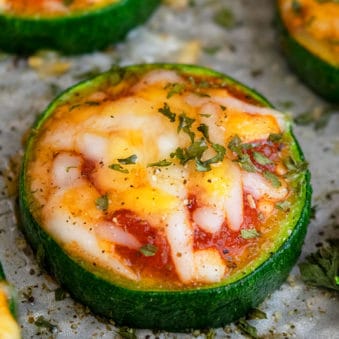 One Pan Zucchini Pizza
Quick and easy zucchini pizza recipe, homemade with simple ingredients in one pan in 15 minutes. Healthy, low carb appetizer bites, snack or main dish.
Yield: People
Instructions
Broil 1-2 minutes on one side and 1-2 minutes on the other side until it's crisp but tender.

Remove tray from oven.

Spread pizza sauce on top of each slice.

Sprinkle salt, pepper, Italian seasoning, cheese.

Broil again until cheese is melted (about 1-2 minutes).

Garnish with parsley and serve immediately. Enjoy!
Nutrition
Calories: 104kcal, Carbohydrates: 8g, Protein: 7g, Fat: 5g, Saturated Fat: 2g, Cholesterol: 16mg, Sodium: 255mg, Potassium: 610mg, Fiber: 2g, Sugar: 6g, Vitamin A: 725IU, Vitamin C: 37.8mg, Calcium: 160mg, Iron: 1.5mg
Happy cooking everyone!