Spicy Arrabbiata Sauce (One Pot)
The best quick and easy Arrabbiata sauce recipe, homemade with simple ingredients in one pot on stovetop in 30 mins. Full of tomatoes, garlic, spicy red chili flakes.
Have you ever been served pasta with a bland tomato sauce and thought, this is not even worth eating? This sauce is the exact opposite of that! It packs spice, aromatic flavors, and tang from the juicy tomatoes with a spicy kick that you can adjust to your tastebuds. You will be proud to serve it to your family or guests. Serve the Best Chimichurri Sauce (Blender) and Basil Pesto Sauce (Blender), along with today's sauce to create a delicious pasta bar at your next gathering.
What is Arrabiata sauce?
It is a spicy Italian tomato- based sauce made with garlic, olive oil, fresh or canned tomatoes, and red chili flakes. This sauce is traditionally served over pasta.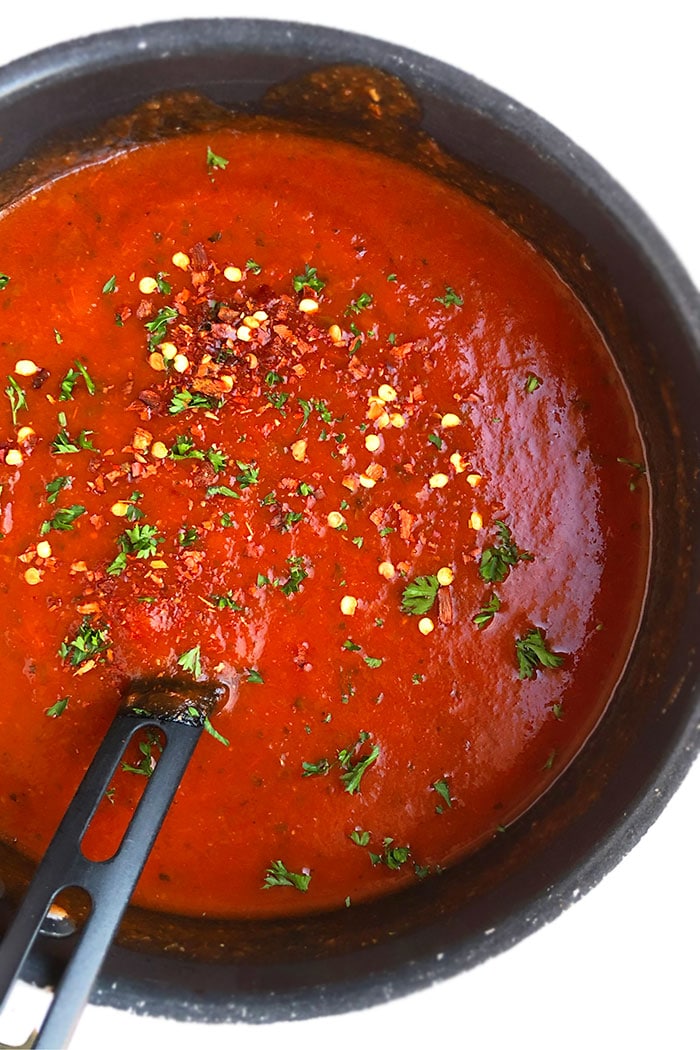 How to make Arrabbiata sauce from scratch?
Heat butter and oil– Over low heat.
Add garlic and red chili flakes– Sauté until garlic is golden brown.
Add onions– Saute until it's partially softened.
Add crushed tomatoes, San Marzano tomatoes, tomato paste, salt, pepper, Italian seasoning – Bring to a boil.
Reduce heat– Simmer for 30 minutes.
Add basil- In the final few minutes.
Continue cooking– Until sauce is reduced.
Enjoy- Serve over pasta.
What is the difference between spicy Arrabiata sauce and marinara sauce?
The main difference is the addition of red chili flakes to make the tomato sauce spicy or "angry" as the word Arrabbiata indicates. Whereas, a Marinara Sauce (One Pot) does not typically contain spice.
What to serve with homemade Arrabbiata sauce recipe?
Serve this sauce over your favorite pasta such as spaghetti, rotini, linguine, fettuccini, penne, noodles, or gnocchi.
Another option would be serving it over filled pastas such as tortellini and ravioli.
There are many Italian dishes that you can add this sauce to to take the flavor up a notch such as lasagna, meatballs, Italian Sausage, pizza, ratatouille, ravioli, baked ziti, chicken or eggplant parmesan, or even over a Grilled Chicken Breast (One Pan).
This also makes a delicious dipping sauce for fresh veggies, fried mushrooms, onion rings, french fries, breadsticks, garlic bread, calamari, chicken tenders, fried zucchini, mini meatballs or mozzarella sticks.
You can even add leftovers in soups to add flavor. Try it in this Tomato Basil Soup Recipe (One Pot).
Enjoy it as a spread in sandwiches and wraps. They are delicious in this Best Grilled Cheese Sandwich (One Pan).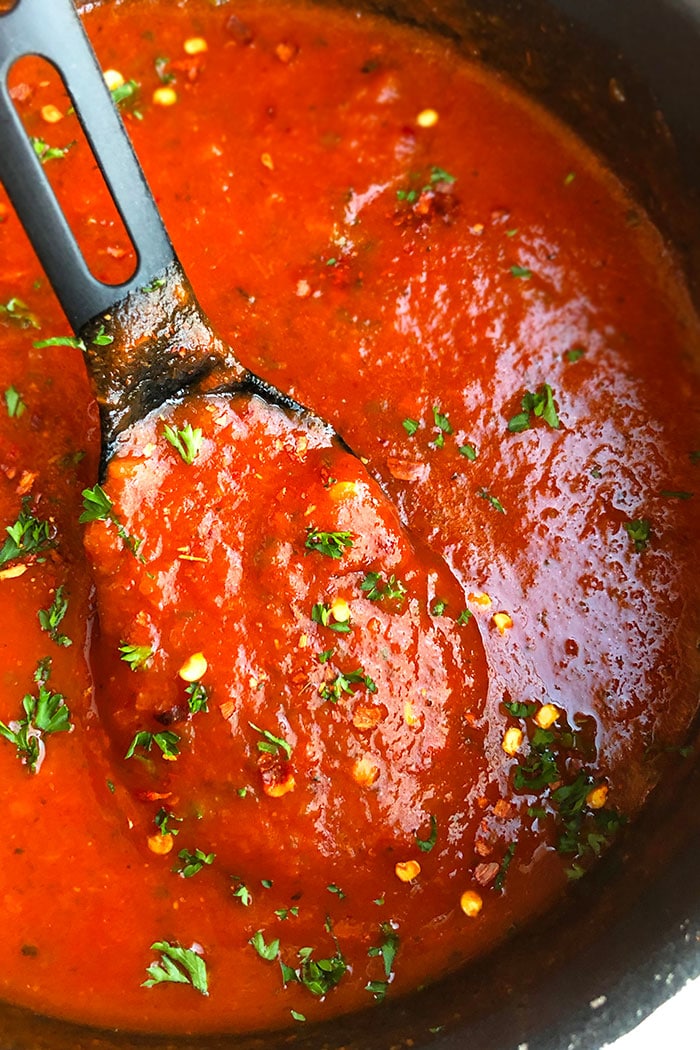 Variations
Pasta/ Penne arrabbiata- Serve it over penne pasta, which is the traditional pasta choice and top it off with lots of freshly grated parmesan cheese or mozzarella cheese. If you don't have that on hand, you can use any pasta of your choice like spaghetti, rigatoni, shells e.t.c.
Make it creamy– Mix in some heavy cream or half and half near the end.
Make it cheesy– Add parmesan, goat, mozzarella, cream cheese or Pecorino Romano cheese.
Add vegetables– Such as roasted red peppers, artichokes, olives, spinach, mushrooms, broccoli.
Caramelize the onions– For additional flavor, caramelize the onions in butter before adding it to the sauce.
Add protein– Such as ground beef, turkey, chicken, Italian sausage, shrimp, bacon, or meatballs.
Use fresh tomatoes– Use tomatoes from your garden or your favorite ripe ones from the store. Just make sure to wash and crush them before adding to the sauce.
Add wine– Add a splash of red or white wine to the sauce as it cooks for additional flavor.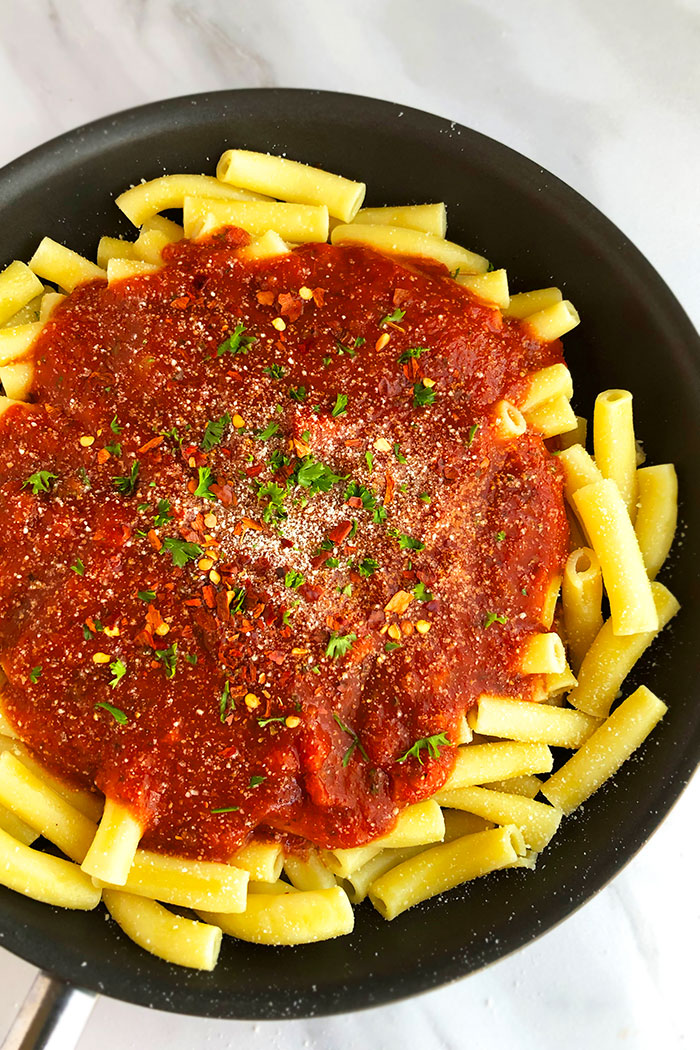 Storage
Refrigerate– In a sealed container for up to 3 days.
Freeze– In a sealed container or gallon freezer bag for up to 1 month.
Reheat– On the stovetop or in the microwave.
Tips and Techniques
The tomatoes in this sauce are very important– The better the quality, the better results you will get. Choose a brand whose flavor you prefer. In my opinion, canned San Marzano tomatoes are the best, but they are typically sold whole. Just crush them with your hands before adding them.
Use fresh herbs– Fresh herbs always taste better than dried, if you have them. I use a combination of fresh and dried herbs.
Use unsalted butter– To prevent the sauce from becoming too salty.
Use a non-stick pot– Because this prevents the sauce from sticking to the bottom of the pot and burning.
Watch the garlic– You do not want to burn the garlic. So, make sure to keep a close eye on it, stirring often, ensuring that it only browns.
What to do if the sauce is too runny? How to thicken sauce? Continue cooking until it thickens to your liking. If you are serving it with pasta, you can also use a little of the starchy water the pasta cooked in, to help thicken the sauce.
How to make sauce thinner– Mix in more water or broth.
Make sure to simmer on low heat– This allows the flavor to develop over time without burning.
Adjust the spice– Add more or less red chili flakes, according to your personal preference.
More One Pot Pasta Recipes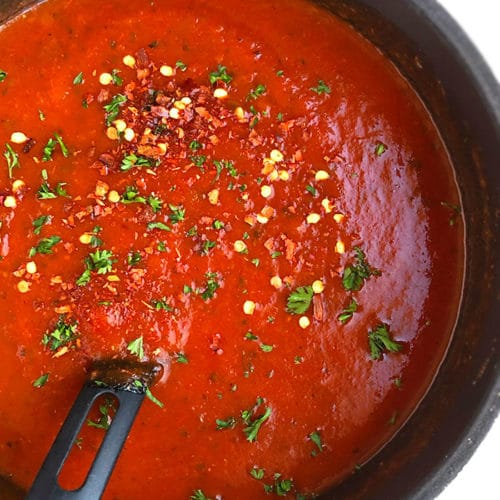 One Pot Arrabbiata Sauce
The best quick and easy Arrabbiata sauce recipe, homemade with simple ingredients in one pot on stovetop in 30 mins. Full of tomatoes, garlic, spicy red chili flakes.
Yield: People
Ingredients
2 tbsp Butter, Unsalted
2 tbsp Olive oil
8-10 cloves Garlic, Finely minced
2-4 tsp Red chili flakes, Adjust to your taste
1 cup Onions, Finely chopped
1 can Crushed tomatoes
1 can Whole tomatoes, Preferably San Marzano, Crushed with your hands
2 tbsp Tomato paste
Salt, To taste
Pepper, To taste
1 tsp Italian seasoning
1/2 cup Basil, Fresh, Roughly chopped
Instructions
Heat butter and oil in a large nonstick pot over low heat.

Add garlic and red chili flakes and sauté for a few minutes, stirring often, until garlic is golden brown. Keep a close eye to ensure nothing burns.

Raise the heat to medium-high and add onions.

Saute for a few minutes until onions are partially softened, mixing often.

Add crushed tomatoes, San Marzano tomatoes, tomato paste, salt, pepper, Italian seasoning.

Bring to a boil.

Then, reduce heat to "Low" and simmer for 25-30 minutes.

In the final 10 minutes, mix in basil.

Continue cooking until sauce is reduced to your desired consistency. Enjoy!
Notes
Read all my tips above.
Leftovers can be stored in a sealed container in the fridge for up to 3 days and reheated in the microwave or stovetop. 
Nutrition
Calories: 62kcal, Carbohydrates: 8g, Protein: 2g, Fat: 3g, Saturated Fat: 2g, Cholesterol: 8mg, Sodium: 161mg, Potassium: 242mg, Fiber: 2g, Sugar: 4g, Vitamin A: 421IU, Vitamin C: 8mg, Calcium: 35mg, Iron: 1mg