Tomato Basil Pasta (One Pot)
Quick and easy tomato basil pasta recipe, homemade with simple ingredients in one pot over stovetop in 30 minutes. Loaded with Italian seasoning, fresh basil, cherry tomatoes and lots of cheese.
This is also known as "Tomato basil mozzarella pasta" or "Caprese pasta."
This is a delicious filling meal and another popular dish with kids. It's just as good as, if not better, than this One Pot Fettuccine Alfredo and this Basil Pesto Pasta (One Pot).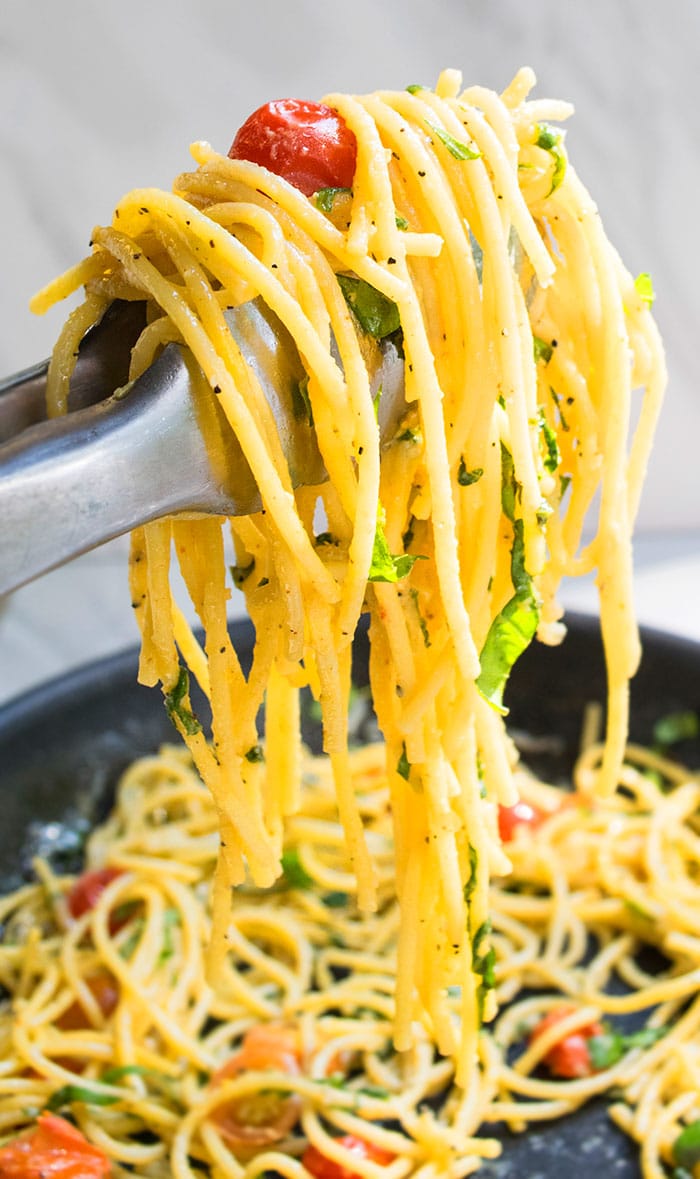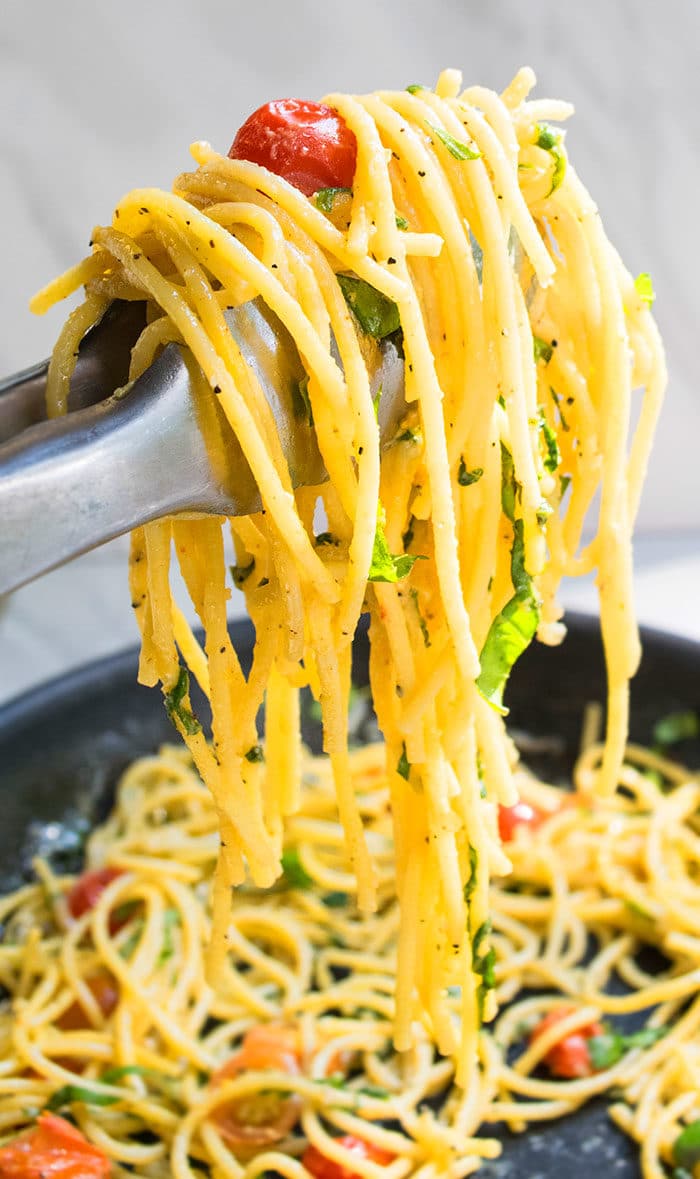 How to make tomato basil pasta?
Saute garlic– Heat oil and cook garlic until it's fragrant.
Add remaining ingredients– Such as water, vegetable broth, half the cherry tomatoes, spaghetti, Italian seasoning, red chili flakes, salt, pepper, basil leaves. 
Cover and cook– Until it comes to a boil.
Cook uncovered– Until liquid is reduced and pasta is cooked through and al dente.
Mix in final ingredients– Such as more basil, cherry tomatoes and lots of cheese.
Enjoy– Once cheese is fully melted, dig in!
What sides to serve with tomato and basil pasta recipe?
Traditional side dishes like garlic bread, cheese breadsticks, potato fries and potato wedges always work well.
You can also serve alone a simple green salad. Try this Italian Chopped Salad (One Bowl) or this Cucumber Tomato Salad (One Bowl).
You can also serve it with grilled chicken, shrimps or meatballs.
You can even serve with some roasted vegetables like these amazing Oven Roasted Vegetables (One Pan) or keep it even more simple with Oven Roasted Carrots (One Pan).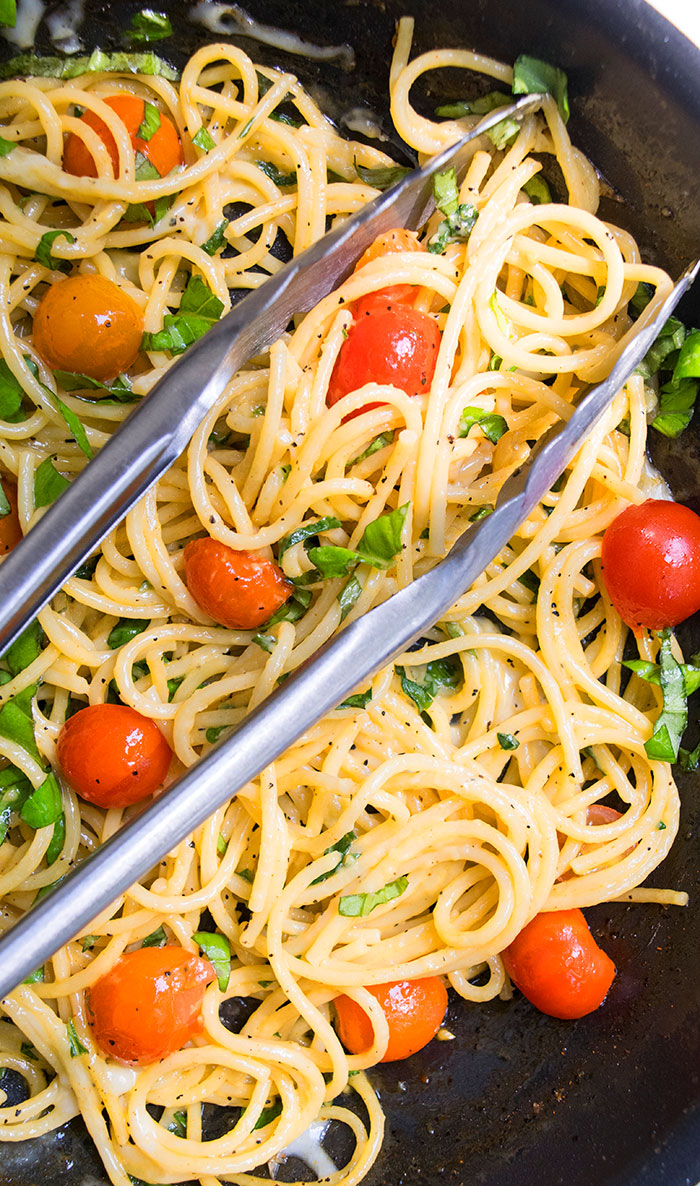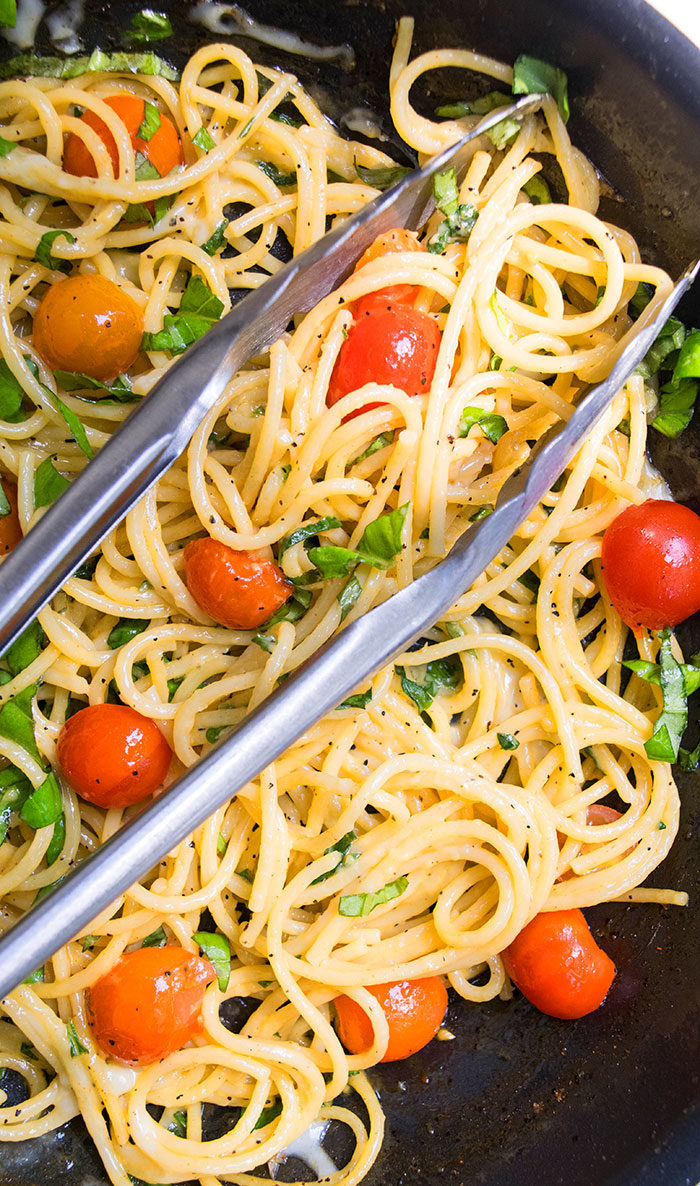 Variations
Cherry tomato basil pasta sauce- The broth, Italian herbs and spices, fresh tomatoes and basil cook with the spaghetti in one pot to create a simple sauce. A sauce is not made separately and added into the pasta.
Tomato basil chicken pasta– Add shredded or diced balsamic grilled chicken or this Bruschetta Chicken (One Pot) to enhance the Italian flavors in this meal. You can also use rotisserie chicken.
Add other proteins– Such as sautéed shrimp, Italian sausage, ground beef, tofu, meatballs to make this meal even more filling.
Make it creamy– by mixing in some heavy cream and a little bit of cream cheese.
Add canned tomatoes or tomato paste– If you want a very strong tomato flavor, reduce the water by 1/4 cup and add 1/4 cup canned tomatoes.
Add vegetables– Such as a small bag of frozen veggies, mushrooms, spinach, zucchini, peppers, onions or any other veggies you like.
Use your favorite combination of cheeses- Such as mozzarella, parmesan, feta, blue cheese, cheddar, pepper jack, ricotta, goat cheese e.t.c.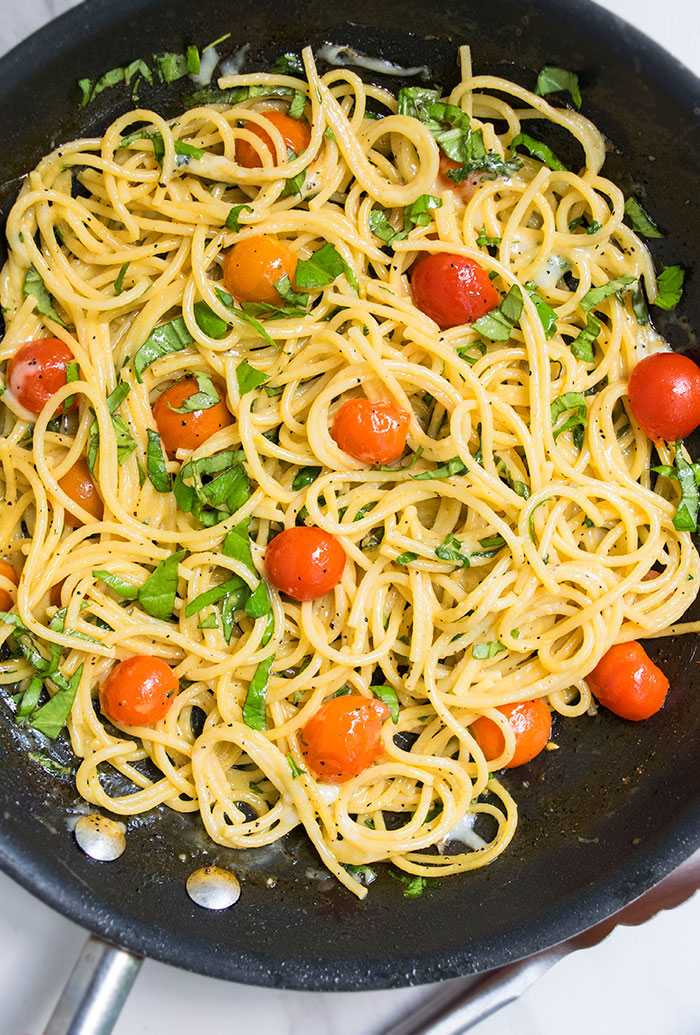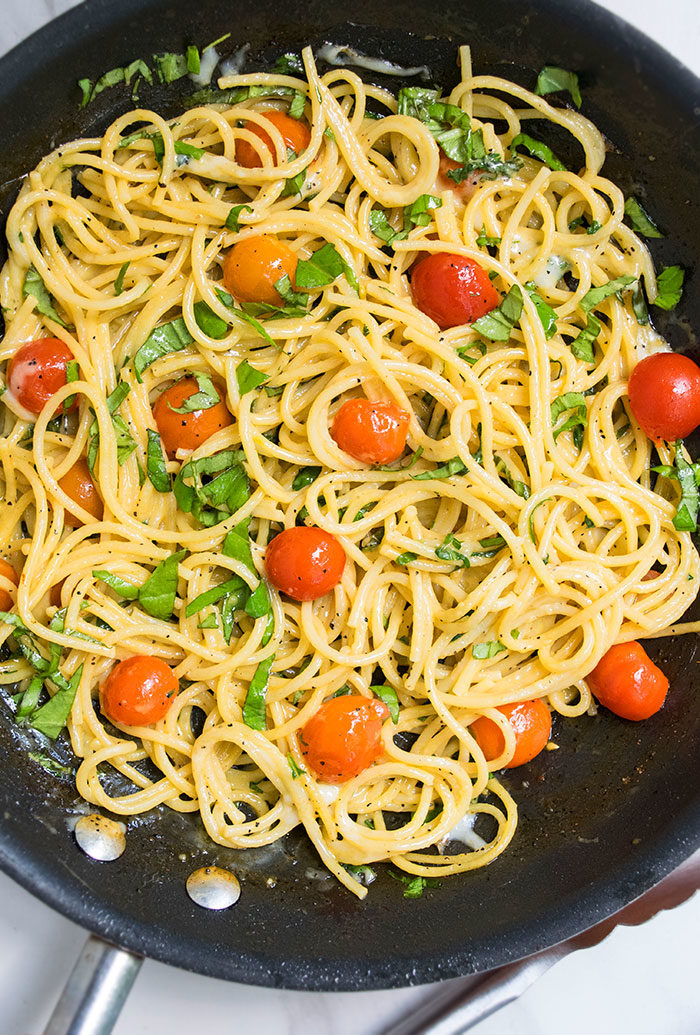 Tips and Techniques
Adjust amount of herbs and spices– Add more or less of whatever you like or dislike.
Use low sodium broth– Because that prevents this meal from becoming too salty.
Use nonstick pot– To prevent any sticking and burning.
Use fresh basil rather than dried basil- Because it looks better and has a better fresher flavor.
What if the pasta is not cooked through? If you feel like the pasta is not al dente, add more water or broth and cook for a little longer until the pasta is tender.
Use both, water and broth- The broth adds a lot of flavor and should not be omitted or replaced with water.
What type of pasta to use? Spaghetti and linguine both work very well. Penne is another good option.
More One Pot Pasta Recipes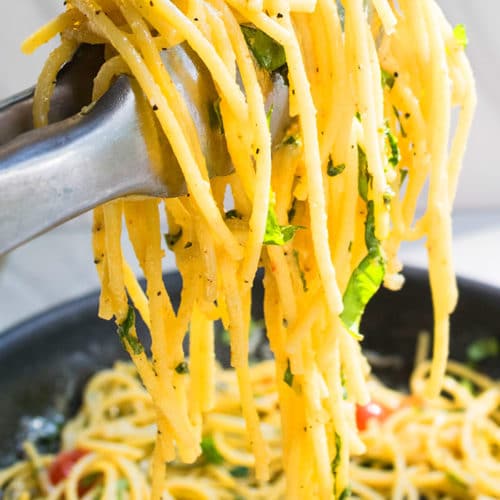 One Pot Tomato Basil Pasta
Quick and easy tomato basil pasta recipe, homemade with simple ingredients in one pot over stovetop in 30 minutes. Loaded with Italian seasoning and cheese.
Yield: People
Ingredients
2 tbsp Olive oil
3 cloves Garlic, Finely minced
2 cups Water
2 cups Vegetable broth, Low sodium
1.5 cups Cherry tomatoes, Divided, Sliced in half
1 pound Spaghetti, Or linguine pasta
1-2 tsp Italian seasoning
1/4 tsp Red chili flakes, Optional
Salt, To taste
Pepper, To taste
1/2 cup Basil leaves, Fresh, Roughly chopped
1/2 cup Mozzarella cheese, Shredded
1/2 cup Parmesan cheese, Shredded
1/4 cup Cream cheese, Optional
Instructions
Heat oil in a nonstick pot over medium-high heat.

Add garlic and saute until golden fragrant. Don't burn it! 

Add water, vegetable broth, half the cherry tomatoes, pasta, Italian seasoning, red chili flakes (optional), salt, pepper and half the  basil leaves. 

Cover and bring everything to a boil.

Then, uncover and cook until pasta is al dente and the liquid is either all evaporated or absorbed. Be sure to gently mix pasta often to ensure it doesn't stick to the pot. 

Reduce heat. Add mozzarella cheese, parmesan cheese, cream cheese (optional), remaining cherry tomatoes and remaining basil leaves.

Mix and allow the cheese to fully melt. Enjoy!
Notes
Read all my notes and tips above.
In the pictures that you saw in this post, I did not add cream cheese but you can add it to make this pasta very creamy.
Leftovers can be stored in a sealed container in the fridge for up to 2 days and reheated in the microwave. 
Nutrition
Calories: 392kcal, Carbohydrates: 61g, Protein: 16g, Fat: 9g, Saturated Fat: 5g, Cholesterol: 23mg, Sodium: 592mg, Potassium: 284mg, Fiber: 3g, Sugar: 4g, Vitamin A: 703IU, Vitamin C: 9mg, Calcium: 187mg, Iron: 2mg
Happy cooking everyone!