Cheddar Cheese Sauce (One Pot)
The best quick and easy cheddar cheese sauce recipe, homemade with simple ingredients in one pot over stovetop in 20 minutes. Rich, thick, creamy, silky smooth. Better than store-bought versions. Also known as Velveeta sauce.
This recipe is most commonly used as a topping for broccoli and cauliflower but you can also enjoy it as a dip. My Broccoli and Cheese Sauce has a slightly different flavor, but it can easily be replaced with this one.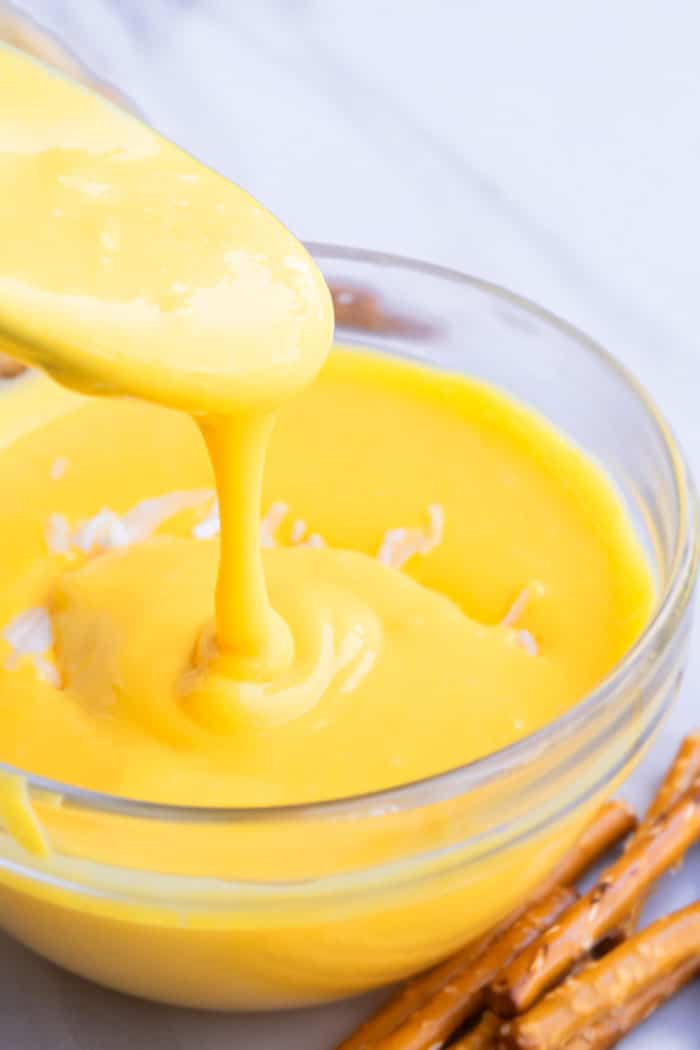 How to make cheese sauce recipe from scratch?
Make roux– Heat butter and then, mix in flour and cook for a few minutes.
Add milk– And whisk until smooth.
Mix in herbs and spices– This includes salt, paprika, garlic powder, onion powder.
Add cheese– Continue whisking until cheese is fully melted.
Enjoy– Turn off heat and dig in!
How to make roux?
The white roux is made by cooking together butter and flour until thickened. Then, it's used as a base for this sauce and many other sauces. Make sure it's smooth with no lumps to get that perfect silky smooth texture at the end.
What to serve with homemade cheddar cheese sauce?
It's perfect over pasta and makes a delicious mac and cheese. You can also serve it over tortellini, ravioli,
Use it as a topping for fries, nachos, grilled and baked chicken.
It is also great with fresh vegetables like cherry tomatoes, cucumbers, baby carrots, celery, bell peppers, broccoli, cauliflower. Oven Roasted Vegetables (One Pan) are also awesome!
Use it as a spread in sandwiches, burgers, wraps, quesadillas, taquitos and hot dogs.
Use it as a dipping sauce with pretzels, chips, crackers, french fries, potato wedges.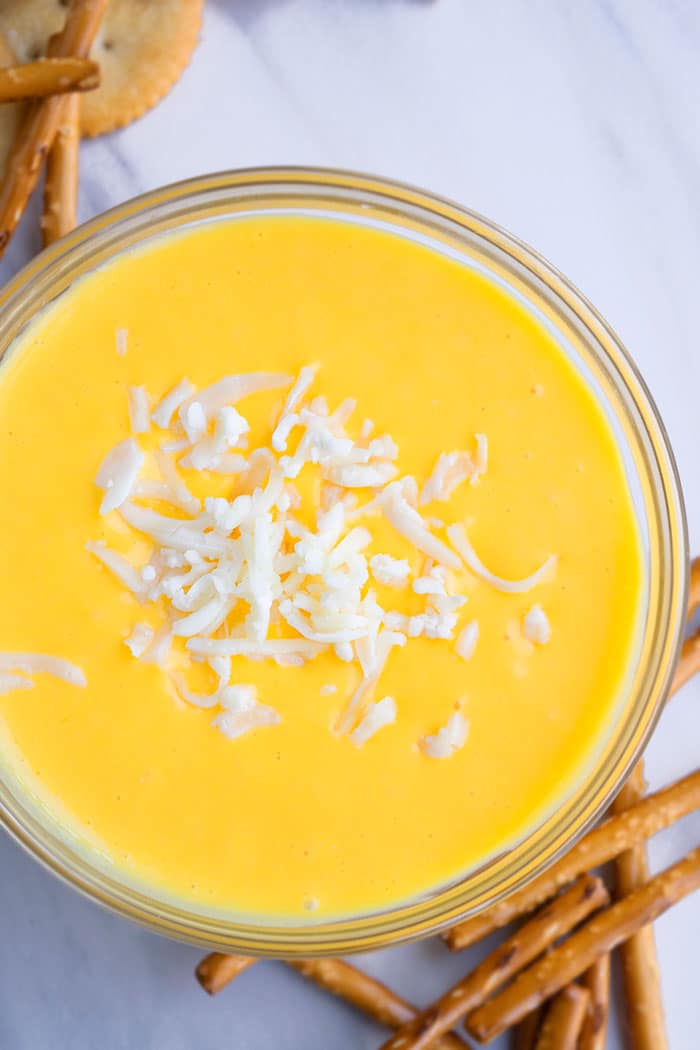 Why is my sauce clumping?
If you add the milk too quickly OR use milk that is too cold OR or don't whisk continuously, it can lead to clumping.
Why is my sauce separating?
If the sauce reaches a temperature of 160 degrees, it is too hot, and the sauce will begin separating. This is why I suggest cooking over medium heat.
Variations
Nacho cheese sauce– Add a can of diced green chilies, and drained diced tomatoes, cilantro, some taco seasoning to create a flavorful Mexican flavor profile.
Beer sauce- Add 1/2 cup of beer for a different flavor profile.
Add herbs and spices- Such as Italian seasoning, Cajun seasoning or fresh herbs like cilantro, parsley, thyme e.t.c.
Make it spicy– By adding some red chili flakes.
Add garlic– Roasted garlic would be even better!
Add a smoky flavor- Use smoked cheddar cheese, and smoked paprika. you can even add a little liquid smoke, if you like.
Add toppings– Such as crumbled bacon, fresh herbs, shredded chicken (Mexican Shredded Chicken), cooked ground beef like (Mexican Ground Beef Taco Meat).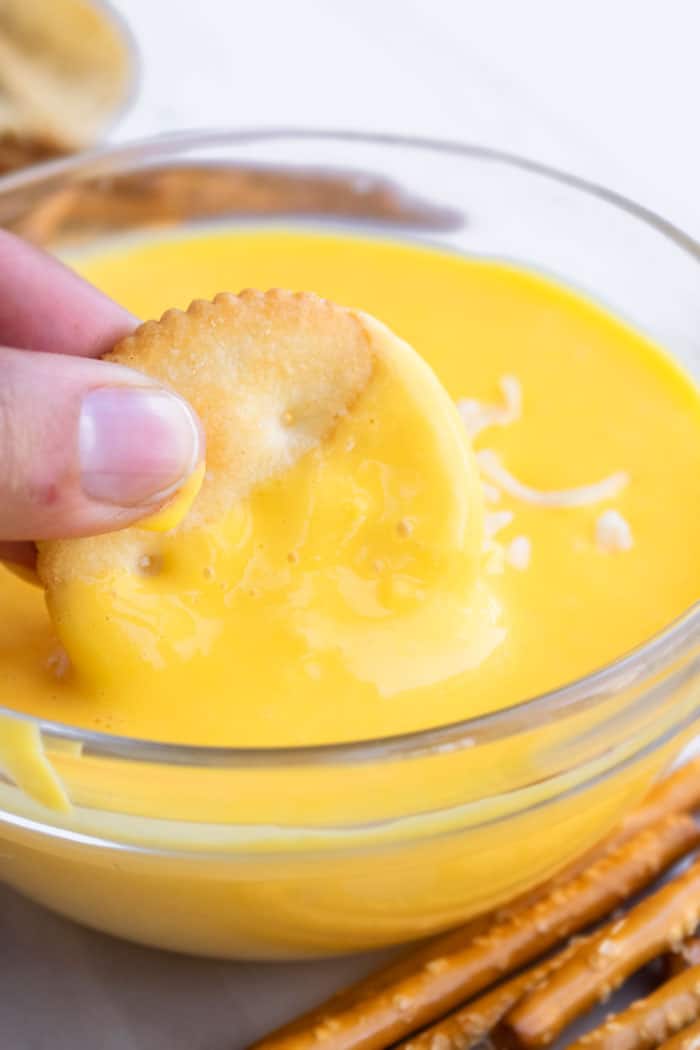 Storage
Refrigerate– In a sealed container for 4-5 days.
Freeze– I don't recommend freezing because it can separate when it thaws.
Tips and Techniques
How do you make sauce smooth? Cook over medium heat, whisk continually, add milk gradually, and make sure the milk is not too cold when added.
What cheese to use? Any combination of cheeses can be used in this recipe such as Parmesan, blue cheese, Velveeta, cheddar, mozzarella, cream cheese, provolone, ricotta, Monterey Jack, Swiss cheese, or Spiced cheese.
Remove pot from heat before adding cheese– If you don't do this, the cheese may separate or become grainy.
How to thicken sauce? The best and easiest way is to add more cheese. Another option is to mix in a dissolved cornstarch slurry. I am not fond of this method since it can add a "chalky" after-taste.
How to make sauce thinner? Simply add a bit of milk.
Use medium to low heat– To prevent over-heating the sauce, which can lead to it becoming grainy and separating.
Mix in cheese slowly– Because this prevents clumping.
Use whole milk– Because it creates the richest and creamiest sauce.
Use unsalted butter– Or else the sauce will be too salty.
Use nonstick pot– Because it keeps the sauce from sticking and burning to the bottom of the pot.
Serve a crowd– Double all the ingredients to serve more people.
More Homemade Sauces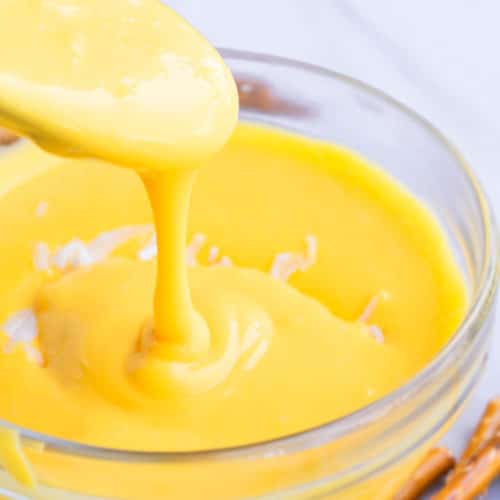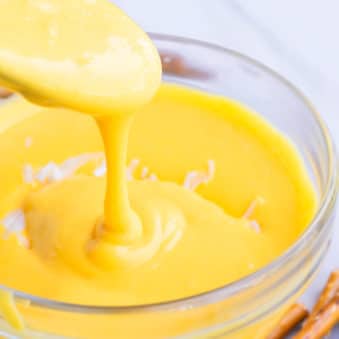 One Pot Cheddar Cheese Sauce
Quick and easy cheese sauce recipe, homemade with simple ingredients in one pot over stovetop in 20 minutes. Rich, creamy, silky smooth.
Yield: Cups
Instructions
Heat butter in nonstick saucepan over medium heat.

Add flour and cook for 1-2 minutes to get rid of the "floury" taste.

Gradually, add milk, while constantly whisking to prevent any clumping.

Add salt, paprika, garlic powder, onion powder and mix until smooth.

Turn down the heat to Low.

Gradually, add cheddar cheese, pepper jack cheese, Velveeta, while whisking until all the cheese is melted and sauce is smooth.

Turn off heat and enjoy!
Notes
Read all my tips above.
Leftovers can be stored in a sealed container in the fridge for 4-5 days. 
Nutrition
Calories: 680kcal, Carbohydrates: 29g, Protein: 41g, Fat: 45g, Saturated Fat: 28g, Cholesterol: 143mg, Sodium: 2256mg, Potassium: 660mg, Fiber: 1g, Sugar: 19g, Vitamin A: 2334IU, Calcium: 1202mg, Iron: 1mg