Oven Roasted Vegetables (One Pan)
The best, healthy, quick and easy oven roasted vegetables recipe, homemade with simple ingredients in one pan or sheet pan in 30 minutes. Great as a side dish or main dish.
These make the perfect side to any meal. Their versatility and natural sweetness appeal to even the most picky eaters. Crispy, sweet, and tender all in one, they are a quick and healthy go-to for busy evenings. Don't have all of the vegetables listed in this recipe, then try one of these to pan roast: –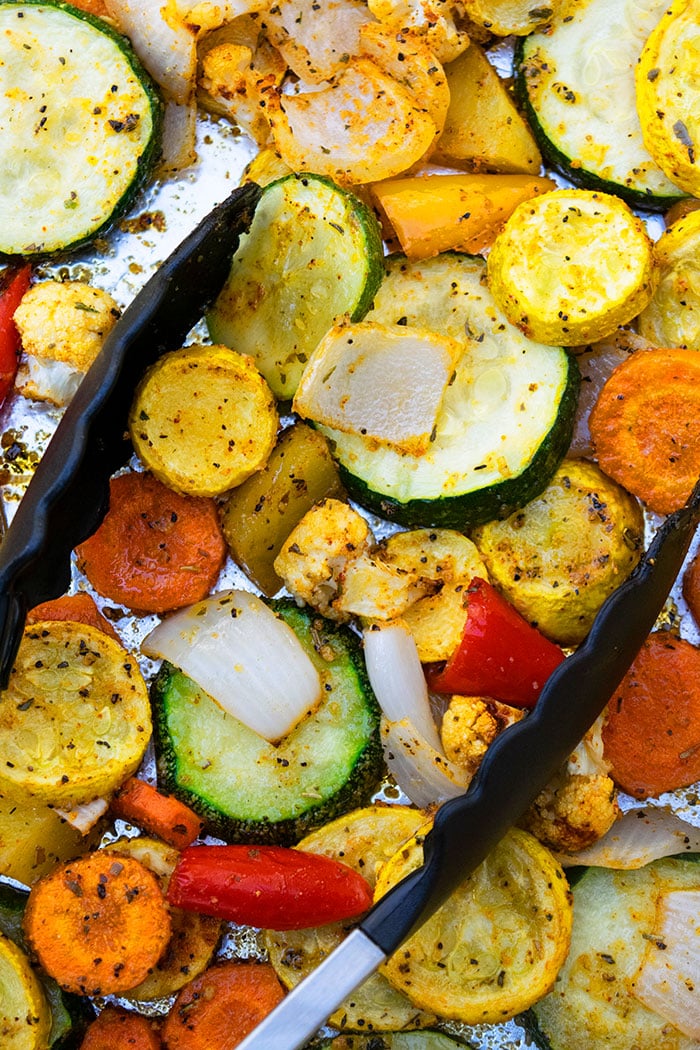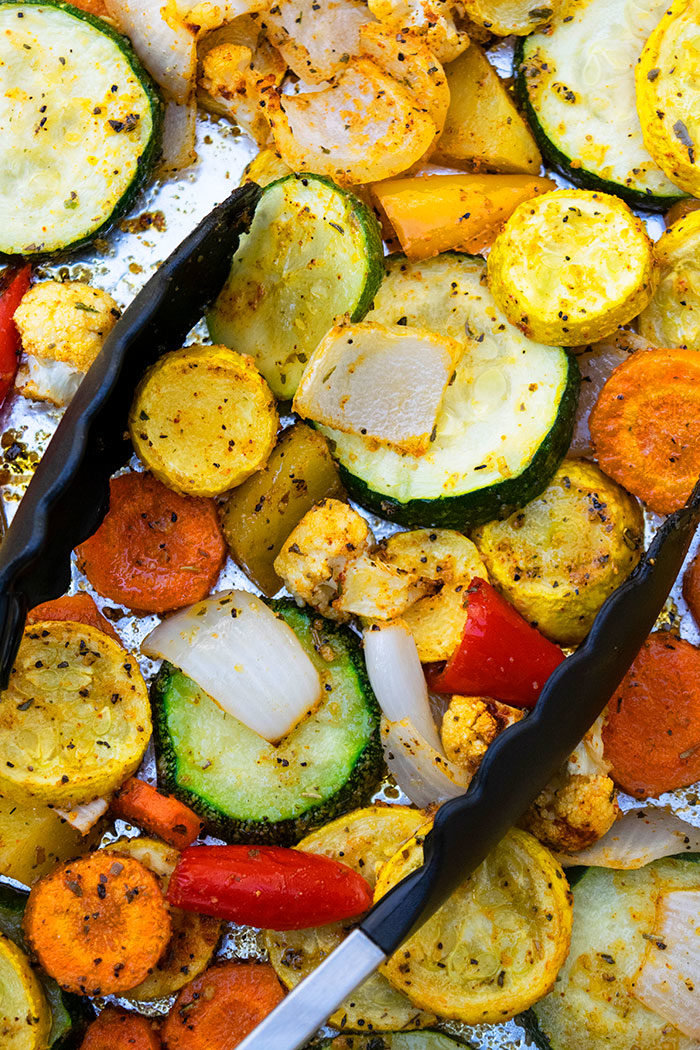 What are best vegetables to roast?
There really are no wrong answers here, but some of my favorites are carrots, sweet potato, onions, peppers, zucchini, white potatoes, broccoli, brussel sprouts, cauliflower, butternut squash, acorn squash, and green beans. Root vegetables also caramelize well and also work great.
How to roast vegetables in the oven?
Prep Vegetables- Toss sliced vegetables in olive oil and season.
Roast- Spread onto a sheet pan and roast at 400 for 20-25 minutes.
Finish- Sprinkle parmesan cheese on the veggies.
Enjoy!
How to make roasted vegetables on the grill?
Prep Vegetables- Coat vegetables in olive oil and season.
Grill- Place on a grill pan and then onto the grill itself.
Stir- Stir the vegetables every few minutes until they are tender on the inside and slightly browned outside.
Enjoy!
What to serve with sheet pan roasted vegetables recipe?
They can be served with pork loin or pork roast, quinoa, grilled chicken, steak, fish, salmon, pasta, or on a salad.
Try one of these: Pesto Chicken, Paprika Chicken, Creamy Spinach Pasta.
What temperature is best for roasting vegetables?
Different vegetables roast for varying amounts of time. This is why it is important to cut vegetables close to the same same size and to roast them with like vegetables for the most uniform cooking.
Root vegetables- Parsnips, carrots, and potatoes take longer (30 min.) to cook at 400 degrees because of their firmness.
Cruciferous- Broccoli and cauliflower will cook for closer to 20 minutes.
Less firm vegetables– Squash, peppers, green beans, and zucchini may only need 15-20 minutes.
When roasting vegetables, should they be covered?
No, becasue the foil will cause them to steam instead of roast.
Can you roast frozen vegetables?
It is not preferred because the water keeps them from getting as crispy as fresh. However, if you need to roast frozen vegetables, do it at a higher temp of 425 to evaporate some of the water.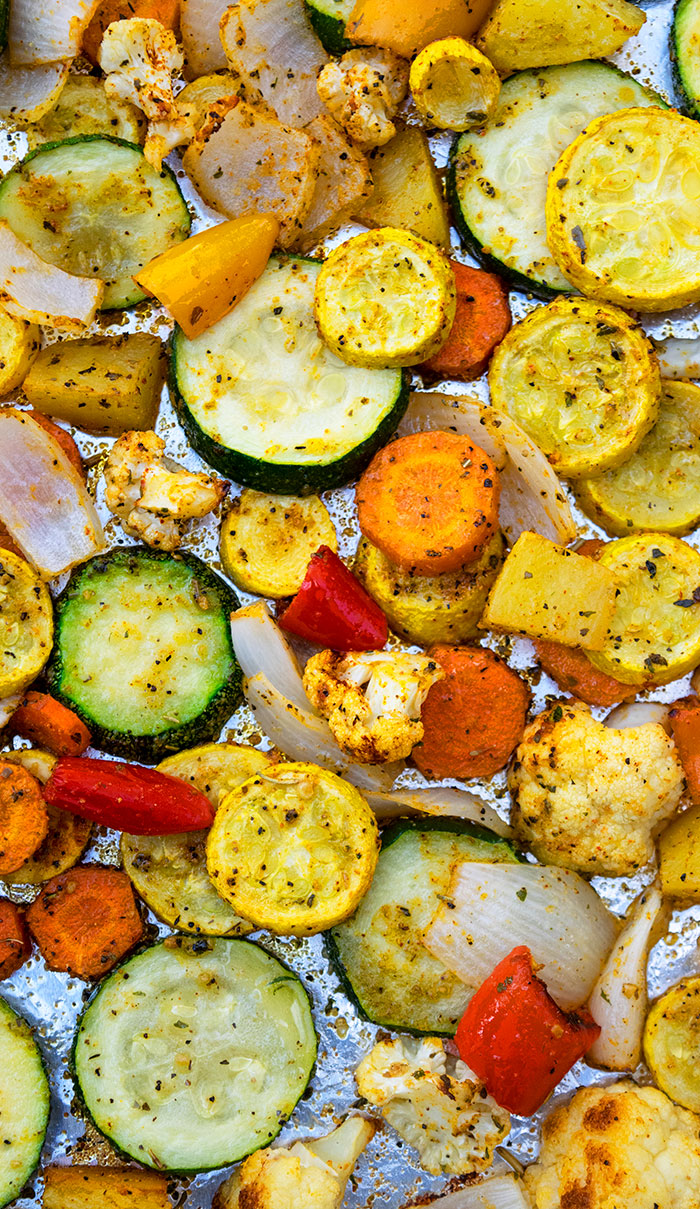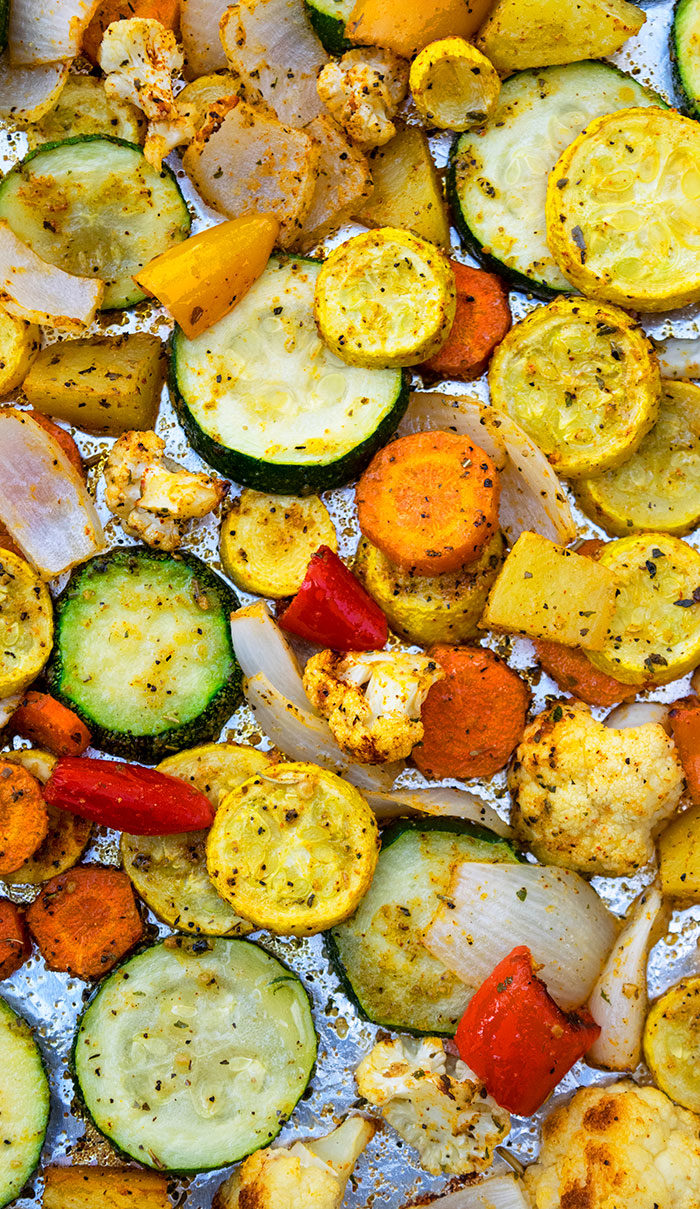 Roasted and grilled veggies seasoning
Italian seasoning is used in this recipe which includes oregano, basil, parsley, rosemary, thyme, and marjoram. It can be sore-bought or homemade by mixing together the above seasonings. You can also try variations with paprika, garlic, seasoned salt, and pepper.
Variations
Add chicken- To make this a complete meal add cooked chicken.
Add sausage– Try this Oven Roasted Sausage and Vegetables for a complete meal.
Try different spices– Such as Mediterranean, Mexican, Greek, Cajun, Indian, Asian/Chinese. You can even try something as simple as lemon, salt, pepper for a light seasoning and add parmesan cheese after roasting.
Roasted vegetable pasta– Add the veggies to a pasta dish like this Basil Pesto Pasta recipe.
Roasted vegetable lasagna– Add veggies in the same layer as your meat or replace the meat with these veggies.
Add balsamic glaze– Toss the veggies in balsamic vinegar before roasting. The vinegar will caramelize nicely during roasting. You can also simply drizzle balsamic glaze over the veggies, prior to serving,
Roast vegetable salad– Toss these vegetables into a green salad and enjoy.
Roasted vegetable soup– Toss these veggies into my Crockpot Chicken Noodle Soup for some added flavor and nutrients.
Use different vegetables– Use roasted root vegetables medley like parsnips, carrots, and potatoes for Thanksgiving
Breakfast vegetables- Sweet potatoes or butternut squash with cinnamon, nutmeg, and a little salt make a healthy breakfast. Serve with scrambled eggs and toast.
Tips and Techniques
Double the recipe- To serve a crowd but you will have to use two sheet pans.
How do you prevent vegetables from sticking to the sheet pan? Line the sheet pan with foil and make sure the vegetables are coated adequately with oil. Flip vegetables half way through baking to further prevent sticking.
Why aren't the vegetables browning? If the vegetables aren't browning, increase the cooking temp by 15 degrees or roast longer
Size matters- Cut vegetables to similar sizes in order to help them cook evenly
Do I need to flip the vegetables? Yes, make sure to flip the veggies half-way through roasting so they don't stick and they brown evenly.
How much oil should I use? Don't use so much oil that there is oil pooling on the pan. This will make them too greasy. Coat the vegetables completely though to help them roast properly.
Does the temperature matter? Don't roast at too low of a temp. or the vegetables won't caramelize. Too high of a temp will burn them while still being raw inside. The best range is 400-425 degrees.
Overcrowding- Try not to overcrowd the vegetables. This will prevent caramelization and will take longer. Use a second sheet pan if needed to avoid this.
How long do these vegetables last? They last 1-2 days in the fridge, but will be soft unless you reheat them in the oven to crisp them up again. They taste best fresh from the oven.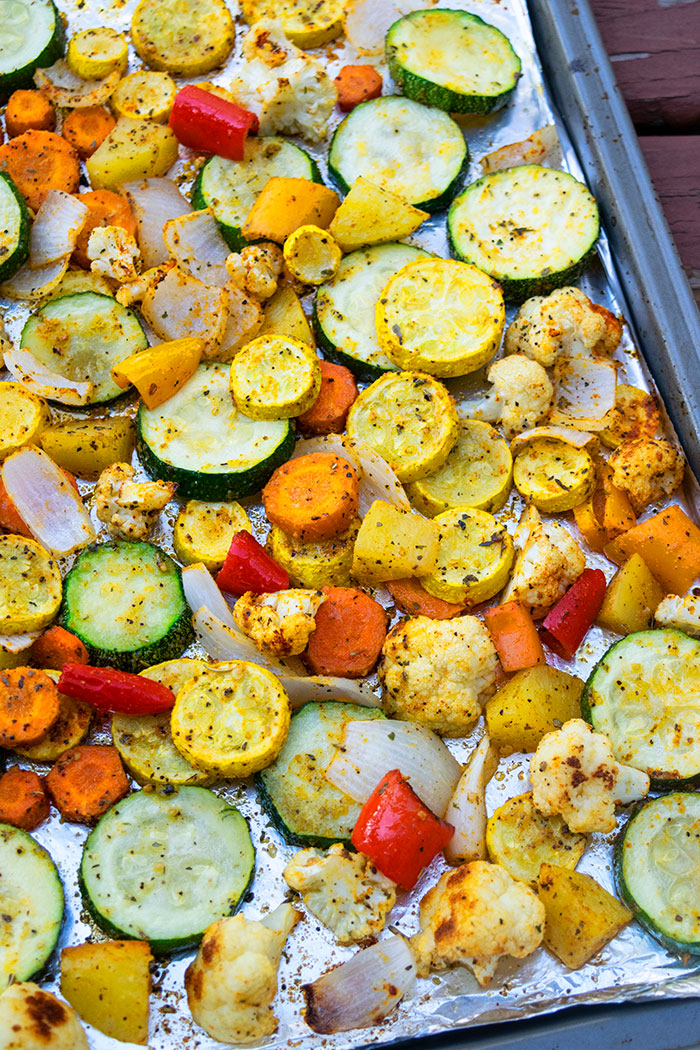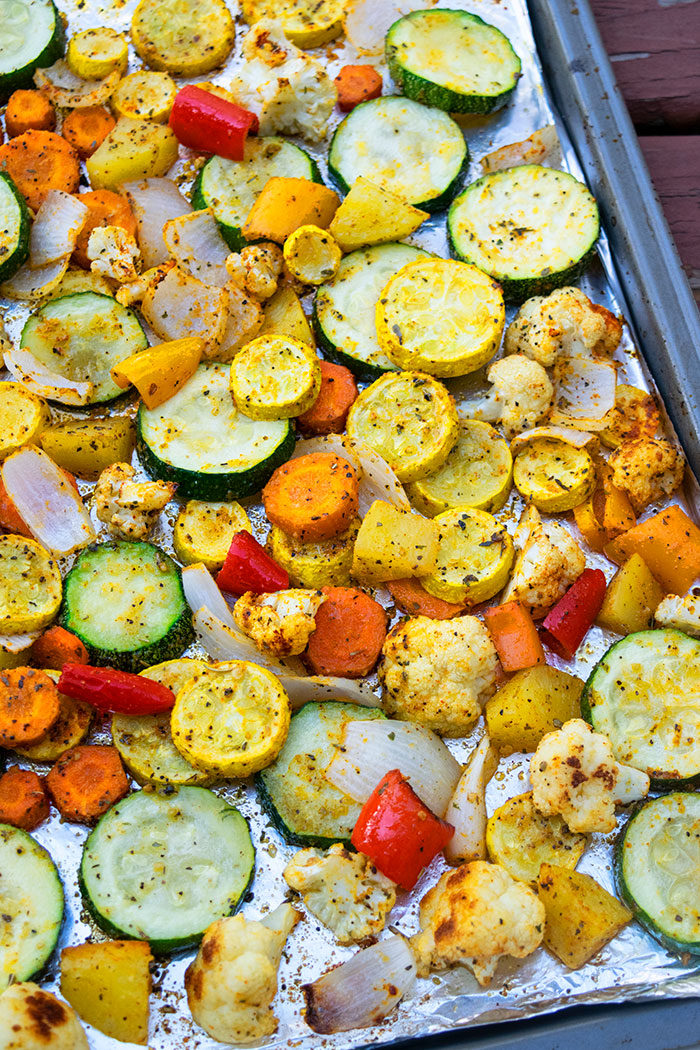 More Sheet Pan Meals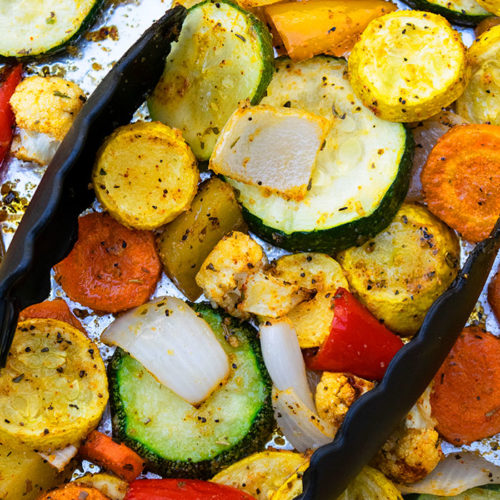 One Pan Oven Roasted Vegetables
Quick and easy oven roasted vegetables recipe, homemade with simple ingredients in one pan or sheet pan in 30 minutes. Great as a side dish or main dish.
Yield: People
Ingredients
1 cup Zucchini, Sliced into circles
1 cup Squash, Sliced into circles
1/2 cup Carrots, Sliced into circles
1 Potato, Large, Cut into small 1 inch pieces
1/2 cup Cauliflower, Cut into small florets
1/2 cup Broccoli, Cut into small florets
1/2 cup Onion, Cut into 2 inch pieces
1/2 cup Peppers, Red, green or yellow
2 cloves Garlic, Finely minced
4-5 tbsp Olive oil
1-2 tbsp Italian seasoning
Salt, To taste
Pepper, To taste
1/2 tsp Red chili flakes, Optional
1-2 tbsp Parmesan cheese, For topping
Instructions
Line a large sheet pan with foil paper. (Dimensions: 18 x13).

Place the zucchini, squash, carrots, potatoes, cauliflower, broccoli, onion, peppers, garlic on the sheet pan.

Drizzle olive oil all over the vegetables.

Sprinkle Italian seasoning, salt, pepper, red chili flakes over the veggies.

Toss everything together until vegetables are evenly coated.

Bake at 400 degrees for 20-25 minutes, making sure to toss the vegetables halfway through for even cooking.

Remove from oven and sprinkle parmesan cheese.

Serve immediately. Enjoy!
Notes
Read all my tips above.
Tastes best when served fresh but leftovers can be stored in a sealed container in the fridge for 1-2 days. 
Nutrition
Calories: 99kcal, Carbohydrates: 19g, Protein: 3g, Fat: 1g, Sodium: 178mg, Potassium: 626mg, Fiber: 4g, Sugar: 4g, Vitamin A: 6720IU, Vitamin C: 53mg, Calcium: 97mg, Iron: 2.8mg
Happy cooking everyone!