Crockpot Chicken Alfredo
Quick and easy crockpot chicken alfredo recipe, made with simple ingredients. An easy weeknight meal – Rich, creamy, cheesy, loaded with Italian seasoning.
This meal is just as delicious as my One Pot Fettuccine Alfredo (Stovetop Version) and a classic comfort food.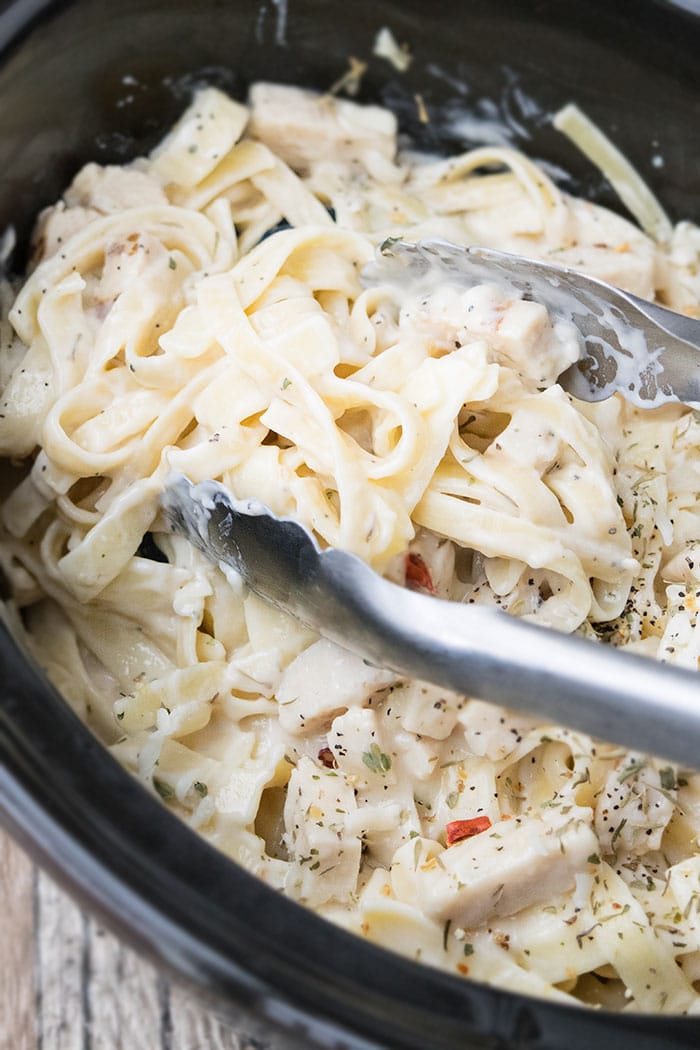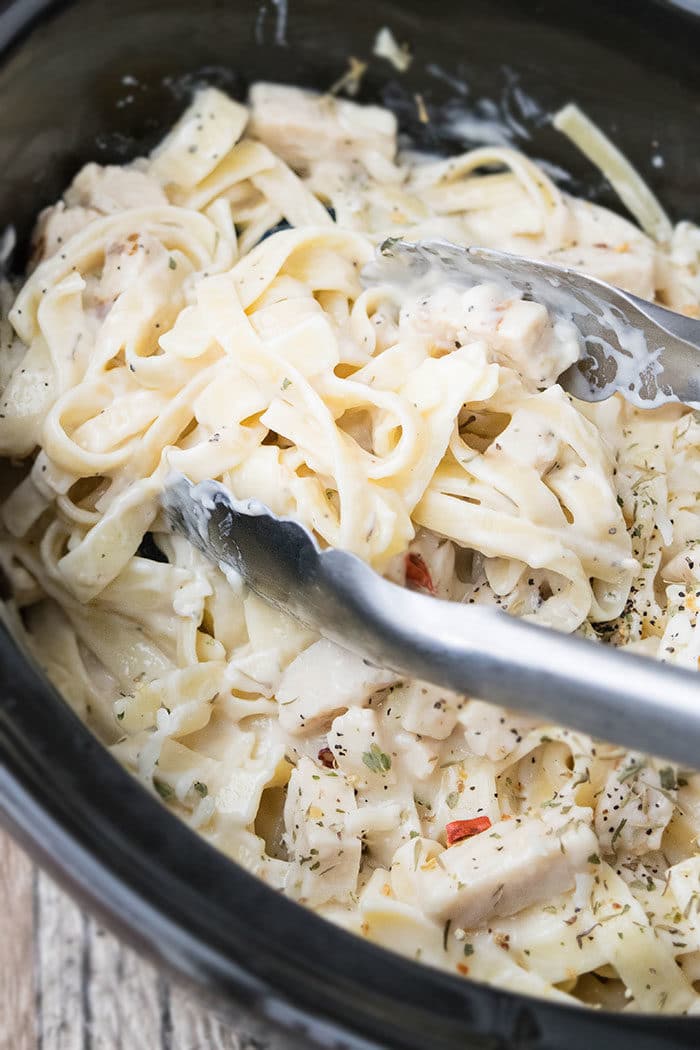 Can you make chicken alfredo in the crockpot/ slow cooker?
Yes, it's very easy.
Season chicken.
Place in slow cooker, along with Alfredo sauce.
Cover and cook.
Slice or shred chicken.
Mix in cooked pasta.
Garnish with parmesan cheese and you are done.
Can you cook fettuccine in a slow cooker?
I prefer mixing in cooked pasta but yes, you can cook fettuccine pasta in crockpot too. However, you would need to add more liquid such as broth or milk to allow it to cook/boil properly.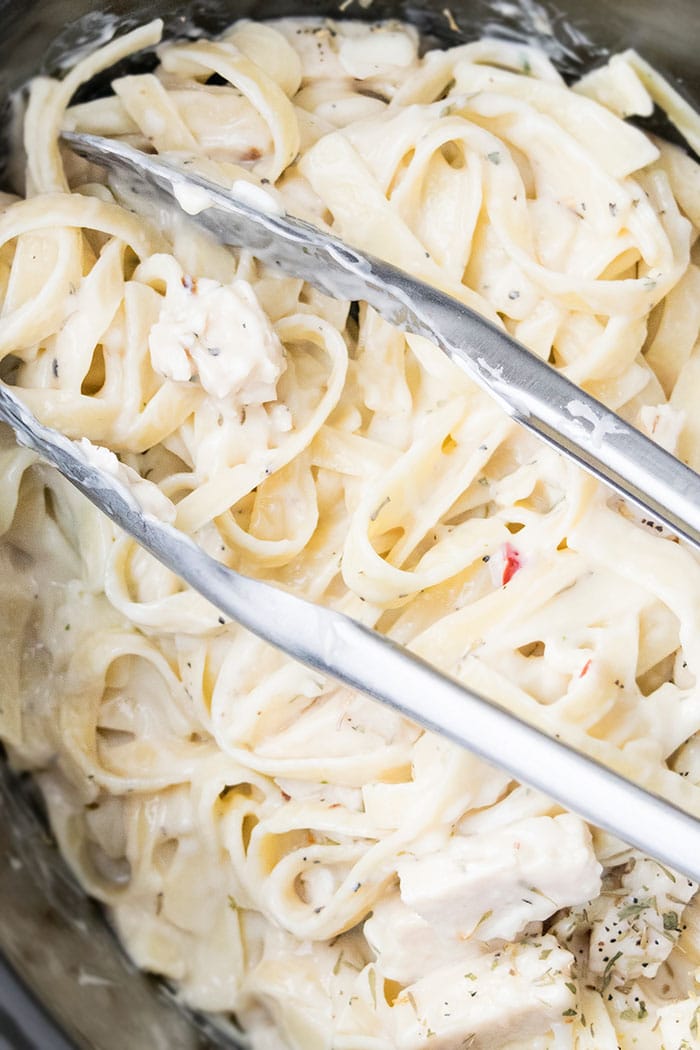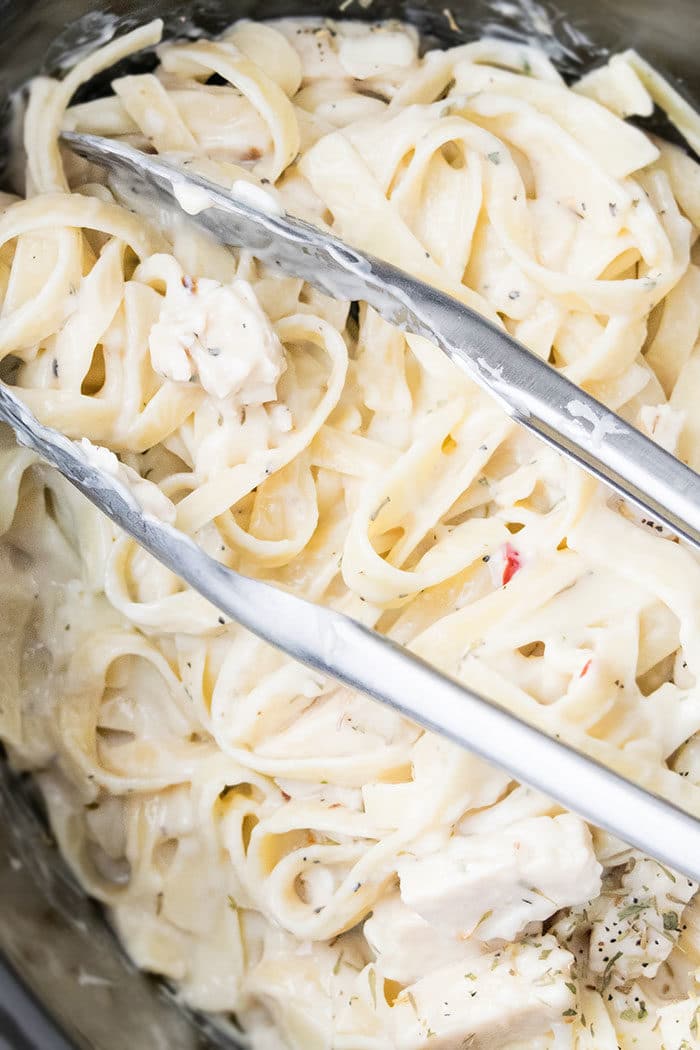 Variations for crockpot chicken fettuccine alfredo
-Broccoli- A classic addition. Add 1 cup small frozen broccoli florets in the last 30 minutes only or else they will become very soft and "mushy."
-Mushrooms– Add 1/4 cup cream of mushroom soup and also add some stir-fried sliced mushrooms in the crockpot during the last 15 minutes.
-Shrimp– Add shrimp during the last 30 minutes and let it cook. However, I, personally, prefer stir-frying the shrimps with some Italian seasoning, garlic, salt and pepper first and then mixing it with everything else in the slow cooker during the last 15 minutes.
-Spinach– Add 3/4 cup frozen spinach that has been thawed and drained of excess water in the last 30 minutes.
-Tortellini– Replace fettuccine pasta with boiled three cheese tortellini.
-Bacon– Sprinkle 1/3 cup cooked crumbled bacon on top, just prior to serving.
-Cajun seasoning– Replace Italian seasoning with Cajun for a different flavor.
-Cheese– Add a variety of cheeses at the end such as parmesan, mozzarella and even cheddar.
-Spice– For a spicy kick, sprinkle some red chili flakes on top, prior to serving.
Tips and Techniques
-Adjust the amount of Italian seasoning, based on your preference.
-You must spray the inside of the slow cooker with oil to prevent sticking and burning.
-Cook time may vary, based on the brand of slow cooker you are using. For me, chicken was cooked through at 2.5 hours on low setting. Some slow cookers may require a little more time.
-Use flavored alfredo sauce such as roasted garlic alfredo because it has so much more flavor. Any brand of sauce can be used.
-Homemade alfredo sauce can be used instead of the store-bought version.
-Serving suggestion: You can either mix the boiled pasta with the crockpot alfredo sauce in the slow cooker at the very end like I did OR pour the sauce over boiled pasta.
-If the sauce is too thick, thin it out by adding some half and half, milk.
-Instead of fettuccine, any other pasta like penne or macaroni or spaghetti can be used.
– The alfredo sauce gets absorbed into the pasta and becomes thicker, as it cools. That's why I think it tastes best when served fresh.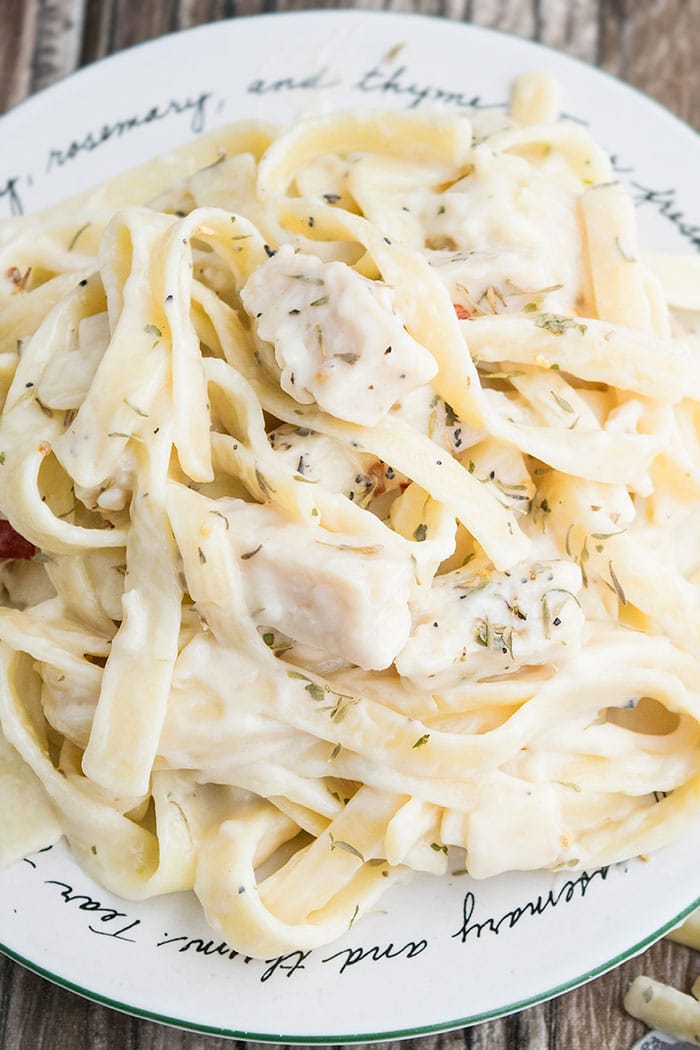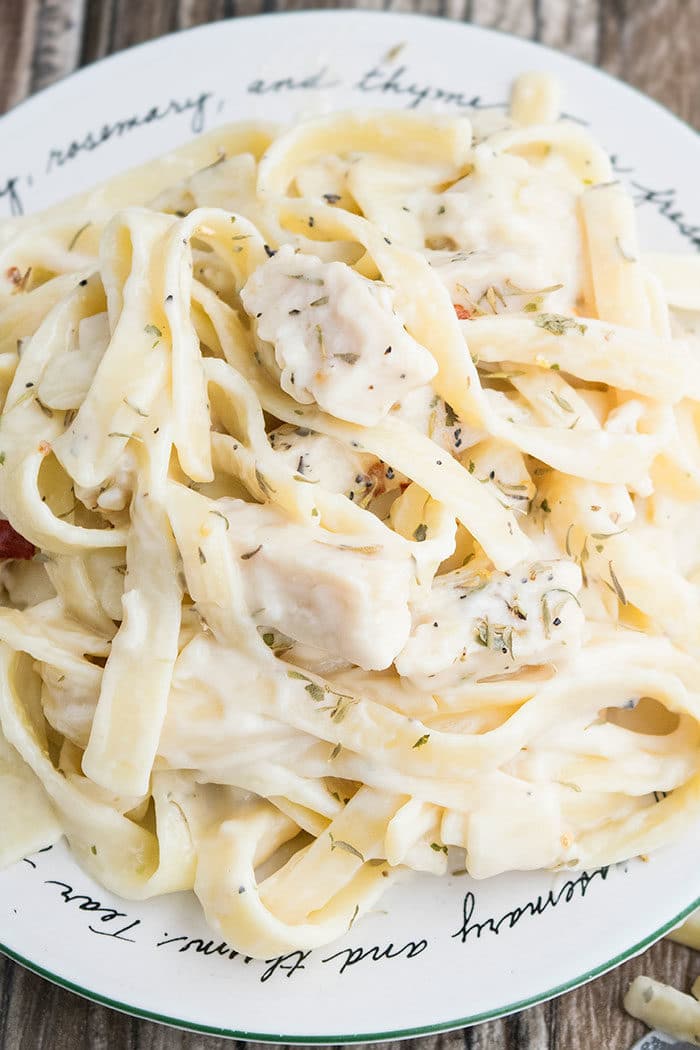 Other One Pot Pasta Recipes
Other Crockpot Meals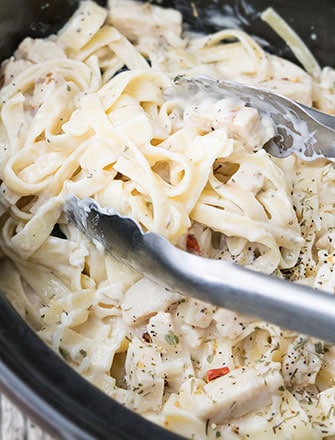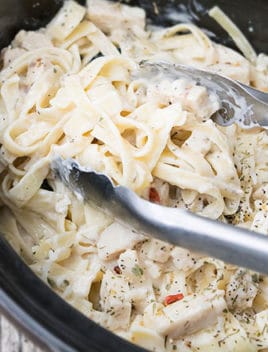 Crockpot Chicken Alfredo Recipe
Quick and easy crockpot chicken alfredo recipe, made with simple ingredients. An easy weeknight meal – Rich, creamy, cheesy, loaded with Italian seasoning.
Yield: People
Ingredients
2 Chicken breasts, Large
1 tsp Italian seasoning
1/2 tsp Garlic powder
Salt, To taste
Pepper, To taste
2 jars Alfredo sauce, 16 oz. each
1/2 pound Fettuccine pasta, Boiled and drained
Garnish
1/4 cup Parmesan cheese, shredded
1/2 tsp Italian seasoning
Pepper, To taste
Instructions
Rub Italian seasoning, garlic powder, salt and pepper thoroughly over the chicken breasts and place them in a slow cooker (that has been sprayed with oil).

Pour alfredo sauce on top of the chicken. Mix it all together.

Cover and cook on low for 2.5 hours or until chicken is fully cooked.

Remove chicken breasts and use a sharp knife to cut them into small cubes and put them back in the slow cooker and mix everything together gently. You can also shred the chicken, if you like.

Add the boiled pasta in the slow cooker and mix everything together.

Garnish with parmesan cheese, some pepper and Italian seasoning.

Serve immediately and enjoy!
Notes
Read all my tips above.
Tastes best when served immediately but leftovers can be stored in a sealed container in the fridge for up to 2 days. 
Nutrition
Calories: 157kcal, Protein: 26g, Fat: 4g, Saturated Fat: 1g, Cholesterol: 76mg, Sodium: 234mg, Potassium: 418mg, Vitamin A: 85IU, Vitamin C: 1.3mg, Calcium: 90mg, Iron: 0.7mg
Happy cooking everyone!