Garlic Butter Steak Bites (One Pot)
The best quick and easy garlic butter steak bites recipe, made with simple ingredients in one pot or pan over stovetop in 15 minutes. Enjoy it as an appetizer, snack, main dish.
This recipe yields the most tender sirloin steak cubes that are coated in a rich garlic butter sauce. It's mouthwatering and tastes unbelievably good with mashed potatoes. I like this just as much as my popular Pepper Steak Recipe (One Pot).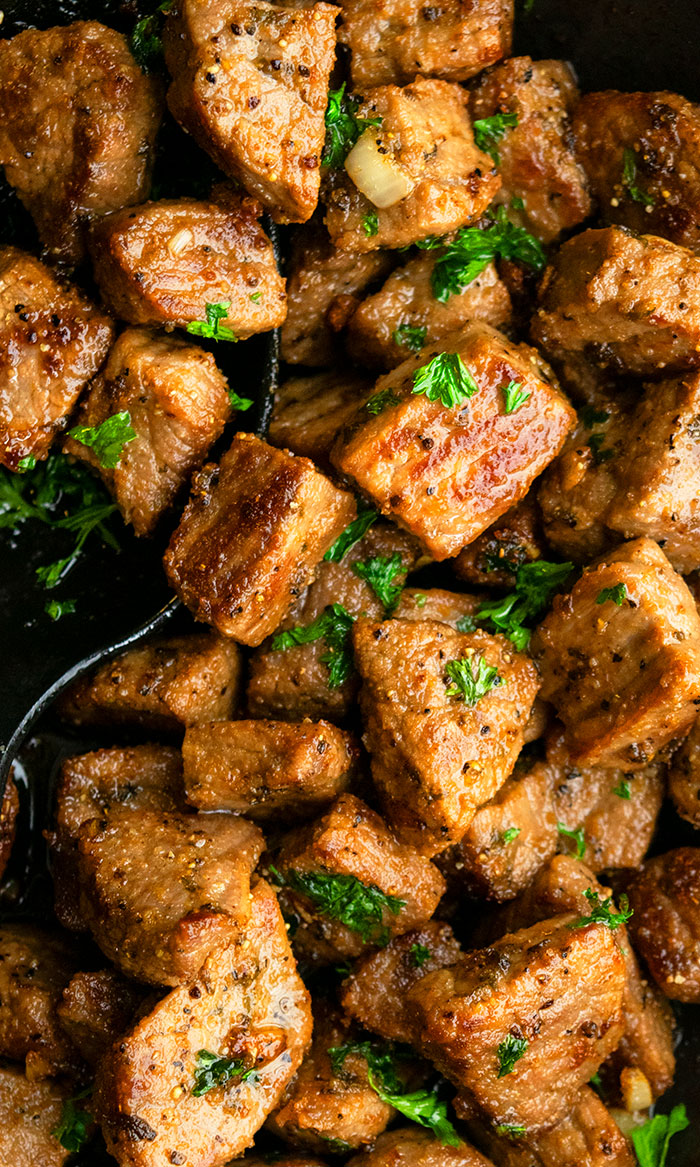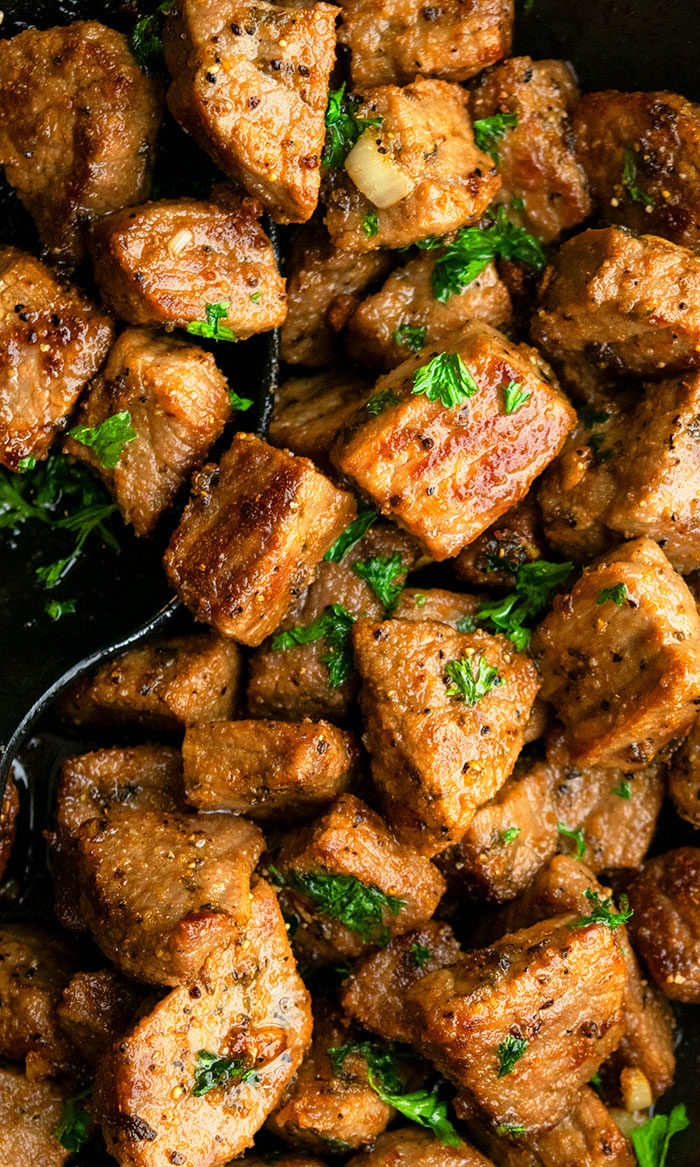 How to make steak bites?
Heat oil.
Saute meat.
Add seasonings.
Mix in butter and garlic.
Garnish with parsley.
Enjoy!
What to serve with garlic steak bites?
That depends on how you are serving it. You can enjoy it as a party appetizer, snack or main dish.
If you are serving it as an appetizer or snack, serve as is, with toothpicks and various dipping sauces, if you like.
If you are serving as a main dish, serve it along side dishes like french fries, sweet potato fries, onion rings, salads, Creamy Mashed Potatoes (One Pot), Mashed Sweet Potatoes (One Pot), lemon zucchini noodles, Spaghetti Squash (Instant Pot), and even crusty bread to soak up all that delicious garlic butter, dinner rolls, garlic bread, breadsticks.
What cut of beef to use?
I used sirloin steak that was cut into small cube pieces. It's tender, flavorful and inexpensive. You can also use rib eye, tenderloin or strip steak.

Steak bites marinade
I chose not to use a marinade because I wanted to keep it simple and let the strong flavors of garlic butter shine through. However, if you want a deeper flavor, use any marinade you like. Some popular choices are Asian teriyaki, honey balsamic or even honey garlic marinades. Toss the beef with the marinade for 30 minutes to 1 hour and then cook it until golden brown.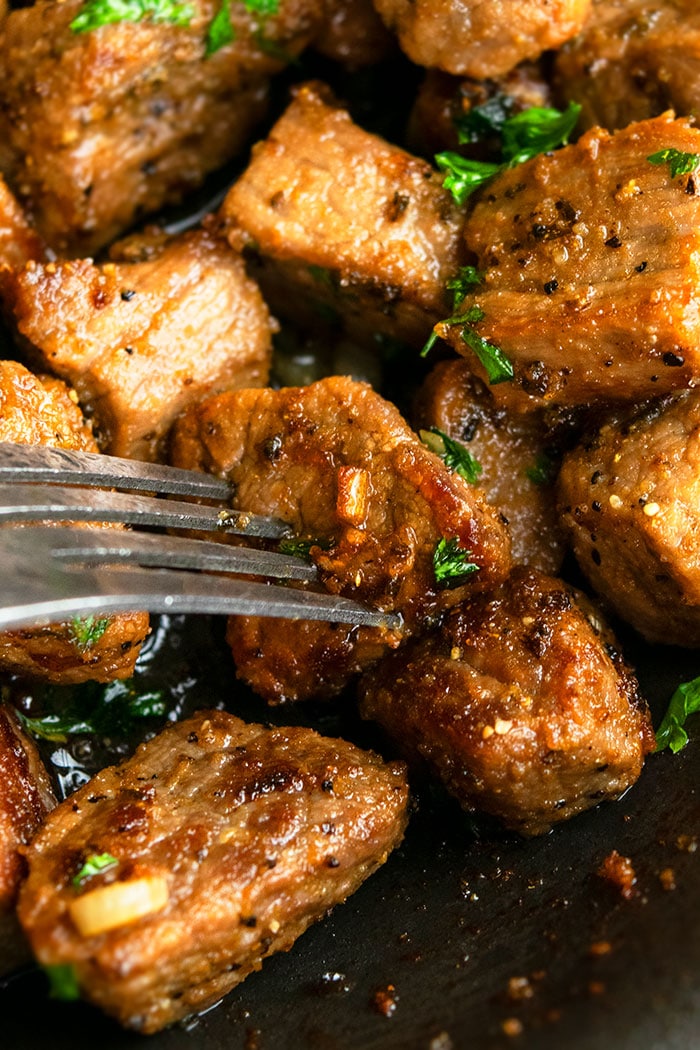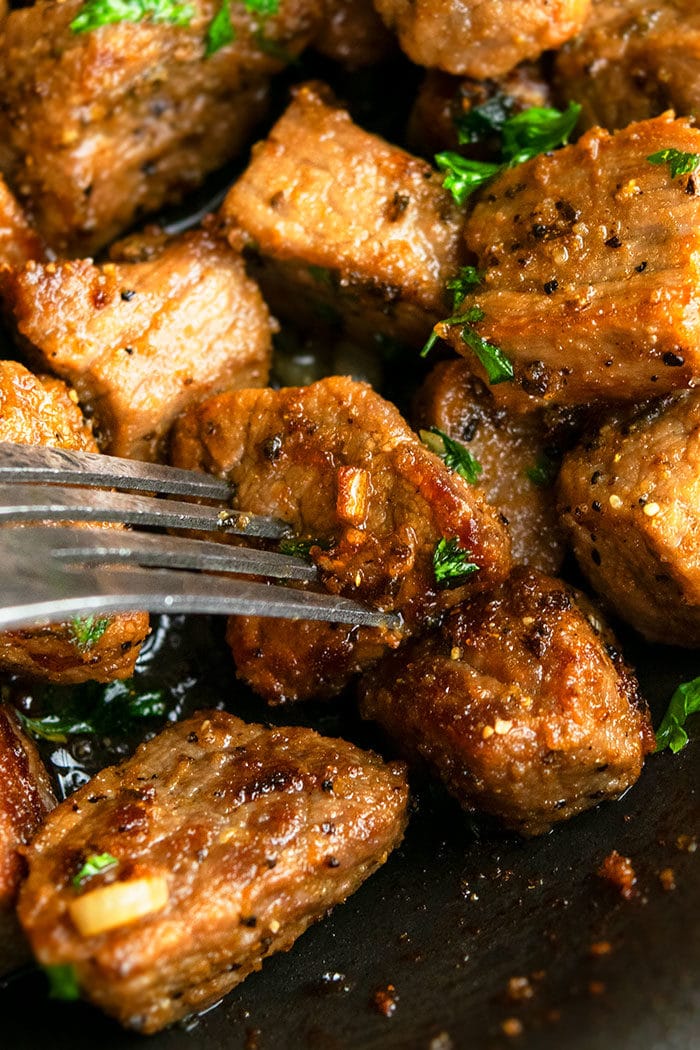 Variations
Steak bites and potatoes– Peel and cut 1 large potato into small cubes and cook that with the steak.
Make it creamy– Stir in some heavy cream. You can also toss in some roughly chopped mushrooms.
Use other flavors of butter- I used unsalted butter but you can also cajun butter, Italian herb butter, cilantro lime butter. The possibilities are endless.
Add bacon– At the end, mix in some crumbled bacon.
Use other herbs– Parsley was used in this recipe but you can also use fresh cilantro, chives and basil or a combination of multiple herbs.
Make it spicy– Add some red chili flakes.
Tips and Techniques
Use unsalted butter– Because that would prevent this meal from becoming too salty.
Don't overcook the steak– Because that would make it tough. Make sure oil is hot when you add the meat so it starts cooking quickly. You want it to sear quickly and become golden brown.
Adjust seasonings- This is a personal preference. Add more or less of whatever you like or dislike.
Butter substitution– Nothing tastes as good as butter and I don't recommend any replacements.
Add garlic and butter at the end– That's because if it's added too early, they will burn since the beef is being cooked at high heat.
Cut small beef cubes- Because they will cook faster and absorb flavor quicker too.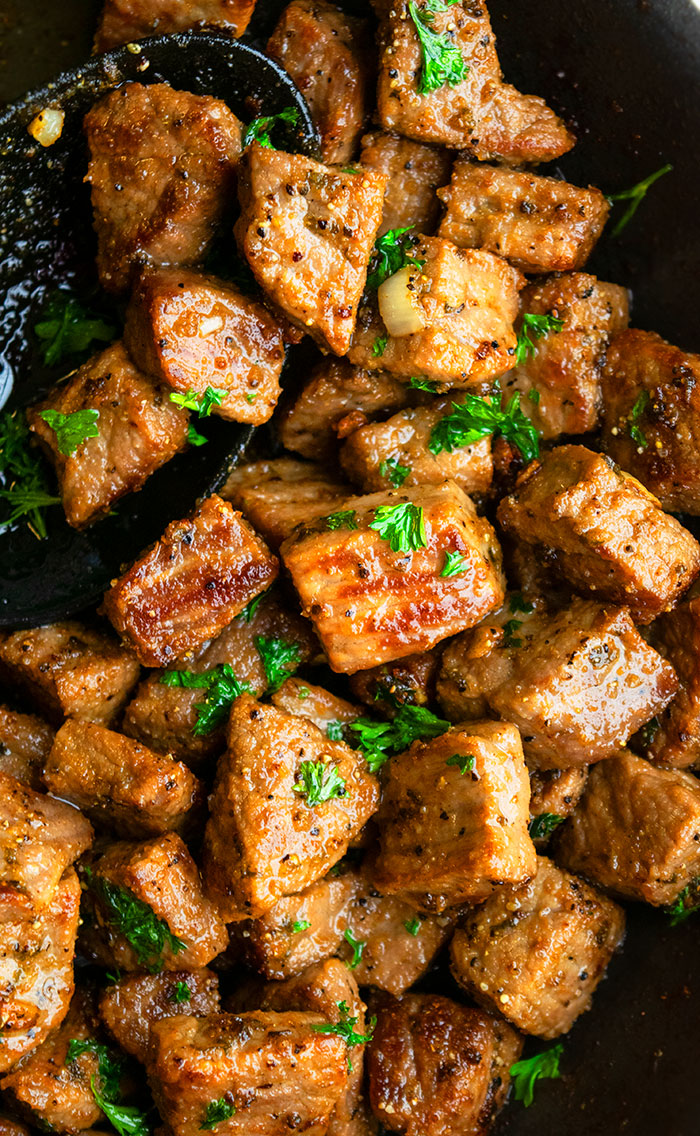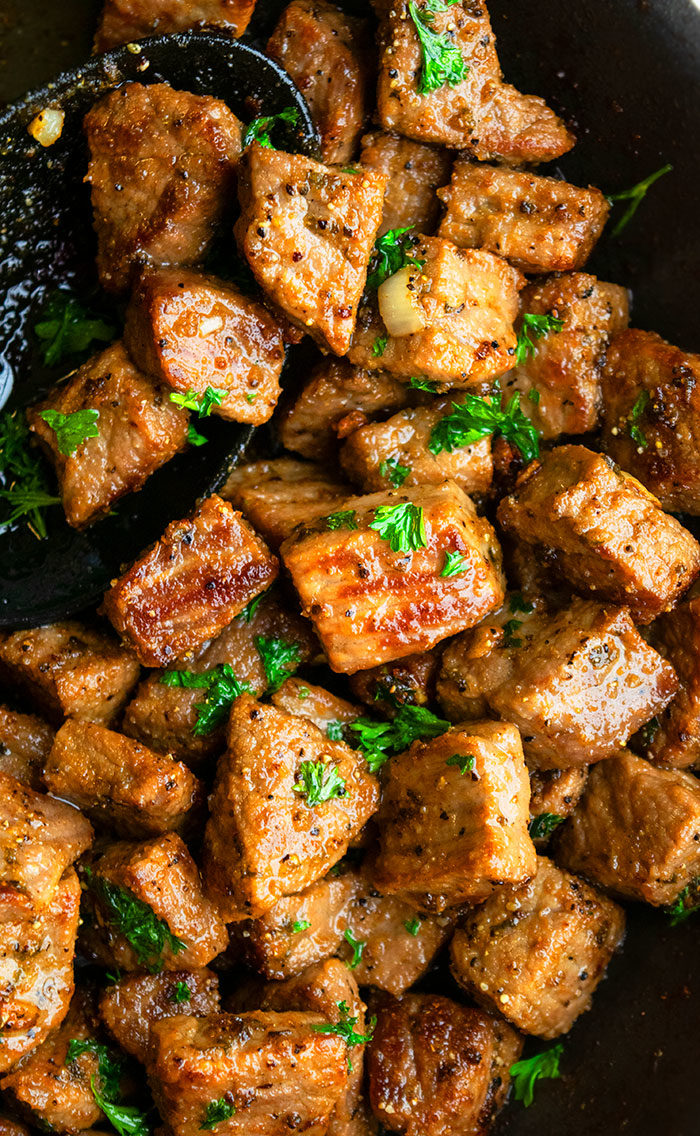 More One Pot Beef Recipes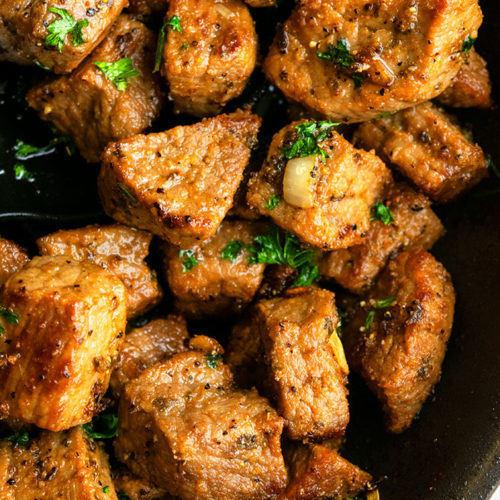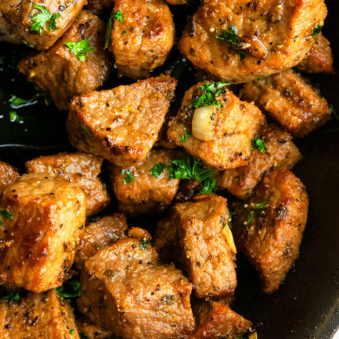 Garlic Butter Steak Bites
Quick and easy garlic butter steak bites recipe, made with simple ingredients in one pan over stovetop in 15 minutes. Enjoy as appetizer, snack, main dish.
Yield: People
Instructions
Add steak cubes.

Sprinkle salt, pepper, onion powder, dried parsley.

Cook for a few minutes until golden brown (takes about 3-4 minutes).

Add butter and garlic.

Cook for about 2 minutes, stirring often, until butter is fully melted and garlic is fragrant.

Sprinkle fresh parsley and serve immediately.
Notes
Read all my tips above.
Tastes best when served immediately but leftovers can be stored in a sealed container in the fridge for up to 2 days. 
Nutrition
Calories: 313kcal, Carbohydrates: 1g, Protein: 37g, Fat: 16g, Saturated Fat: 8g, Cholesterol: 126mg, Sodium: 205mg, Potassium: 581mg, Vitamin A: 345IU, Vitamin C: 1.9mg, Calcium: 54mg, Iron: 2.8mg
Happy cooking everyone!