Pepper Steak Recipe (One Pot)
Best, quick and easy pepper steak recipe, homemade with simple ingredients in one pot over stovetop. This 30 minute Chinese stir fry with thinly sliced onions, peppers and tender beef steak is coated in a sticky, sweet and savory sauce.
If you liked this Slow Cooker Beef and Broccoli , you are going to love today's recipe. Both of them taste as good or perhaps even better than take out from your favorite Chinese restaurants. I bet you already have these ingredients in your kitchen pantry and it will get a big thumbs up from everyone in your family.
The sauce/ gravy coating these beef/steak strips is truly incredible. It's composed of ginger, garlic, soy sauce, Sriracha and has strong Asian flavors.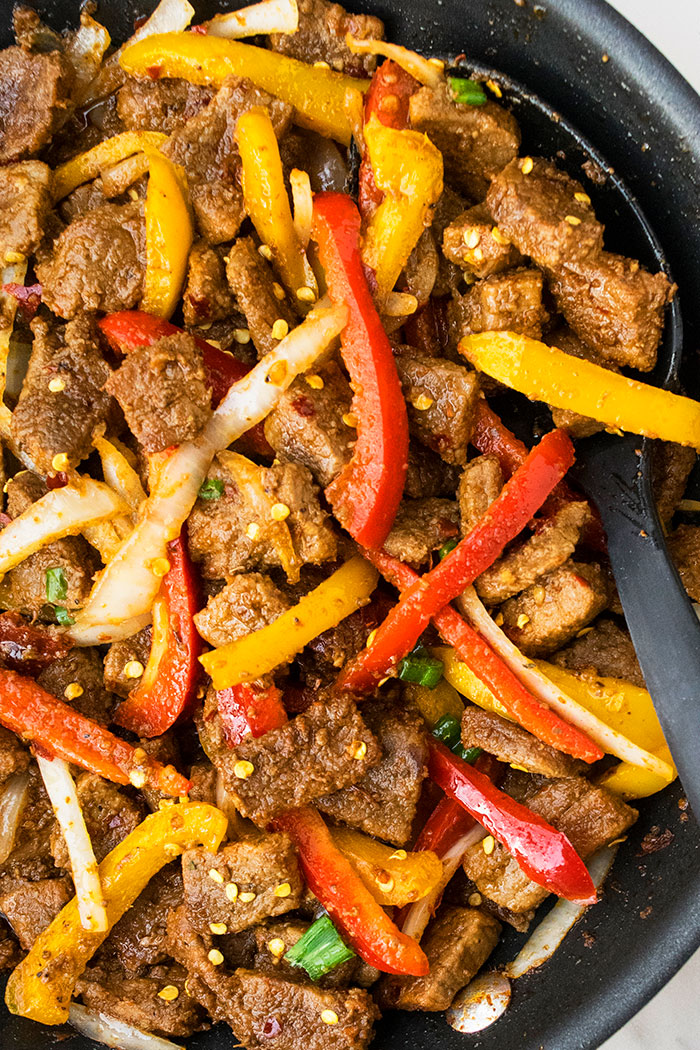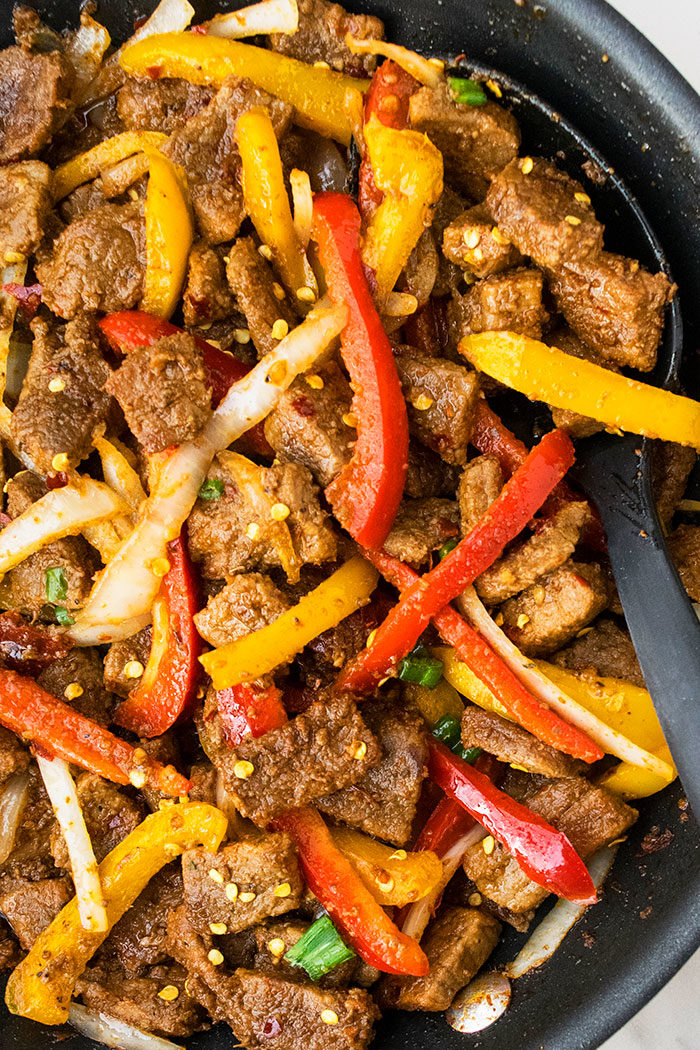 How to make pepper steak?
Season beef strips with salt and pepper and stir fry until golden brown.
Add peppers, onion, ginger, garlic and stir for a few seconds until fragrant.
Add soy sauce, Sriracha, honey, vinegar, dissolved cornstarch and mix until combined.
Cook until liquid is reduced.
Garnish and serve.
What meat to use in pepper steak stir fry?
The recipe can be make with flank steak or sirloin steak. Slice it against the grain because that yields tender results. Typically, thin slices are used but I have also made it successfully with very small beef cubes too.
What to serve with easy Chinese pepper steak recipe?
Simple boiled rice or fried rice are the best sides. Try this Cauliflower Fried Rice (One Pot) if you are looking for a healthy low carb side.
You can also serve egg rolls, dumplings and spring rolls on the side and even a simple green salad. This Asian Cucumber Salad (One Bowl) is also amazing!
Steamed or roasted vegetables re always a great choice such as these Oven Roasted Green Beans (One Pan) or Oven Roasted Broccoli (One Pan) or even Oven Roasted Asparagus (One Pan).
Egg noodles and spaghetti taste awesome too. Zoodles or zucchini noodles would be another healthy alternative.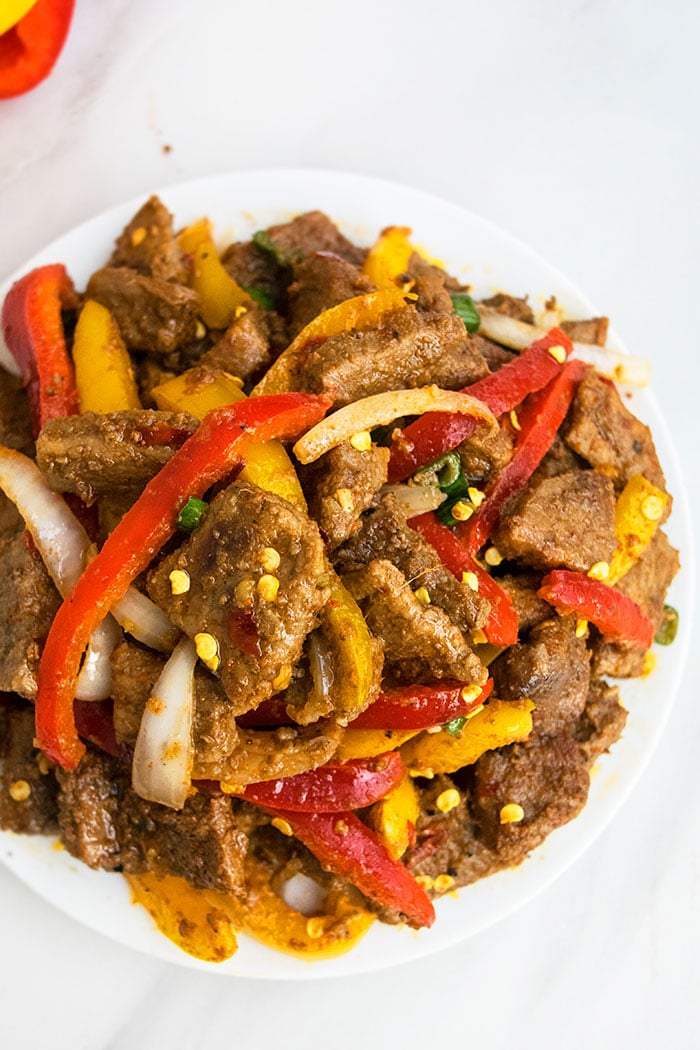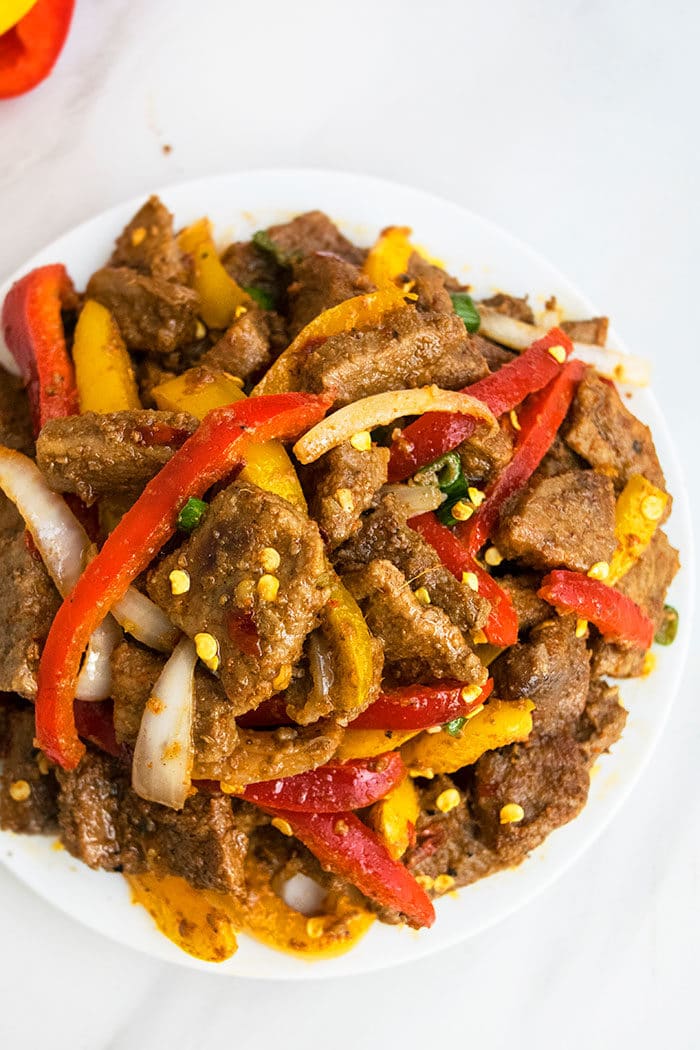 Tips and Techniques
Use low sodium ingredients– This applies to soy sauce and broth because it prevents the meal from getting too salty.
Use nonstick pot or pan or wok– That's because this prevents sticking and burning, especially since you are cooking on high heat.
Cook on high heat– Stir fries are always cooked quickly on high heat for the perfect texture and flavor. Don't use medium or medium-high heat.
Adjust the sweetness– This can be done, based on your preference too by tweaking the amount of honey.
How to thicken pepper steak sauce or gravy? Cornstarch is a key ingredient for thickening the sauce and don't omit it! You can also thicken the sauce further by cooking it uncovered, on heat for a few additional minutes until excess liquid evaporates.
Cornstarch substitutes– I have not tried these but I have heard that arrowroot powder and tapioca flour are both good replacements.
Honey substitutes- Honey will always be my first preference because it tastes the best buy you can also use agave syrup or granulated sugar or brown sugar.
Use dissolved cornstarch- Mix it with some water or broth and then add it in with the other ingredients because this prevents little lumps from forming in the sauce.
Garnish options- Red chili flakes, roasted sesame seeds, green onions, cilantro or green chilies.
Don't omit sesame oil- Even though it's a small amount, it adds a lot of flavor and aroma and I highly recommend it. However, if you don't have it on hand, you can replace it with any other light tasting oil such as corn, canola or vegetable.
Variations
Pepper steak and rice recipe– To turn this into a one pot meal, prepare everything, as per the recipe below. Then, mix in 2.5 cups of leftover boiled or cooked rice until they are coated with the sauce and serve.
Can you make crock pot or slow cooker pepper steak? No, since this is a stir-fry recipe and cooked on high heat, you cannot use it in a crockpot. The measurements of ingredients for that version are totally different and the texture of the beef will also be very different.
Make it spicy- Add red chili flakes and increase the amount of Sriracha sauce.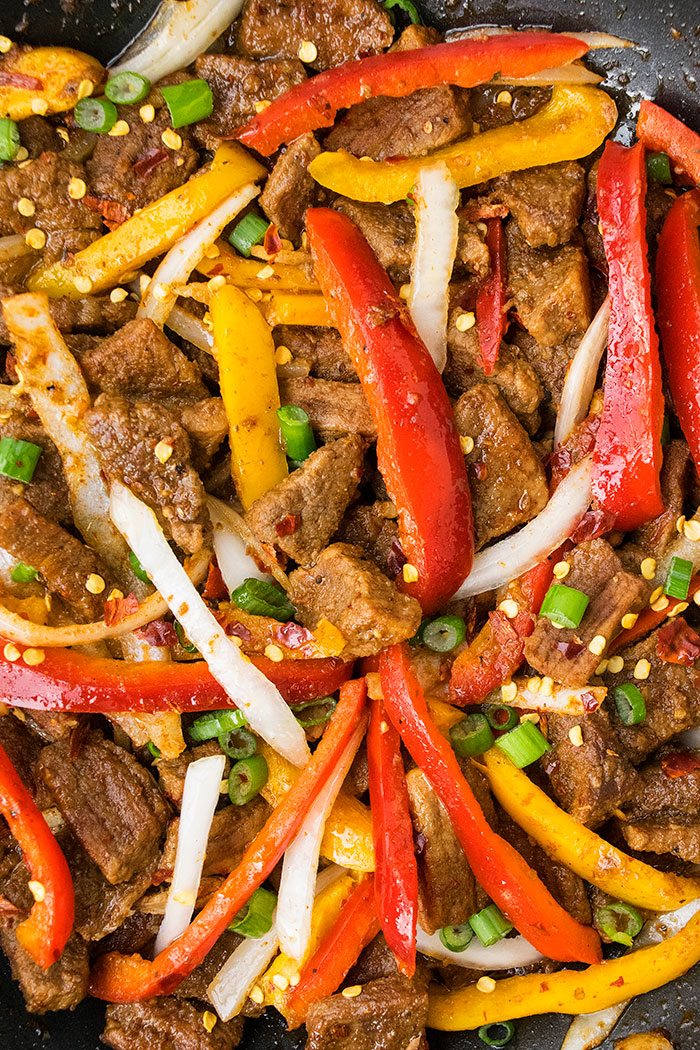 Other One Pot Chinese Meals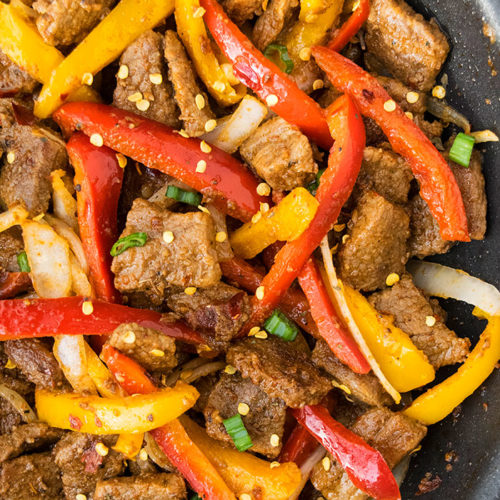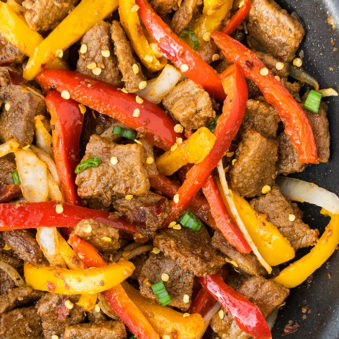 One Pan Pepper Steak Recipe
Quick and easy pepper steak recipe, made with simple ingredients in one pot over stovetop. A 30 minute stir fry with peppers, beef steak, Chinese sauce.
Yield: People
Ingredients
1 tbsp Sesame oil
1 tbsp Vegetable oil, Or corn oil Or canola oil
1.5 pounds Steak, Cut into small cubes or thinly sliced
Salt, To taste
Pepper, To taste
1/3 cup Red peppers, Thinly sliced
1/3 cup Yellow peppers, Thinly sliced
1/3 cup Green peppers, Thinly sliced
1/3 cup Onion, Thinly sliced
2 cloves Garlic, Finely minced
1 tbsp Ginger, Finely minced Or 1 tsp ginger powder
1/4 cup Soy sauce, Low sodium
1 tsp Vinegar
1 tbsp Sriracha sauce
2 tbsp Honey, Or sugar
1.5 tbsp Cornstarch, Dissolved in 3 tbsp water Or low sodium broth
1 tsp Red chili flakes, Optional, For garnish
1 tbsp Green onions, Finely sliced, For garnish
Instructions
Add steak to the pan and stir fry for 5 minutes or until pinkness is gone and beef is light brown.

Add red, yellow, green peppers, onions, garlic, ginger and saute for 30 seconds.

Add soy sauce, vinegar, sriracha sauce, honey, dissolved cornstarch and mix until combined.

Cook for a few more minutes until sauce is reduced and thickened to your desired consistency.

Garnish with red chili flakes (optional) and green onions. Enjoy!
Notes
Read all my tips above.
Leftovers can be stored in a sealed container in the fridge for up to 3 days. 
Nutrition
Calories: 487kcal, Carbohydrates: 16g, Protein: 36g, Fat: 31g, Saturated Fat: 11g, Cholesterol: 103mg, Sodium: 995mg, Potassium: 590mg, Fiber: 1g, Sugar: 10g, Vitamin A: 650IU, Vitamin C: 52.8mg, Calcium: 21mg, Iron: 3.5mg
Happy cooking everyone!