Easy Garlic Mushrooms (One Pot)
Quick and easy garlic mushrooms recipe, made with simple ingredients in one pot. This 20 minute side dish or appetizer is loaded with butter and herbs.
These are truly the best way to enjoy mushrooms! They are made on the stovetop and sautéed with butter, onions, garlic and fresh herbs and packed with immense flavor. They are just as popular as some of my other sides like these One Pot Mashed Sweet Potatoes and this One Pot Boiled Corn on the Cob.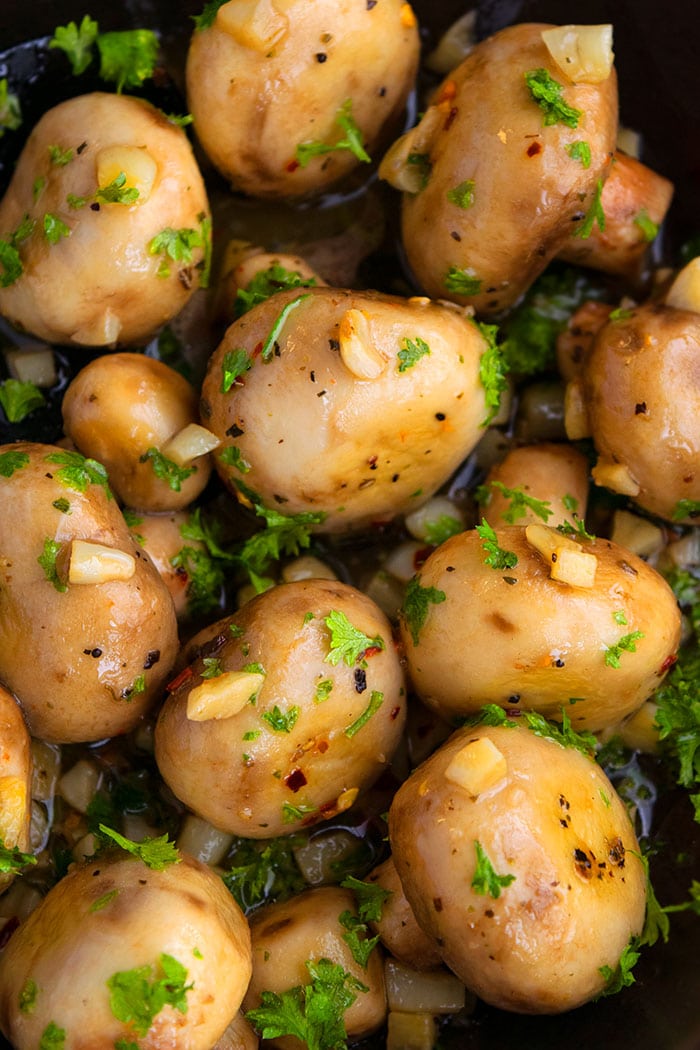 How to make garlic mushrooms on stovetop?
Heat butter and oil and sauté onions.
Add mushrooms and cook until golden brown.
Add garlic and herbs and mix until fragrant.
Garnish with more herbs and serve.
What do you serve with garlic mushrooms?
How do you cook garlic mushrooms in the oven? (Baked/ Roasted Garlic Mushrooms)
Toss the mushrooms with herbs, salt, pepper, half the melted butter and oil from the recipe below.
Spread them out on a baking tray.
Bake until golden brown at 425 degrees for about 20 minutes.
Garnish with fresh parsley and enjoy.
How to clean mushrooms?
There are 2 methods:
Use a damp paper towel or a soft mushroom brush to remove any dirt.
 You can also lightly rinse them with cool water and quickly pat them dry with paper towels. I am not too fond of this method because if you are not careful, they can absorb a lot of water.
Just remember: Do not soak mushrooms in water because they will absorb water like a sponge and release all that water during cooking!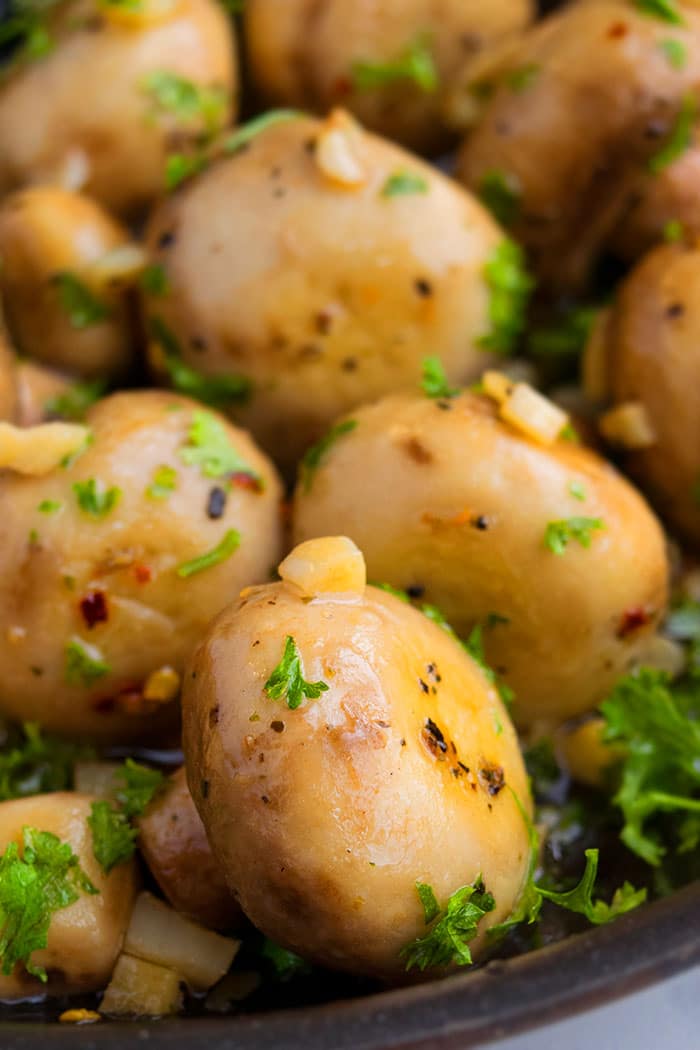 Variations
Garlic mushrooms pasta- Mix in 2 cups boiled pasta in the same pot/ pan until pasta is fully coated. Sprinkle some parmesan cheese and enjoy.
Cheesy garlic mushrooms- You can sprinkle 1/4 cup freshly grated parmesan cheese at the end.
Creamy garlic mushrooms- Add 1/4- 1/3 cup heavy cream near the end when mushrooms are almost ready. Mix and serve. They are also great, when served on toast.

Tips for easy garlic butter mushrooms recipe
Use unsalted butter to prevent the meal from becoming too salty.
Use small button mushrooms because they cook the fastest.
Try to buy mushrooms that are roughly the same size so that they cook evenly.
Adjust the amount of herbs and garlic, based on your preference.
Use fresh garlic rather than garlic powder because it has a stronger aroma and flavor.
Any herbs of your choice can be used in this recipe.
I highly recommend using fresh herbs rather than dry herbs because they have a vibrant color and they taste better.
Both, butter and olive oil are required in this recipe because they both add flavor. Don't replace one with the other.
Also, please not that these are not garlic stuffed mushrooms. That recipe is entirely different.
Even though this can be enjoyed as a side dish, it also makes an easy appetizer or starter that you can serve guests before a meal at a dinner party. Just keep some toothpicks handy.
Other One Pot Sides/ Side Dishes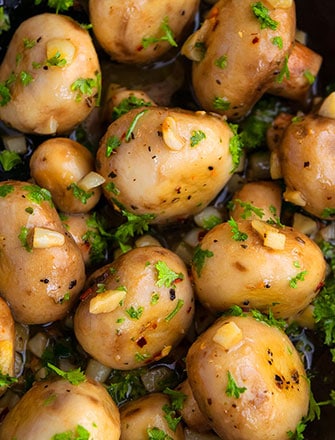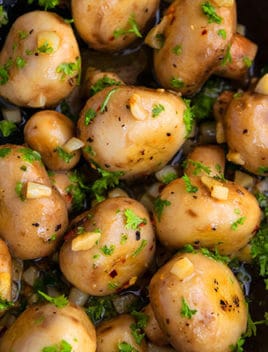 One Pot Garlic Mushrooms Recipe
Quick and easy garlic butter mushrooms, made with simple ingredients in one pot. This 20 minute side dish or appetizer is loaded with Italian herbs.
Yield: People
Ingredients
2 tbsp Butter, Unsalted
2 tbsp Olive oil
1/4 cup Onion, Finely chopped
1 pound Button mushrooms
2 tbsp Garlic, Finely minced
2 tbsp Parsley, Fresh, Roughly chopped, Divided
1/2 tsp Thyme , Fresh, Roughly chopped
1/2 tsp Oregano, Fresh, Roughly chopped
Salt, To taste
Pepper, To taste
1/4 tsp Red chili flakes , Optional
Instructions
Add butter and oil in a nonstick pot or pan and heat over medium high heat.

Add onion and saute for about 1 minute.

Add mushrooms and cook until slightly golden brown.

Add garlic, 1 tsbp parsley, thyme, oregano, salt, pepper, red chili flakes and mix.

Cook until garlic is fragrant. Be careful not to burn the garlic!

Mix in remaining 1 tbsp parsley and quickly turn off heat and enjoy.
Notes
Read all my tips above. 
Tastes best when served fresh but leftovers can be stored in a sealed container in the fridge for up to 2 days. 
Nutrition
Calories: 92kcal, Carbohydrates: 6g, Protein: 4g, Fat: 6g, Saturated Fat: 3g, Cholesterol: 15mg, Sodium: 120mg, Potassium: 401mg, Fiber: 1g, Sugar: 2g, Vitamin A: 355IU, Vitamin C: 6.9mg, Calcium: 13mg, Iron: 0.8mg
Happy cooking everyone!