Marinated Tomatoes (One Bowl)
The best, healthy, quick and easy marinated tomatoes recipe, homemade with simple ingredients in one pot or bowl in 20 minutes. Loaded with cherry tomatoes and onions in a fresh herb and vinegar-based marinade. Makes a great side dish or appetizer.
This Cherry Tomato Salad (One Bowl) is one of the more flavorful ways to enjoy Summer tomatoes but today's marination technique allows you to enjoy them in a different way. They have a wonderful flavor: sweet and tangy.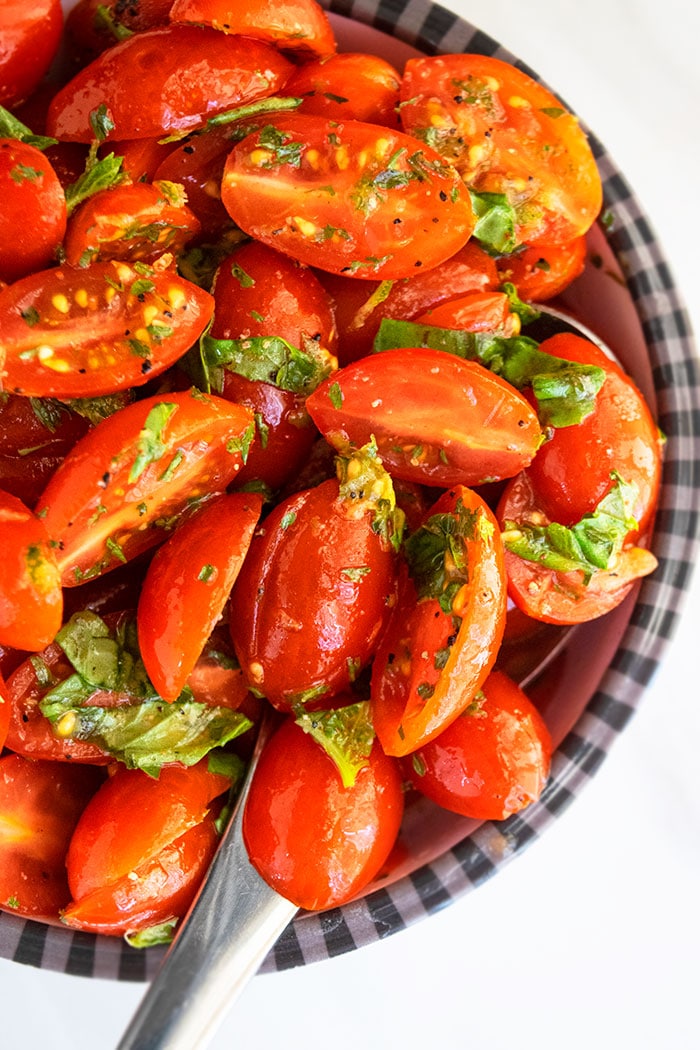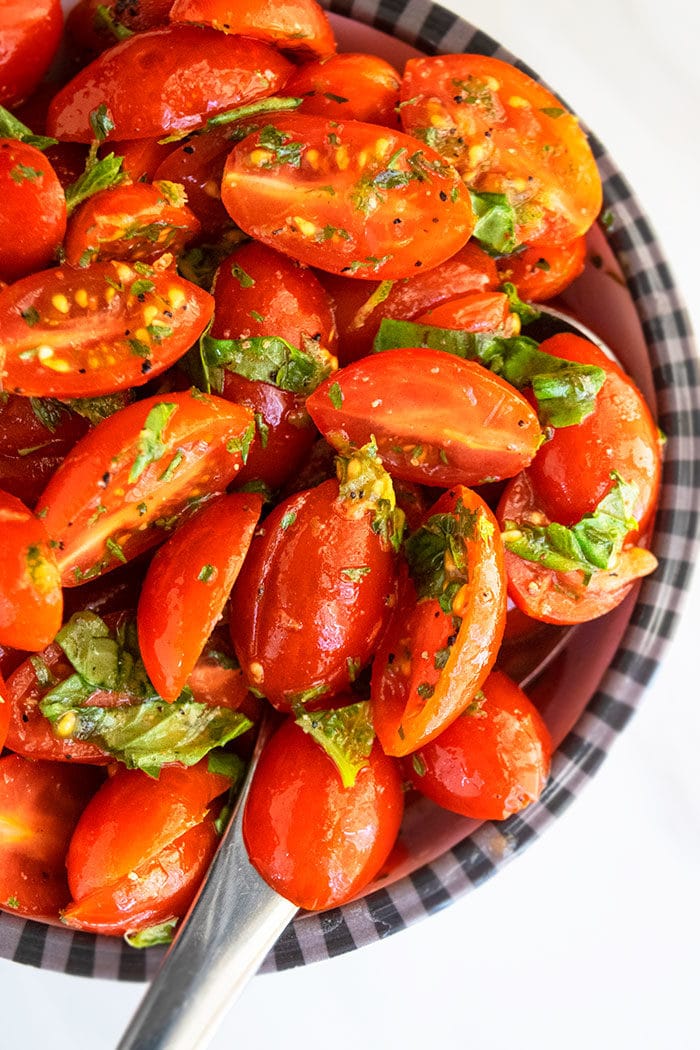 Please note that this recipe is different than marinated sun dried tomatoes, which I have made before but they truly don't compare to this version with fresh tomatoes.
How to make marinated tomatoes (marinated cherry tomatoes)?
Make vinegar marinade– Mix together olive oil, vinegar, salt, pepper, garlic, herbs.
Toss in vegetables– Add halved cherry tomatoes and onions.
Let it all rest– For a few hours or overnight.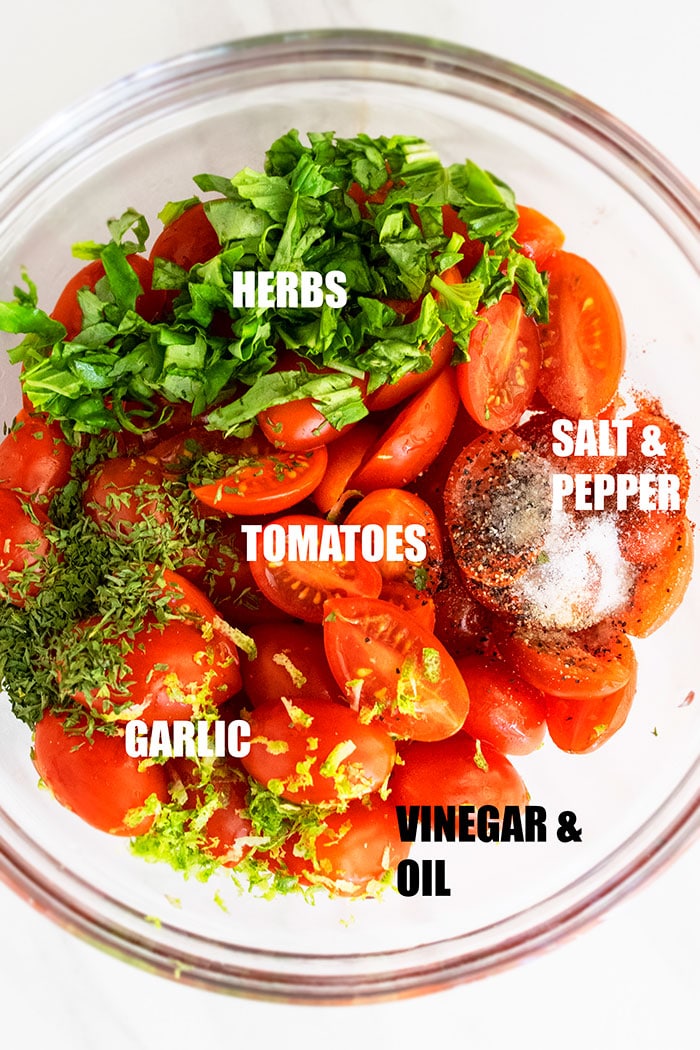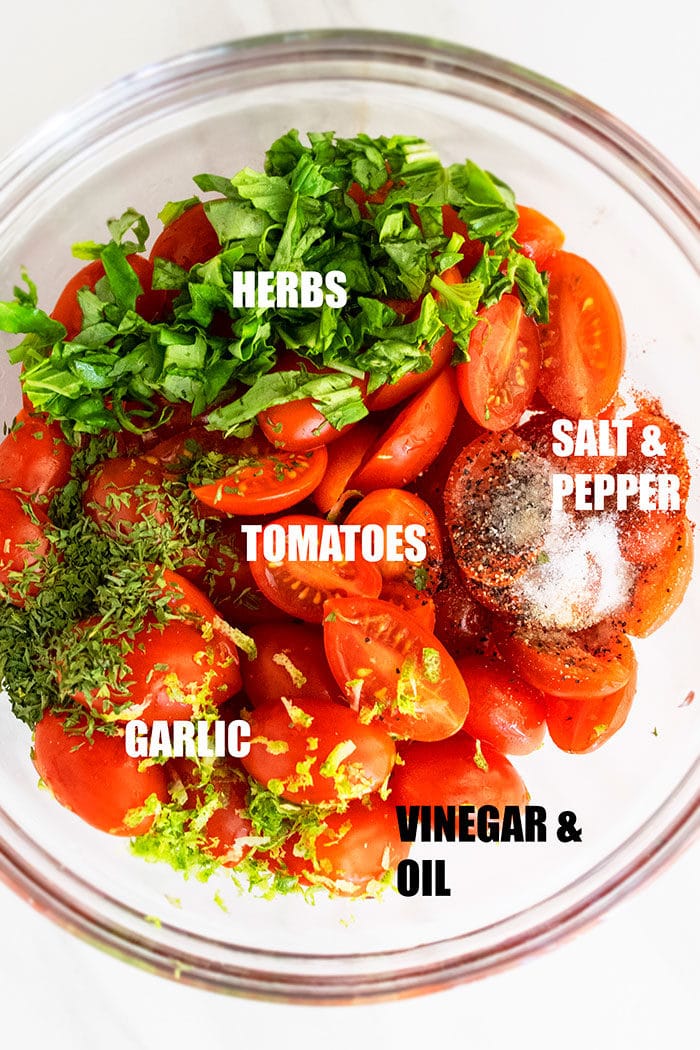 What sides to serve with marinated tomatoes recipe?
You can serve this as a quick side dish for baked or grilled chicken or steak. It tastes awesome, served alongside fried chicken, burgers, hotdogs and pretty much, alongside any of your typical potluck food or picnic food.
You can also use it in a marinated tomato salad. Just toss some cucumbers, avocados, mini mozzarella cheese balls and these tomatoes together to make a delicious Summer salad.
Another wonderful way to enjoy them is to simply toss them in boiled pasta with some grilled or roasted vegetables and shredded cheese.
You can chop up the tomatoes and use it as a dip. Serve it along with pita bread or garlic bread or tortilla chips as an easy appetizer.
These will also make a great topping for bruschetta. Simply chop up the tomatoes, add some more finely chopped onions and top it off on slices of garlic bread and top off with parmesan cheese.
You can even use them as a pizza topping. Make sure you blot them dry first to prevent a soggy crust.
Serve them as an appetizer with mini mozzarella balls.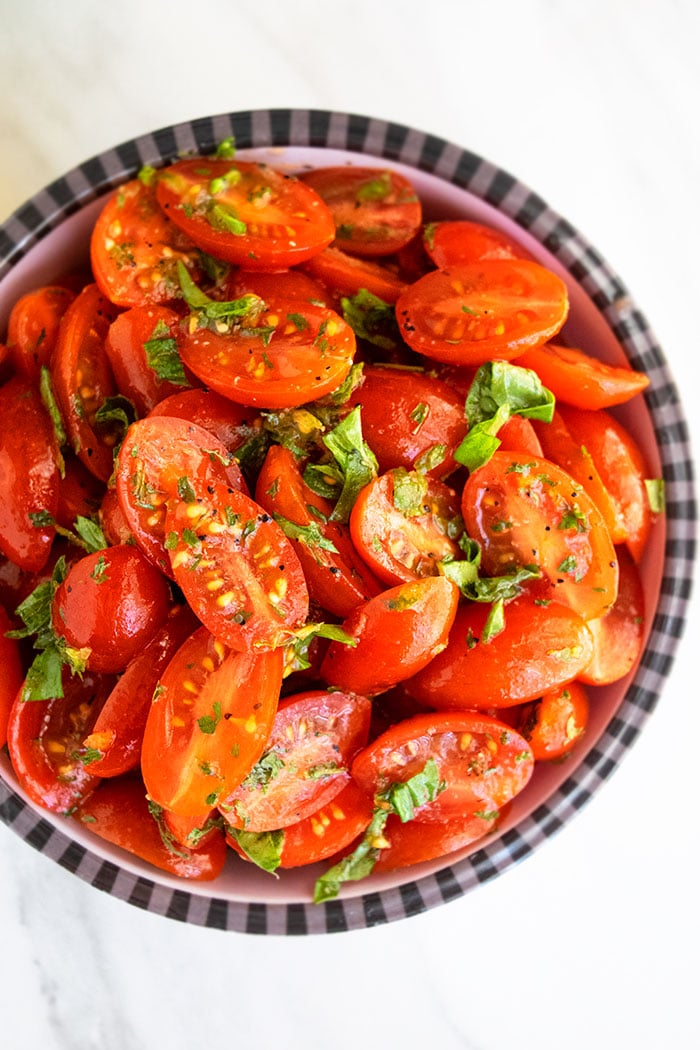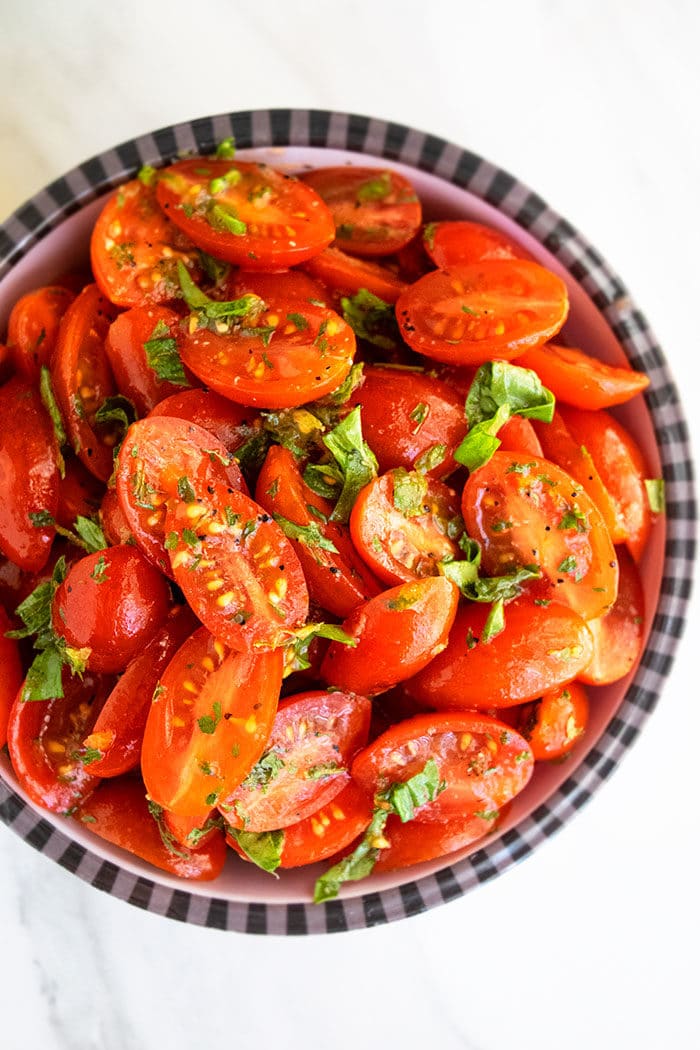 Tips and Techniques
Do I serve this dish cold or at room temperature? They truly taste the best at room temperature but can be served cold as well. When it's served cold, the oil is partially solidified and looks weird.
Use ripe tomatoes– Because they are very juicy and flavorful.
What vinegar to use? Red wine vinegar is my first choice but regular white vinegar works well too. I don't recommend using balsamic vinegar because it has a dark color and will darken the color of this dish. Some people also like to use citrus-based marinades with lemon juice, lime juice and orange juice. This is a versatile recipe and you can get very with it.
Regular tomatoes vs. Cherry tomatoes– Either can be used. I prefer cherry tomatoes because they are easier to eat.
How to serve? Transfer tomatoes to a serving dish and spoon marinade juices over the top. Garnish with more finely chopped herbs, if you like.
Use fresh herbs– Because they look better and also taste better. If you decide to use dry herbs, please note that they stronger and more potent than fresh ones and you will have use a smaller quantity.
What herbs to use? Use a few different herbs together for best flavor profile. I love the combination of parsley, basil and cilantro.
Let these tomatoes rest– Do not skip this step because this is what truly allows all the flavors to deepen. The tomatoes also create their own incredible marinade, as they rest.
Use high quality olive oil- For best overall flavor, I like to use extra virgin olive oil but you can also use light olive oil. Good quality ingredients are a little expensive but absolutely worth it.
More Tomato Side Dishes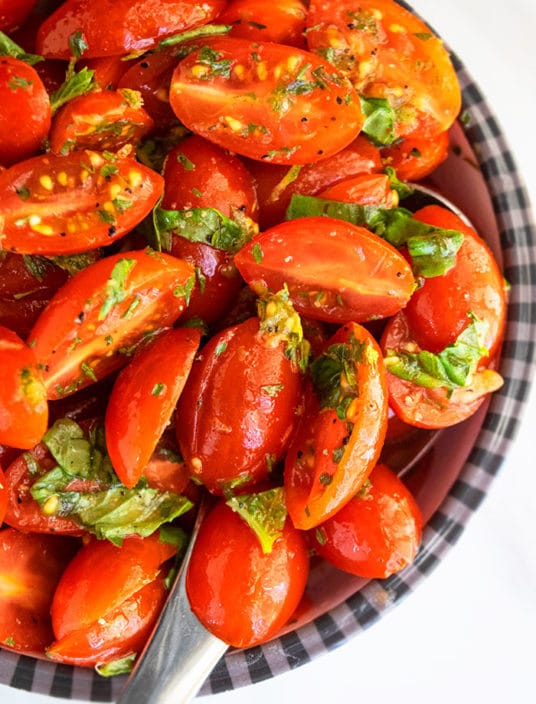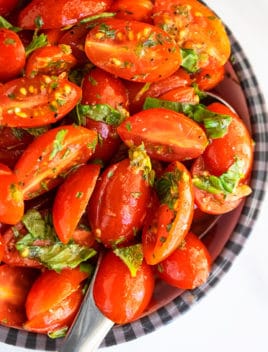 Abeer Rizvi
Servings: 4 People
Course: Side Dish
Cuisine: American, Italian
Keyword: cherry tomatoes, easy sides, marinade
Calories: 63 kcal
Ingredients
1/3 cup Olive oil
1/4 cup Red wine vinegar Or white vinegar or apple cider vinegar
1-2 cloves Garlic Finely minced
1 tbsp Parsley Finely chopped
1 tbsp Basil Finely chopped
1 tbsp Cilantro Finely chopped
Salt To taste
Pepper To taste
2 tbsp Onion Finely chopped
2 pounds Cherry tomatoes Sliced in half, Or you can use 4 roughly diced large tomatoes
Instructions
In a large bowl, add oil, vinegar, garlic, parsley, basil, cilantro, salt, pepper and mix until combined.

Add onion, tomatoes and mix until fully coated.

Cover and marinate for 2-3 hours on the countertop OR overnight in the fridge.

Prior to serving, spoon out the tomatoes in a serving dish and spoon marinade juices over the top. Garnish with more finely chopped herbs, if you like.
Recipe Notes
Read all my tips above.
Leftovers can be stored in a sealed container in the fridge for up to 2 days. 
Nutrition Facts
Abeer Rizvi
Amount Per Serving
Calories 63 Calories from Fat 9
% Daily Value*
Fat 1g2%
Sodium 201mg8%
Potassium 494mg14%
Carbohydrates 10g3%
Fiber 2g8%
Sugar 5g6%
Protein 2g4%
Vitamin A 1270IU25%
Vitamin C 53.5mg65%
Calcium 31mg3%
Iron 1.7mg9%
* Percent Daily Values are based on a 2000 calorie diet.
Happy cooking everyone!