Caprese Skewers (One Pan)
The best, quick and easy mini caprese skewers recipe, homemade with simple ingredients in one pan in 10 minutes. Packed with mozzarella cheese, basil leaves, balsamic glaze and Italian seasoning.
These are a spin on the classic caprese salad and are a light, fresh, colorful, appetizer that's perfect for summer picnics. It is also great for entertaining at dinner parties, makes a quick after-school snack, and can even be added into lunch boxes for kids and adults.
They are also known as caprese kabobs, caprese salad skewers, appetizers on a stick, or toothpick appetizers, but whatever you call them, they will be a hit at any meal. Need a few more ideas to use up your summer tomatoes? Try these Quick Oven Roasted Tomatoes (One Pan) or this Tomato Gnocchi Sauce (One Pot)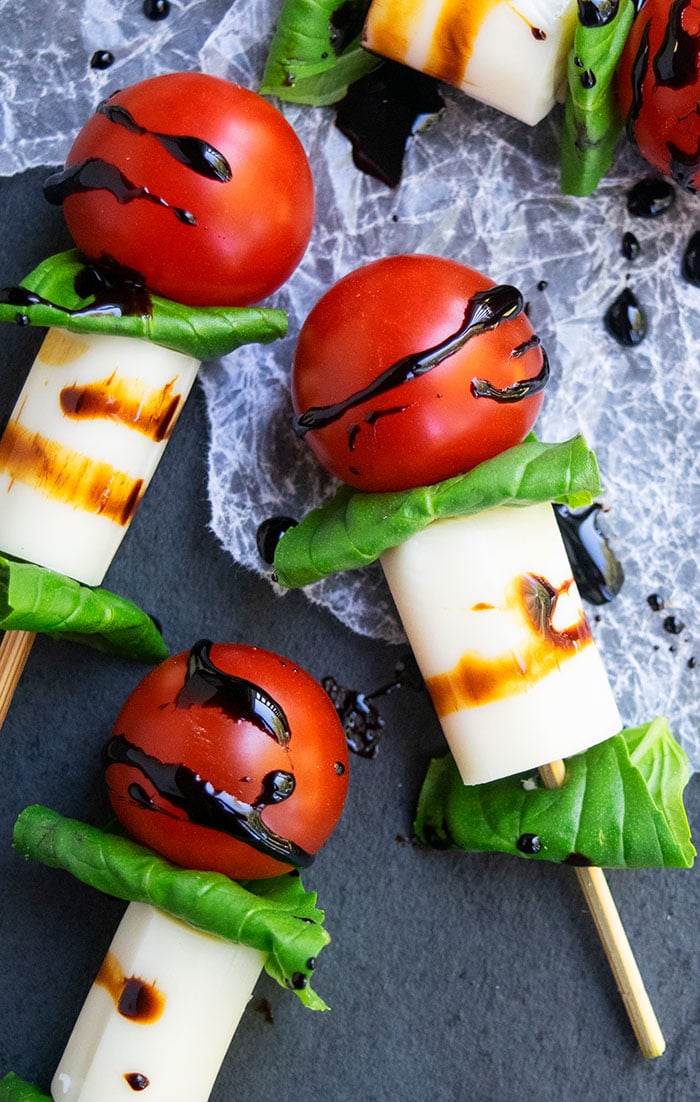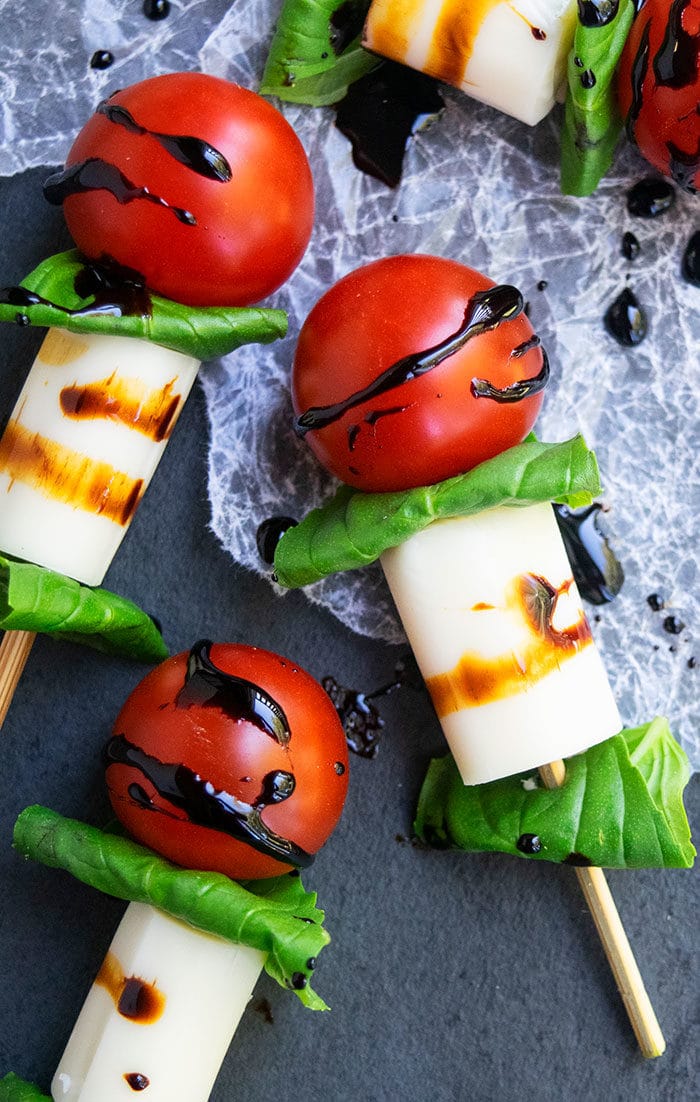 How to make caprese skewers?
Prep skewers– Thread basil leaf, mozzarella, another basil leaf, and cherry tomato onto a skewer.
Add seasoning- Sprinkle Italian Seasoning.
Finish- Drizzle with Balsamic glaze.
Enjoy! Must be served immediately.
What to serve with make ahead caprese skewers recipe?
This is typically enjoyed as a side dish or appetizer but it would also pair very well with Italian soup such as this Tomato Basil Soup (One Pot) or this Tomato Tortellini Soup (One Pot).
You can also serve this alongside pork chops, steak, salmon or even chicken such as this Grilled Chicken Breast (One Pan).
It also pairs very well with most pasta dishes. Try this Creamy Spinach Pasta (One Pot) or this Garlic Chicken Pasta.
Basically, think any Italian main courses and most likely, these skewers will compliment it nicely. Try this Italian Sausage Pasta, Italian Pot Roast.
Balsamic vinegar vs. Balsamic glaze
A glaze is basically balsamic vinegar combined with a sweetener such as granulated sugar, brown sugar, or honey. It's cooked over medium heat on stovetop and reduced to a thicker form. It is usually reduced to half, and may take about 10-15 minutes.
This recipe requires balsamic reduction glaze or drizzle, which can be homemade or store-bought.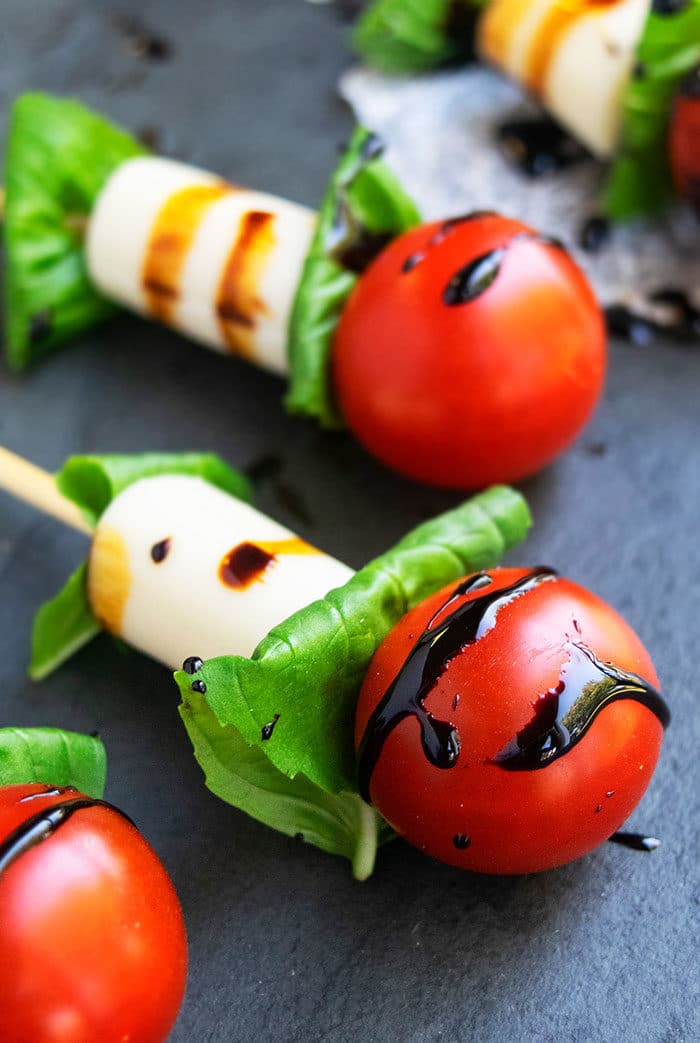 Variations
Make it fruity- Add a slice of fresh ripe peach, strawberry, or blackberry and even cubed watermelon pieces. All pair well with the balsamic glaze.
More add-ons- Add tortellini or olives or even peppers and onions.
Add Meat- Always use cooked or cured meats such as salami, pepperoni, prosciutto, soppressata, boneless chicken bites and even these Garlic Butter Steak Bites. These are usually known as antipasto skewers.
Make with grilled vegetables– Such as zucchini, cherry tomato, peppers, onion, mushrooms. Try these Oven Roasted Sausage and Vegetables.
Herb and seasonings options- You can use other fresh herbs like parsley, chives, thyme, oregano, cilantro e.t.c. You can also use other seasonings blends like Mexican, Cajun, Indian, Greek e.t.c.
What if I don't have Italian Seasoning? You can mix together some dried oregano, parsley, rosemary, thyme, marjoram, red chili flakes and to make homemade Italian seasoning and sprinkle that on these skewers instead.
What to substitute for the balsamic glaze? Pesto makes a great sub for. It can be homemade or store bought. Drizzle lighlty over each skewer. Even something as simple as a high-quality olive oil drizzled over the skewers will work.
What type of tomatoes to use? Ripe cherry or grape tomatoes (yellow or red), hold up the best and the sweetness makes all the difference. You could also use these Marinated Tomatoes for a flavor packed option.
What kind of cheese to use? Mozzarella, White Cheddar, Smoked Gouda. You can use any cheese hard enough to be skewered.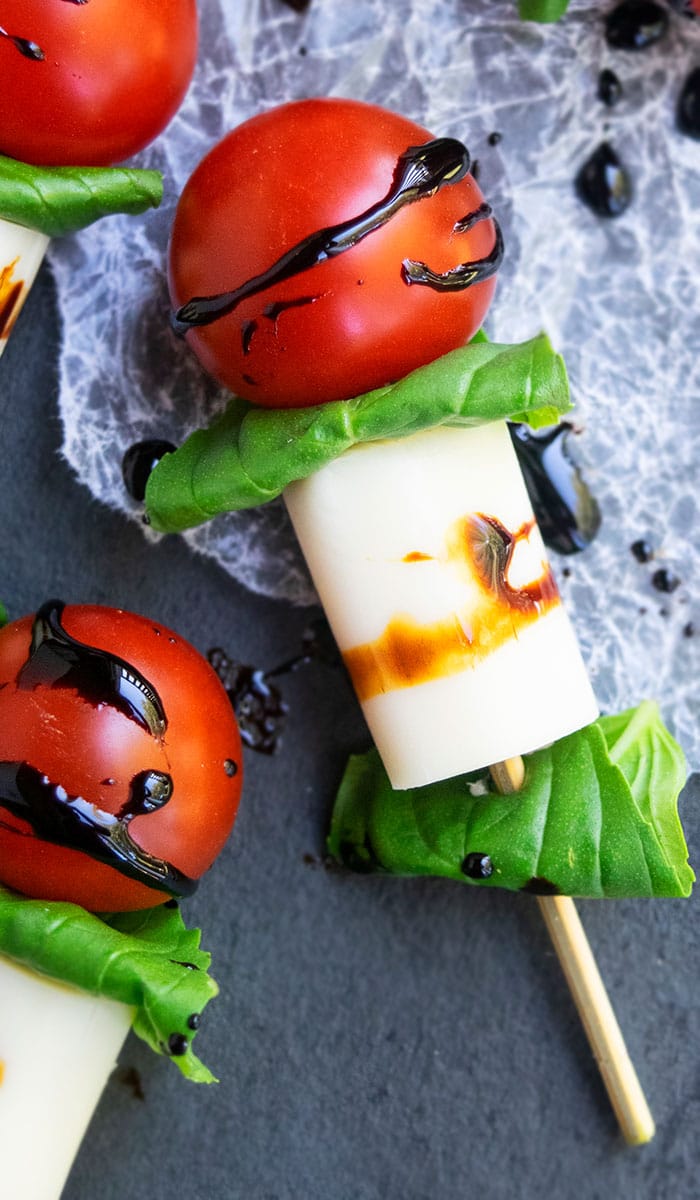 Tips and Techniques
Can these appetizer skewers be made ahead? Everything can be threaded and set up 1 hour prior to serving, covered and refrigerated but balsamic glaze should only be drizzled prior to serving.
Can they be made the night before? Don't make a day in advance because the basil leaves will wilt, mozzarella may dry out.
Best flavor- Always use ripe tomatoes and fresh basil for best flavor
How do I know when the balsamic glaze is ready? The glaze is an appropriate thickness when it coats the back of a spoon.
What do I use for the skewers? Use long wooden party toothpicks rather than the small ones or mini skewers.
Threading- Use larger basil leaves for easier threading. You can fold them in half, if they are too big.
What kind of mozzarella do I use? Use small mozzarella balls or cut up mozzarella cheese sticks if you can't find the balls. Some stores carry marinated mozzarella cheese balls, which will also work.
Ingredient Prep- Make sure to wash and dry tomatoes and basil before skewering.
What if I run out of Italian seasoning? A dash of salt and pepper will work just fine.
Plating- Serve in a single layer on a platter for ease in drizzling the glaze.
What to do with leftovers? Toss them in your favorite pasta main dish such as this Basil Pesto Pasta (One Pot) or even pasta salad such as this Italian Spaghetti Salad. You can also use it as a hamburger, sandwich or pizza topping.
More Easy Appetizers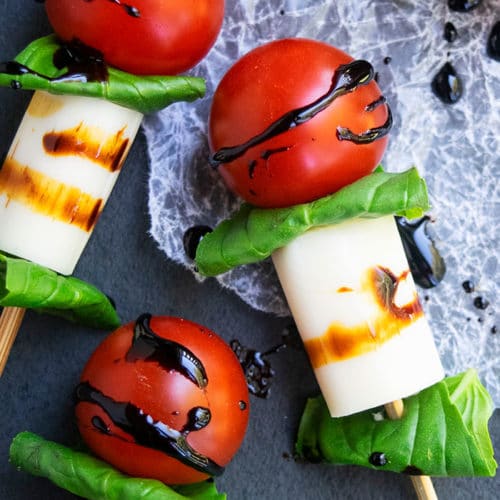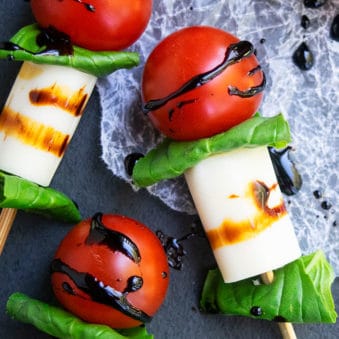 One Pan Caprese Skewers
Quick and easy caprese skewers recipe, homemade with simple ingredients in one pan in 10 minutes. Packed with mozzarella cheese, basil, balsamic glaze.
Yield: Skewers
Instructions
Thread cherry tomatoes, basil leaves and mozzarella cheese into each toothpick or mini skewer.

Arrange these kabobs on a tray and sprinkle Italian seasoning.

Drizzle balsamic glaze all over the skewers and serve immediately. Enjoy!
Notes
Read all my tips above.
Tastes best when served fresh but leftovers can be stored in a sealed container in the fridge for up to 2 days. 
Nutrition
Calories: 5kcal, Carbohydrates: 1g, Sodium: 1mg, Potassium: 37mg, Vitamin A: 105IU, Vitamin C: 4mg, Calcium: 4mg, Iron: 0.2mg
Happy cooking everyone!