Stuffed Zucchini Boats (One Pan)
The best, healthy, low carb, quick and easy pizza stuffed zucchini boats recipe, homemade with simple ingredients in one pan in 20 minutes. Loaded with cheese, marinara sauce and veggies.
It's the peak of summer, which means zucchini is overflowing in our garden. I love using them in this Zucchini Pizza (One Pan) but my family also enjoys it in these meatless, vegetarian zucchini boats. It's a great alternative to traditional flour-based pizza.
They can be baked or grilled. Baking can be done all year round and grilling is something you can enjoy during Summer and it adds a nice smoky flavor.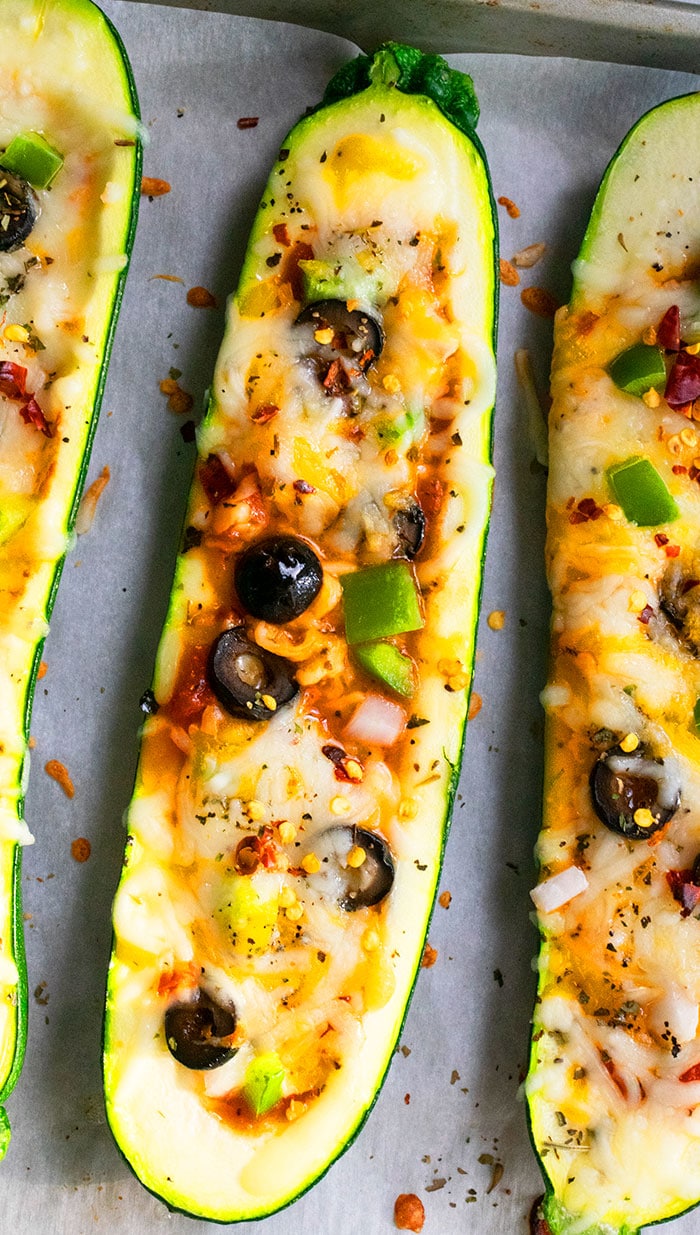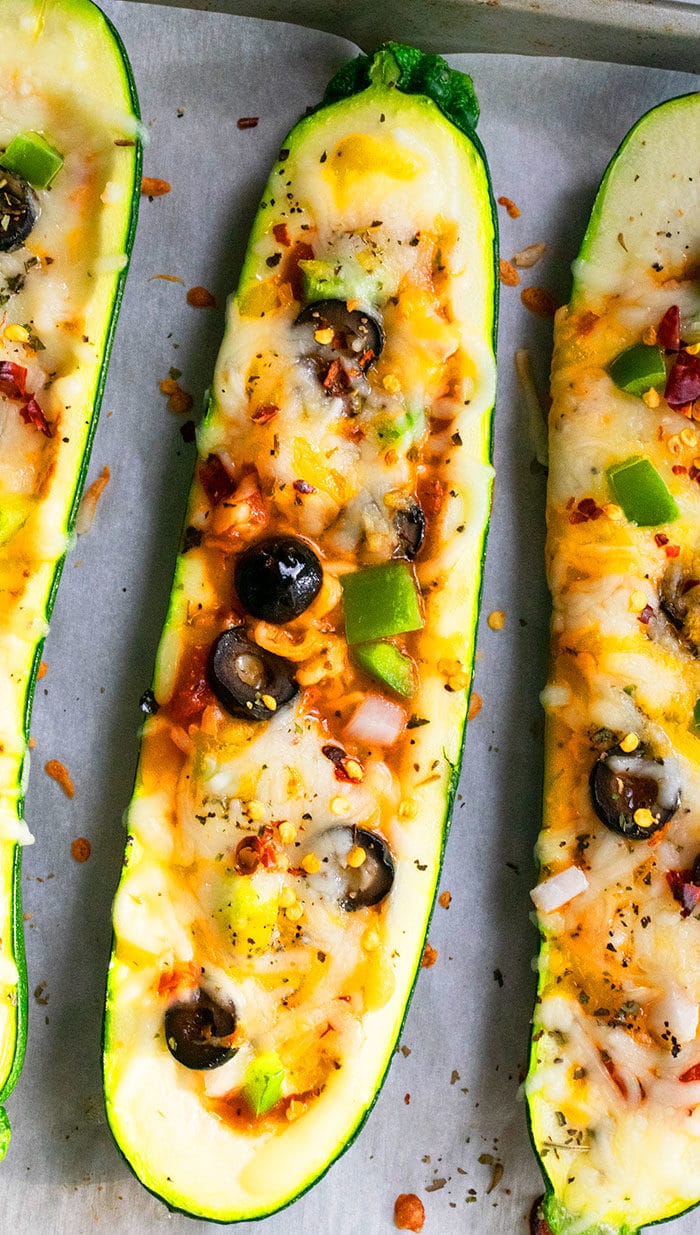 How to make zucchini boats?
Prepare zucchinis– Cut them in half, remove seeds, pat them dry.
Add toppings/ fillings– Such as pizza sauce, cheese, veggies and anything else you like.
Bake– Until cheese is fully melted and zucchinis are firm but tender.
Enjoy– Serve immediately!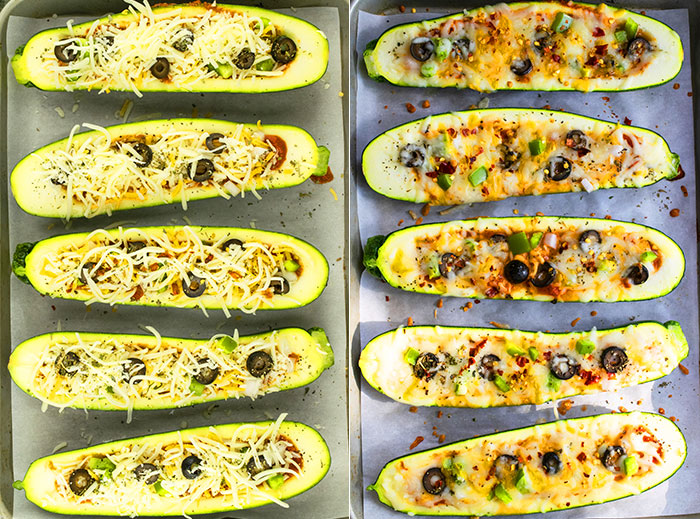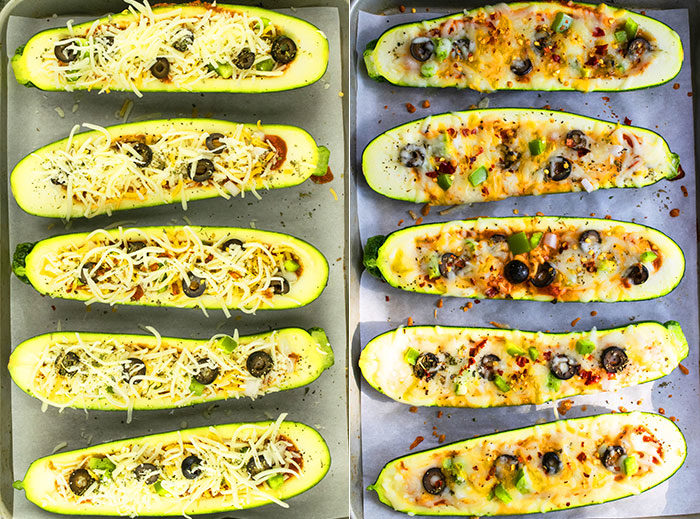 What sides to serve with zucchini boat recipes?
Think of all the side dishes you serve with regular pizza and you can serve those with this meal too:
Can you freeze zucchini pizza boats?
No, you cannot freeze them because they loose their crisp texture as they thaw. They also release a lot of water during baking.
Zucchini boat toppings
Add any toppings that you would typically add to a regular pizza. Here are some ideas:
Olives– Green or black olives or both.
Peppers– Variety of red, yellow, green and orange.
Mushrooms– Small ones are best or you can thinly slice bigger ones.
Cheese– Such as mozzarella, cheddar, parmesan, feta, provolone e.t.c. Use a combination of multiple cheeses for best flavor.
Beans- Such as canned red beans, black beans or garbanzo beans. Be sure to drain and rinse cans first.
Meat– Such as chicken, beef (steak), bacon, ham, mini pepperoni, sausage, ground beef. All meats should be cooked.
Tofu– I recommend using small cubes of firm tofu. Stir fry them first in some olive oil and garlic for added flavor.
Rice– Use leftover steamed rice. You can also use this Cilantro Lime Rice (One Pot) or this Pineapple Rice (One Pot). Makes this meal more filling
Quinoa– Use leftover cooked quinoa.
Onions– Red onions are awesome but you can use regular onions too.
Spinach– Use frozen but thaw and drain excess water or else the boats will become very watery.
Herbs– Such as basil, chives, dill, sage e.t.c.
Tomatoes– Halved cherry tomatoes.
Pineapples– Can use canned or fresh. Creates a tropical Hawaiian flavor.
Red chili flakes– For a spicy kick. I love to add this!
Jalapenos- Also adds a spicy kick.
Pesto sauce– Replace tomato sauce with store-bought or homemade pesto sauce.
Balsamic vinegar– Add a light drizzle of this when the zucchinis come out of the oven and serve immediately.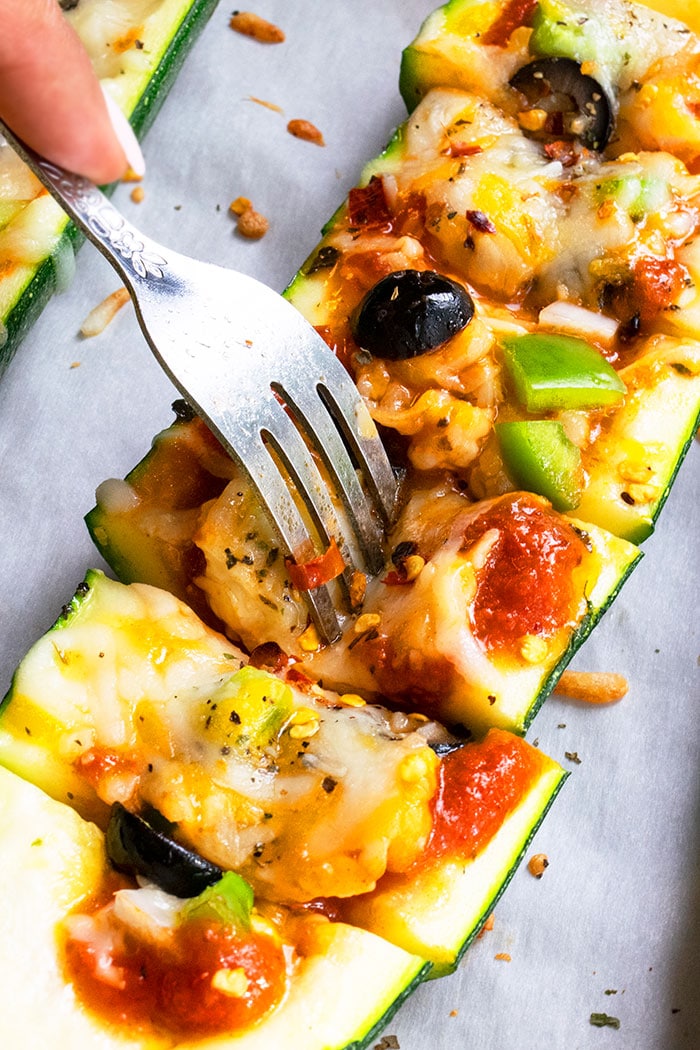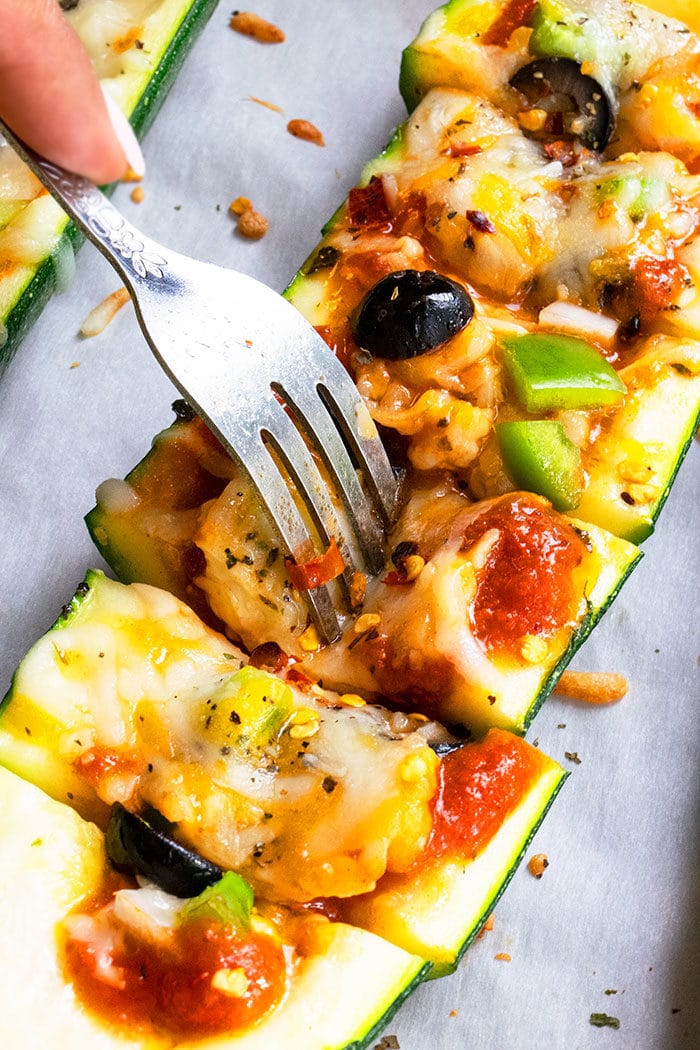 Variations
Add ground turkey- This will make the meal more filling and add more protein content. It's also a healthier meat option.
Add chicken– You can use shredded rotisserie chicken, or leftover baked or Grilled Chicken Breast. Buffalo chicken is another popular choice.
Add sausage– You can use ground sausage or slices of Italian sausage. It needs to be cooked first, before being used as a topping.
Add ground beef– This also has to be cooked beforehand. Cheeseburger is a popular choice. You can also use Loose Meat (One Pot) or these Instant Pot Sloppy Joes.
Add shrimp– Stir fry it in some olive oil and garlic first.
Add meatballs– Mini meatballs are best.
Make loaded Italian zucchini boats– Use Pesto Chicken (One Pot), along with the other toppings of your choice.
Mexican zucchini taco boats– Use taco seasoning instead of Italian seasoning and add any of these meat toppings, on top of other veggie toppings: Chicken Fajitas (One Pot), Mexican Shredded Chicken (One Pot), Steak Fajitas (One Pot).
Add tofu– Use this Honey Sriracha Sesame Tofu (One Pot) for an Asian flavor profile.
Use squash instead of zucchini- Cut it lengthwise and fill them with all the toppings of your choice. Bake until squash flesh is tender and cheese is fully melted. Due to its large size, squash boats will take longer to cook.
Omit vegetables- Just add tomato sauce and lots of cheese, similar to a cheese pizza (but healthier!)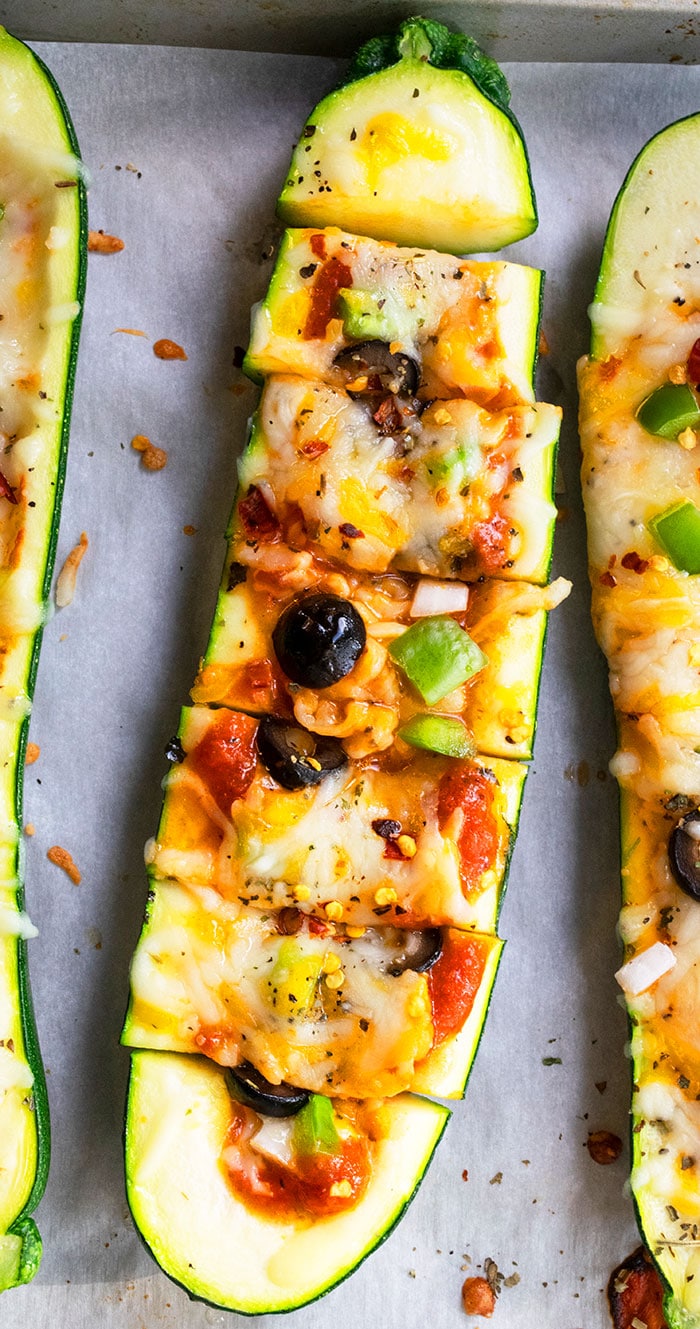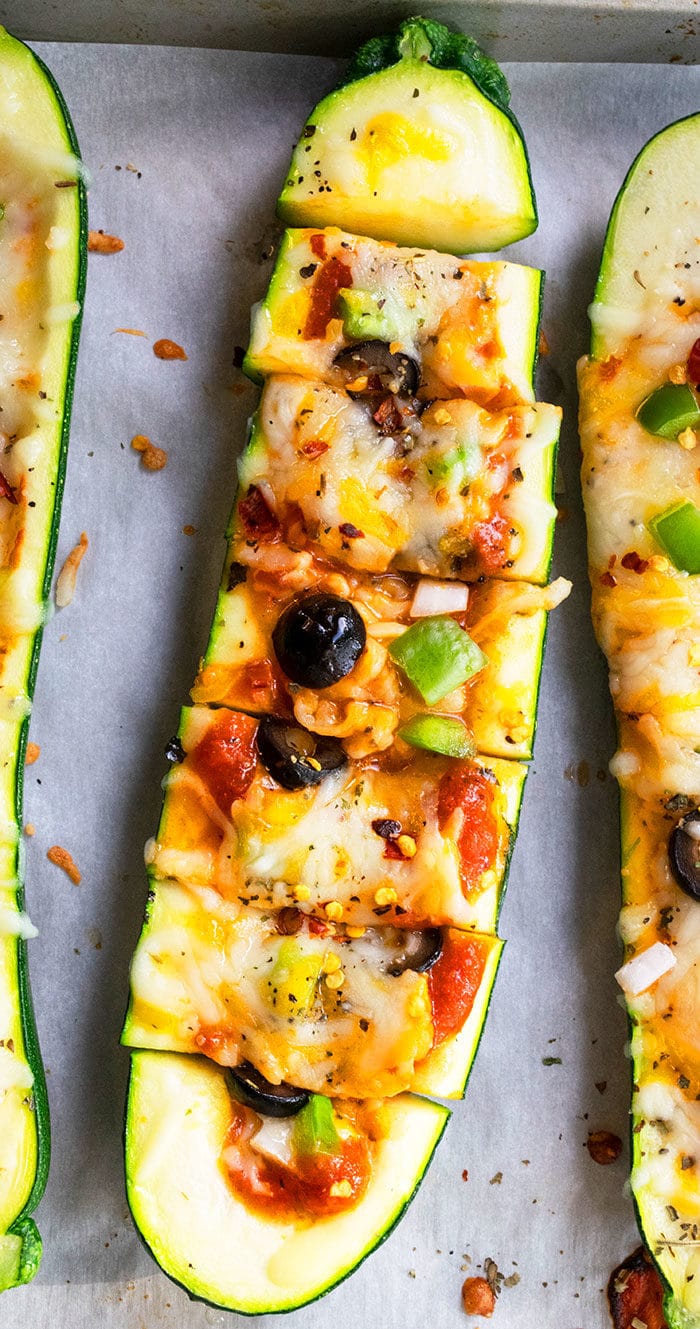 Tips and Techniques
Don't over-bake– Because that will cause the eggplants to release a lot of water and make a huge mess.
Space out zucchinis– Make sure THEY are spread and not placed close together because this will allow them to bake quickly and evenly.
How long to bake zucchinis? This depends on how soft or how firm you like them. Bake for less time if you prefer them firm. Bake for longer, if you prefer them softer. The usual time frame is 12-18 minutes at 400 degrees F.
Line tray with parchment paper– Because this prevents the zucchinis from sticking to the pan or burning.
Serve immediately- They taste the best when they come out of the oven. You can refrigerate leftovers but they truly don't taste that good when reheated.
Can you eat the skin of zucchinis? Yes, you can eat the skin and it should not be peeled off. It also helps to hold the zucchini flesh and all the fillings together during baking.
Serve a crowd– Recipe can easily be doubled to feed more people. You will have to use multiple sheet pans though.
Make ahead directions– You cannot bake them ahead of time but you can prepare the zucchinis and stuff them with all the toppings you like. Place them on a sheet pan, cover and refrigerate until you are ready to bake. This can be done up to 1 day in advance.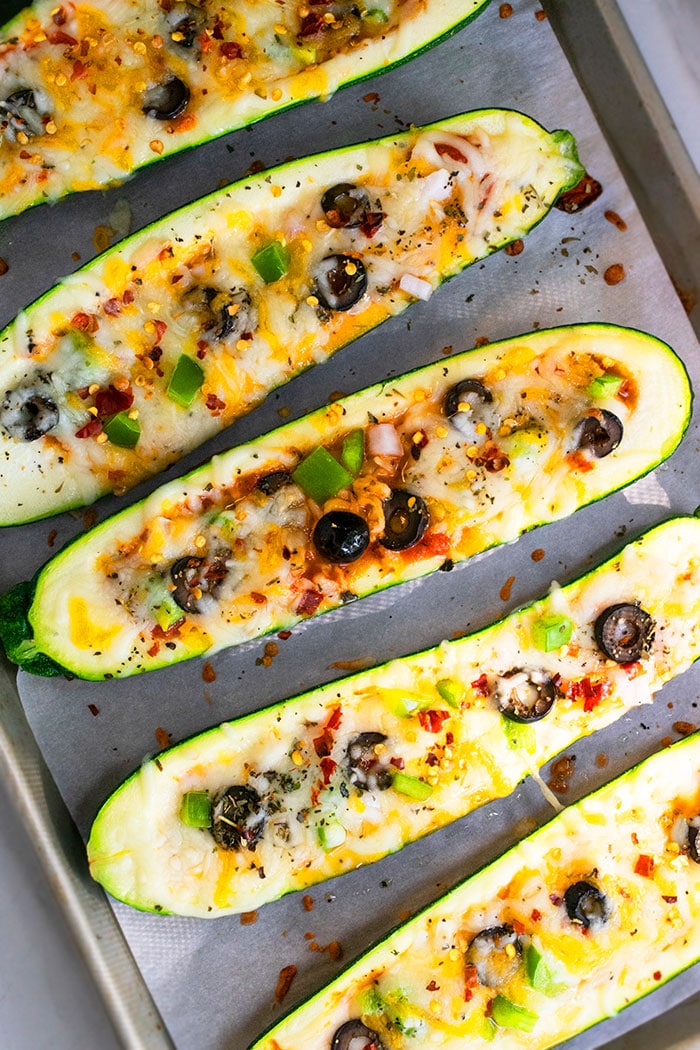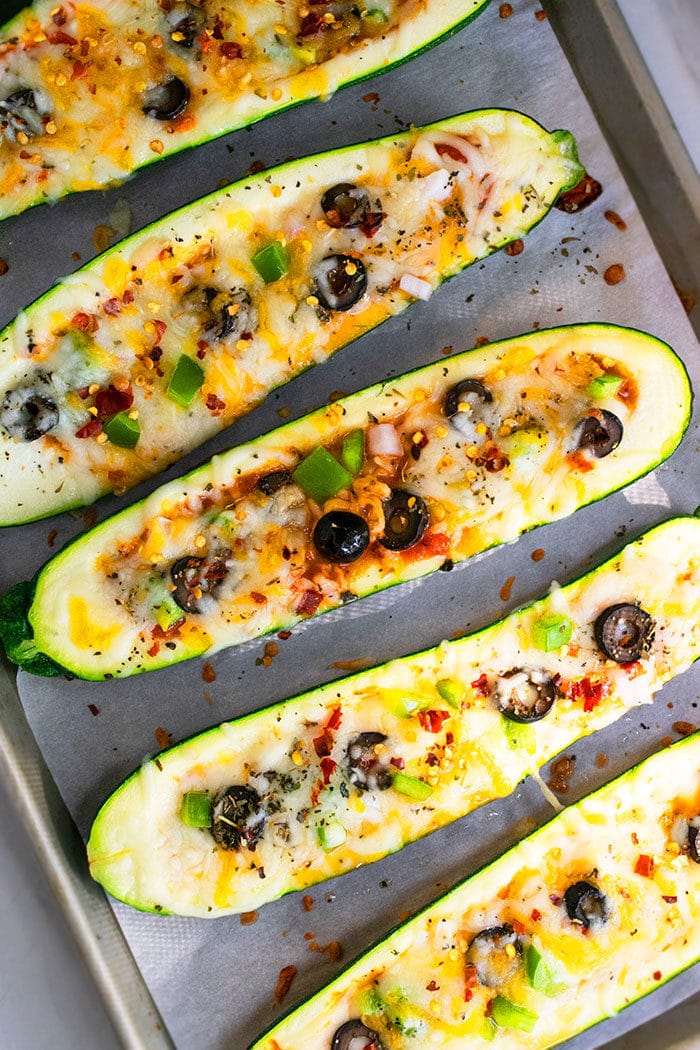 More One Pan Vegetarian Meals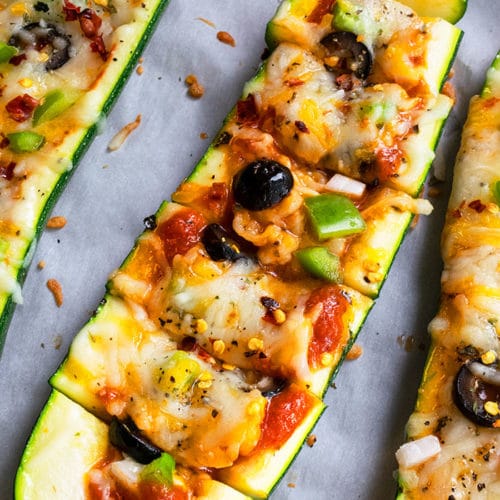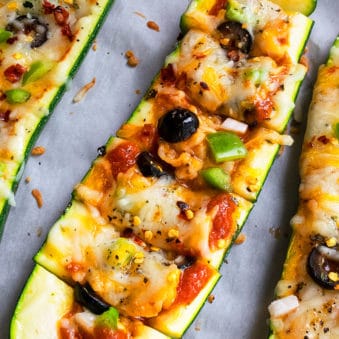 One Pan Stuffed Zucchini Boats
Quick and easy stuffed zucchini boats recipe, homemade with simple ingredients in one pan in 20 minutes. Healthy, low carb, loaded with cheese and veggies.
Yield: People
Instructions
Slice the zucchinis lengthwise and scoop out the seeds with a spoon and discard them. Pat them dry with paper towels.

Brush garlic oil inside each zucchini.

Spread pizza sauce.

Top off with mozzarella, cheddar and parmesan cheese.

Add toppings such as green peppers, onions, olives.

Toss a little more cheese, if you like.

Sprinkle Italian seasoning and red chili flakes on top.

Place them on a sheet pan, lined with parchment paper.

Bake at 400 degrees F for 12-18 minutes or until cheese has fully melted.

Serve immediately. Enjoy!
Notes
Read all my tips above.
Tastes best when served immediately but leftovers can stored in the fridge for up to 2 days and be reheated in the microwave or oven. 
Nutrition
Calories: 291kcal, Carbohydrates: 14g, Protein: 14g, Fat: 20g, Saturated Fat: 8g, Cholesterol: 34mg, Sodium: 921mg, Potassium: 834mg, Fiber: 4g, Sugar: 8g, Vitamin A: 1650IU, Vitamin C: 40.8mg, Calcium: 397mg, Iron: 2.5mg
Happy cooking everyone!