Pesto Chicken (One Pot)
The best, quick and easy pesto chicken recipe, homemade with simple ingredients in one pot or pan over stovetop. This 30 minute meal has tender boneless chicken breast cubes in a thick, cheesy, creamy Italian sauce.
Chances are that if you enjoyed this Basil Pesto Pasta (One Pot), you will become obsessed with today's recipe too.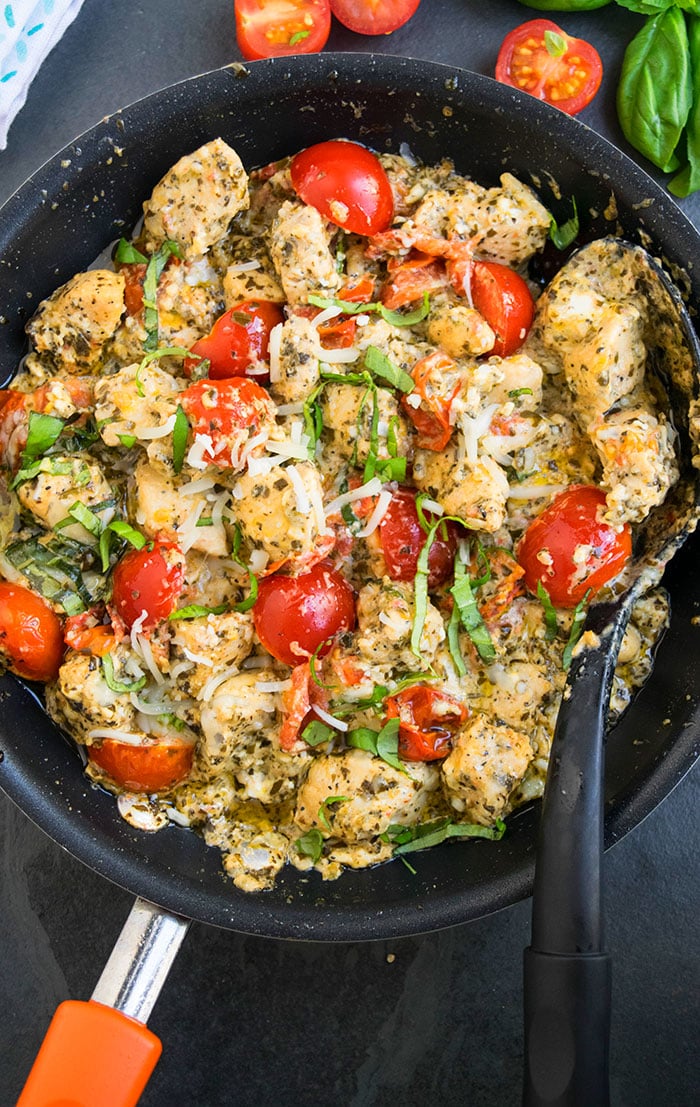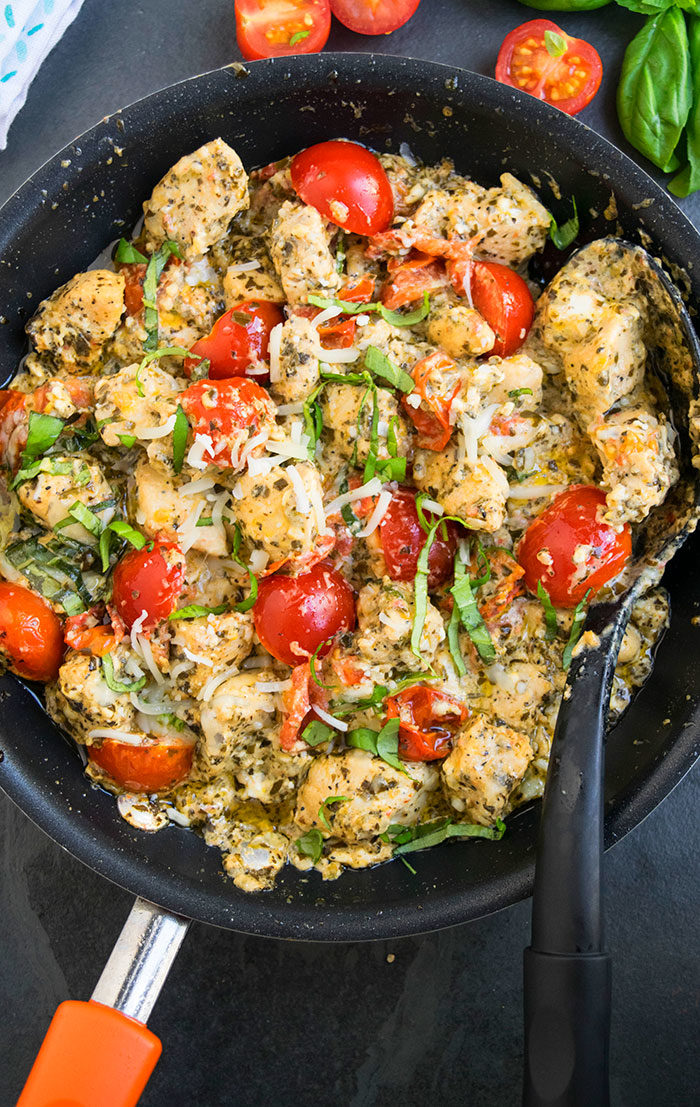 How to make pesto chicken breast?
Heat oil.
Add chicken, herbs and seasonings, pesto and mix.
Cover and cook.
Add cherry tomatoes and mix.
Add cream cheese.
Garnish.
Enjoy!
What sides to serve with creamy basil pesto chicken recipe?
Rice– Boiled or steamed basmati. jasmine or brown rice are all great.
Cauliflower rice– A great low carb option.
Zoodles or zucchini noodles– Another low carb side dish.
Spaghetti squash (Instant pot)– One more low carb option.
Pasta– Any type of boiled pasts accompanies this dish well. Penne, fettuccine or spaghetti are all awesome!
Salad– A simple green salad is always best. I highly recommend not using any strong vinaigrettes and dressings because it would overpower the flavors of the main dish. Try this Italian Spaghetti Salad (One Bowl) or this Italian Tortellini Salad (One Bowl).
Couscous– Just prepare, according to package instructions. Don't season it.
Quinoa– Just boil them with a little salt. It's also very healthy.
Can you bake chicken with pesto?
Yes, you can easily bake and even grill it. Just marinate it in pesto for an hour or overnight. Then, bake in the oven or bbq it on an outdoor grill.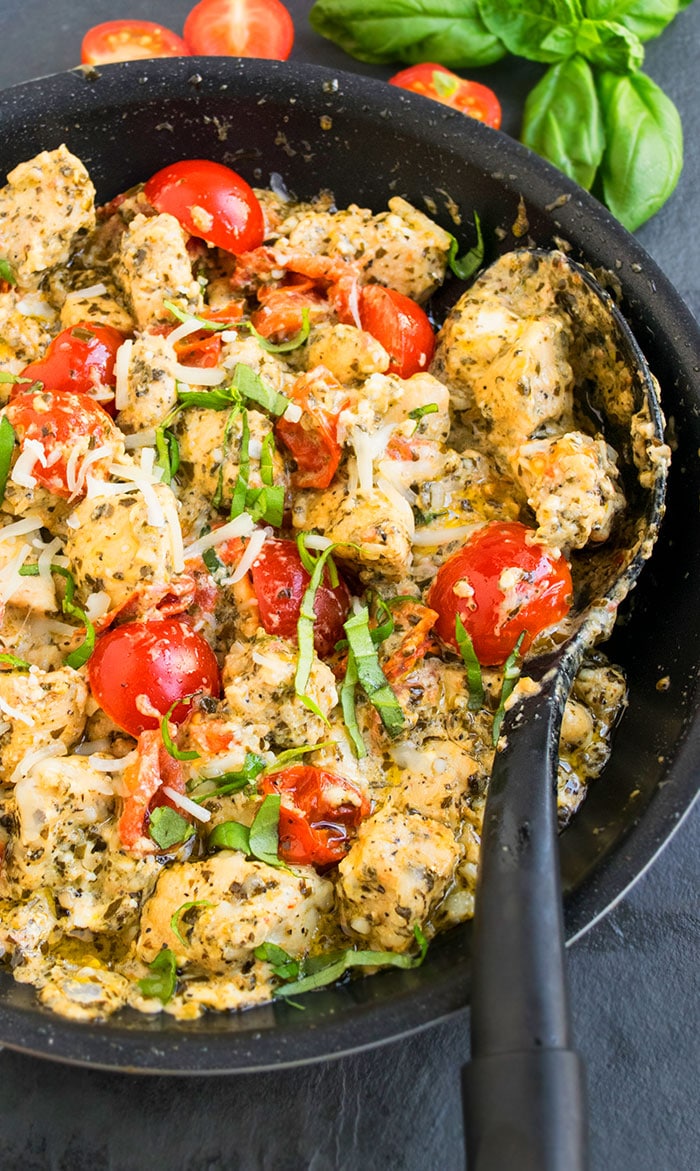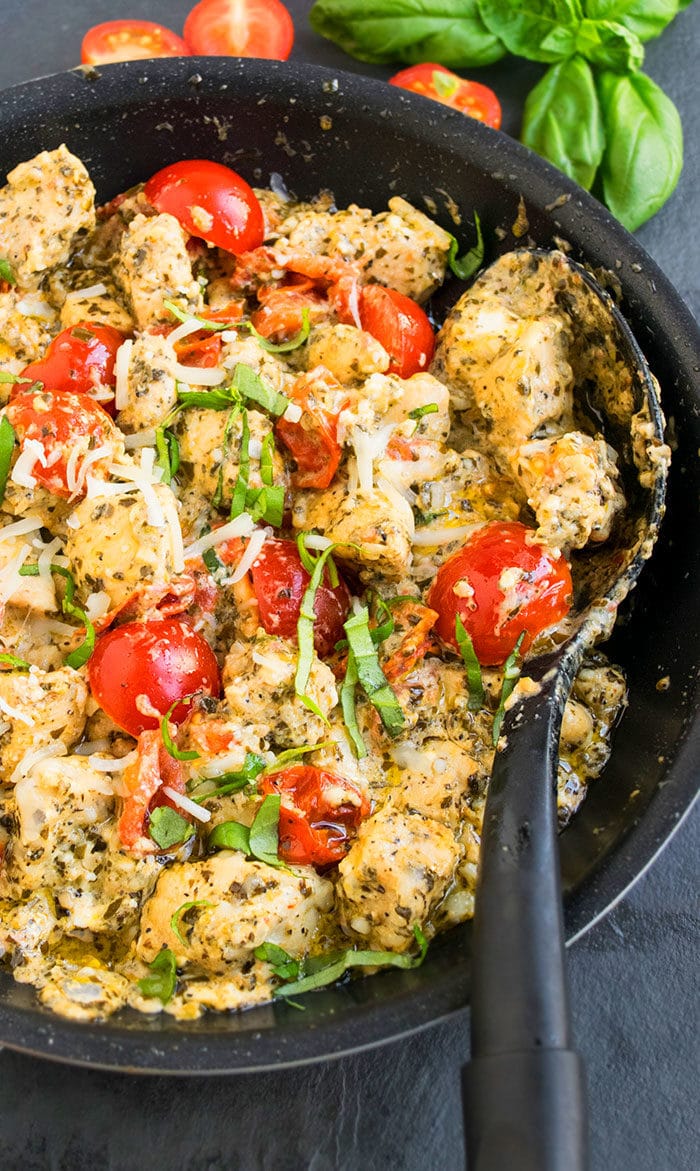 Variations
Chicken pesto pasta recipe- At the end, toss boiled pasta with this chicken until fully coated.
Chicken pesto pizza– Roll out your pizza dough and top it off with pizza sauce, lots of mozzarella cheese and some of these cooked chicken cubes.
Pesto chicken salad– Make your favorite green salad and mix in some of this cooked chicken to make a healthy but filling meal.
Pesto chicken bake or baked pesto chicken/ Grilled pesto chicken– Instead of cooking this over stovetop, you can mix everything together (omit the cream cheese) in a bowl, marinate for at least an hour and then bake in the oven or grill it outside.
Try different garnishes- Shredded cheese, red chili flakes (for a spicy kick!), finely chopped herbs like basil, parsley, cilantro, chives e.t.c.
Tips and techniques
Adjust seasonings- I used very plain basil pesto without any strong seasonings. If you are using pesto that has a strong flavor and packed with heavy seasonings, you will need to adjust quantities of herbs and spices I have used in this recipe, accordingly. 
Use nonstick pot pr pan– Because this prevents burning and sticking.
Use fresh ginger and garlic- Rather than powdered ones because the flavor is better and fresher.
What cut of chicken to use? I used chicken breast cubes but you can also use whole chicken breasts, drumsticks or thighs.
Add vegetables– I only used cherry tomatoes because it complimented the pesto flavor so well but you can also add some frozen veggies like green beans, broccoli, onions and even mushrooms.
Use full fat cream cheese– Because it makes the meal very rich and creamy. However, if you are watching your calories, a healthier alternative would be low fat cream cheese.
What to do with leftovers? Use it to make chicken pesto sandwich, panini or flatbread. It's also great in a grilled cheese sandwich. You can use it as a pizza topping or even use it in salads.
How to thicken sauce or gravy? Cook uncovered until liquid is reduced to your desired thickness and mix in some cream cheese at the end to make a creamy sauce.
What to use instead of cream? Heavy cream is a good alternative.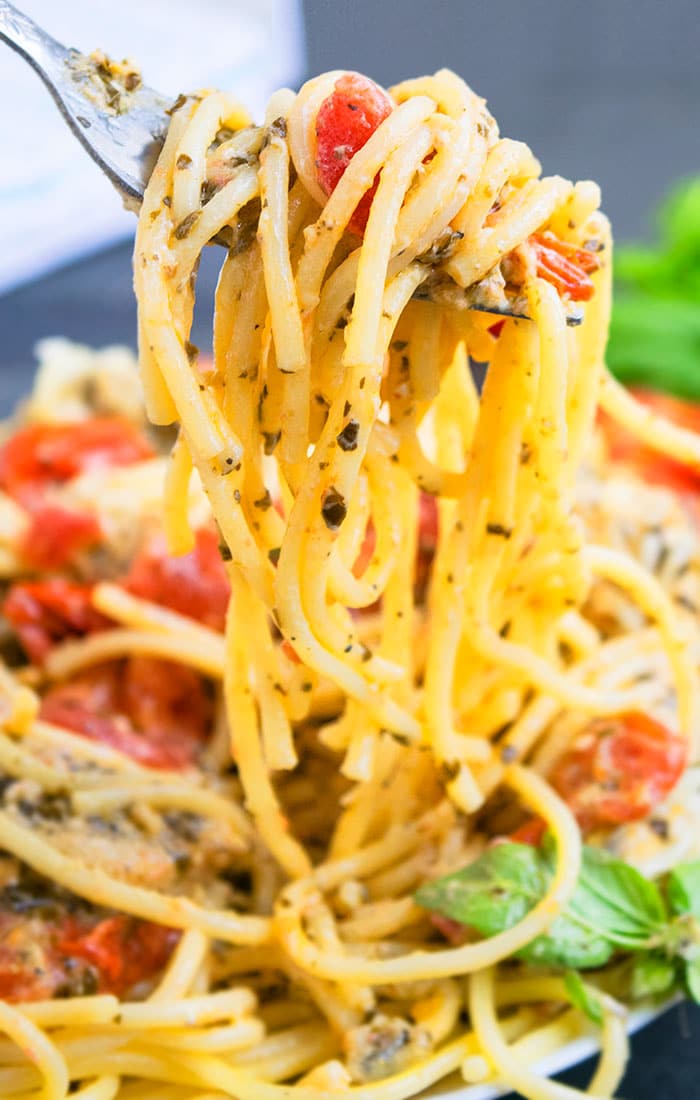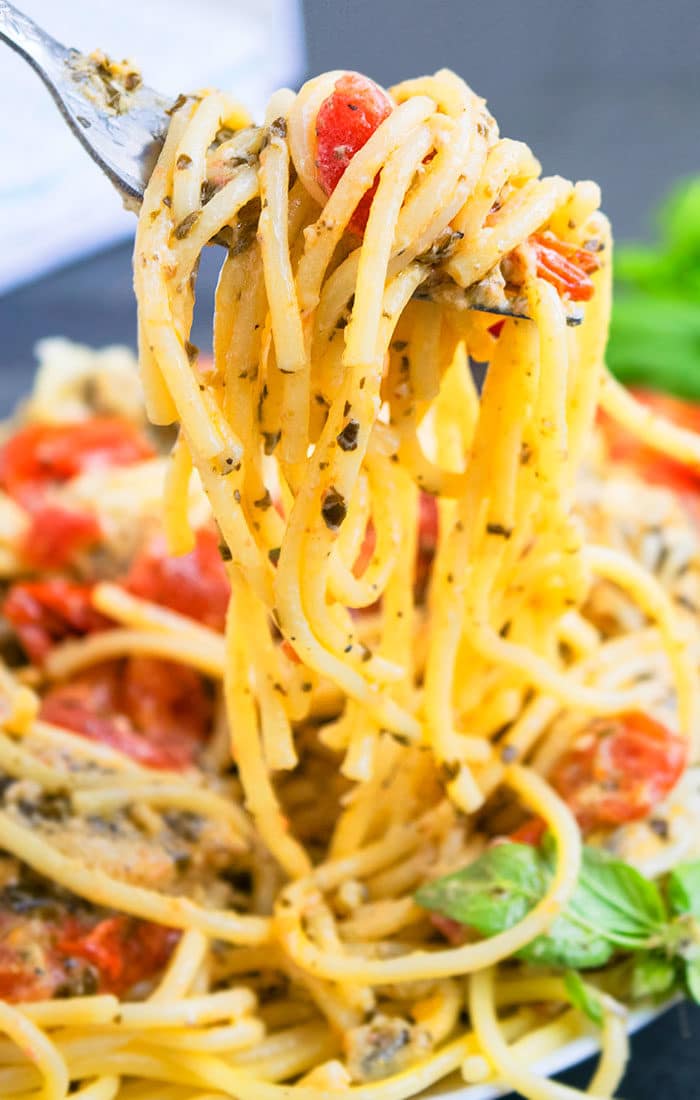 More One pot chicken recipes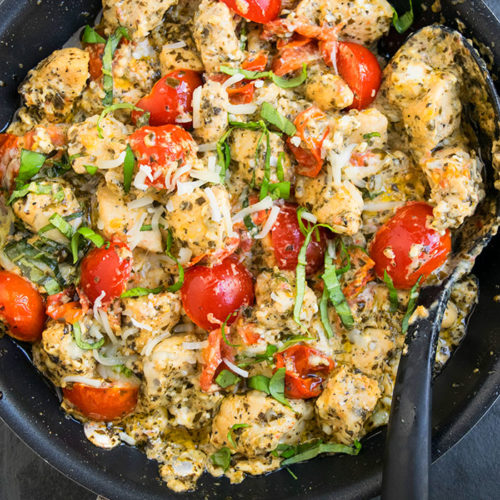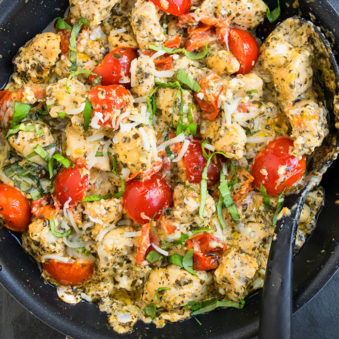 One Pot Pesto Chicken
Quick and easy pesto chicken recipe, homemade with simple ingredients in one pot or pan over stovetop. A 30 minute meal with tender boneless chicken breast in a thick, cheesy, creamy Italian sauce.
Yield: People
Ingredients
2 tbsp Olive oil
1.5 pounds Chicken breast, Cut into 2 inch cubes
1/2 tbsp Ginger, Grated
1 tbsp Garlic, Finely minced
Salt, To taste
Pepper, To taste
1 tsp Italian seasoning
1/4 cup Basil pesto
1 cup Cherry tomatoes, Sliced in half
1/4 cup Cream cheese
2-3 tbsp Mozzarella cheese, Shredded, For garnish
2-3 tbsp Parmesan cheese, Shredded, For garnish
2-3 tbsp Basil, Fresh, Finely chopped, For garnish
Instructions
Add chicken, ginger, garlic, salt, pepper, Italian seasoning, pesto and mix everything together.

Cover and cook for about 10 minutes.

Then, uncover the lid and continue cooking until the liquid is reduced to your desired consistency.

Add cherry tomatoes.

Cover and cook for 1 minute.

Add cream cheese and mix until fully melted.

Garnish with cheese and fresh basil.

Serve over pasta and enjoy!
Notes
Read all my tips above.
Leftovers can be stored in a sealed container in the fridge for up to 3 days and reheated in the microwave or stovetop. 
Nutrition
Calories: 352kcal, Carbohydrates: 4g, Protein: 40g, Fat: 17g, Saturated Fat: 6g, Cholesterol: 133mg, Sodium: 541mg, Potassium: 730mg, Sugar: 2g, Vitamin A: 890IU, Vitamin C: 11.4mg, Calcium: 129mg, Iron: 1.2mg
Happy cooking everyone!