Paprika Chicken (One Pot)
The best, quick and easy paprika chicken recipe, homemade with simple ingredients in one pot or pan over stovetop. This 30 minute meal has tender boneless chicken breast cubes in a thick, creamy, smoky, slightly spicy sauce.
If you liked my Black Pepper Chicken (One Pot) and 40 Cloves Garlic Chicken (One Pot), you are going to love today's recipe. It's inspired by the classic Hungarian chicken paprikash recipe but comes together much more quickly.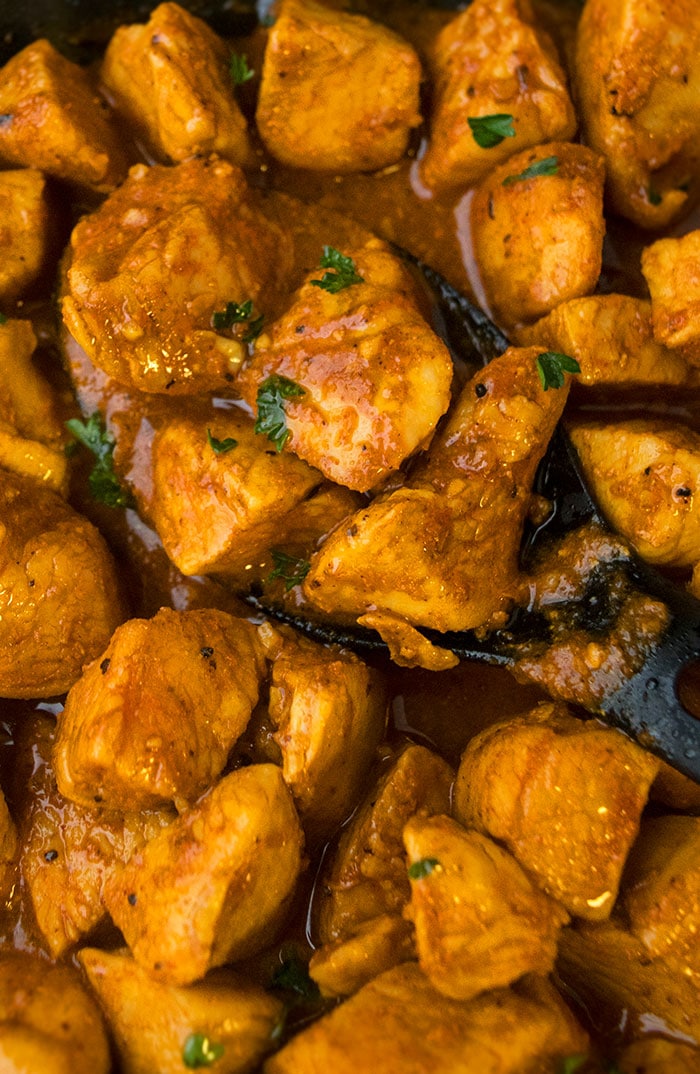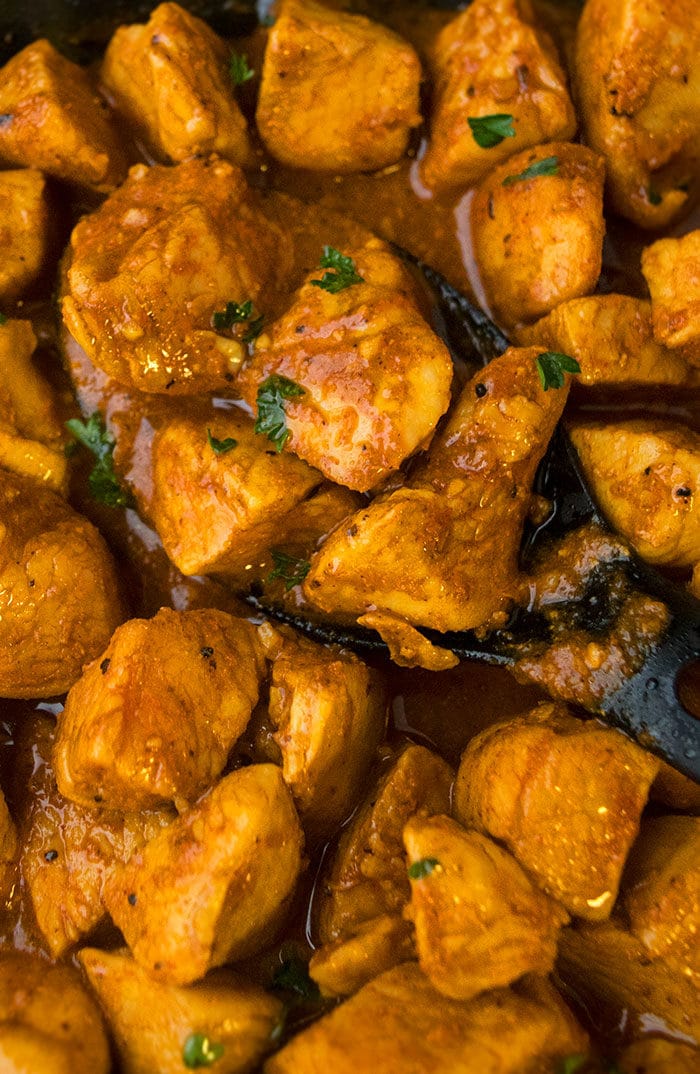 How to make smoked paprika chicken recipe?
Heat butter and oil.
Saute chicken.
Saute onion and garlic.
Add broth, lemon juice, paprika, all-purpose seasoning, cayenne pepper, red chili flakes, salt, pepper.
Mix.
Cover and cook.
Uncover and cook.
Stir in cream cheese.
Garnish with parsley and enjoy.
What to serve with creamy paprika chicken?
Rice– Boiled or steamed basmati or jasmine or brown rice are great.
Cauliflower rice– A great low carb option.
Zoodles or zucchini noodles– Another great low carb side dish.
Fried rice- vegetable fried rice and egg fried rice are both amazing or you can even try this Cauliflower Fried Rice (One Pot).
Pasta– Any type of boiled pasts accompanies this dish well. Fettuccine or spaghetti are my favorite but egg noodles also taste incredible.
Roasted vegetables– A classic side dish. Here are some of my family's favorites: Oven Roasted Carrots (One Pan), Oven Roasted Cauliflower (One Pan), Oven Roasted Green Beans (One Pan), Oven Roasted Broccoli (One Pan), Oven Roasted Asparagus (One Pan).
Salad– A simple green salad always works great. Don't use any strong vinaigrettes and dressings so as to allow the flavors of the main dish to really shine through. Here are some salads to choose from: Tomato Avocado Salad (One Bowl), Broccoli Salad (One Bowl), Cherry Tomato Salas (One Bowl).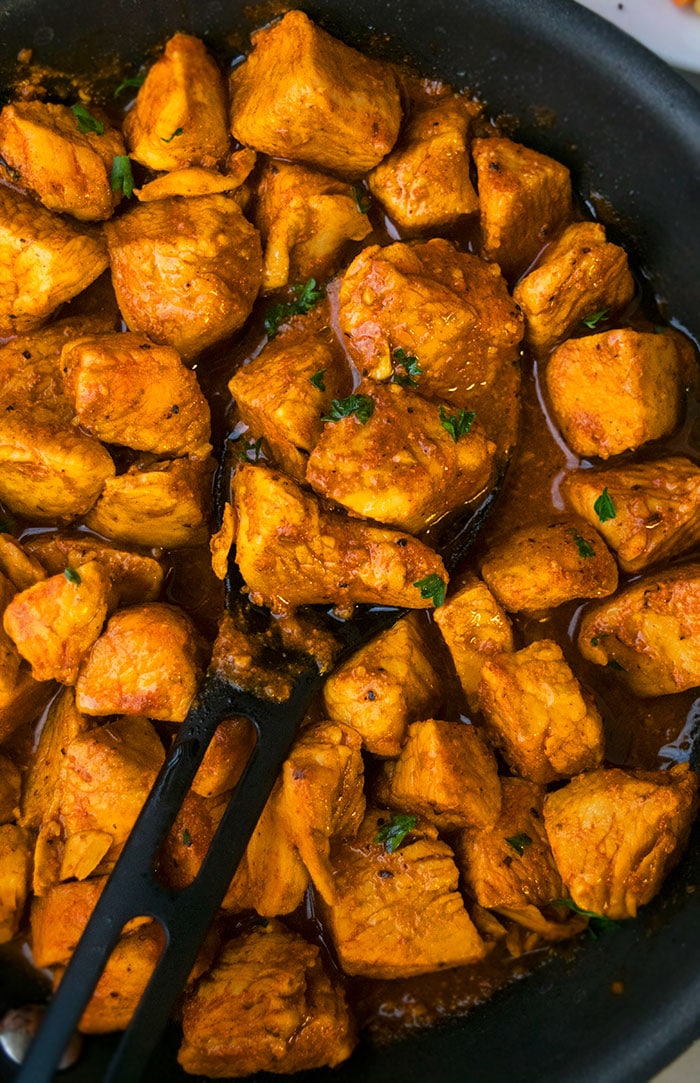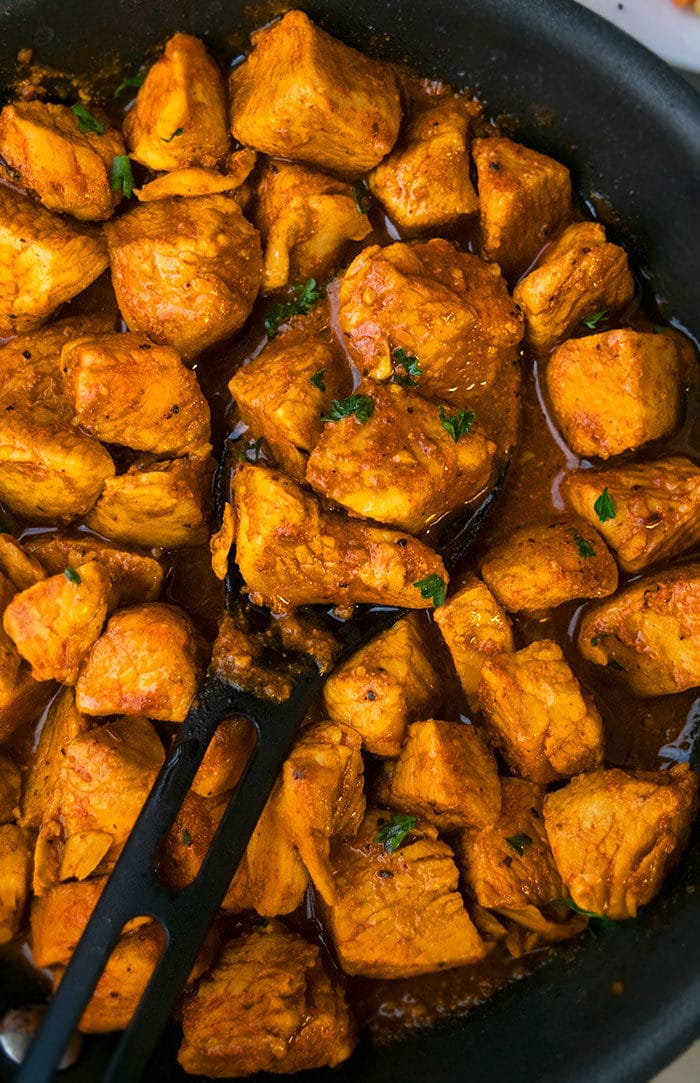 Variations
Paprika chicken and rice– Use the recipe below to prepare the chicken and sauce and when it's ready, mix in 2 cups of leftover boiled/steamed rice. Garnish with parsley and serve immediately.
Fried, Baked or Grilled paprika chicken marinade– If you want to fry, bake or grill the chicken, mix together all the ingredients in a bowl and marinade in the fridge overnight. Then, prepare it as you wish, the next day.
How to make paprika chicken in slow cooker? This is NOT my favorite way to make this recipe. Anyways, if you want to try it, add all the ingredients in a crockpot. Increase the amount of broth to 1/3 cup. Mix. Cover and cook on high for 4 hours or until chicken is tender.
Add frozen vegetables– To make this meal even more hearty, mix in some frozen vegetables like green beans, corn, peas, broccoli, green peppers in the last 5 minutes and cook until tender.
Tips and Techniques
Adjust amount of seasonings– This is entirely a personal preference. Add more or less of whatever you like/dislike.
Use nonstick pot or pan- That's because this prevents sticking and burning, especially since you are cooking on high heat.

What meat to use? You can use boneless chicken breast cubes, large breast pieces, drumsticks, thighs and even wings.
Use low sodium ingredients– To prevent the meal from becoming too salty. This is especially in regards to butter and broth.
How to thicken sauce or gravy? Cook uncovered until liquid is reduced to your desired thickness and mix in some cream cheese at the end to make a creamy sauce. Heavy cream and sour cream are both good alternatives to cream cheese.
All-purpose seasoning substitute– I always have this in my pantry because it can be used to enhance the flavor in so many recipes. You can replace it with a little Italian seasoning or some dried oregano.
Garnish options- Red chili flakes, green onions, chopped parsley, cilantro or green chilies.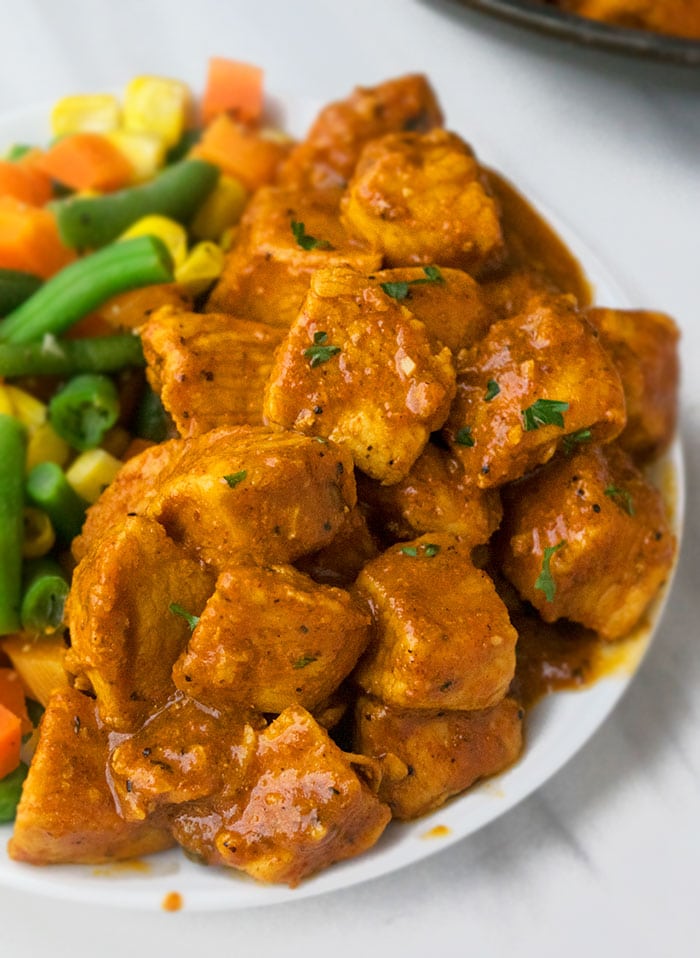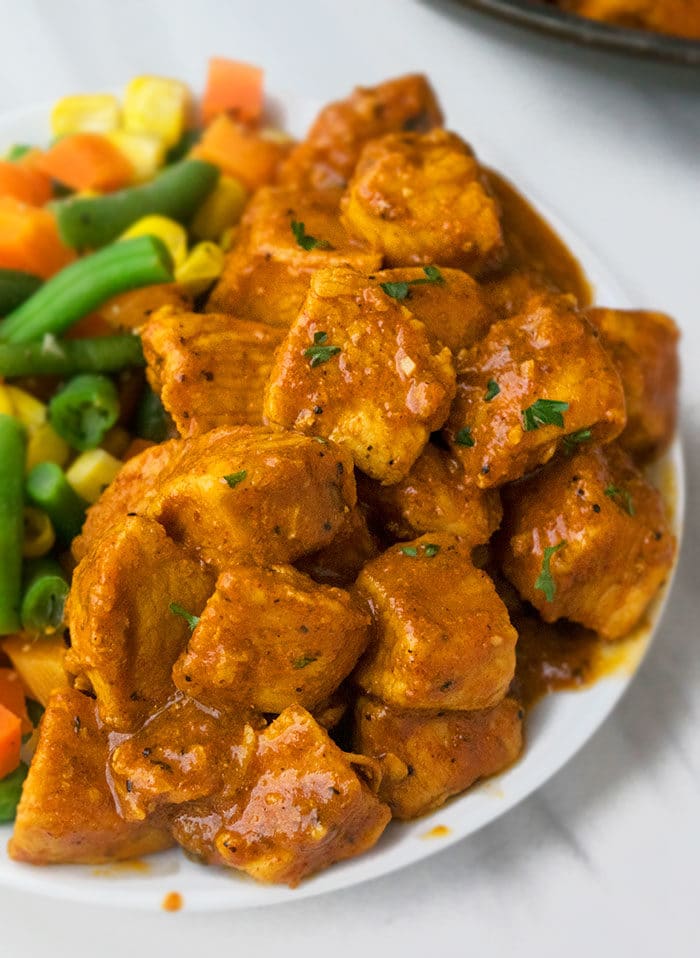 Other One Pot Chicken Meals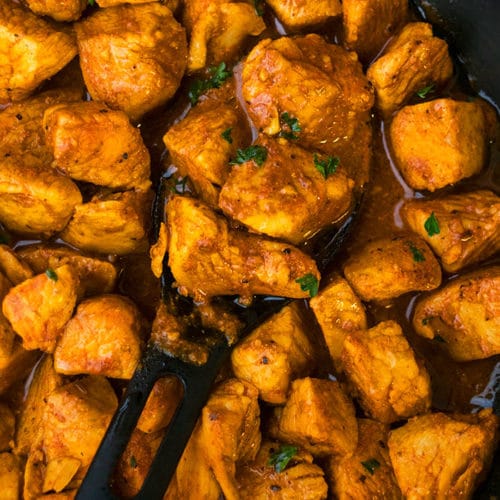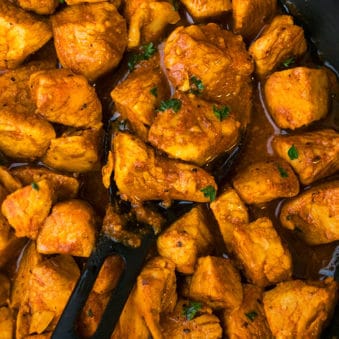 One Pot Paprika Chicken Recipe
Quick and easy paprika chicken recipe, made with simple ingredients in one pot over stovetop. This 30 minute meal with chicken breasts is creamy & smoky.
Yield: People
Ingredients
1 tbsp Oil
1 tbsp Butter, Unsalted
1.5 pounds Chicken breast, Cut into 1 inch cubes
2 tbsp Onion, Finely chopped
2 cloves Garlic, Finely minced
2-3 tbsp Chicken broth, Low sodium
1 tbsp Lemon juice, Or lime juice
2 tsp Paprika
1/4 tsp Red chili flakes, Optional
1/4 tsp Cayenne pepper
1 tsp All-purpose seasoning, Or Italian seasoning
Salt, To taste
Pepper, To taste
2 tbsp Cream cheese, Optional, To make this dish creamy
1 tbsp Parsley, Fresh, Roughly chopped, For garnish
Instructions
Add chicken and saute until no longer pink.

Add onion and garlic and saute until fragrant.

Add broth, lemon juice, paprika, red chili flakes (optional), cayenne pepper, all-purpose seasoning, salt, pepper. Mix everything together.

Cover and cook for 8-10 minutes until chicken is tender.

Remove lid and cook for a few more minutes until liquid is reduced and sauce thickens, to your desired consistency.

Turn off heat and stir in cream cheese (optional) to make the sauce very creamy.

Garnish with parsley. Enjoy!
Notes
Read all my tips above.
Leftovers can be stored in a sealed container in the fridge for up to 3 days.
Nutrition
Calories: 288kcal, Carbohydrates: 3g, Protein: 37g, Fat: 13g, Saturated Fat: 4g, Cholesterol: 124mg, Sodium: 277mg, Potassium: 681mg, Fiber: 1g, Vitamin A: 990IU, Vitamin C: 6.1mg, Calcium: 41mg, Iron: 1.4mg
Happy cooking everyone!