Chicken Fried Rice (One Pot)
The best, healthy, quick and easy chicken fried rice recipe, homemade with simple ingredients in one pot over stovetop. This 30 minute meal is better than Chinese takeout. Loaded with scrambled eggs, frozen vegetables, boneless chicken breast cubes. 
I have already shared recipes for Vegetable Fried Rice (One Pot) and Bacon Fried Rice (One Pot) and I am happy to share another version today, which is a classic and super popular at Asian restaurants.
It's hearty and filling plus a great way to use up leftover rice. Also known as chicken stir fry with rice or chicken and rice stir fry.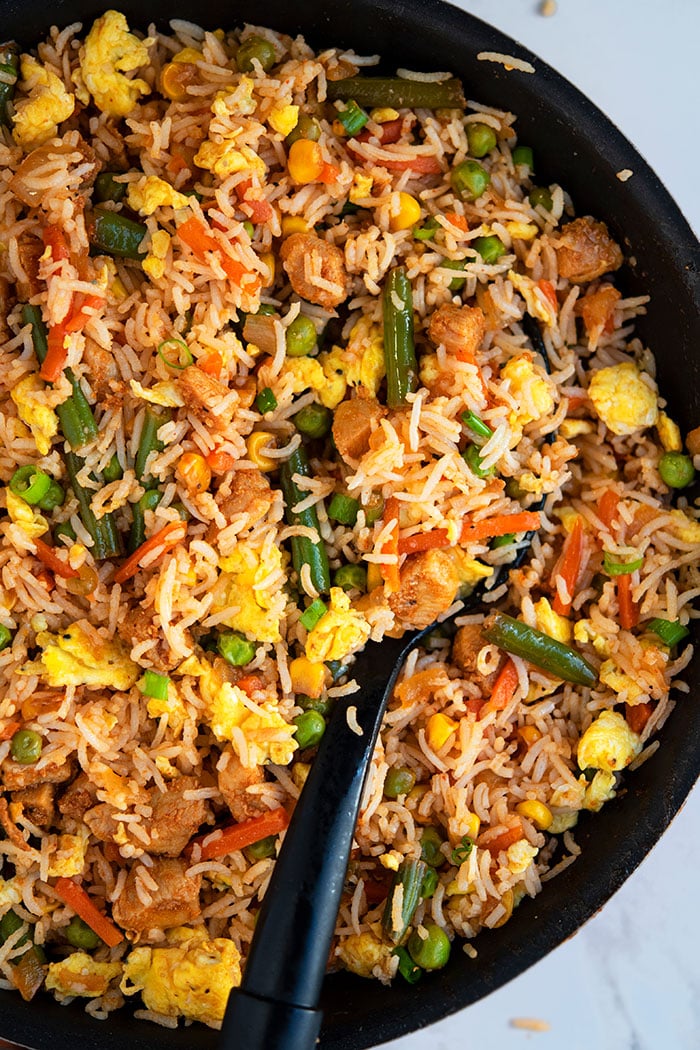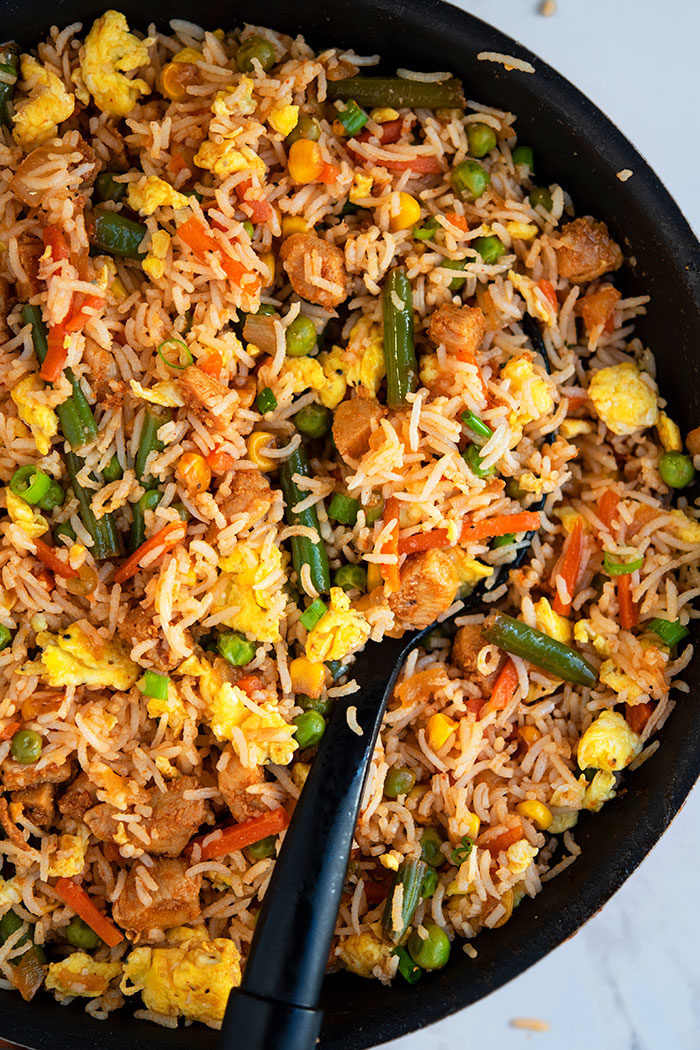 How to make chicken fried rice?
Heat oil.
Saute chicken and keep aside.
Saute vegetables.
Make scrambles eggs.
Mix it with the veggies.
Mix in rice, seasonings and Asian sauces.
Garnish with green onions.
Enjoy!
What sides to serve with homemade chicken fried rice recipe?
Typically, it's served with stir fried chicken, beef or shrimp that's smothered in an Asian sauce or gravy. Here are some of of my family favorites:
You can also add a salad to this meal such as this Asian Cucumber Salad (One Bowl).
Some people also serve soups on the side such as this Homemade Chicken Noodle Soup (One Pot) or this Egg Drop Soup (One Pot).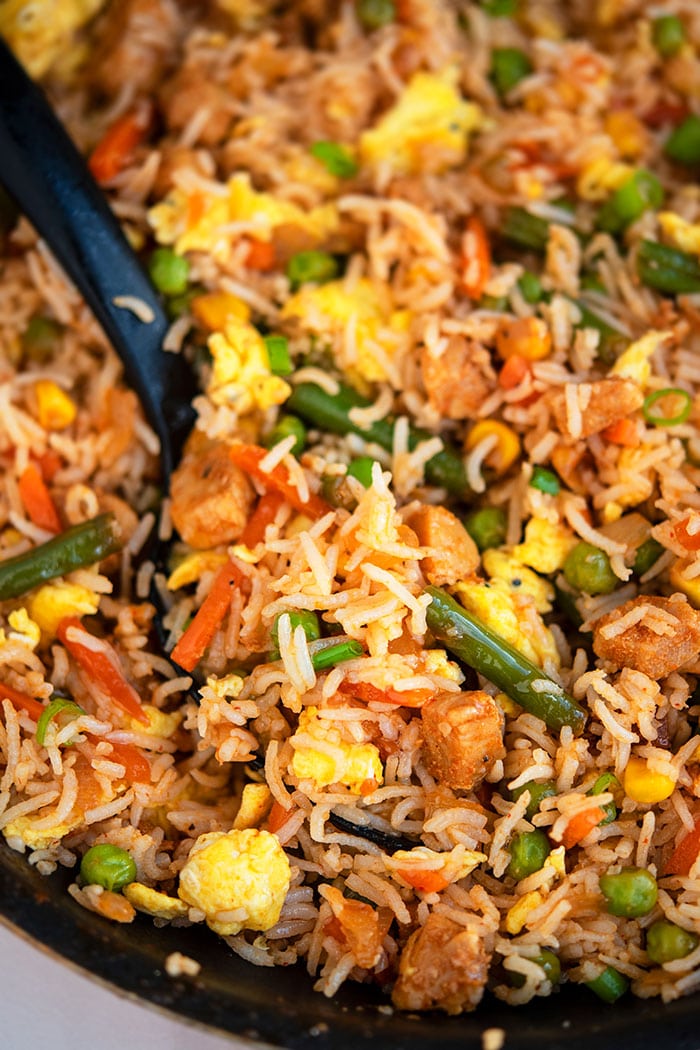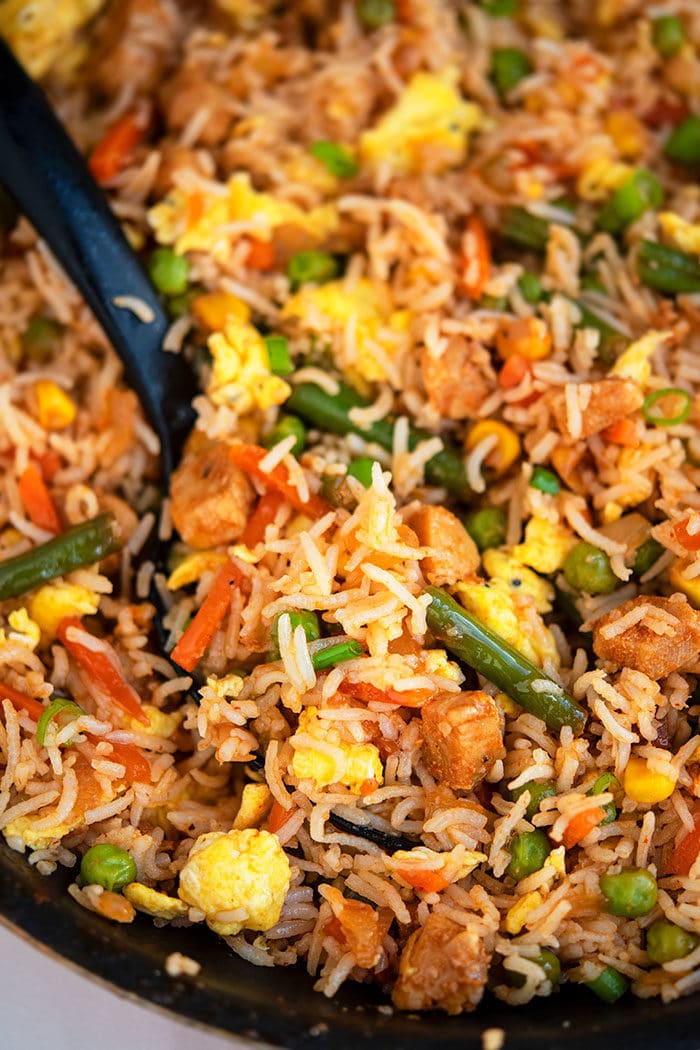 Variations
Hawaiian pineapple chicken fried rice– Add 1/2 cup of pineapple chunks (fresh or canned) and some red chili flakes to give it a wonderful sweet and spicy flavor.
Teriyaki fried rice– Add 1-2 tablespoons of teriyaki sauce.
Indian fried rice- This is a spicy version. Add more sriracha sauce, red chili flakes, and ginger garlic paste.
Omit vegetables- If you are not fond of vegetables, replace them with 1 additional scrambled egg to make simple egg fried rice. You can also use veggies of your choice.
Add shrimp or ham– Replace chicken with the same quantity of shrimp or ham. The ham is already cooked. So, you would just need to shred it or cut it into cubes and mix it in at the end. The shrimp, however, would have to be sauteed first.
Add tofu– For a vegetarian version, replace chicken with firm tofu cubes.
For a healthier version, you can also make this low carb Cauliflower Chicken Fried Rice (One Pot). Just add chicken to that recipe.
Replace regular rice– You can use leftover quinoa or zoodles or even cauliflower rice.
Garnish options- Green onions are truly the best, most authentic choice but you can also toss some roasted sesame seeds or chopped cashews and peanuts. All of them add a wonderful aroma and nice crunch.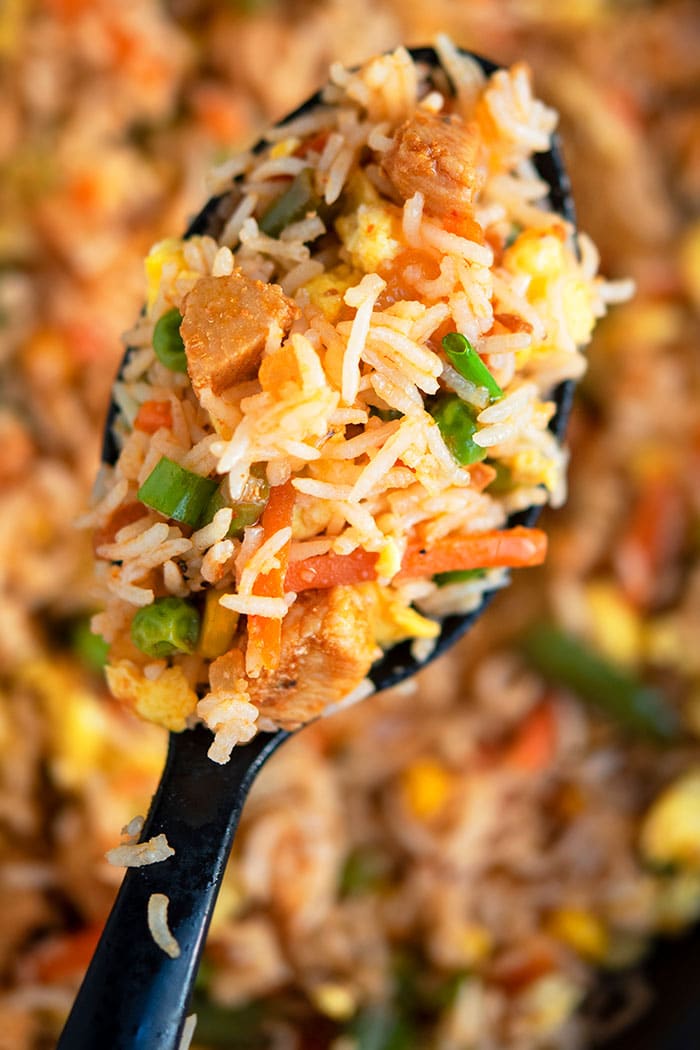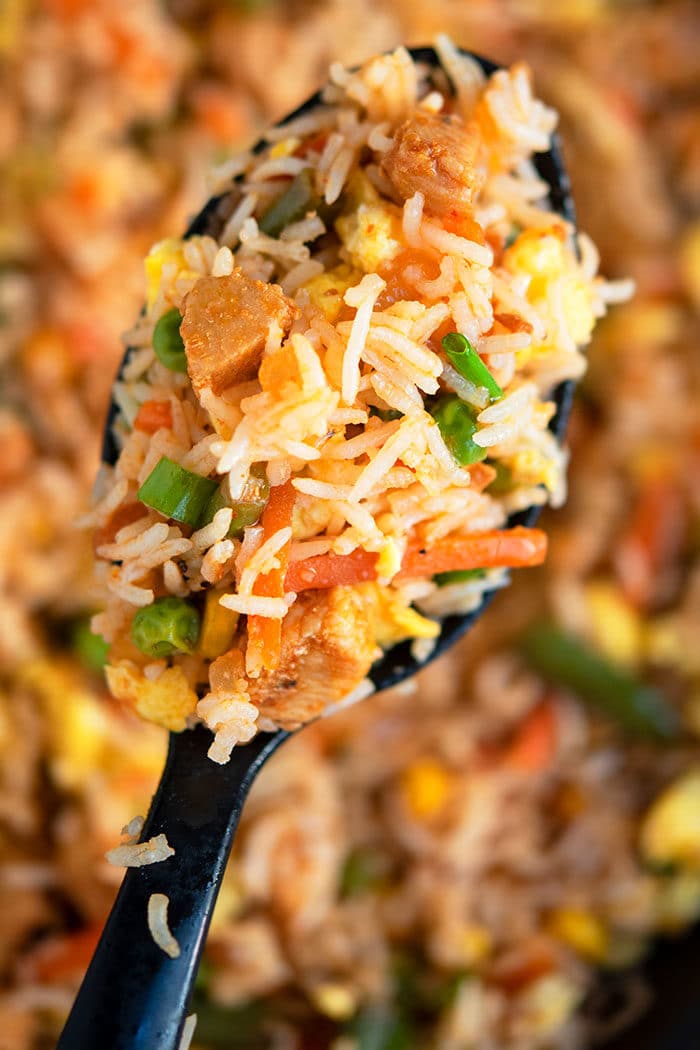 Tips and Techniqes
Don't omit sesame oil– Even though it's a small quantity, it adds a very strong authentic Asian flavor.
Use nonstick pot, pan, skillet or wok– Because this prevents sticking and burning.
Use low sodium soy sauce– To prevent this meal from becoming too salty.
Use old leftover rice– Because they hold their shape and stay separate and don't clump together, when stir-fried.
What rice to use for fried rice? It can be brown, jasmine or even basmati. Medium or long grain rice is best. Remember that you need to use boiled/cooked rice. It should be chilled and a little stale.
Can you freeze fried rice? No, because the texture changes when it thaws and it does not taste that great any more.
Adjust amount of seasonings– This is a very versatile recipe. Add more or less of whatever you like/dislike.
Fresh vegetables vs. Frozen vegetables– Either can be used. Frozen is just convenient.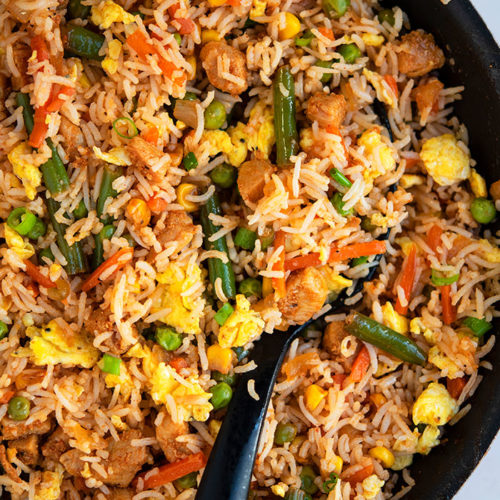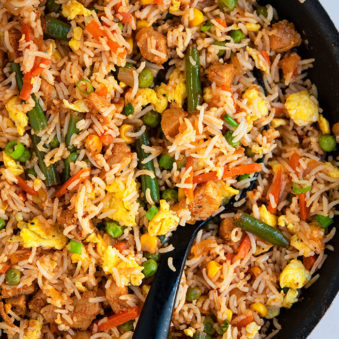 One Pot Chicken Fried Rice
Quick and easy chicken fried rice recipe, homemade with simple ingredients in one pot over stovetop. This 30 minute meal is better than Chinese takeout.
Yield: People
Ingredients
1.5 tbsp Sesame oil
1.5 tbsp Vegetable oil, Can also use canola, corn or light olive oil
1 pound Chicken breast, Cut into small cubes
Salt, To taste
Pepper, To taste
1 1/4 cup Frozen vegetables, Combination of peas, carrots, corn, green beans
3 cloves Garlic, Finely minced
2 Eggs, Large
4 cups Rice, Jasmine or Basmati, Already cooked, Day old is best
3-4 tbsp Soy sauce, Low sodium
1-2 tbsp Sriracha sauce
3 tbsp Green onions, Finely chopped, For garnish
Instructions
Heat half the sesame oil and half the vegetable oil in a large wok or nonstick pot or pan over medium- high heat.

Add chicken cubes and lightly season with salt and pepper.

Saute for a few minutes until cooked through and golden brown.

Remove from wok and keep aside.

Add remaining oils in the wok and heat over medium-high heat again.

Add frozen veggies and saute for 1-2 minutes.

Then, add garlic and saute for about 1 minute until fragrant.

Push these veggies to one side of the wok and add eggs.

Scramble them until fully cooked.

Mix them with the other veggies.

Add rice, cooked chicken, soy sauce, sriracha sauce, additional salt, pepper and mix everything together.

Garnish with lots of green onions. Enjoy!
Notes
Read all my tips above.
Leftovers can be stored in a sealed container in the fridge for up to 2 days. 
Nutrition
Calories: 650kcal, Carbohydrates: 105g, Protein: 29g, Fat: 11g, Saturated Fat: 4g, Cholesterol: 102mg, Sodium: 693mg, Potassium: 555mg, Fiber: 3g, Vitamin A: 2055IU, Vitamin C: 7.5mg, Calcium: 63mg, Iron: 2.1mg
Happy cooking everyone!