Homemade Veggie Dip (One Bowl)
Classic, quick, easy, rich and creamy veggie dip recipe, homemade with simple ingredients in one pot or bowl in 10 minutes. Loaded with herbs and spices!
If you are having a party, you must include today's recipe as well as this Spinach Artichoke Dip (One Bowl) on your menu. They are delicious!
Today's dip uses a combination of sour cream, cream cheese and mayonnaise for maximum richness and creaminess.
If you were to use sour cream or mayonnaise only, the end result will be very tangy. If you were to use only cream cheese, the end result would be very cheesy. You really need all 3 ingredients for a balanced flavor.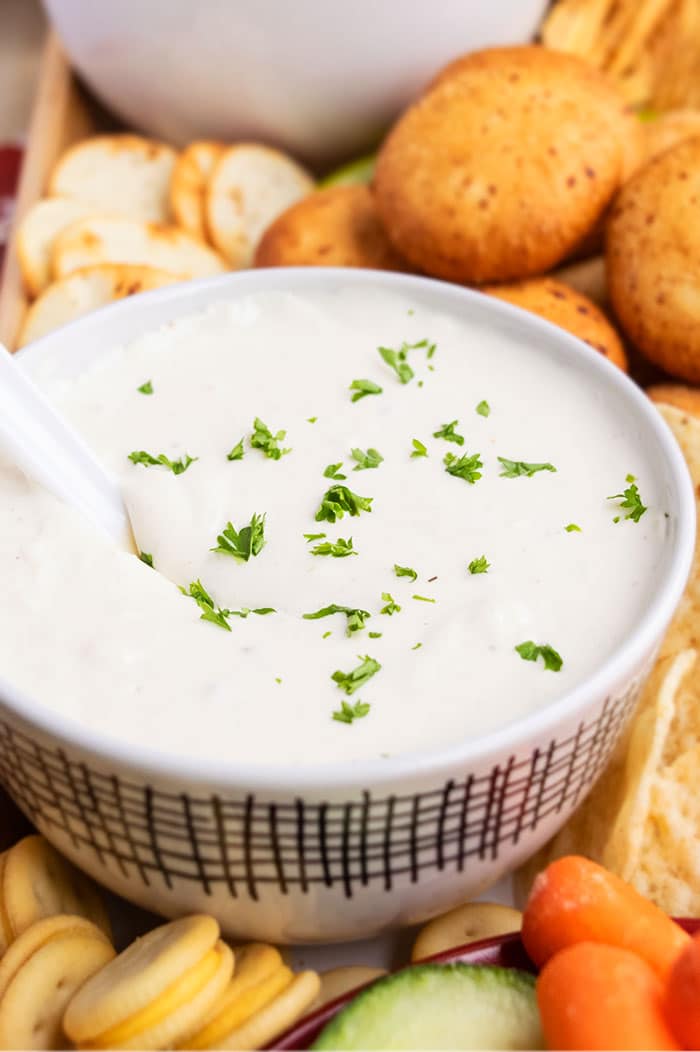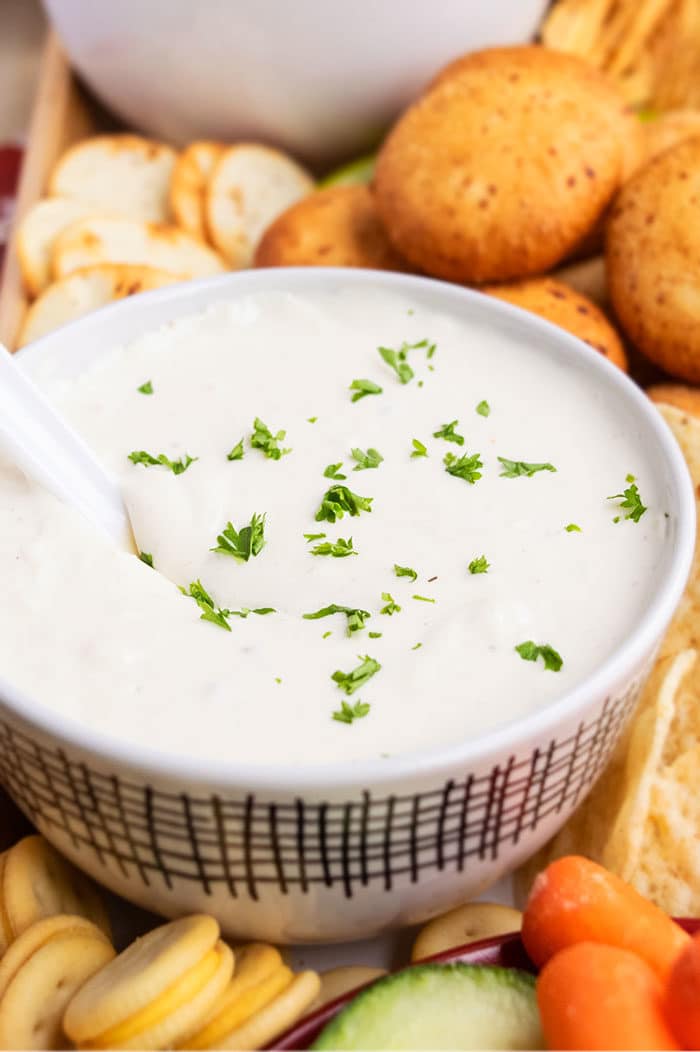 How to make veggie dip recipe?
Mix cream cheese, sour cream and mayo– It should be smooth and creamy.
Add herbs– Toss in all the herbs and mix them until smooth.
Chill- Cover and refrigerate for at least one hour to allow the flavors to deepen.
Enjoy! Serve with veggies and chips.
Uses for vegetable dip recipe
Typically, it's served as an appetizer at dinner parties or game day and tailgating parties.
You can also use it as a spread on sandwiches, burgers and subs. Try it on this Mediterranean Veggie Sandwich. Yum!
Thin it out and add a dollop on top of tacos or drizzle over nachos. You can even use it as a salad dressing. Mix it in soup to make it very creamy and give it a boost of flavor too.
What to serve with veggie dip?
Typically, use firm vegetables that hold their shape and have a little crunch. These are the best vegetables for dipping:
Cucumber
Celery
Cherry tomatoes
Peppers (use a variety of colors)
Broccoli
Cauliflower
Snap peas
Asparagus
Carrots (Especially baby carrots)
Instead of veggies, you can also serve the following:
Nuggets
Mini meatballs
Smokies or mini hot dogs
Sausage bites
Mini pizza bites
Garlic bread
Breadsticks
Fritters
Mozzarella sticks
Chips (Regula or tortilla chips or pita chips)
Pretzels
Crackers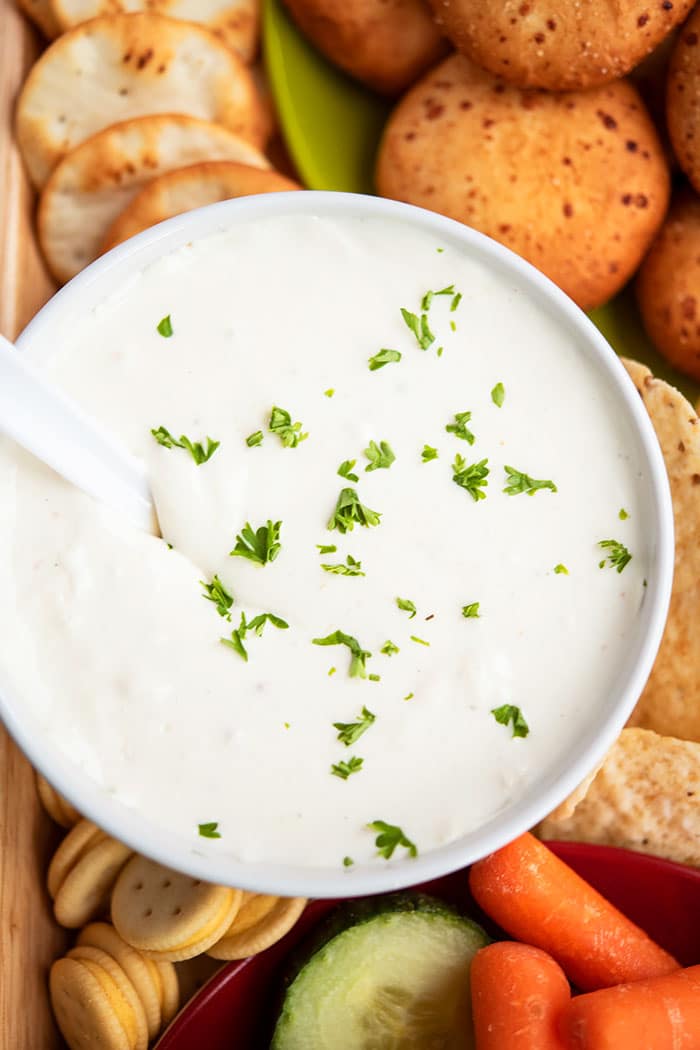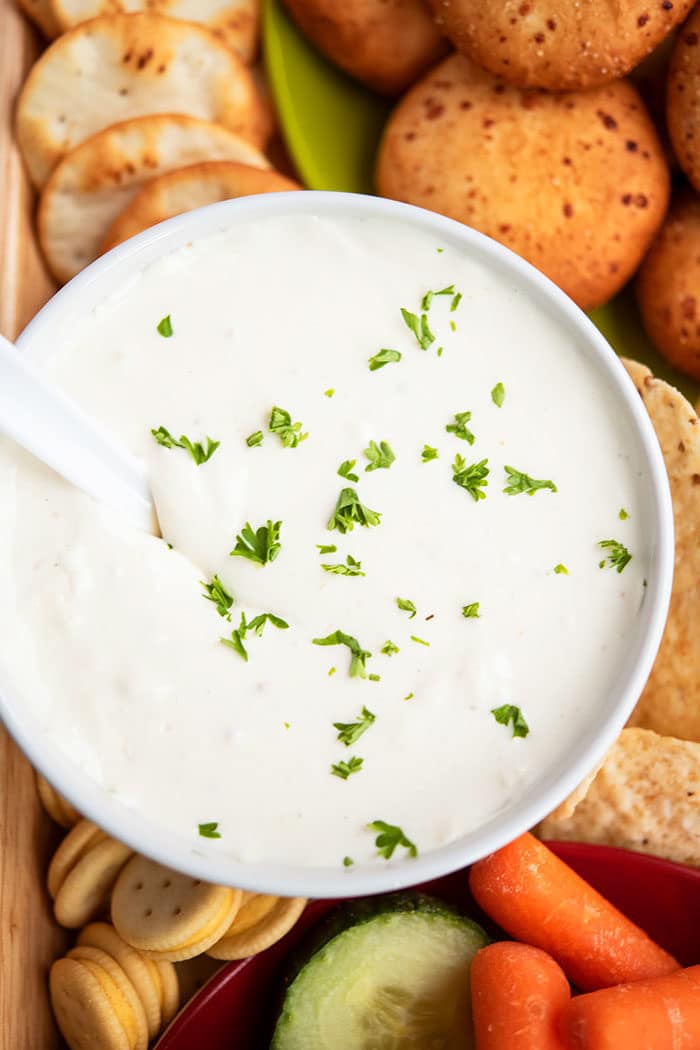 Variations
Healthy Greek yogurt veggie dip– Replace sour cream with Greek yogurt and use low fat cream cheese, low fat mayo. These substitutions will help to lighten the dip and make it a bit healthier.
Ranch veggie dip- Replace all the herbs and spices with 2-3 tbsp ranch seasoning.
Make it spicy– Mix in some red chili flakes.
Use other herbs and spices– Try a spice blend such as Italian Seasoning, Greek Seasoning, Mexican taco seasoning or a Jamaican jerk seasoning. Get as creative as you like!
Add a cheese topping- Add shredded mozzarella cheese or Monterey jack cheese on top. Then, heat in the microwave and serve it as am ooey gooey cheesy warm dip.
Tips and Techniques
Fresh herbs vs. Dried herbs– Either can be used. I prefer dried herbs since those are readily available in most people's pantries but fresh herbs look nicer and more vibrant.
Resting is important– Don't skip this step because it allows the flavors to develop and deepen. The longer it rests, the stronger the flavor.
Adjust amount of herbs– This is based on your preference. Add more or less of whatever you like or dislike.
Use full-fat ingredients- Because that makes this dip super rich and creamy.
How to fix a thin dip? Thicken it by adding more cream cheese and use less milk.
How to fix a thick dip? Thin it out by mixing in a little milk.
Serve it hot or cold– It's usually served cold.
Can cream cheese veggie dip be frozen? No, it's is best served fresh. When it is frozen and then thawed, the fats will separate and the dip will become watery.
How long does does homemade dip last at room temperature? Serve it chilled. Leave it out for no longer than 2-3 hours because the dairy in it is perishable.
Make ahead sour cream veggie dip instructions- Make it a day in advance and keep it chilled in the fridge until you are ready to serve.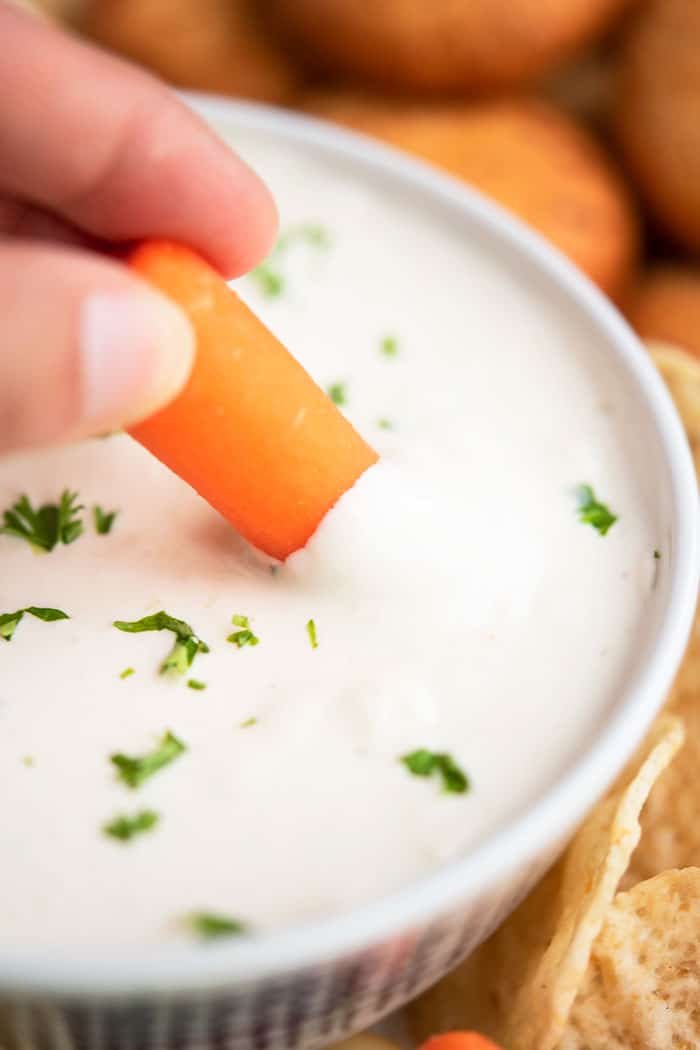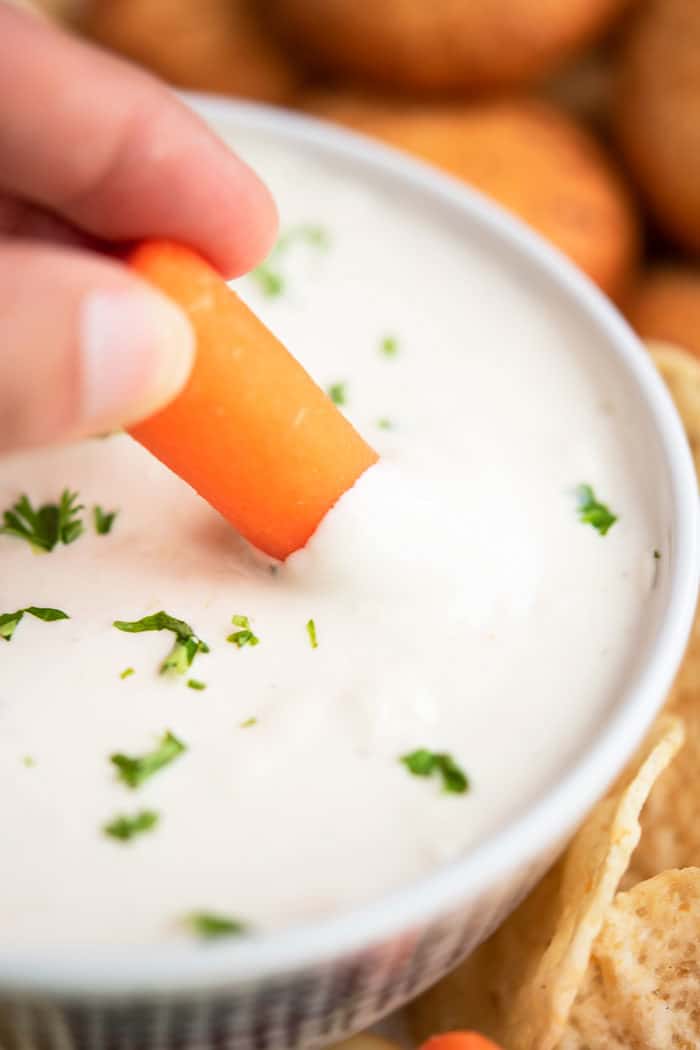 More Dip Recipes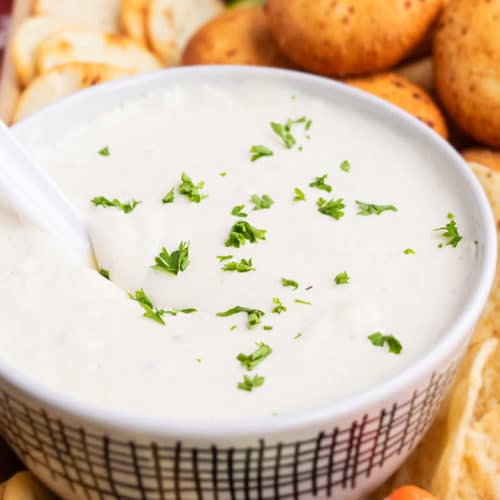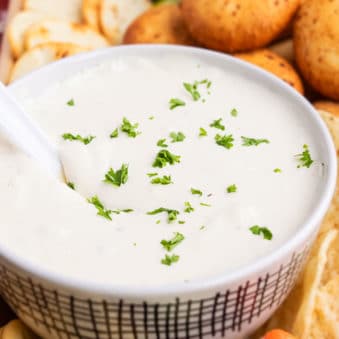 One Bowl Veggie Dip
Classic, quick, easy, rich and creamy veggie dip recipe, homemade with simple ingredients in one pot or bowl in 10 minutes. Loaded with herbs and spices!
Yield: People
Instructions
In a medium-size mixing bowl, add sour cream, mayonnaise, cream cheese and mix until smooth.

Mix in all the herbs and spices until combined.

If the dip is too thick for your liking, mix in a little milk until desired consistency is achieved.

Garnish with some freshly chopped basil, if you like.

Cover and chill for at least 1 hour to allow the flavors to develop.

Serve with an assortment of vegetables. Enjoy!
Notes
Read all my tips above.
Leftovers can be stored in a sealed container in the fridge for up to 3 days. 
Nutrition
Calories: 402kcal, Carbohydrates: 4g, Protein: 3g, Fat: 42g, Saturated Fat: 12g, Cholesterol: 57mg, Sodium: 331mg, Potassium: 132mg, Fiber: 1g, Sugar: 3g, Vitamin A: 1088IU, Vitamin C: 6mg, Calcium: 78mg, Iron: 1mg
Happy cooking everyone!