Szechuan Chicken (One Pot)
Quick and easy Szechuan chicken recipe, homemade with simple ingredients in one pot over stovetop in 30 minutes. Sweet & spicy, better than Chinese takeout! It's also known as Sichuan chicken.
This comes very close to the authentic recipe from one of my favorite Chinese restaurants because it uses Szechuan peppercorns, which adds a unique flavor and aroma. I love it just as much as this Cashew Chicken (One Pot) and Chinese Bourbon Chicken (One Pot).
If you have never heard of or used Szechuan peppercorns, you will be pleased to learn that they are actually not spicy like chilis or pungent like peppers. Instead, they have a slight citrus flavor, while packing slight heat.
Today's flavorful dish is as comforting as take-out, but also delicious enough to serve to guests at a dinner party. These recipes are great any time of year, and leftovers can easily be packed up for a work lunch the next day.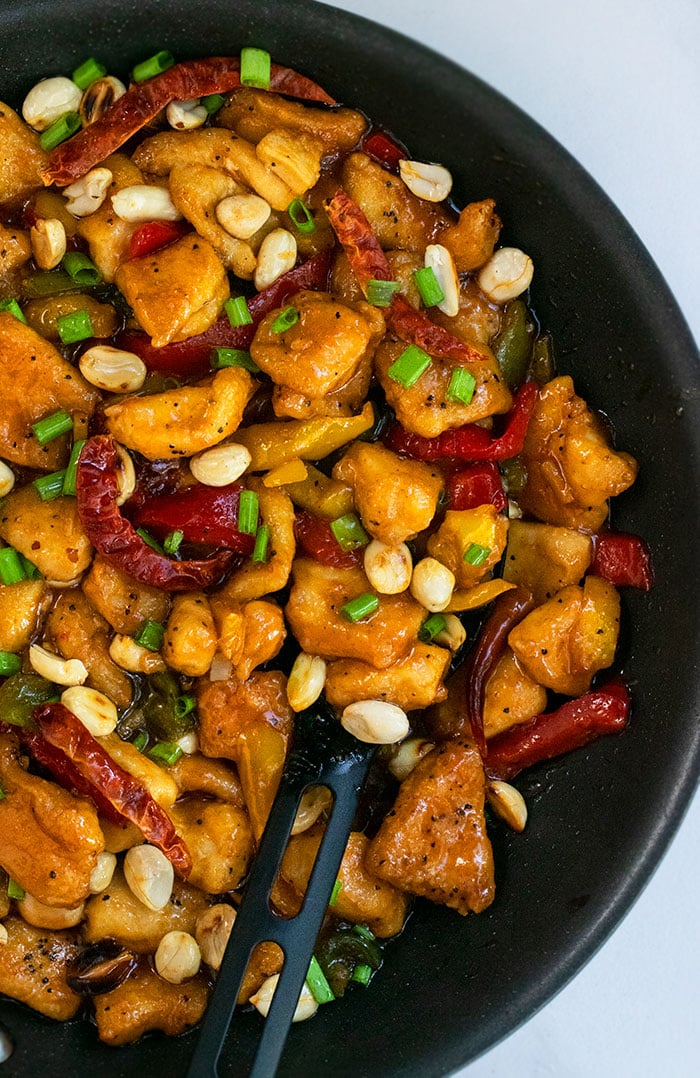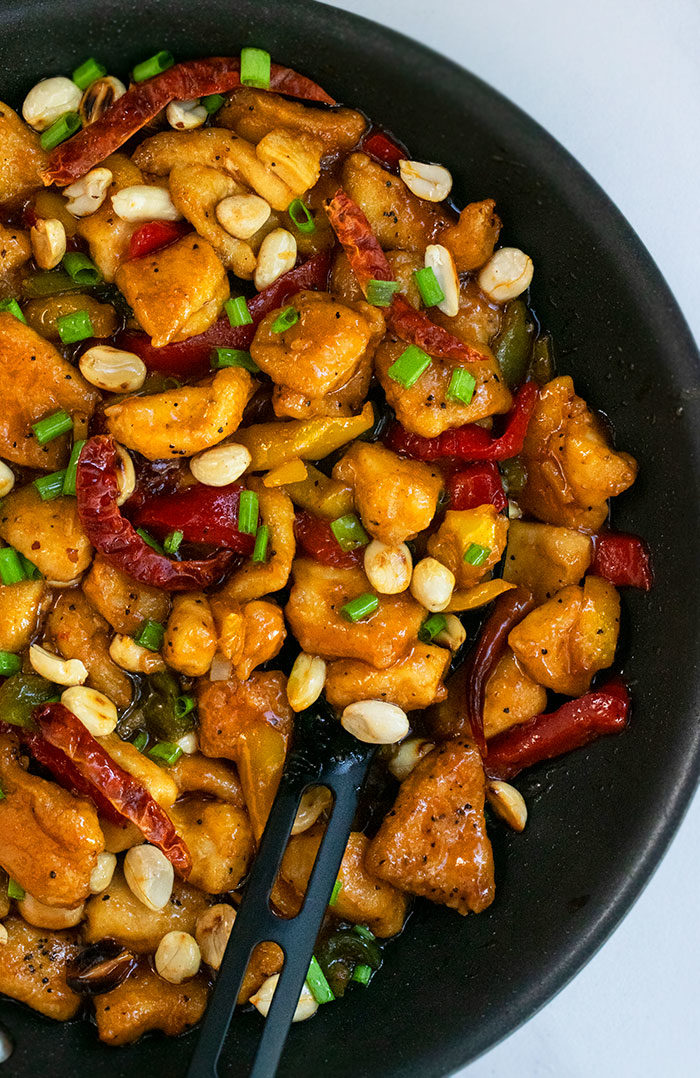 What is Szechuan chicken?
It is a Chinese dish hailing from the Southwestern Sichuan Province. It is made with Sichuan peppercorns which bring a unique heat, often referred to as a numbing heat, in the back of your mouth along with a slight citrus hint. This peppercorn is combined with garlic, chilis, peppers, and a little sugar to make a sweet and spicy flavor-bursting chicken dish.
How to make Szechuan chicken stir fry?
Stir fry chicken- Heat oil and fry floured chicken until golden brown. Remove from pan and keep aside.
Add aromatics- Add garlic, ginger, chilis, peppercorns, and stir-fry.
Add ingredients for sauce- Add soy sauce, vinegar, chili garlic sauce, sesame oil, sugar, and stir everything together until smooth.
Mix- Add the chicken back into the sauce and mix until chicken is fully coated.
Enjoy! Top with sliced green onions and dig in!
What sides to serve with spicy Szechuan chicken recipe?
There are so many amazing Asian sides to accompany this dish such as:
Rice– Such as plain steamed rice or Garlic Rice (One Pot), Vegetable Fried Rice (One Pot), Bacon Fried Rice (One Pot), Chicken Fried Rice (One Pot). A low carb rice option would be Cauliflower Fried Rice (One Pot)
Soup– Such as Egg Drop Soup (One Pot) or Homemade Chicken Noodle Soup (One Pot). They are both classics!
Salad– A simple green salad or Asian Cucumber Salad (One Bowl) would be best. Serve the chicken on a bed of plain salad. You won't even need salad dressing because the sauce on the chicken is so tasty and thick enough to help coat the lettuce.
Noodles– Such as boiled rice noodles, egg noodles, ramen noodles or Sesame Noodles (One Pot)
Rolls– Such as egg rolls or spring rolls.
Fried wontons
Steamed dumplings
Crab Rangoon
Hunan chicken vs. Szechuan chicken vs. General Tso chicken
Hunan– More bolder and spicy than Szechuan and more oily too. Also, the chicken is usually marinated for 30 minutes before being cooked.
Szechuan– Sweet and spicy with a more balanced flavor profile. The chicken is stir-fried and then added to the sauce.
General Tso– The chicken is battered and fried and the sauce is sweeter with a subtle spice.
How to make Szechuan sauce?
It can be homemade or store-bought. The homemade Chinese sauce is made by heating oil and stir-frying ginger and garlic. Then, fresh and dried chilis along with Sichuan peppercorns are stir-fried. Finally, soy sauce, vinegar, chili garlic sauce, sesame oil, and sugar or honey and added and stirred until combined and smooth. Then, just toss in your proteins and veggies until fully coated and enjoy.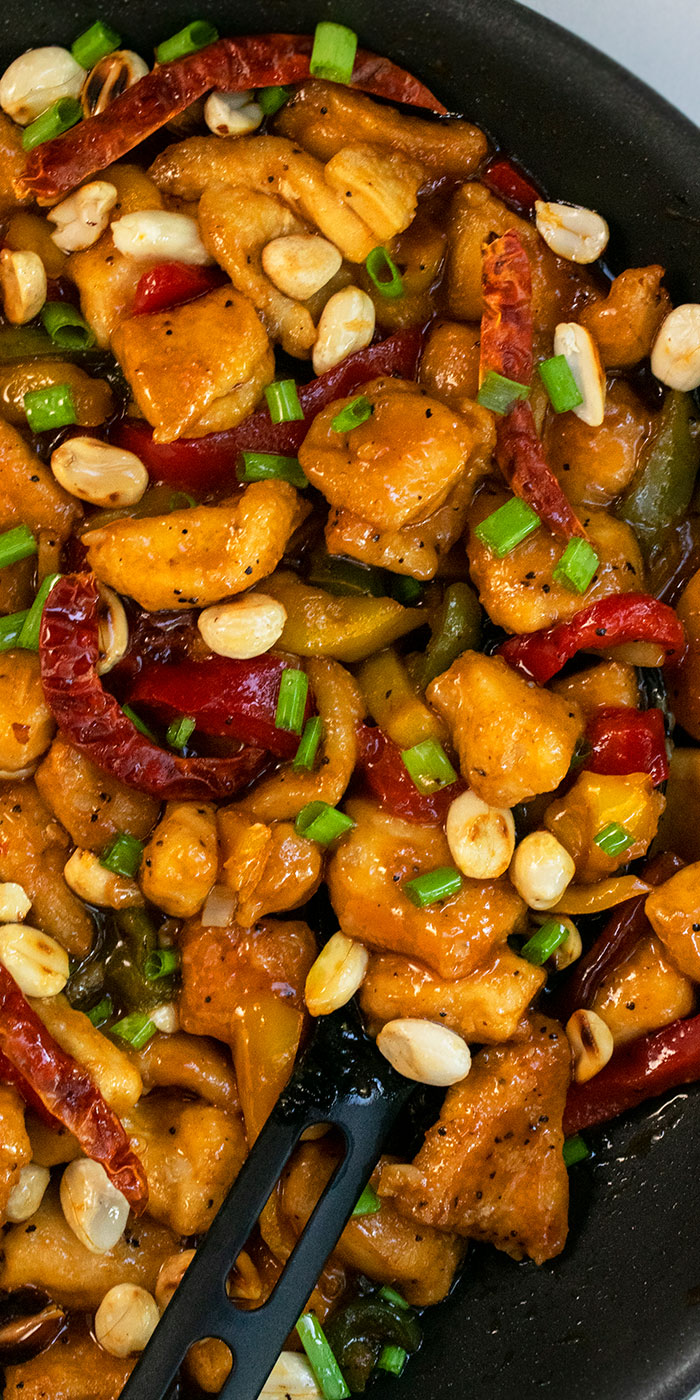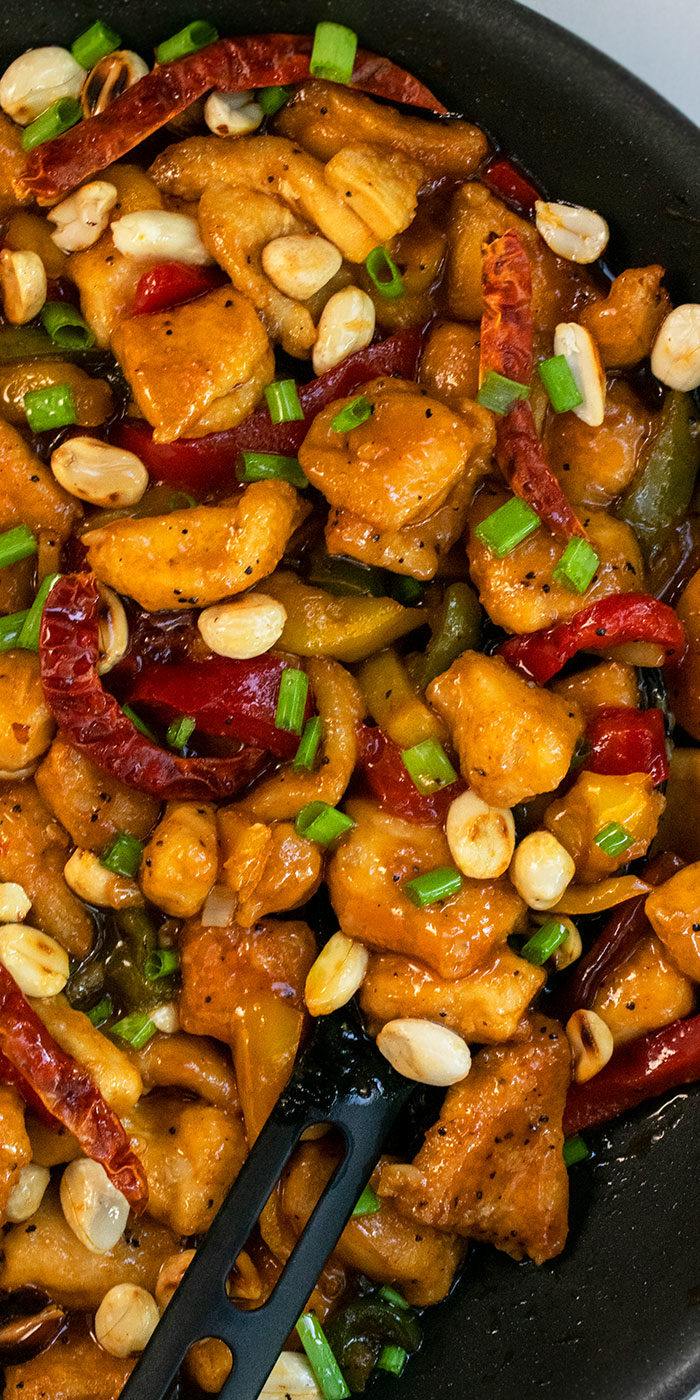 Variations
Garnish and Topping options- Such as roasted peanuts or cashews, sesame seeds, red chili flakes, green onions.
Add other vegetables– Such as a bag of frozen veggies, mushrooms, bell peppers, water chestnuts, zucchini, or broccoli. The bell peppers are a favorite because the sweetness helps to complement and balance the spicier peppers in this dish.
Make it less spicy- Reduce the quantity of dried red chilis. De-seed and de-rib the fresh chilis to make it less spicy, or you can also leave them out entirely.
Tips and Techniques
What can you substitute for Szechuan peppercorns? You can replace with regular black peppercorns. However, I highly recommend using these specific peppercorns because they have a very unique and subtle citrus lemon flavor. They are also not as strong or pungent as regular peppercorns.
Adjust the spice level– Leave out the dried chilis for less heat or add more chilis if you really love the burn!
What can you substitute for fresh red chili peppers? Use red jalapenos or habanero peppers or fresno peppers or even serrano peppers.
Make it gluten-free- Use coconut aminos in place of soy sauce. Substitute the flour for coconut or almond flour instead of all-purpose flour.
Make it less salty- Use low- sodium soy sauce.
Prepping the chicken- Cut pieces of chicken into small, similar sizes to ensure the chicken cooks evenly and quickly.
Use nonstick pot or pan– Because this prevents burning and sticking.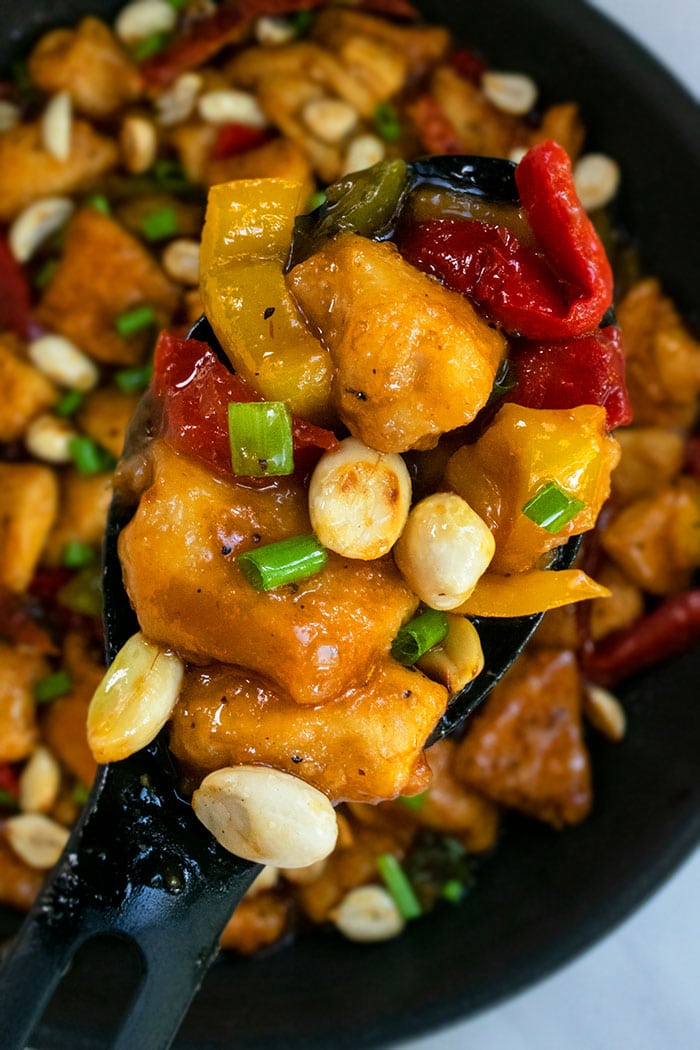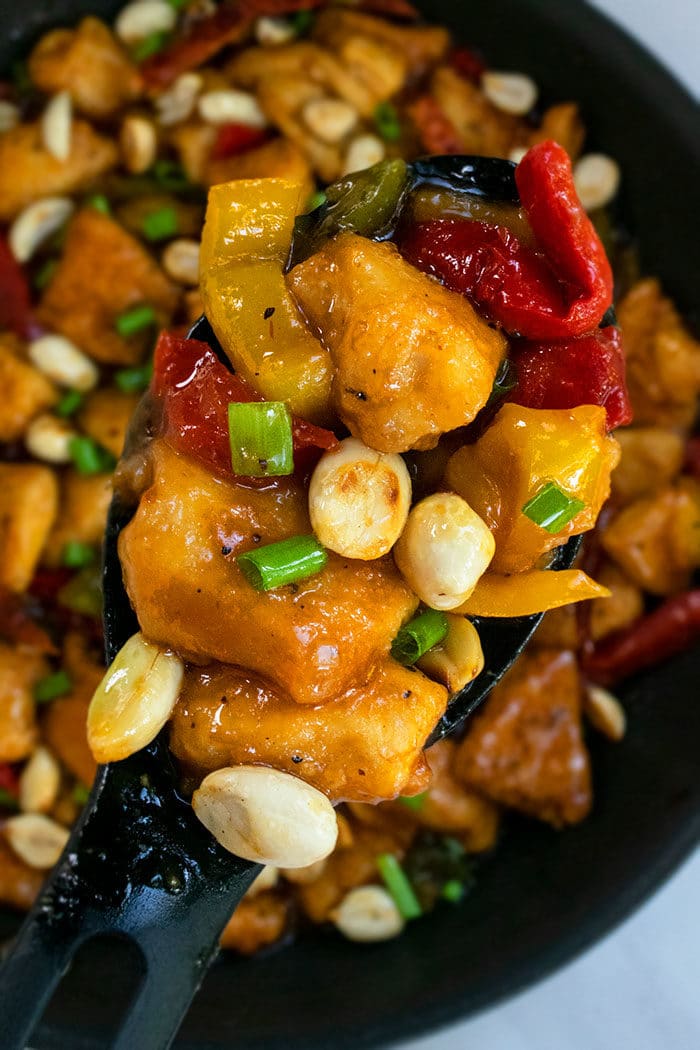 More Chinese Meals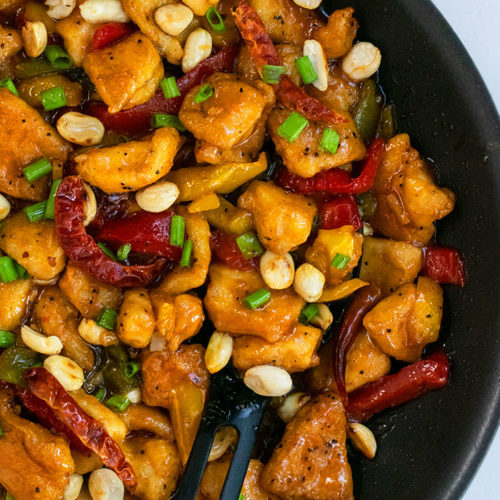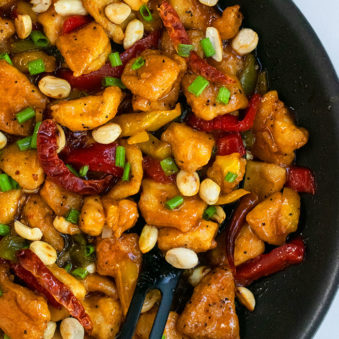 One Pot Szechuan Chicken
Quick and easy Szechuan chicken recipe, homemade with simple ingredients in one pot over stovetop in 30 minutes. Sweet & spicy, better than Chinese takeout!
Yield: People
Ingredients
3 tbsp Oil
1 pound Boneless chicken breast, Cut into small 1 inch cubes, Coated in all-purpose flour
3 cloves Garlic, Minced
2 tbsp Ginger, Thinly sliced
8-10 Red chilis, Whole, Dried
4-5 Red chili peppers, Fresh, Sliced
2 tbsp Szechuan peppercorns
1 cup Peppers, Variety of red, yellow, green
1/3 cup Soy sauce, Low sodium
2 tbsp Vinegar, Preferably rice vine vinegar
2 tbsp Chili garlic sauce, Or Sriracha sauce
1-2 tsp Sesame oil, Adjust according to your preference because it has a strong flavor
1 tbsp Granulated sugar, Or honey
1-2 stalks Green onions, Finely chopped, For garnish
2 tbsp Peanuts, Optional, Roasted, For garnish
Instructions
Heat oil in a nonstick pan or pot over medium-high heat.

Add floured chicken and stir fry until golden brown and no longer. Remove from pan and keep aside on a separate plate. You may need to stir fry chicken in two batches so that it cooks evenly.

In the remaining oil, add garlic, ginger to the pan and stir fry for a few seconds until fragrant.

Add fresh and dried red chilis as well as Szechuan peppercorns and stir fry for about 1 minute.

Add soy sauce, vinegar, chili garlic sauce, sesame oil, sugar or honey and mix until smooth.

Add the stir fried chicken pieces in this spicy and sticky sauce and toss to coat.

Garnish with green onions. I also tossed some peanuts because I love the crunch! Enjoy!
Notes
Read all my tips above.
Tastes best when served immediately but leftovers can be stored in a sealed container in the fridge for up to 2 days and heated in the microwave. 
Nutrition
Calories: 317kcal, Carbohydrates: 17g, Protein: 28g, Fat: 15g, Saturated Fat: 2g, Cholesterol: 73mg, Sodium: 1640mg, Potassium: 839mg, Fiber: 3g, Sugar: 11g, Vitamin A: 1059IU, Vitamin C: 162mg, Calcium: 30mg, Iron: 2mg
Happy cooking everyone!