Chicken Barley Soup (One Pot)
The best, easy, hearty chicken barley soup recipe, homemade with simple ingredients in one pot over stovetop in one hour. Loaded with veggies, shredded rotisserie chicken and Italian herbs and spices.
This soup is so easy and delicious you have to add it to your weeknight dinner rotation, just like this Slow Cooker Beef Barley Soup or this Beef Barley Soup (One Pot).
Using rotisserie chicken means you can throw it all in a pot without much prep work ahead of time since there is no need to pre-cook the chicken. It is also loaded with veggies making it nutritious and comforting. The addition of barley rounds this meal out and makes it the best filling soup ever!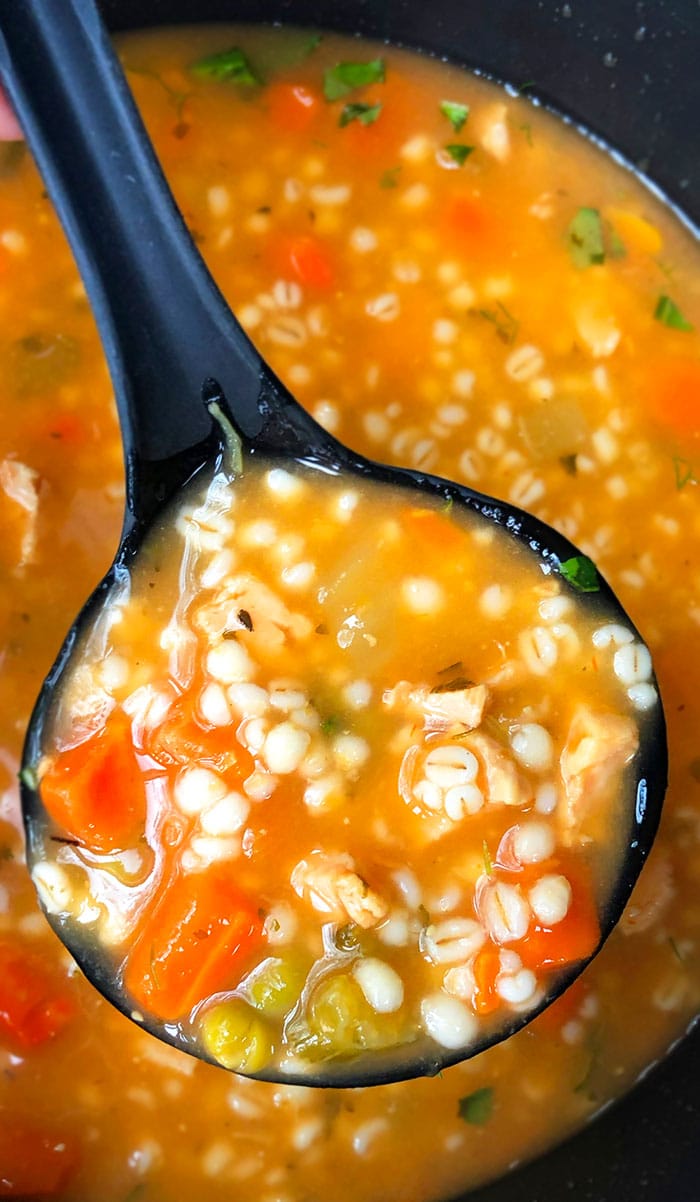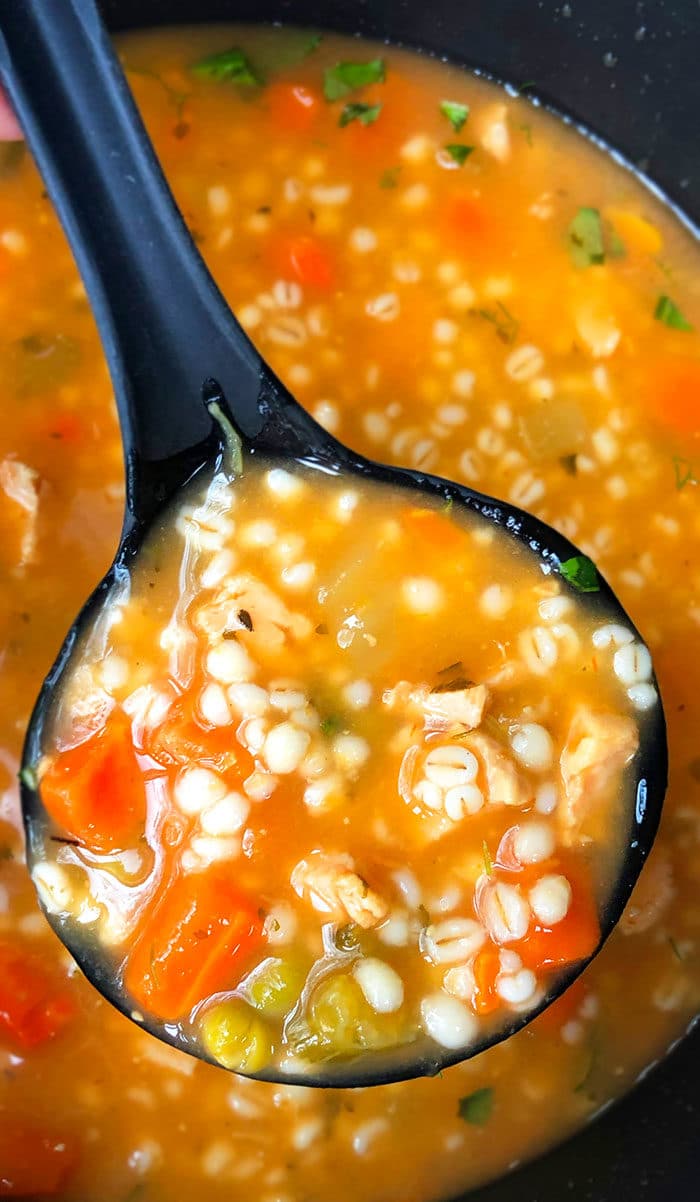 How to make chicken barley soup?
Saute vegetables– Heat butter and oil in a large nonstick pot over medium heat and saute onion, garlic, carrots, celery and cook until onion softens.
Add other ingredients, herbs and spices- Add broth, crushed tomatoes, barley, shredded or diced chicken, corn, peas, potato, Italian seasoning, salt, pepper, and bay leaf.
Cook- Mix everything and bring to a boil. Then, simmer uncovered until barley is cooked through and tender.
Garnish- Use fresh parsley and enjoy!
What sides to serve with rotisserie chicken and barley soup recipe?
This soup is hearty enough to serve on its own and doesn't really require a side but if you want to make this meal even more filling, here are some ideas:
Grilled cheese sandwiches
Salads
Crackers
Breadsticks
Cornbread
Biscuits
Dinner rolls
Garlic bread
Crusty bread like Ciabatta for dipping
How long does it take to cook pearl barley in soup?
It takes about 30-40 minutes for it to become tender, when cooked on medium-high heat.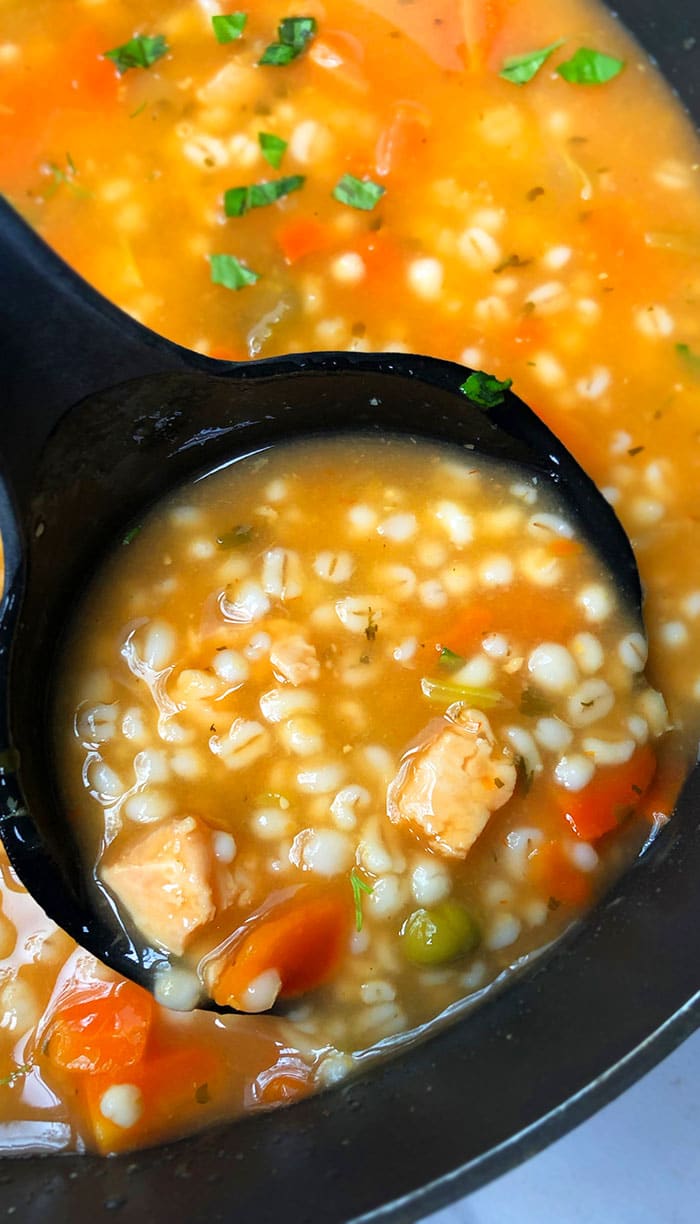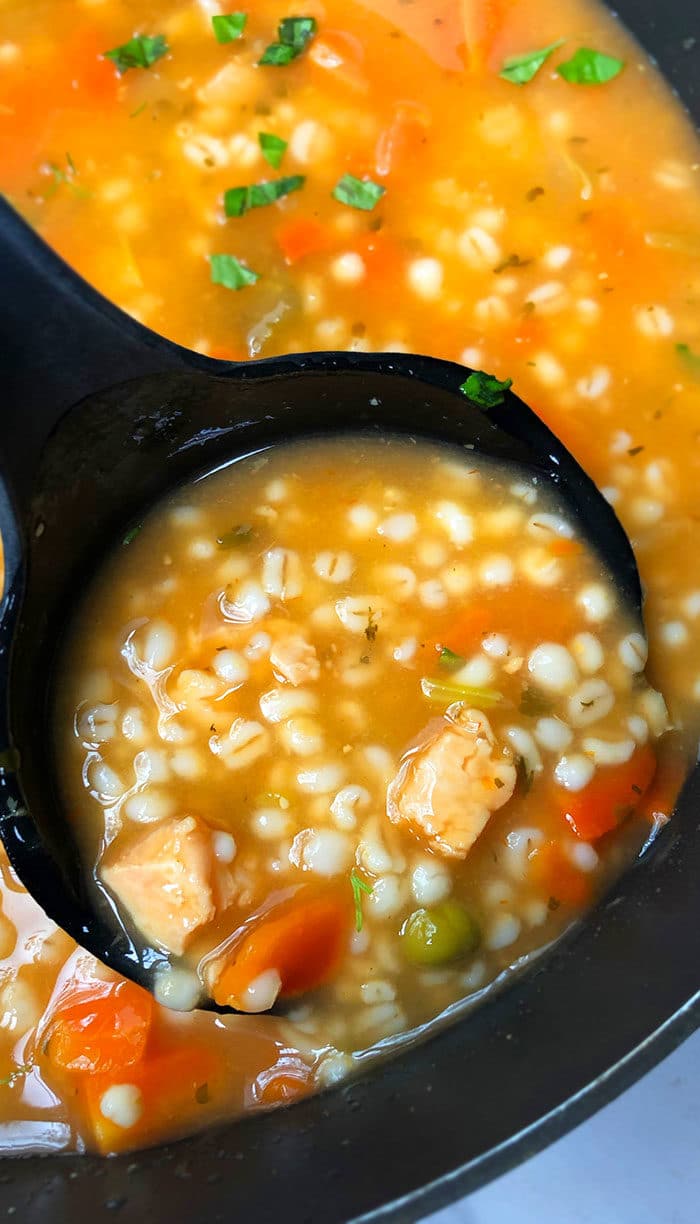 Variations
Chicken vegetable barley soup– Add more vegetables such as green bell peppers, zucchini, yellow squash, potatoes, sweet potatoes,
Add mushrooms- You can use mushrooms in place of the chicken if you want to keep the soup vegetarian. You can also just add them in the last 20-30 minutes of cooking in order to increase the heartiness of this soup. You can even just add a can of cream of mushroom soup.
Add other cooked meats– Add bacon, sliced Italian sausage, ham, turkey, or beef.
Make it spicy– Add crushed red pepper flakes, jalapenos, or cayenne pepper.
Make it creamy– Add heavy cream or full-fat coconut milk for a dairy free option.
Try other seasonings- Use Indian curry, Cajun, Or Mexican seasonings to change up the flavor profile.
Crockpot/ Slow cooker chicken barley soup– Skip the simmering step, and cook all ingredients on High for 3-4 hours or Low for 6-8 hours.
Make it Mexican– Add black beans, fire roasted jalapenos, and top with avocado and Monterey jack cheese.
Make it Asian- Add 1 can of coconut milk, chili paste, garlic, kale, red peppers, and a little curry powder.
Garnish options- Parsley, basil, chives, green onions, cilantro.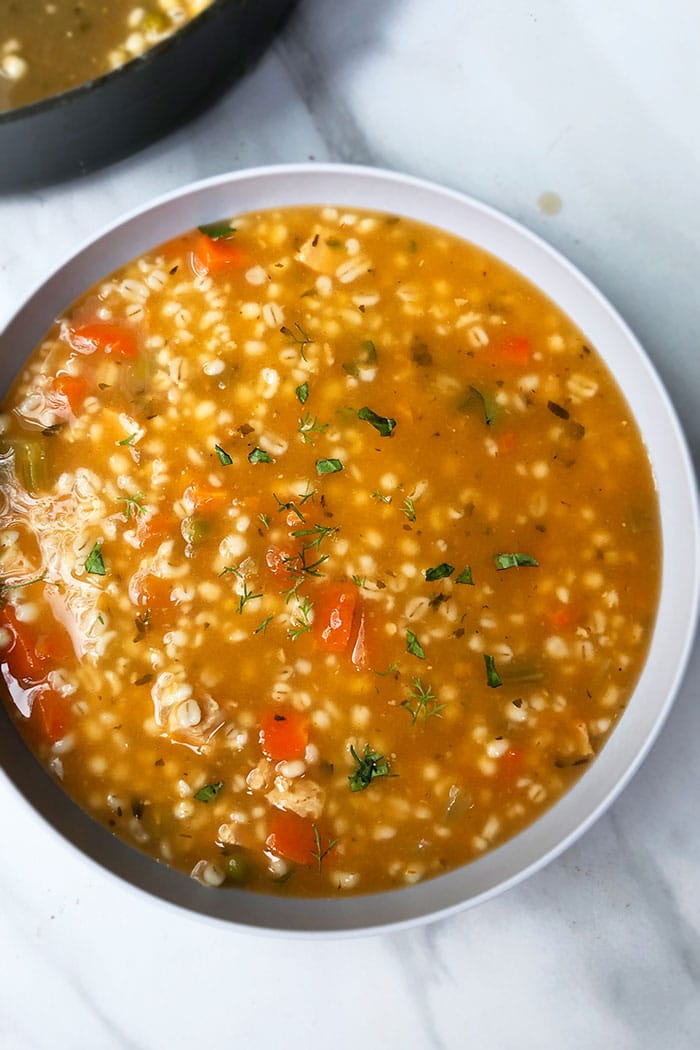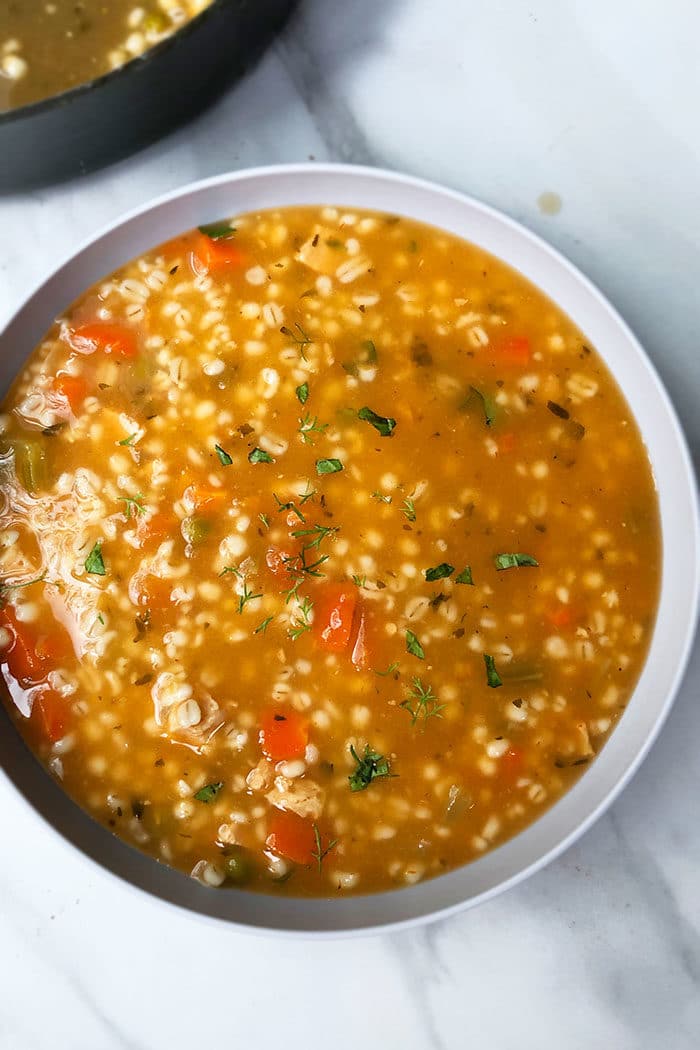 Tips and Techniques
What type of barley to use? I use pearl barley in this recipe because it cooked faster than the hulled barley.
Adjust amount of seasonings- Add more or less Italian seasoning, based on your preference.
Use large nonstick pot– Because that nonstick coating prevents burning and sticking. Also, the large size of the pot would ensure even cooking.
Potatoes are optional– Makes it even more filling and hearty.
Correcting the consistency– The soup will thicken as the barley absorbs broth, and so the longer it sits, the thicker it will become. Add more broth in order to thin it back out when serving.
How to thicken soup? Allow the soup to sit and the barley will soak up the liquid, or continue simmering till the liquid evaporates to your desired consistency.
How to make soup thinner? Mix in more broth.
Can I use something other than barley? Yes, brown rice would be a great alternative to barley, or you can use any small pasta like ditalini or elbow. Barley is more nutritious and contains more fiber than the pasta options though.
Can this soup be frozen? Yes, it can be frozen, but may need additional broth when reheated if the barley soaked it all up.
Reduce the saltiness– Use low sodium broth, unsalted butter. This prevents meal from getting too salty.
Serve a crowd- All the ingredients in this soup can easily be doubled to feed a crowd.
More Soup Recipes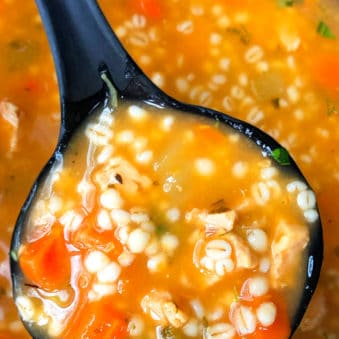 One Pot Chicken Barley Soup
Easy chicken barley soup recipe, homemade with simple ingredients in one pot over stovetop in one hour. Loaded with veggies, shredded chicken, Italian spices.
Yield: People
Ingredients
1 tbsp Butter, Unsalted
1 tbsp Oil
1 cup Onion, Finely chopped
2 cloves Garlic, Finely minced
1 cup Carrots, Peeled, Diced
1/2 cup Celery, Sliced
8 cups Chicken broth, Low sodium
1 can Crushed tomatoes, 14.5 oz. can, Or diced tomatoes or even tomato sauce
3/4 cup Pearl barley
2.5 cups Cooked chicken, Shredded rotisserie chicken or diced rotisserie chicken
1/3 cup Corn, Frozen
1/3 cup Peas, Frozen
1 Potato, Optional, Large size,Peeled, Diced, Cut into 1 inch cubes, I didn't add it this time

1.5 tbsp Italian seasoning
Salt, To taste
Pepper, To taste
1 Bay leaf
1-2 tbsp Parsley, Fresh, Roughly chopped, For garnish
Instructions
Heat butter and oil in a large nonstick pot over medium heat.

Add onion, garlic and cook until onion becomes slightly softened and garlic becomes fragrant. Takes about 3-4 minutes.

Add carrots, celery and saute for another 1 minute.

Add broth, crushed tomatoes, barley, shredded or diced chicken, corn, peas, potato, Italian seasoning, salt, pepper, bay leaf. If you re worried about the peas and corn becoming too soft and "mushy", don't add them now. Instead, add them in the final 15-20 mins of cooking.

Mix everything together and bring to a boil.

Let it simmer uncovered for 50 minutes or until barley is cooked through and tender. If the soup starts to get too thick, you can mix in some more broth or water. If it's too thin, continue cooking uncovered for a bit longer until liquid is reduced.

Discard bay leaf.

Garnish with fresh parsley and enjoy!
Notes
Read all my tips above.
Leftovers can be stored in a sealed container in the fridge for up to 3 days and reheated in the microwave or stovetop. Additional broth will need to be added to thin out the soup again. 
Nutrition
Calories: 322kcal, Carbohydrates: 39g, Protein: 22g, Fat: 10g, Saturated Fat: 3g, Cholesterol: 49mg, Sodium: 1328mg, Potassium: 985mg, Fiber: 8g, Sugar: 6g, Vitamin A: 3991IU, Vitamin C: 41mg, Calcium: 107mg, Iron: 5mg
Happy cooking everyone!