Mediterranean Veggie Sandwich (One Pan)
Healthy, quick and easy veggie sandwich recipe, homemade with simple ingredients in 20 minutes. Loaded with fresh vegetables, hummus spread & Mediterranean flavors.
I love Mediterranean and Greek flavors and incorporated those into this recipe by adding fresh vegetables and creamy hummus. I topped off this sandwich with feta cheese, which really takes a simple sandwich to another level, and makes this the best hummus vegetable sandwich ever!
It is perfect for a summer picnic, lunch with friends, and can be packed quickly and easily for school or work. It is a great sandwich to customize. Try adding these Marinated Tomatoes for another boost of flavor, or change up the flavor of hummus to surprise family and guests.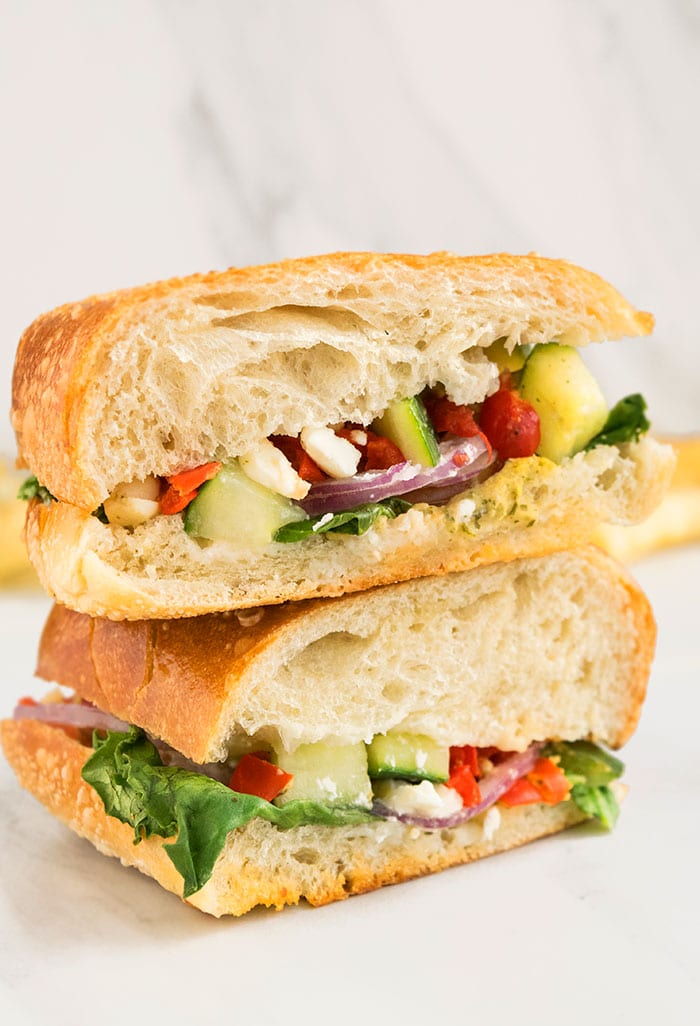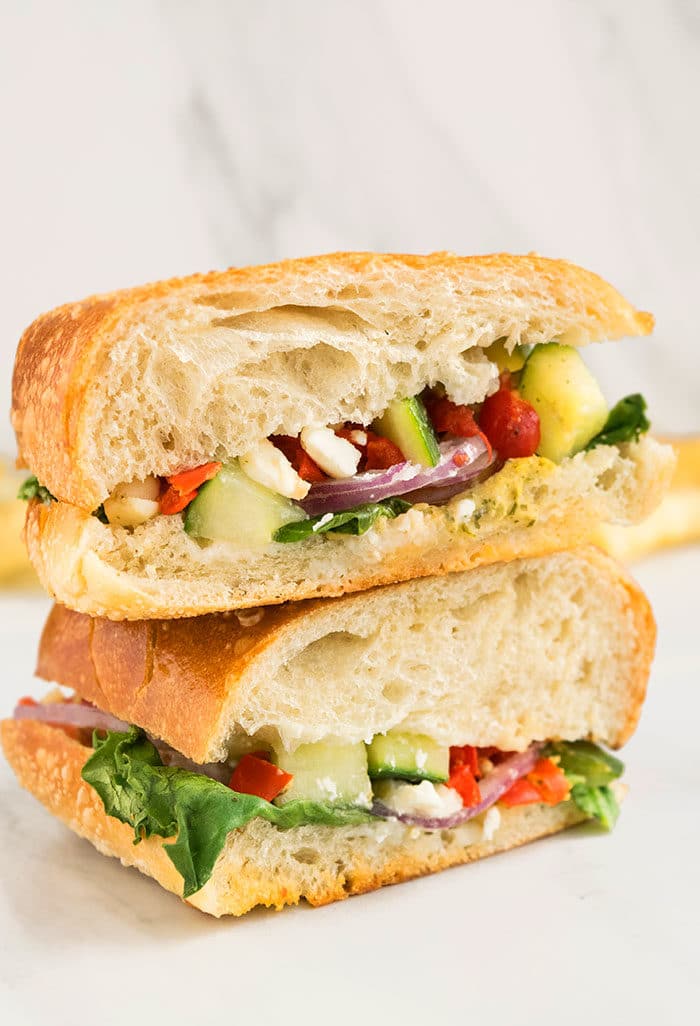 How to make veggie sandwich (vegetable sandwich or vegetarian sandwich)?
Spread it- Spread thinly the hummus and cilantro avocado dressing onto the bread.
Layer it- Layer lettuce, tomato, cucumber, red onion, and peppers on one half of the bread.
Top it- Crumble the feta cheese on top and close the sandwich.
Enjoy! Slice in half and eat.
What sides go with sandwiches?
The first thing anyone thinks of as a side for a sandwich is soups or salads!
Try one of these tasty soups:
Or you can try one of these salads:
What veggies to use in sandwiches?
This recipe calls for tomatoes, onion, cucumber, lettuce, peppers, and red onion.
There are many alternatives or additions. Just remember to slice them thinly enough so that you get a taste of multiple veggies in each bite and not just one.
Try some of these veggies:
Pickled onions
Kalamata or black olives
Shredded carrots
Spinach or arugula
Grilled zucchini
Grilled or roasted eggplant
Radishes
Jalapenos for a little spice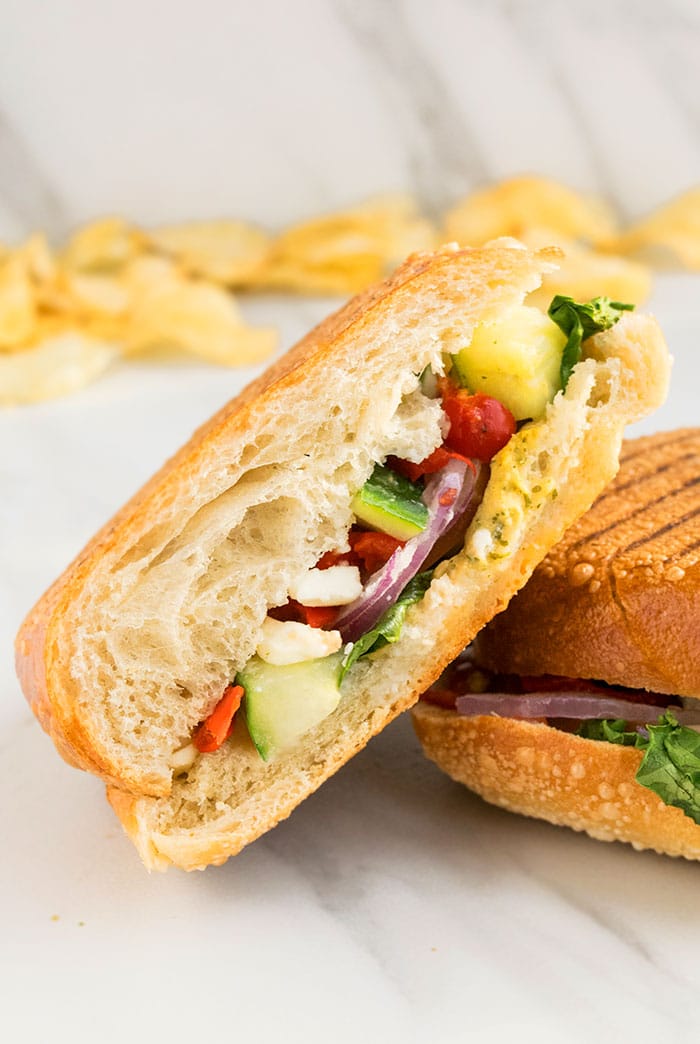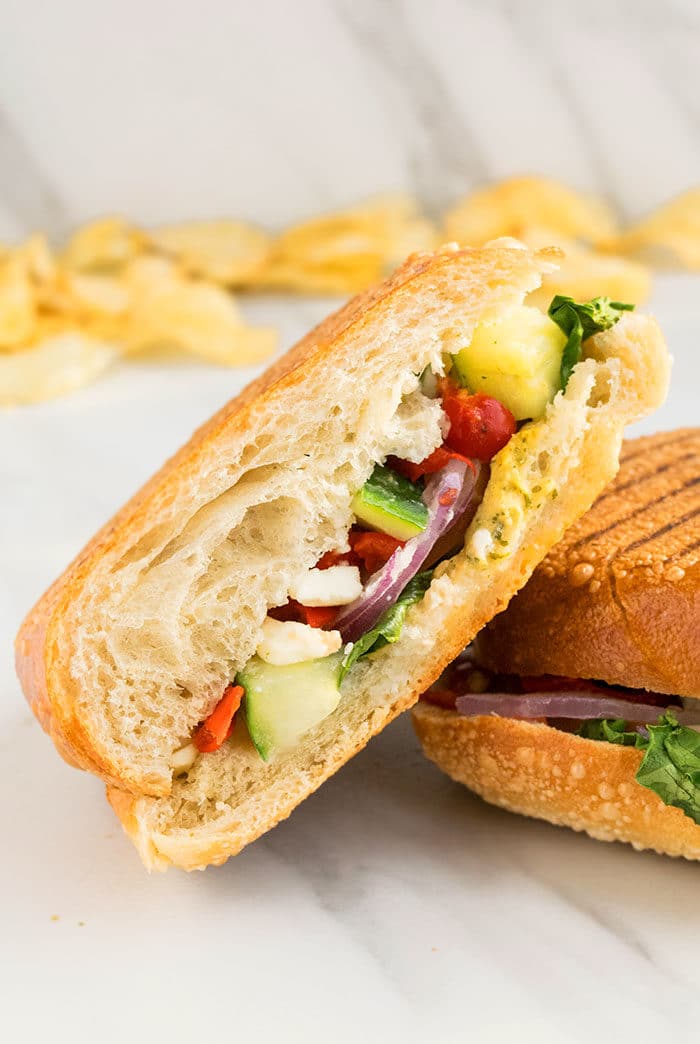 Variations
Grilled veggie sandwich– Slice and oil your vegetables, place on a grill pan till cooked through and grill lines appear. Then, enjoy the smoky flavor of this option
Roasted veggie sandwich– Slice veggies, toss in olive oil, and bake at 400 degrees for 15 minutes, flipping half-way through. The vegetables will caramelize and develop a sweet, warm flavor. Use Zucchini in place of cucumbers for this option.
Use other cheeses– Such as gorgonzola, blue cheese, goat cheese, mozzarella, smoked gouda, sharp white cheddar.
Use other spreads– Such as pesto, any Greek dressing, different hummus flavors, Tzatziki sauce, guacamole, or an herb flavored cream cheese.
Use other breads– Ciabatta is my first choice since it's thick and crusty and doesn't get soggy quickly. It holds all the fillings well without falling apart, unlike many other breads, especially simple loaf breads. If you use something else, choose a crusty bread like French bread or sourdough. You can even put the vegetables inside pita bread.
Add meat- Bacon, prosciutto, or grilled chicken would add protein and flavor to this sandwich.
Add pickles– Add pickled onions, peppers, or radishes for a tart vinegar flavor spin on this classic Mediterranean sandwich. You can use store bought or try this Quick Pickled Vegetables recipe.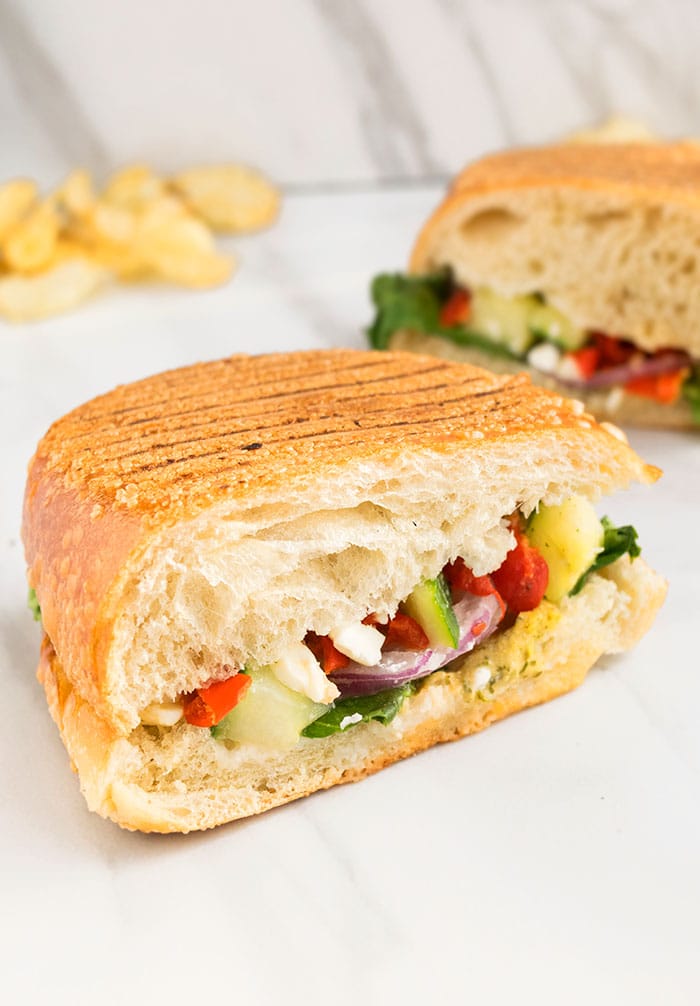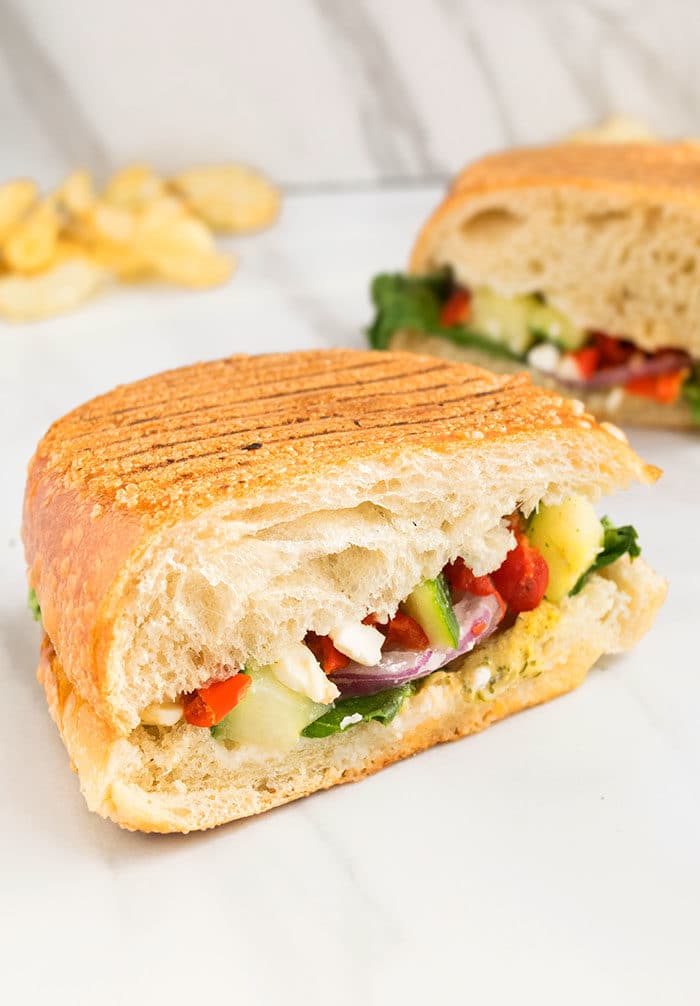 Tips and Techniques
Jarred vs. Roasted Red Peppers- Jarred roasted red peppers are peppers that have been roasted, peeled, and seeded, then preserved in water, salt, and citric acid. Roasting red peppers freshly is delicious but more time-intensive and involves roasting whole peppers in the oven, on the store, or on a grill. This is followed by peeling and seeding the peppers. They have a wonderful smoky flavor and soft texture. You can choose which to use based on how much time you have. Either will add great flavor. If you make a lot of these peppers use the leftovers in a soup like this Roasted Red Pepper Soup.
Leftover Storage- Store leftovers separately in the fridge if possible. keep vegetables in a sealed container and assemble sandwiches with spread when you are ready to eat. Leftover pre-assembled sandwiches can be wrapped in parchment paper or kept in a sealed container in the fridge for 1 day. The bread may become a little soggy from the dressing and hummus though so they are best served fresh.
Vegetable slicing- Slice the vegetables thinly when assembling this sandwich. Otherwise you may get a bite of only onion, and that would not taste good!
Spreads- Make sure to spread the hummus and dressing thinly so it doesn't ooze out of the sandwich when you or guests bite into it.
Make it Spicy– Add jalapenos or red chili flakes for some spice
Toast the Bread- If you prefer warm sandwiches, first butter the bread and toast it in a skillet before adding your other ingredients.
Hummus- Hummus is made from chickpeas, tahini, olive oil, fresh garlic and lemon, and salt blended together. It comes in a variety of flavors such as garlic, roasted pine nut, olive tapenade, roasted red pepper, classic, and more. It can be home-made or store bought, and adds a creamy texture and a little protein to this sandwich.
More Mediterranean Meals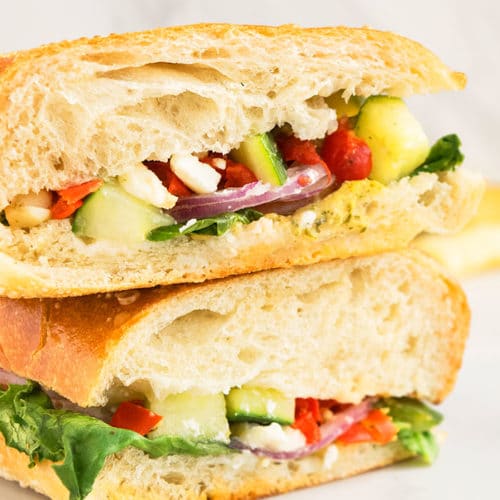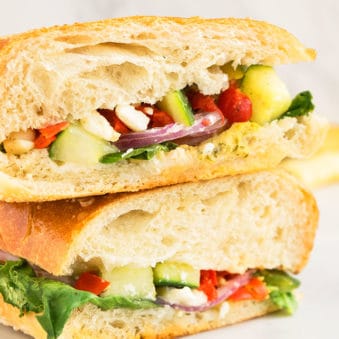 Mediterranean Veggie Sandwich
Healthy, quick and easy veggie sandwich recipe, homemade with simple ingredients in 20 minutes. Loaded with fresh vegetables, hummus spread & Mediterranean flavors.
Yield: People
Ingredients
1 loaf Ciabatta bread, Sliced in half
2 tbsp Hummus, Any flavor you like: Garlic, spicy e.t.c.
2 tbsp Cilantro avocado dressing
4 Lettuce leaves
4-6 slices Tomatoes
1/4 cup Cucumbers, Sliced or roughly chopped
1/4 cup Red onions, Thinly sliced
1/4 cup Roasted red peppers, Sliced, I used the ones in jars but you can use baked or oven roasted peppers too
1-2 tbsp Feta cheese, Crumbled
Instructions
Spread a thin coating of hummus and cilantro avocado dressing on both sides of the loaf.

Layer lettuce leaves, tomatoes, cucumbers, red onions and red peppers on one half of the bread.

Top off with crumbled feta cheese.

Place the other half of the bread on top of the veggies and press gently to secure everything together.

Slice in half and enjoy!
Nutrition
Calories: 648kcal, Carbohydrates: 121g, Protein: 22g, Fat: 8g, Saturated Fat: 2g, Cholesterol: 11mg, Sodium: 1783mg, Potassium: 332mg, Fiber: 5g, Sugar: 9g, Vitamin A: 4130IU, Vitamin C: 26.2mg, Calcium: 84mg, Iron: 1.1mg
Happy cooking everyone!