Baba Ganoush (One Bowl)
Rich, creamy and easy baba ganoush recipe, homemade with simple ingredients in one pot over stovetop in 30 minutes. Loaded with eggplants, tahini, garlic and lemon.
This dip is creamy, healthy, full of flavor, and the best appetizer or side to complete any Mediterranean meal. Serve it alongside this Roasted Red Pepper Hummus (One Bowl) and Tzatziki Sauce (One Bowl) to make a big appetizer platter.
What is baba ganoush?
It is a silky, creamy Mediterranean dip made from eggplant, tahini, olive oil, lemon juice, garlic, and seasonings. The seasonings vary based on the region it hails from.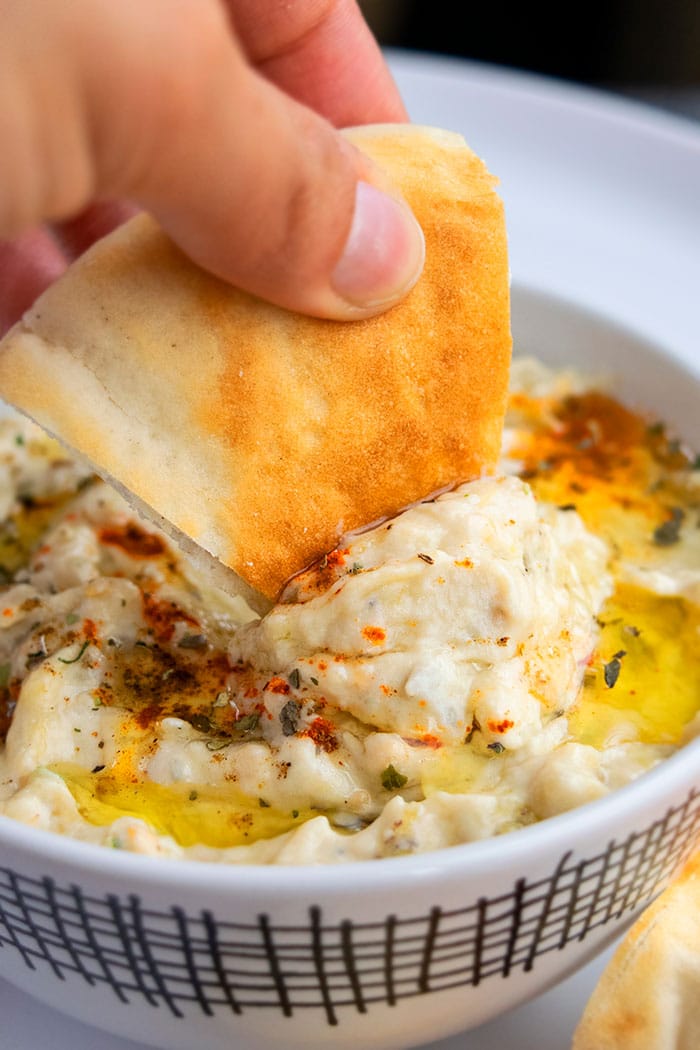 How to make baba ganoush from scratch?
Cook eggplants on gas stove top – Until they are soft, charred and cooked through.
Remove from heat– Wrap them in aluminum foil paper and let them cool.
Remove excess water– Peel skins and place the flesh in a strainer over a bowl to drain water.
Add eggplant flesh, garlic, tahini, lemon juice, olive oil, salt, paprika, cumin powder, red chili flakes, parsley in a mixing bowl– Mash until smooth.
Garnish– With more olive oil and fresh parsley.
Let it rest– In the fridge for 1 hour and then, dig in!
What to serve with baba gaonush recipe? What do you eat with this dip?
It is traditionally served as an appetizer dip with bread such as slices of pita bread. Other non-classic options could be naan, soft pretzels, puff pastry sticks, breadsticks, garlic bread or even dinner rolls.
Crispy sides like chips, crackers and pretzels would also go well.
It is also great alongside fresh vegetables like cherry tomatoes, cucumbers, baby carrots, celery, bell peppers, broccoli, cauliflower. Fresh and firm veggies are the best for dipping.
Use it as a spread on sandwiches, burgers and wraps for some added flavor and creaminess. Try it in this Mediterranean Veggie Sandwich (One Pan).
Thin it down with milk or water and mix it in to salad dressings to add a Mediterranean twist. Try it in this Mediterranean Chickpea Salad (One Bowl) or this Mediterranean Quinoa Salad (One Bowl)
Baba ganoush vs. Hummus
Hummus is made with chickpeas while the other dip does not have any chickpeas. Instead, it uses eggplant for the base of the dip.
Variations
Top with nuts– Add toasted pine nuts, almonds, cashews, walnuts e.t.c.
Other topping options– Try fresh herbs like mint, parsley or cilantro, roasted chickpeas, black, kalamata, or even green olives, olives, olive oil, roasted garlic, Zaatar, pickles.
Make it spicy– Add red chili flakes or cayenne pepper for a spicy version.
Make it even creamier– Add Greek yogurt for extra creaminess and a little tang.
Add seasoning– Try Greek or curry seasoning to enhance the flavor.
Add nuts into the dip– Such as walnuts or almonds. You would need to puree them into the dip with a blender or food processor.
Roast the garlic– Use roasted garlic for additional depth of flavor.
Add other veggies– Along with the eggplant such as artichoke hearts or spinach for a different flavor profile.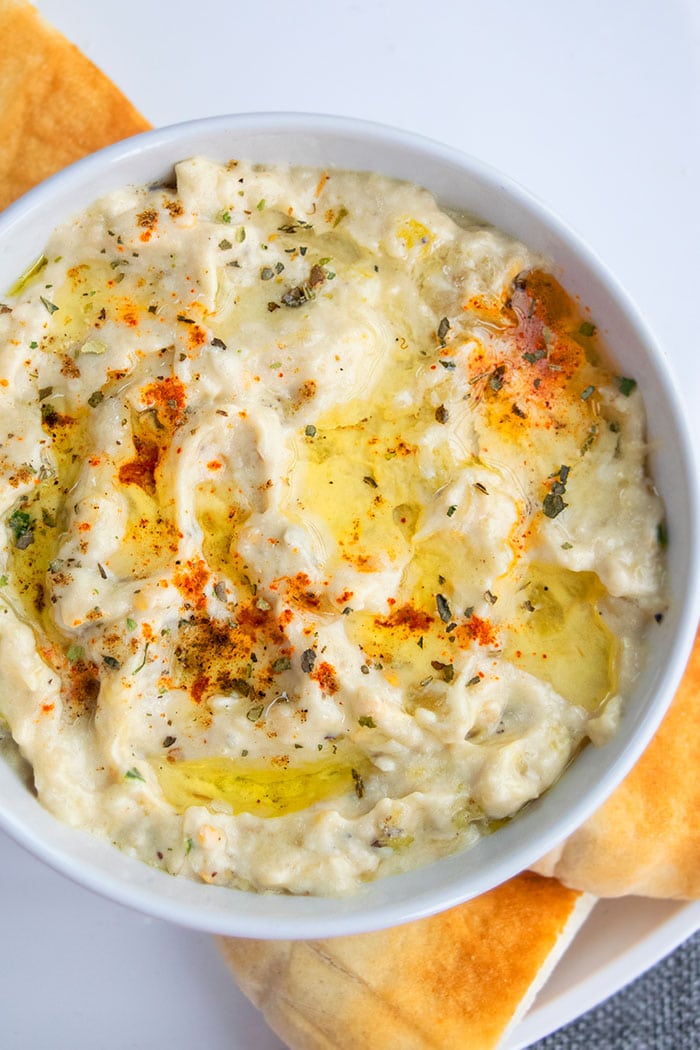 Storage
Refrigerate– Store in a sealed container in the fridge for up to 3 days.
Freeze– Freeze in a sealed container or freezer bag for up to 3 months. When you are ready to enjoy it, thaw it in the fridge overnight or you can even microwave it.
Make ahead instructions- Make it a day in advance and keep it chilled in the fridge until you are ready to serve.
Tips and Techniques
What is tahini? Where to buy it? It is a paste made from sesame seeds. It's found in most grocery stores in their international/ specialty food aisles. Cedar's tahini is amazing.
Use small eggplants- Because they will cook throughly on stovetop. Bigger eggplants will not fully cook on an open flame. Their centers will not cook throughly on gas stovetop. .
Quality of ingredients really matter– Use high quality olive oil, and tahini since their flavors will shine through. Also, make sure your herbs and spices aren't old. The fresher the better.
Adjust seasonings– Add more or less according to your personal preference.
Use tongs– This is very important when you are handling the eggplants because it will protect your hands from getting burned. Do not use oven mitts because of the open flame.
How do I peel the skin on the eggplants? Once they are charred, cooked, and cooled, you will be able to slide the skin off with your fingers easily. No special utensils are needed for this.
Make sure to let the eggplant drain– This prevents the dip from becoming too watery and runny
Let it rest– Let it rest in the fridge for an hour so that you get the best flavor. The flavors deepen as it rests.
What do I do if I have an electric stove? You can use a grill to get the smoky charred flavor, or just roast the eggplants in the oven if grill is not an option.
More One Pot Appetizers and Dips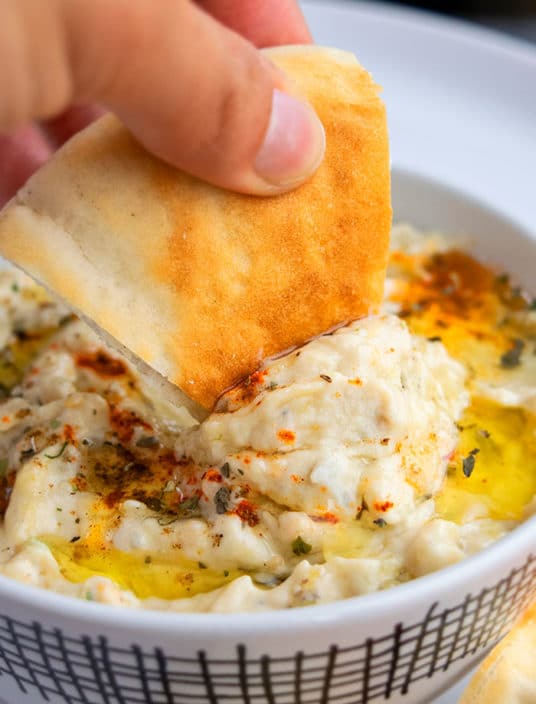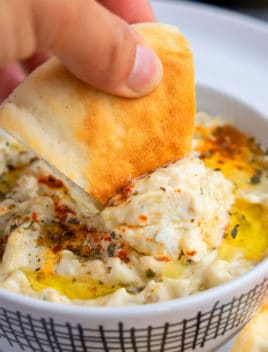 One Pot Baba Ganoush
Creamy & easy baba ganoush recipe, homemade with simple ingredients in one pot over stovetop in 30 minutes. Loaded with eggplants, tahini, garlic and lemon.
Servings: 6 People
Course: Appetizer
Cuisine: Mediterranean
Keyword: homemade baba ganoush
Calories: 105 kcal
Ingredients
2 pounds Eggplants Small ones are preferred
2 cloves Garlic Finely minced
1/4 cup Tahini
3 tbsp Lemon juice Fresh
2 tbsp Olive oil Extra virgin
Salt To taste
1/8 tsp Paprika
1/4 tsp Cumin powder
1/8 tsp Red chili flakes Optional
1-2 tbsp Parsley Fresh, Roughly Chopped
Instructions
Place the eggplants directly on the gas stovetop open flame over medium heat. Cook all the sides until skin burns, cracks and blisters. It will also start to deflate a bit. This charring gives it a smoky flavor. Make sure you use tongs to handle the eggplants so that you don't burn yourself.

Remove from heat and place them on sheets of aluminum foil. Wrap them and let them cool. This makes it easier to remove the skins.

Peel and discard the skin from the eggplants.

Place the flesh in a strainer over a bowl and let it stand for 15 minutes to remove excess water.

Add this eggplant flesh and garlic in a mixing bowl and mash it with a fork or potato masher.

Add tahini, lemon juice, olive oil, salt, paprika, cumin powder, red chili flakes, parsley and mix until smooth.

Garnish with toppings of your choice. I topped it off with high quality olive oil, fresh parsley, red chili flakes, zaatar.

Let it rest in the fridge for 1 hour to allow the flavors to deepen. Enjoy!
Recipe Notes
Read all my tips above.
Leftovers can be stored in a sealed container in the fridge for up to 3 days. 
Nutrition Facts
One Pot Baba Ganoush
Amount Per Serving
Calories 105 Calories from Fat 54
% Daily Value*
Fat 6g9%
Saturated Fat 1g5%
Sodium 49mg2%
Potassium 400mg11%
Carbohydrates 12g4%
Fiber 5g20%
Sugar 6g7%
Protein 3g6%
Vitamin A 137IU3%
Vitamin C 8mg10%
Calcium 30mg3%
Iron 1mg6%
* Percent Daily Values are based on a 2000 calorie diet.