Mediterranean Chickpea Salad (One Bowl)
Quick and easy Mediterranean chickpea salad recipe, made with simple ingredients in one pot or bowl in 30 minutes. Loaded with canned chickpeas, tomatoes, onions, cucumbers, peppers, black olives, feta cheese and a wonderful parsley lemon vinaigrette.
This meatless salad is packed with protein and so delicious and filling. It's also really good for your health just like my Cucumber Tomato Salad (One Bowl). Enjoy it on its own or as a fabulous side dish.
How to make chickpea salad?
Mix together cucumbers, tomatoes, peppers, olives, chickpeas, olives, onions, lemon juice, olive oil, salt, pepper, ginger, garlic.
Sprinkle feta cheese.
Chill.
Enjoy!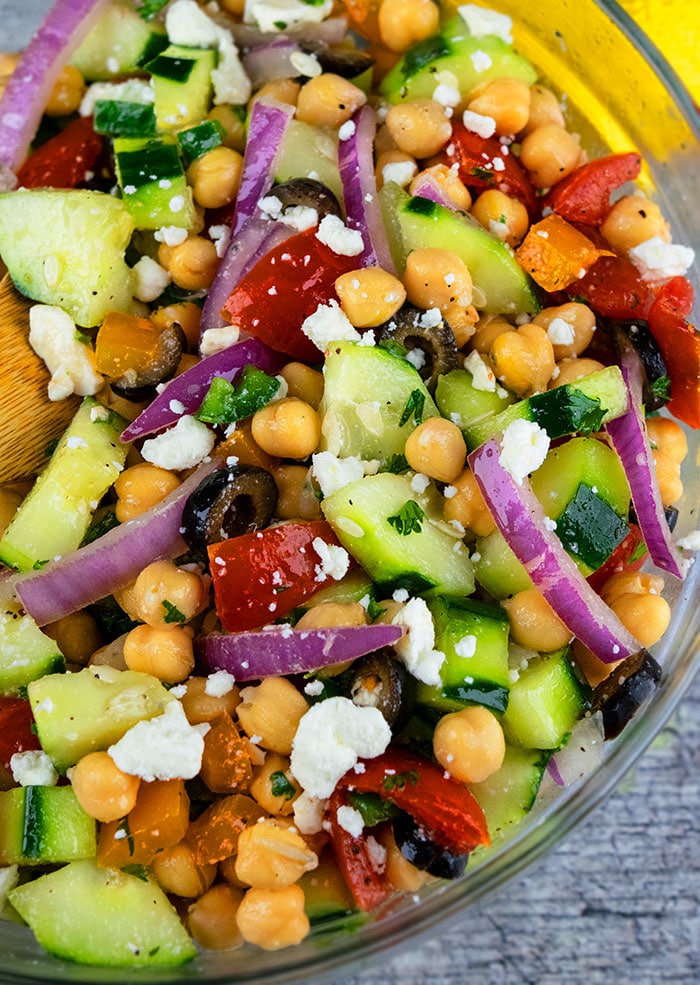 Can I eat chickpeas from the can?
Yes, they are already cooked but you should drain and rinse them first because they are often filled with a starchy liquid. This can add a weird taste and color to your salad. Sometimes, the liquid also has a lot of sodium, which is best to rinse off or else there is a chance the salad can become too salty.
Just dump the can in a colander and rinse it under cold water and allow the water to drain, prior to eating it or using it in this Summer salad.
Are chickpeas supposed to be soft?
They should be soft but tender and not mushy.
What sides to serve with Greek chickpea salad recipe?
You can enjoy it on its own but it can also make a great side dish with almost all main dishes, especially Mediterranean ones like shawarma.
Serve it with baked/ Grilled Chicken Breast or these Garlic Butter Steak Bites (One Pot) and even grilled or roasted seafood such as salmon or shrimps.
It's also great to serve at BBQ parties and potlucks with burgers, hotdogs and sandwiches such as this Loose Meat Sandwich (Tavern Sandwich).
Chickpea salad dressing
This is one of the easiest dressings you will ever make. You can make the vinaigrette separately and store in a sealed jar in the fridge for up 5 days and even use it as a marinade for chicken, fish, steak, vegetables.
All you have to do is whisk together lemon juice, olive oil, parsley, ginger powder, garlic powder, salt, pepper, red chili flakes until smooth.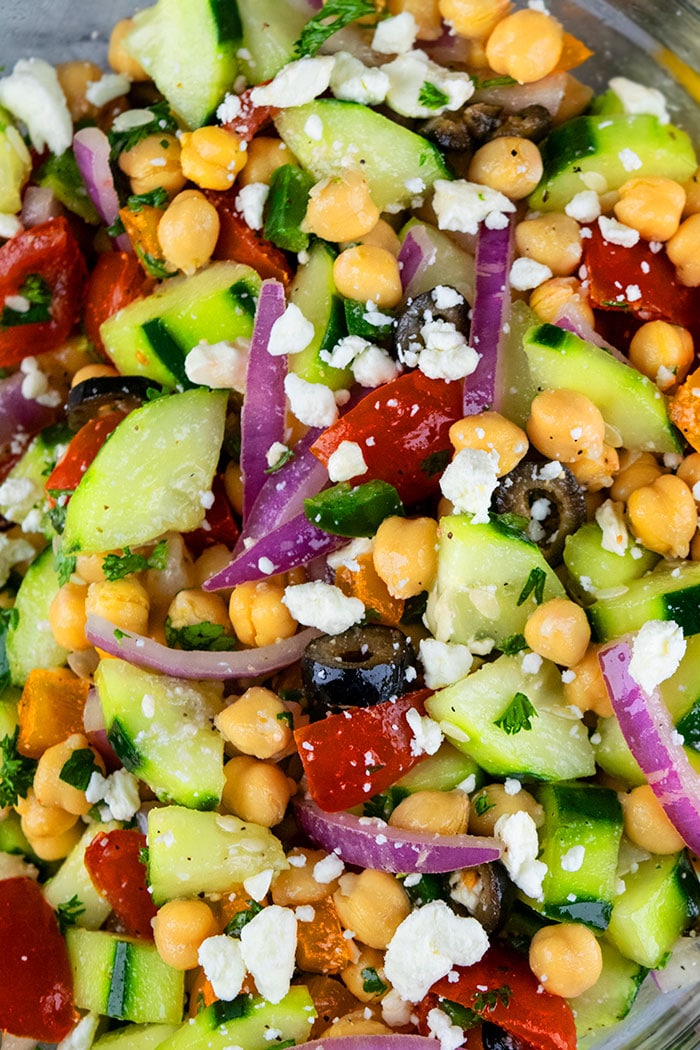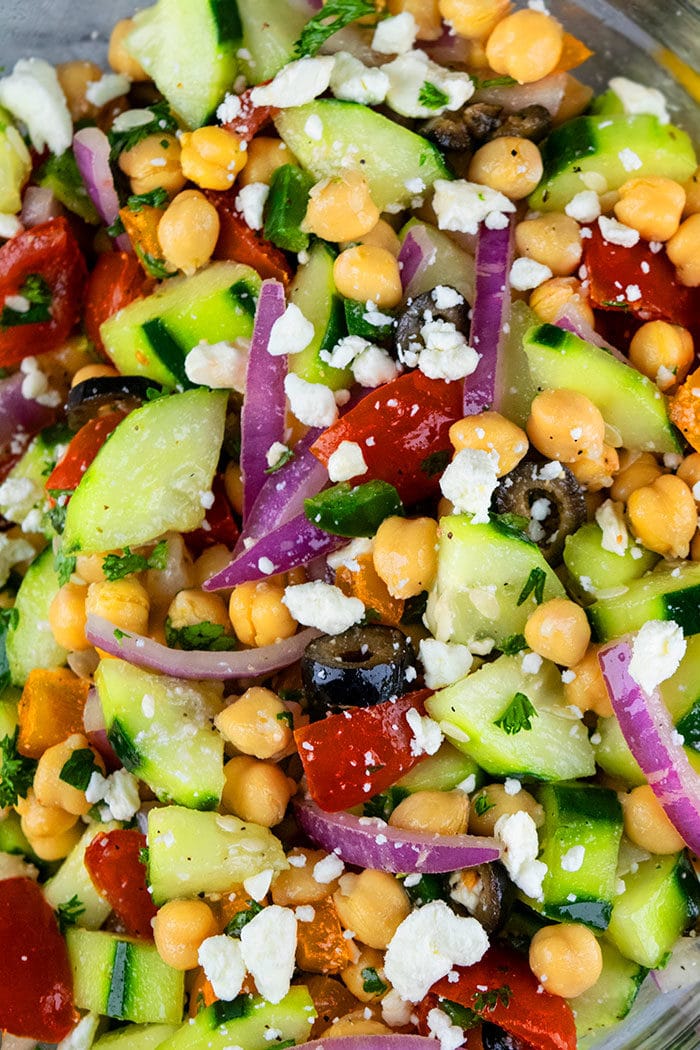 Variations
Simple chickpea salad sandwich– Fill it in a hearty ciabatta bread or even pita bread, along with some grilled chicken or tofu, if you like.
Chickpea tuna salad– Mix in 1 small can of tuna.
Chickpea avocado salad– Mix in 1 diced ripe avoado.
Quinoa chickpea salad– Mix in 1/2 cup cooked quinoa or even 1/2 cup couscous.
Roasted chickpea salad– Instead of canned chickpeas, use oven roasted chickpeas. That is an additional step because you would have to roast them in the oven first.
Add kale or spinach– Mix in chopped 1 cup of your favorite greens.
Add pasta– Mix in 1 cup boiled macaroni or even cheese tortellini. You can also add 1 can of chickpeas to my yummy Italian Tortellini Salad (One Bowl).
Give it an Indian spin– By adding some curry powder and garam masala.
Add black beans– Mix in 1 can of black beans (drained and rinsed).
Make it vegan– By replacing feta with any other vegan cheese.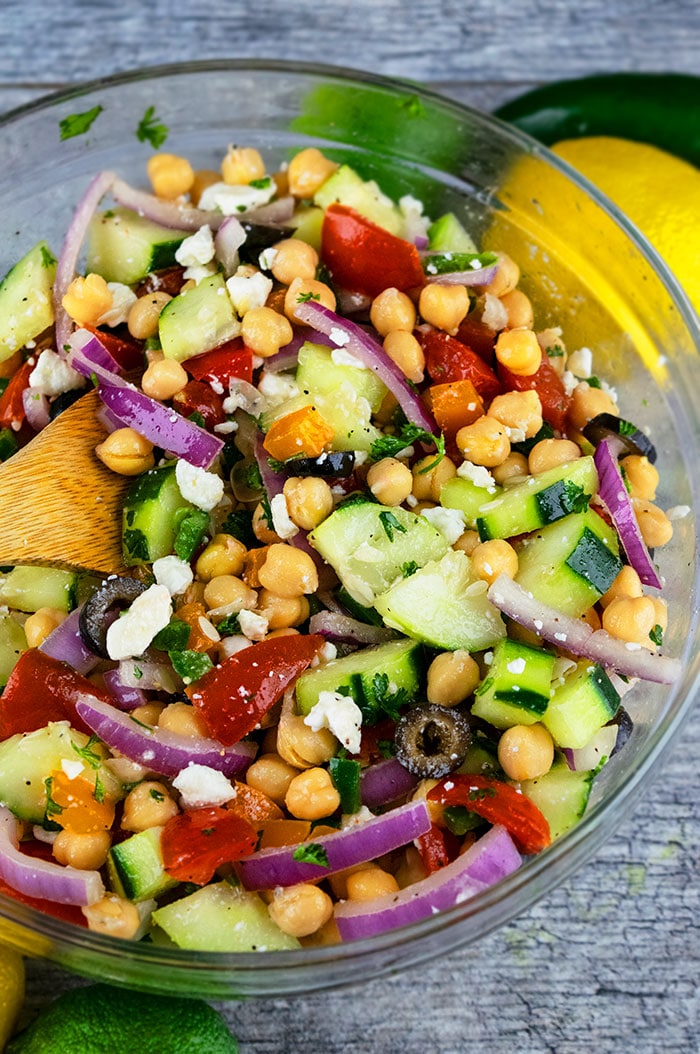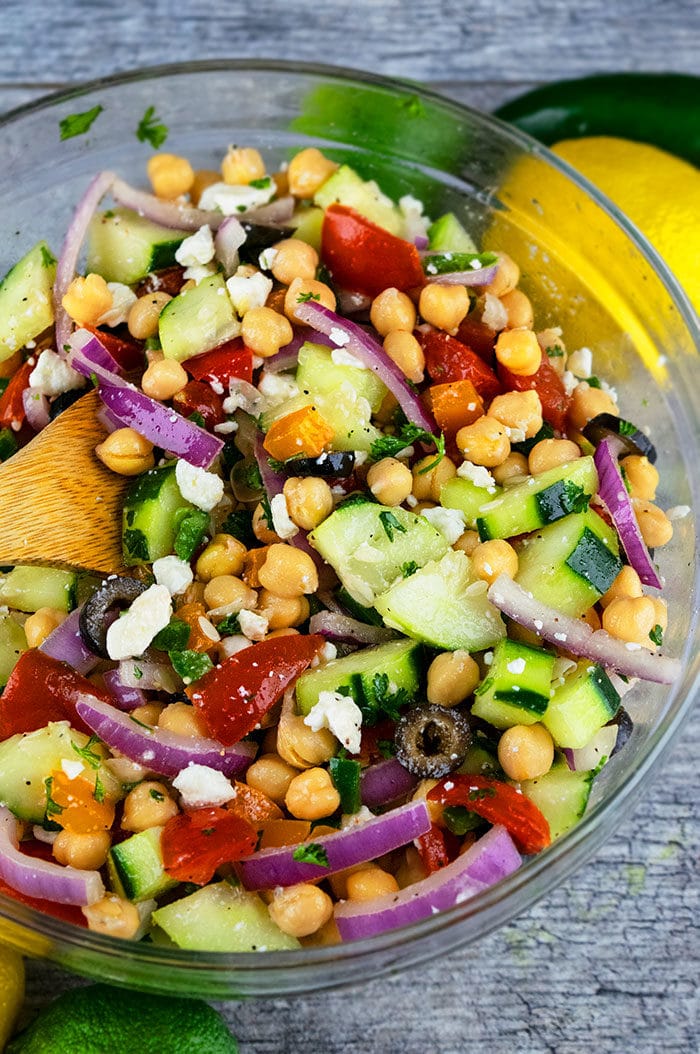 Tips and Techniques
Are chickpeas the same as garbanzo beans? Yes. They are exactly the same.
Let it rest– Because this allows all the flavors to marinate and deepen. It's absolutely worth it!
Adjust amount of herbs and spices– Add more or less of whatever you like or dislike.
Serve a crowd- Double the recipe to serve more people, especially if you are making this for picnics.
Can I use vinegar instead of lemon juice in salads? Yes, you can but I think lemon juice tastes the best in this recipe. You can also use a combination of both or even use lime juice.
Use fresh lemon juice– Because it has a fresh flavor.
Use full fat feta cheese- For maximum flavor and creaminess.
Use high quality olive oil- Because it truly makes a difference. It is expensive but honestly, you are not using a lot in this recipe and that small amount adds a lot of flavor and fragrance.
What herbs to use in salad? Use fresh herbs because they taste better and look better. I used only parsley but you can use a combination of multiple herbs together such as: cilantro, parsley, dill, thyme, chives, basil, oregano.
More Easy Salad Recipes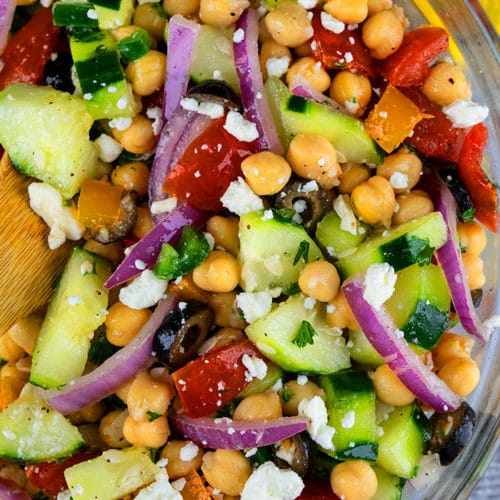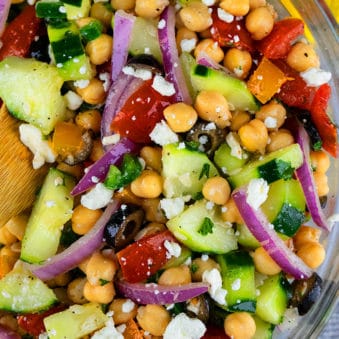 Mediterranean Chickpea Salad
Quick and easy chickpea salad recipe, made with simple ingredients in one pot or bowl in 30 minutes. Loaded with veggies, olives, feta cheese and lemon vinaigrette.
Yield: People
Ingredients
1 cup Cucumbers, Diced
2 cans Chickpeas, 15 oz. cans, Drained, Rinsed
1 cup Tomatoes, Diced
1/2 cup Red onions, Thinly sliced
1/2 cup Bell peppers, Red, green and orange
2 tbsp Parsley, Roughly chopped
1/3 cup Black olives
1/2 cup Olive oil
1/4 cup Lemon juice
1 tsp Ginger powder
1 tsp Garlic powder
1/4 tsp Red chili flakes, Optional
Salt, To taste
Pepper, To taste
1/2 cup Feta cheese, Crumbled
Instructions
In a large mixing bowl or salad bowl, add cucumbers, chickpeas, tomatoes, onions, peppers, parsley, olives, oil, lemon juice, ginger, garlic, red chili flakes, salt, pepper.

Mix everything together until combined.

Toss feta cheese on top.

Cover and chill for 20-30 minutes. Enjoy!
Notes
Read all my tips above.
Leftovers can be stored in a sealed container in the fridge for up to 2 days.
Nutrition
Calories: 82kcal, Carbohydrates: 6g, Protein: 2g, Fat: 5g, Saturated Fat: 2g, Cholesterol: 11mg, Sodium: 436mg, Potassium: 166mg, Fiber: 1g, Sugar: 2g, Vitamin A: 870IU, Vitamin C: 26.6mg, Calcium: 82mg, Iron: 0.5mg
Happy cooking everyone!