Mediterranean Quinoa Salad (One Bowl)
The best, quick, easy, healthy Mediterranean quinoa salad recipe, homemade with simple ingredients in one pot or bowl in 20 minutes. Fresh, crisp veggies are tossed in a delicious zesty lemon vinaigrette!
Today's salad packs flavor and major health benefits, just like this Mediterranean Chickpea Salad (One Bowl).
Quinoa is one of the few grains that contains all nine essential amino acids in it and is also gluten free. The crips vegetables, combined with the salty feta, and tangy lemon vinaigrette make this a delicious and filling salad.
I love that it is a complete meal on its own and can also be eaten again for lunches throughout the week. It comes together quickly, and is a great crowd pleaser.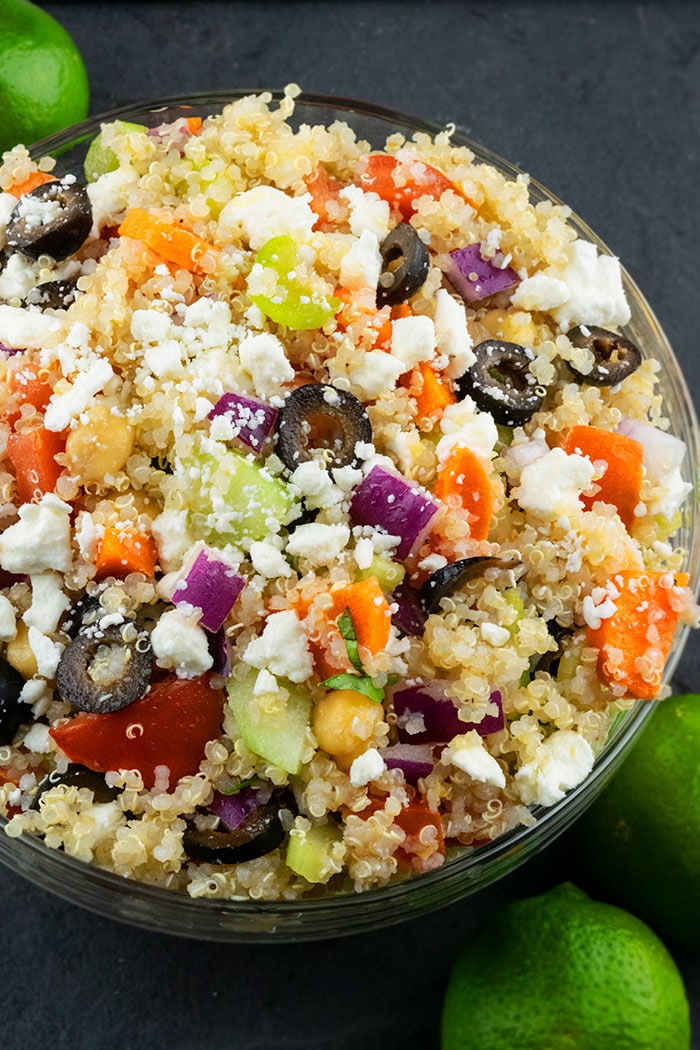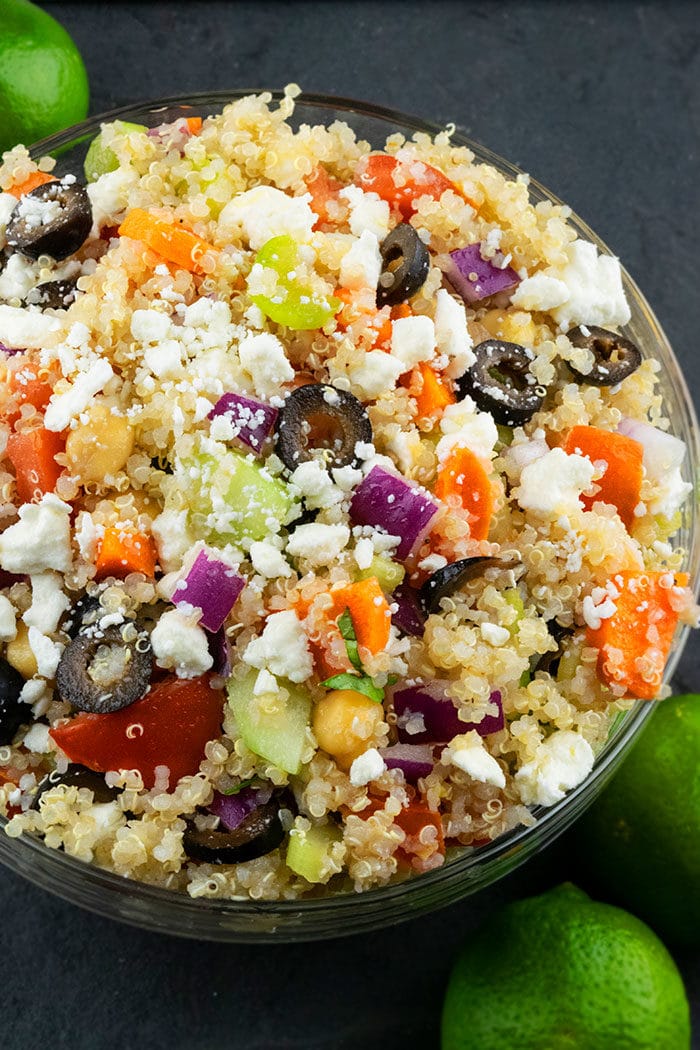 How to make quinoa salad?
Make vinaigrette- Add olive oil, lemon juice, vinegar, salt, pepper, garlic powder, ginger powder, and cilantro. Whisk until smooth.
Add veggies- Add chickpeas, cucumbers, tomatoes, celery, carrots, green peppers, onion, quinoa, and black olives. Toss until combined.
Enjoy!– Cover and chill for 20-30 minutes to deepen flavor, or if you are short on time, you can serve it immediately too.
What sides to serve with cold quinoa salad recipes?
One of the traditional sides to serve with a salad is soup. Here are some soups that you are can try: Roasted Red Pepper Soup (Instant Pot) , Tomato Basil Soup Recipe (One Pot) and Tomato Tortellini Soup (One Pot).
Another great option is to serve this salad with a sandwich. A few of my favorites are: Instant Pot Sloppy Joes and Instant Pot Italian Beef and Mediterranean Veggie Sandwich (One Pan). Any of your favorite deli sandwiches would be a great option too.
You can also serve it alongside baked or grilled chicken, steak and salmon. Try this Grilled Chicken Breast or these Garlic Butter Steak Bites (One Pot).
What can be mixed with quinoa?
There isn't much off limits with quinoa. You can mix vegetables, fruit, protein, and use a variety of dressings.
Vegetables– Carrots, celery, cucumbers, edamame, corn, broccoli, spinach, kale, onions, garlic, tomatoes, peppers, grilled zucchini and squash.
Fruit– Orange slices, lemon, lime slices, strawberries, blueberries, raspberries, peaches, avocado.
Protein– Cooked chicken, steak bites, beans, pork, beef, tofu, shrimp, tuna, crab.
Is quinoa salad eaten hot or cold?
It's is best served cold, but quinoa can be made hot and eaten hot in other recipes.
How to cook quinoa?
Rinse it– Rinse the quinoa in a fine sieve till the water runs clear.
Boil it– Bring to a boil in 2 cups of water. Salt the water.
Heat it– Cover, cook over medium low heat, and simmer for about 15-20 minutes, or until water is absorbed.
Remove from heat– Let quinoa sit for 5 minutes, then uncover and fluff with a fork. This is truly the best way to make fluffy quinoa.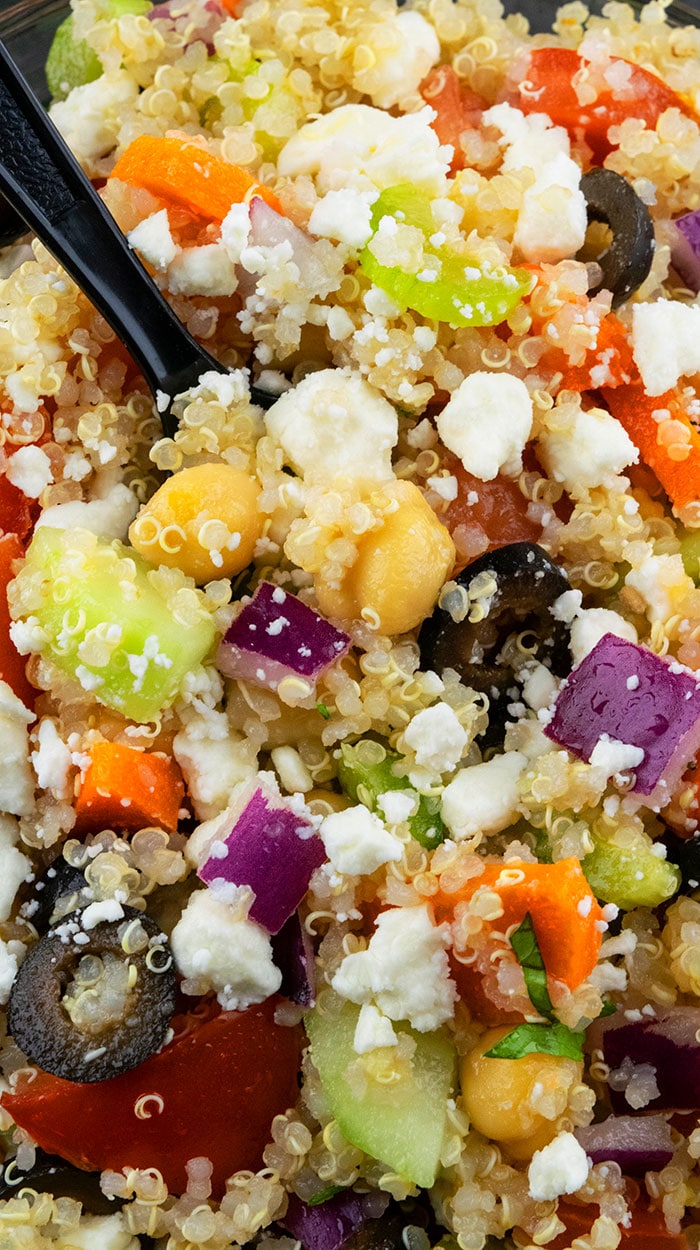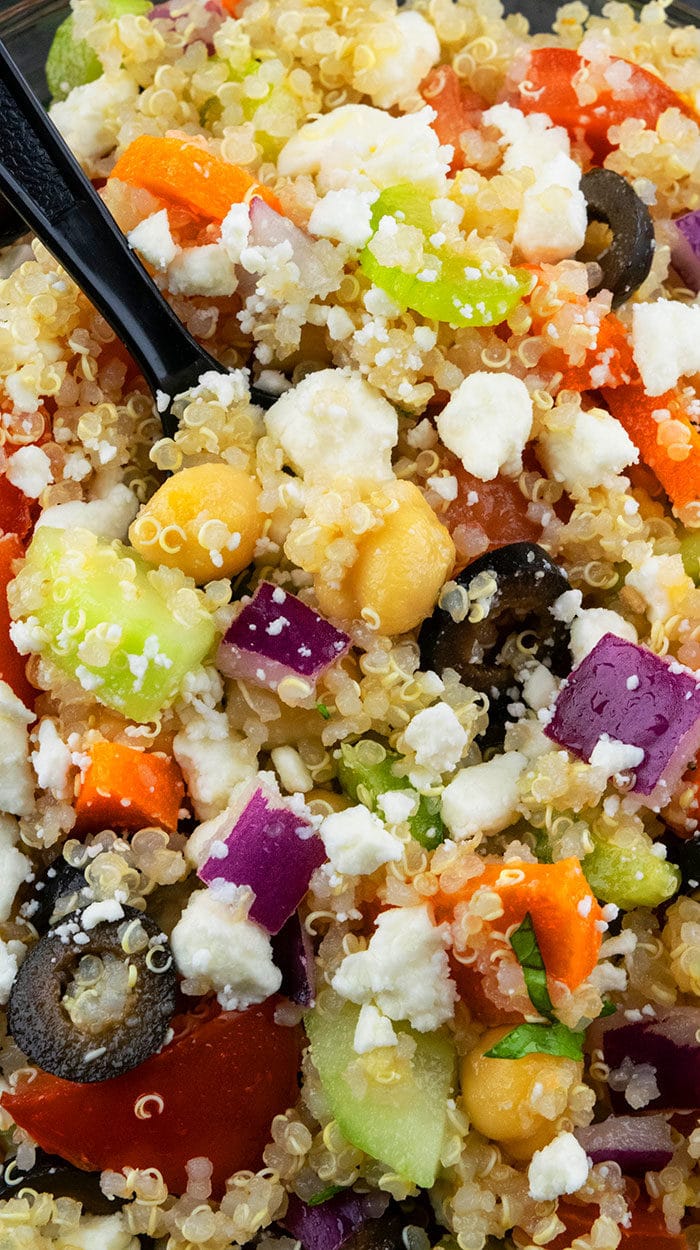 Best Quinoa Salad Dressing
This dressing is zesty, bright, citrusy, and delicious. Simply whisk together olive oil, lemon juice, vinegar, salt, pepper, garlic, ginger and cilantro and pour over cooked quinoa and veggies.
Variations of Quinoa Salads
Kale quinoa salad– Wash and roughly chop it and mix it in or if you find kale too bitter, you can add spinach or arugula instead.
Quinoa black bean salad– Add a can of drained and rinsed black beans to add protein.
Mexican quinoa avocado salad- Add avocado chunks, cilantro, black beans, and corn.
Chicken quinoa salad- Add chicken or other protein sources like tuna, cooked salmon, or shredded beef.
Add seafood- Add cooked shrimp, tuna or crab meat.
Add other vegetables– Such as beets, broccoli, edamame, radishes, or shredded carrots.
Add other proteins- Such as lentils, more chickpeas, or even tofu.
Add nuts or dried fruits- Such as chopped cranberries, cherries, yellow raisins, pecans, walnuts, pistachios.
Make it spicy– Add red pepper chili flaks, fresh chopped chilis, or cayenne pepper.
Tips and Techniques
Don't over-cook quinoa- It will become mushy and sticky instead of acting as individual granules.
Rinse the quinoa– This step is so important! Rinsing the quinoa removes the bitter taste that occurs naturally on the outside coating of quinoa.
Make ahead salad instructions- You can make the entire salad ahead of time and then serve chilled from the fridge. Store it in a sealed container in the fridge.
Toast the quinoa– This is not a necessary step, but does add a nutty flavor to the quinoa, which some people prefer. Simply toast the uncooked quinoa in a few tablespoons of oil for a few minutes.
Adjust quantity– Adjust amount of quinoa or any of the other ingredients in this recipe. This is based on your preference!
Feed a crowd– Double the recipe to feed a party!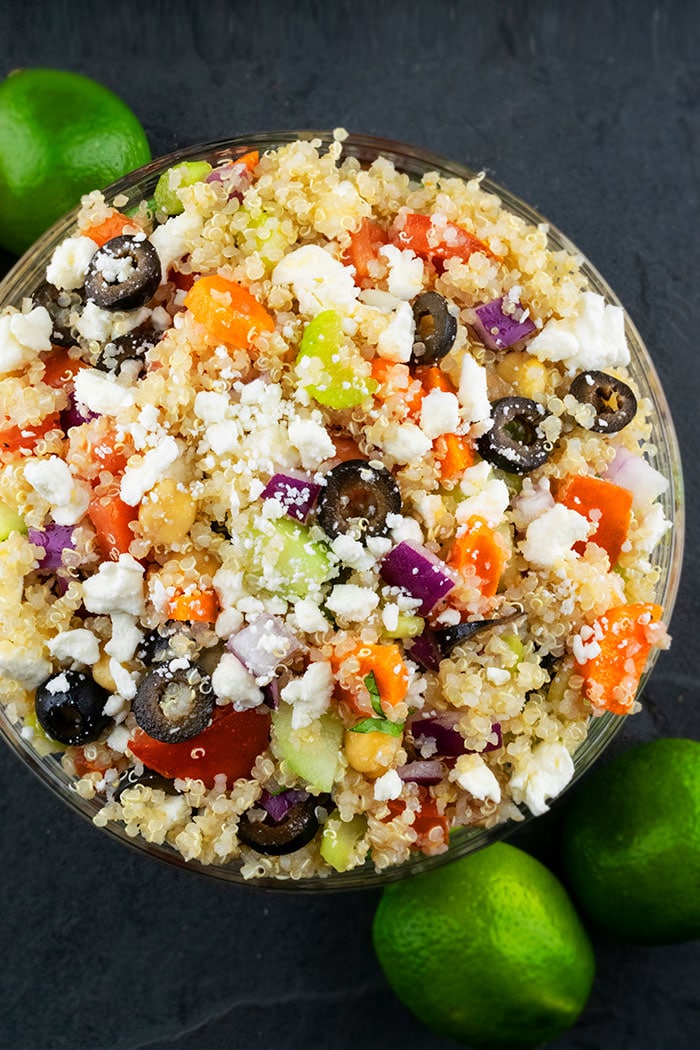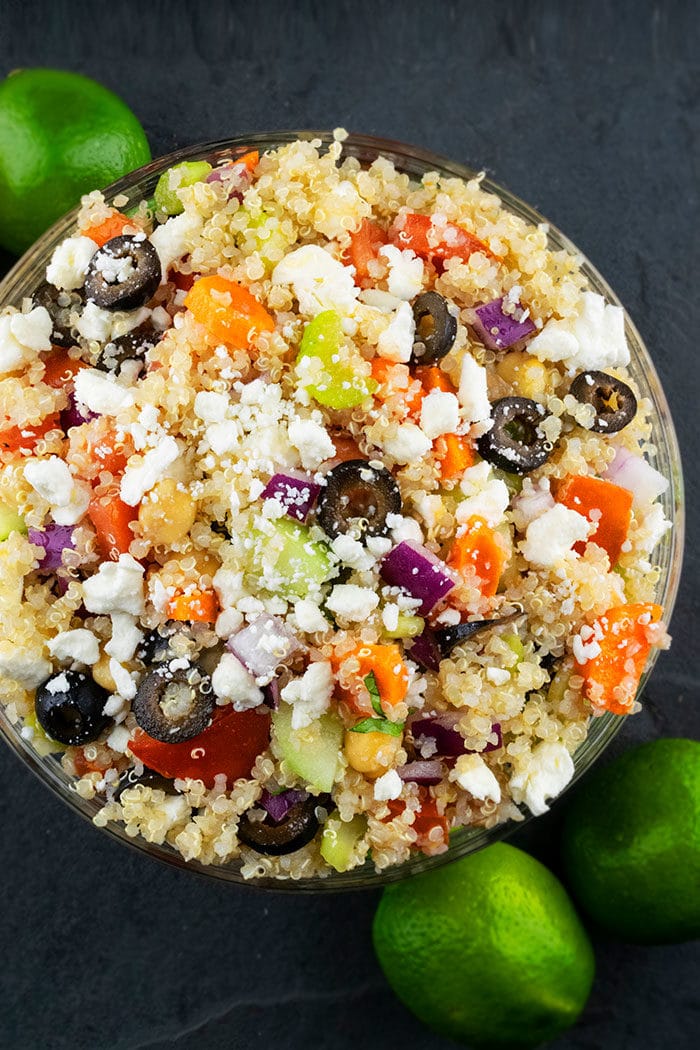 More Salad Recipes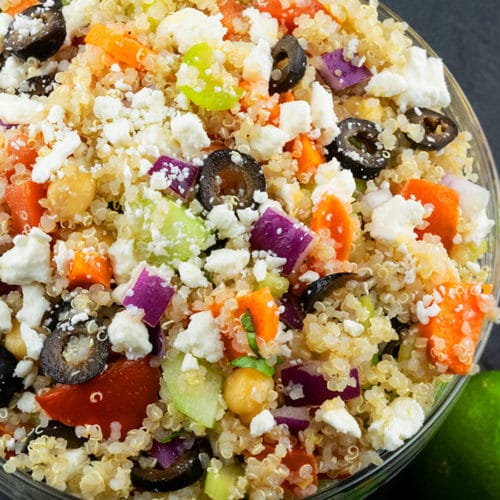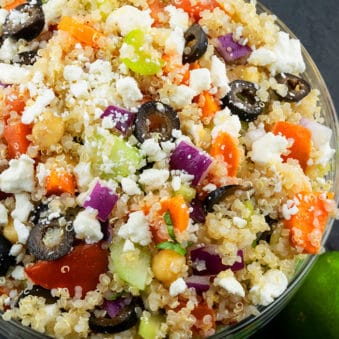 One Pot Mediterranean Quinoa Salad
The best, quick, easy, healthy Mediterranean quinoa salad recipe, homemade with simple ingredients in one pot in 20 minutes. Packed with zesty lemon vinaigrette!
Yield: People
Ingredients
1/4 cup Olive oil
3 tbsp Lemon juice
2 tbsp Vinegar
Salt, To taste
Pepper, To tatse
2 tsp Garlic powder
1/2 tsp Ginger powder
2-3 tbsp Cilantro, Roughly chopped
1 cup Chickpeas, Drained, Rinsed
3/4 cup Cucumbers, Peeled, Diced
1/2 cup Tomatoes, Diced
1/2 cup Carrots, Peeled, Roughly chopped
1/4 cup Celery, Thinly sliced
1/3 cup Green peppers, Finely chopped
1/3 cup Red onion, Finely chopped
1.5 cups Quinoa, Cooked and Cooled
1/3 cup Black olives, Thinly sliced
1/3 cup Feta cheese, Crumbled
Instructions
In a large salad bowl, whisk together oil, lemon juice, vinegar, salt, pepper, garlic powder, ginger powder, cilantro until smooth.

Add chickpeas, cucumbers, tomatoes, carrots, celery, green peppers, onion, quinoa, black olives and toss everything together until combined.

Serve immediately or cover and chill for at least 20-30 minutes to allow the flavors to deepen. Enjoy!
Notes
Read all my tips above.
Leftovers can be stored in a sealed container in the fridge for up to 2 days. 
Nutrition
Calories: 395kcal, Carbohydrates: 60g, Protein: 16g, Fat: 11g, Saturated Fat: 3g, Cholesterol: 11mg, Sodium: 472mg, Potassium: 695mg, Fiber: 10g, Sugar: 5g, Vitamin A: 3064IU, Vitamin C: 20mg, Calcium: 136mg, Iron: 4mg
Happy cooking everyone!