Beef Noodle Soup (One Pot)
Quick and easy beef noodle soup recipe, homemade with simple ingredients in 30 minutes on stovetop. A hearty one pot meal, loaded with vegetables, Italian seasoning, egg noodles and leftover pot roast.
Pot roasts are always in our meal plan every month and we enjoy using the leftovers in different ways over the next few days. Today's recipe is one of our favorites, especially during the cold season when you want a warm and comforting bowl of soup. Here are some delicious pot roast recipes that you can use: Instant Pot Red Wine Pot Roast, Instant Pot Pot Roast Recipe, Easy Slow Cooker Pot Roast, Italian Pot Roast
Typically, this soup would take more than an hour to make because you would have to cook the beef too. However, since you are using cooked meat (e.g. leftover roast), it's ready in about 30 minutes.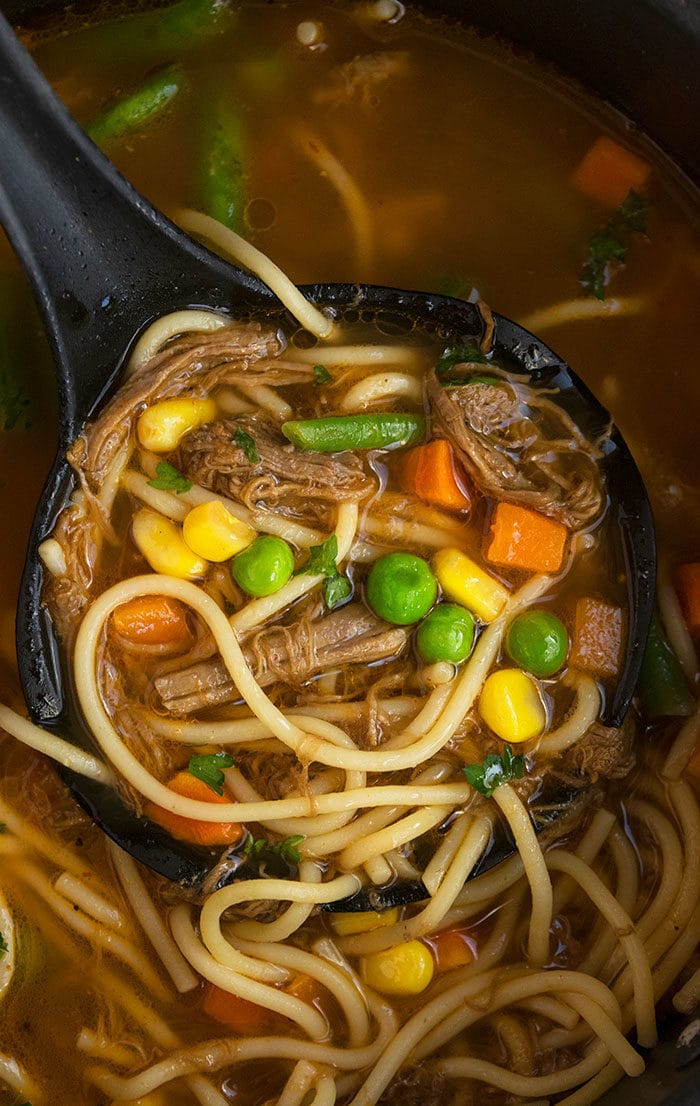 What sides to serve with beef vegetable noodle soup?
Typically, this soup is served on its own because it does have egg noodles, which are very filling. However, to make it even more filling, you can serve breadsticks or crusty bread on the side. Garlic bread and cornbread are also good choices.
Variations
Taiwanese beef noodle soup/ Chinese beef noodle soup– This would be an Asian twist to this recipe. The post roast should be made with Asian herbs, sauces, seasonings rather than Italian seasoning.
Spicy beef and noodle soup– Add red chili flakes to give it a spicy kick.
Make it creamy– By adding some heavy cream towards the end. This also thickens it slightly and makes it more flavorful.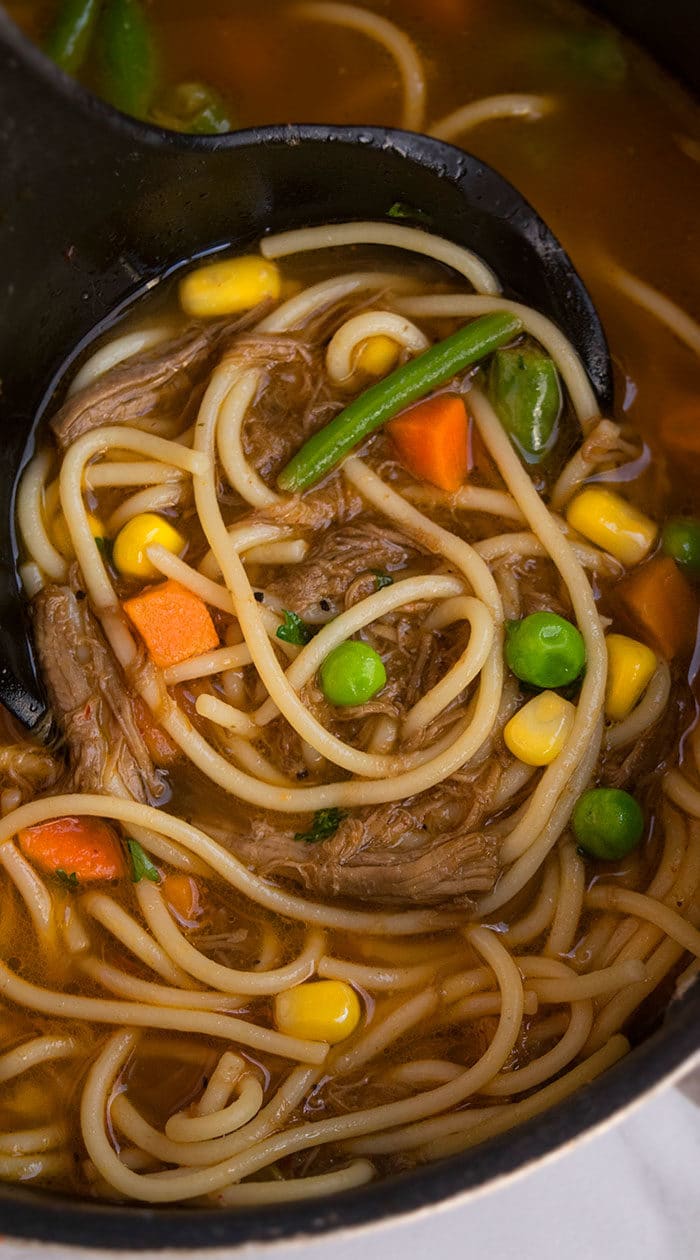 Tips and Techniques
Don't shred the beef– It makes the soup very messy and "stringy." I recommend using roughly sliced pieces.
Use unsalted butter and low sodium broth– Because it prevents this meal from becoming too salty.
What type of noodles to use? Egg noodles taste the best and there are a variety of shapes to choose from. Udon noodles are great too. You can also use thin noodles or small shells.
Frozen vegetables vs. Fresh vegetables– I like to use frozen veggies because it's convenient and they also cook faster. If you use fresh veggies, you would have to add them earlier because they take a little longer to cook and become tender.
Don't add the noodles in the beginning– Because if they are cooked for so long, they would end up getting over-cooked and become too soft and "mushy."
Adjust amount of vegetables– This is based on your preference. You can add more or less.
Adjust herbs and seasonings– This is based on your preference too. I only use a little bit of Italian seasoning since the pot roast will add a lot of flavor.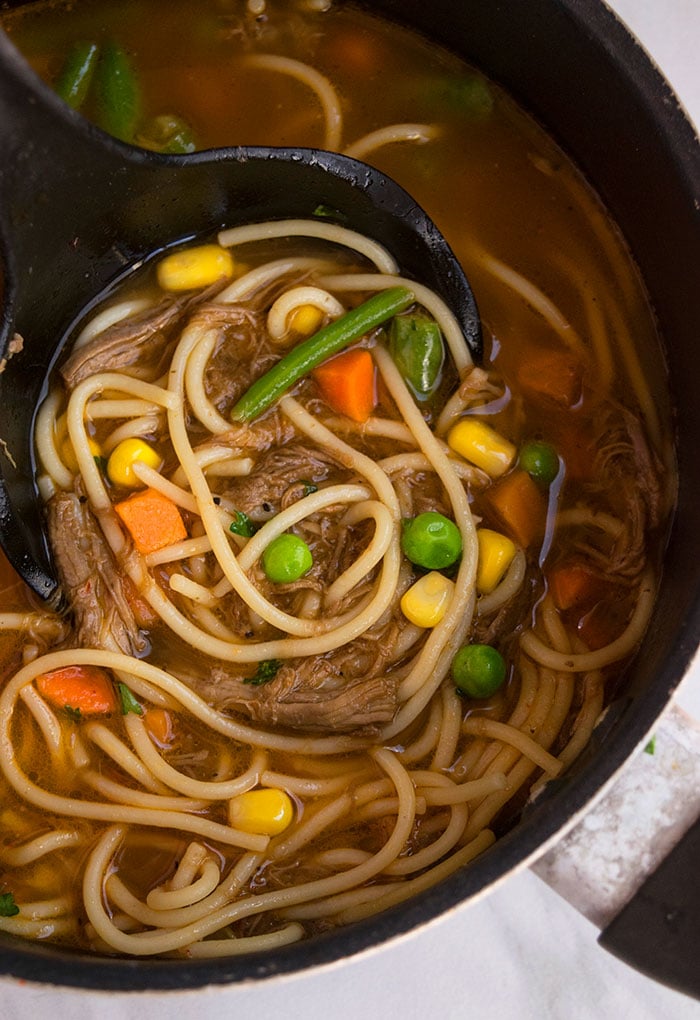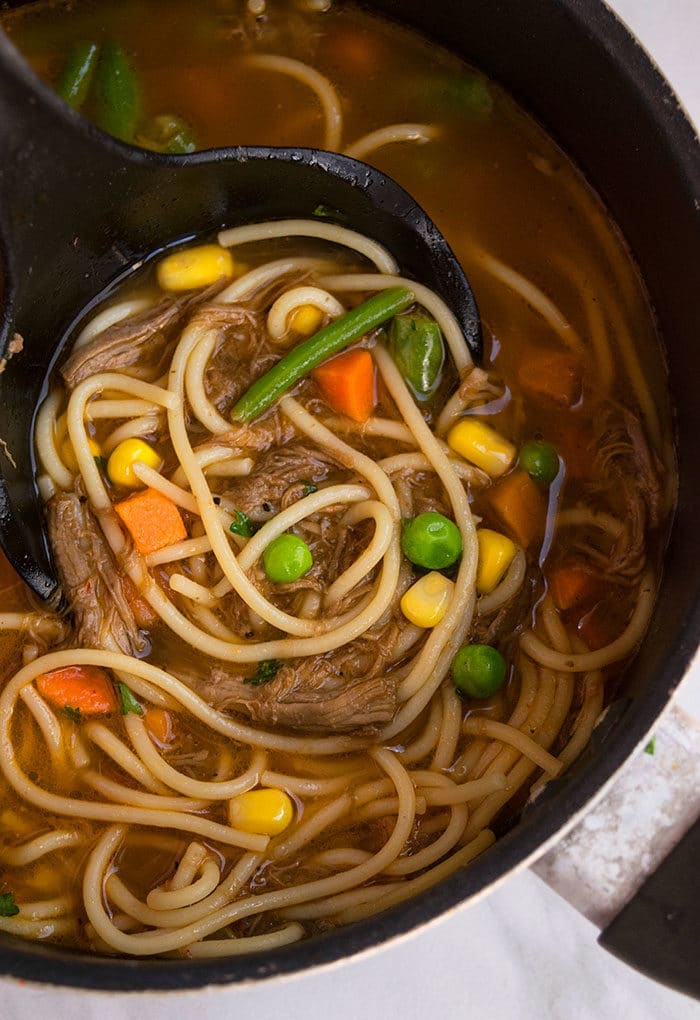 Other One Pot Soup Recipes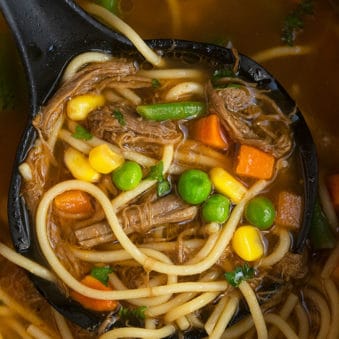 One Pot Beef Noodle Soup Recipe
Quick and easy beef noodle soup recipe, made with simple ingredients in 30 minutes on stovetop. A one pot meal, loaded with vegetables and leftover pot roast.
Yield: People
Ingredients
1 tbsp Butter, Unsalted
1 tbsp Oil
1/2 cup Onion , Finely chopped
1 clove Garlic, Finely minced
6 cups Beef broth, Low sodium
1-2 tsp Italian seasoning
Salt, To taste
Pepper, To taste
4 cups Leftover pot roast beef, Cut into big chunks and/or roughly shredded
8 oz Thin egg noodles, Or udon noodles or even thin spaghetti
1-1.5 cups Frozen vegetables, Mixture of corn, peas, carrots, green beans
2 stalks Celery, Diced
Instructions
Heat butter and oil in a large nonstick pot over medium-high heat.

Add onions, garlic and saute until fragrant.

Add broth, Italian seasoning, salt, pepper and bring to a boil.

Add cooked beef and cook uncovered for 10 minutes.

Add noodles, frozen vegetables, celery and bring to a boil.

Continue cooking uncovered until noodles are cooked through.

Garnish with parsley, if you like. Enjoy!
Notes
Read all my tips above.
Tastes best when served immediately but leftovers can be stored in a sealed container in the fridge for 24 hours. Please note than the texture of noodles will change and become "mushy" because they will absorb a lot of the broth.
Nutrition
Calories: 608kcal, Carbohydrates: 33g, Protein: 35g, Fat: 36g, Saturated Fat: 13g, Cholesterol: 143mg, Sodium: 1043mg, Potassium: 745mg, Fiber: 3g, Sugar: 1g, Vitamin A: 1685IU, Vitamin C: 4.7mg, Calcium: 75mg, Iron: 4.4mg
Happy cooking everyone!