Crockpot Sesame Chicken
The best quick and easy crockpot sesame chicken recipe (sesame seed chicken), homemade with simple ingredients. Tender chicken breast cubes are coated in healthy, sweet, spicy, sticky Chinese sauce.
If you like making my Honey Sesame Chicken (One Pot), I am sure you will love this crockpot version too. It's better than PF Chang's or Panda Express takeout!
Other One Pot Chinese Recipes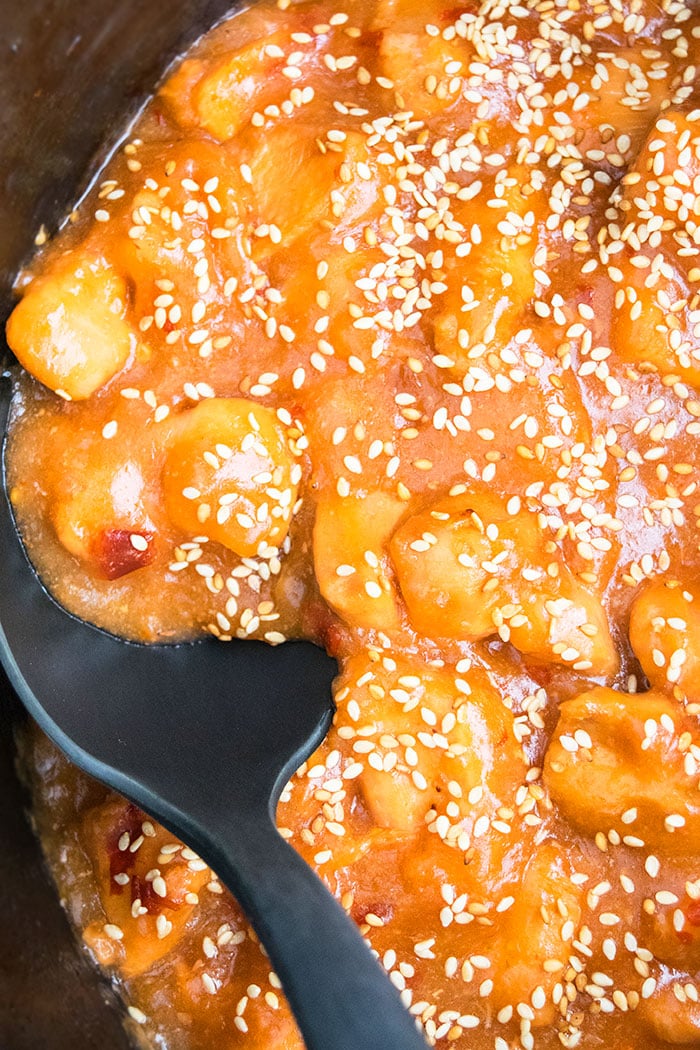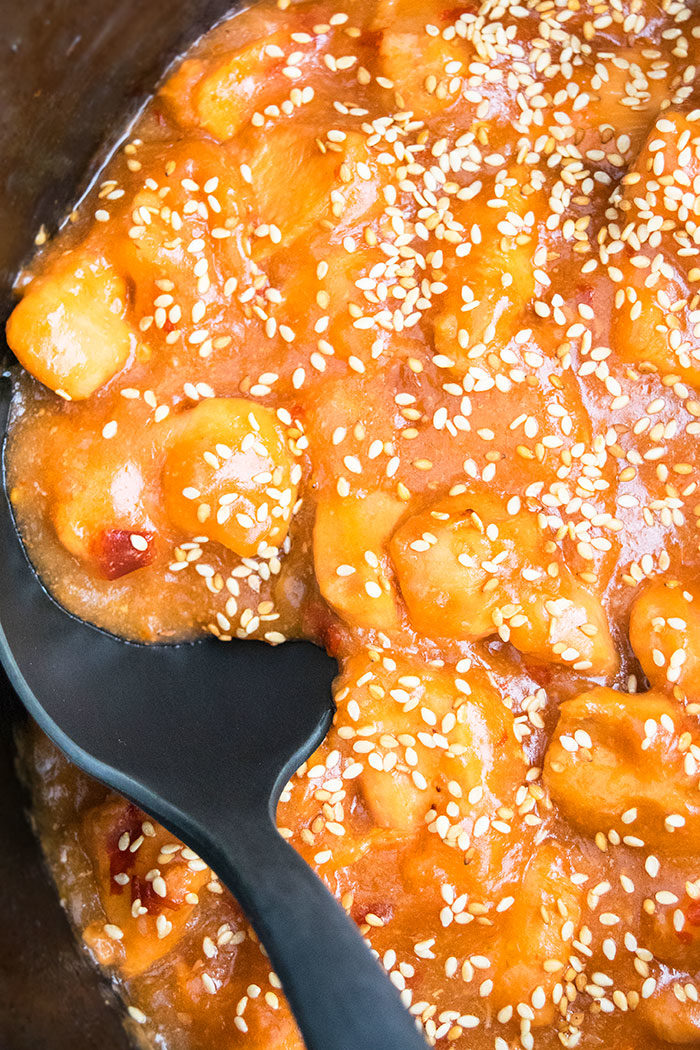 How to make sesame chicken in slow cooker?
Add chicken, sesame oil, soy sauce, bbq sauce, salt, pepper, red chili flakes, honey, ginger, garlic, onion in crockpot.
Cover and cook.
Mix in dissolved cornstarch.
Cover and cook.
Garnish with sesame seeds and enjoy.
How to make homemade Chinese sesame chicken sauce?
There are many different ways to make this sauce. After many experiments, the best flavors are created by combining together the following ingredients: ginger, garlic, soy sauce, bbq sauce, honey, sesame oil, onion, red chili flakes, salt, pepper, cornstarch.
I made this sauce in the slow cooker but you can also cook these ingredients over medium-high heat in a nonstick saucepan over stovetop, until sauce thickens. Then, you can mix it in with stir-fried shrimp or chicken.
Is honey chicken the same as sesame chicken?
No. Even though the sauces for both recipes are very similar, honey chicken is made without any sesame oil or sesame seeds.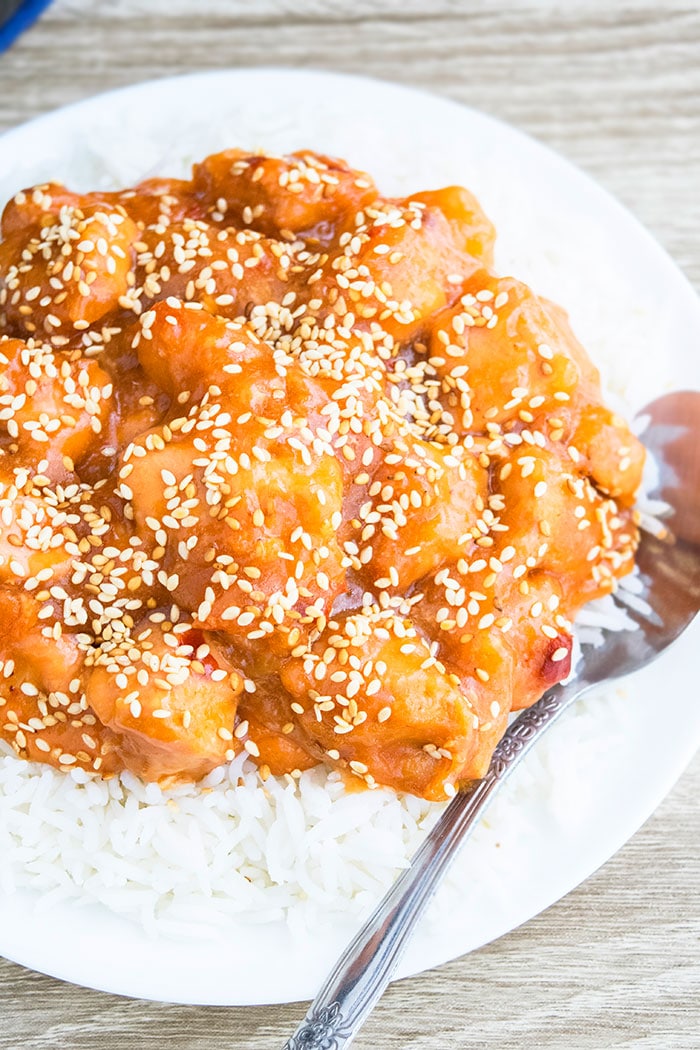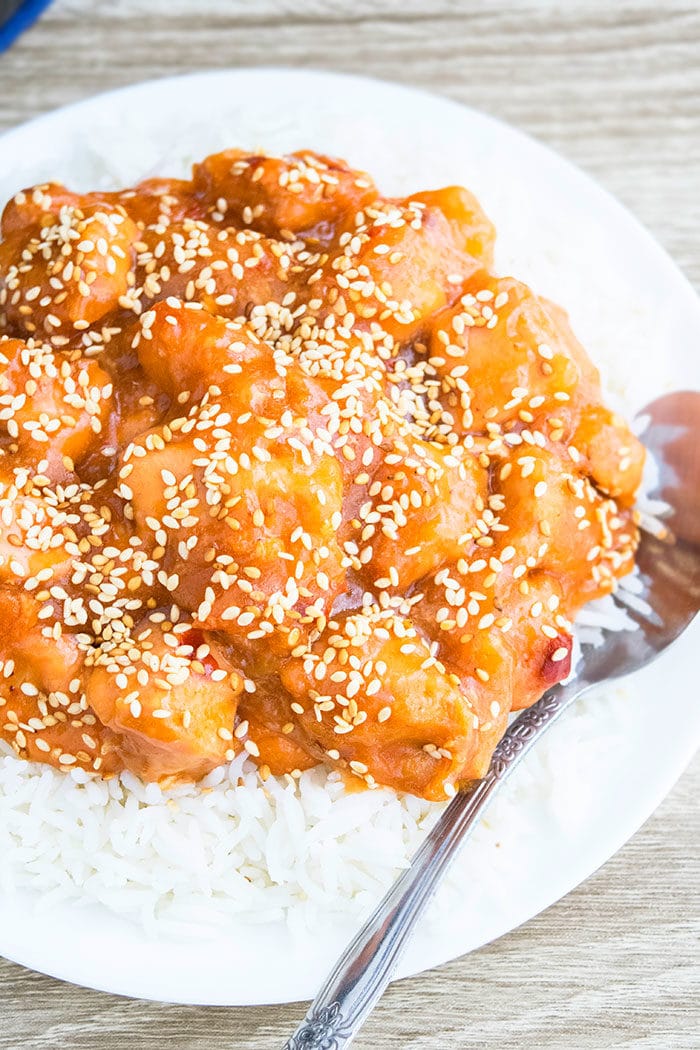 What sides to serve with easy sesame chicken stir fry?

Rice- You can just serve boiled/steamed jasmine rice or basmati rice or try this Pineapple Rice (One Pot) or Vegetable Fried Rice (One Pot) or Bacon Fried Rice (One Pot) or even Cauliflower Fried Rice (One Pot) for a healthier alternative.
Quinoa- This is another healthy alternative to rice and also a low carb option.
Roasted vegetables are always a classic side dish. Here are some of my family's favorites: Oven Roasted Carrots (One Pan), Oven Roasted Cauliflower (One Pan), Oven Roasted Green Beans (One Pan),Oven Roasted Broccoli (One Pan), Oven Roasted Asparagus (One Pan).
Salad– Keep it simple. A green salad is an awesome choice or you can try this Asian Cucumber Salad (One Bowl).
Noodles- Or zoodles (zucchini noodles) taste great too.
Variations
Shred it- Use whole chicken breasts and shred them at the end. Use them in burritos, wraps, sandwiches, pizza toppings, salads e.t.c.
Baked sesame chicken– Mix together all the ingredients (except cornstarch) in a large bowl. Marinate for at least 1 hour. Bake at 350 degrees for about 25-30 minutes or until chicken is cooked through. Also, use whole chicken breasts rather than cutting them into cubes.
Add frozen vegetables– Some popular choices are: broccoli, snap peas, carrots, green peppers. Add 1 cup in the last 20-30 minutes to prevent them from from getting over-cooked and too soft and remain crisp and tender.
Turn this into a salad– Add leftover chicken to your favorite green salad with an Asian dressing or vinaigrette.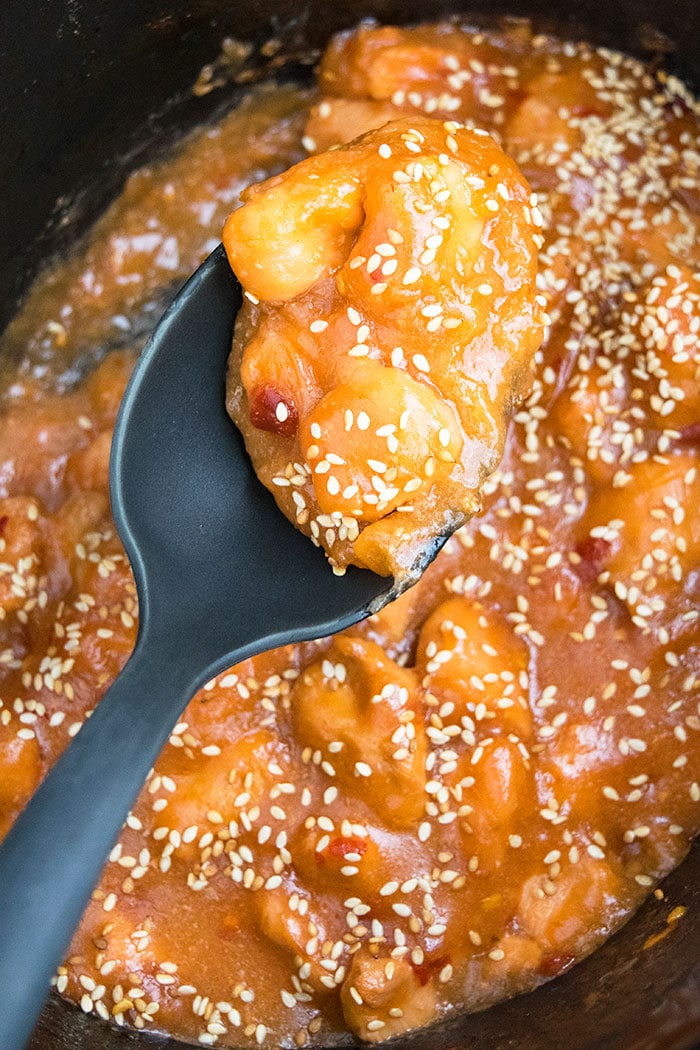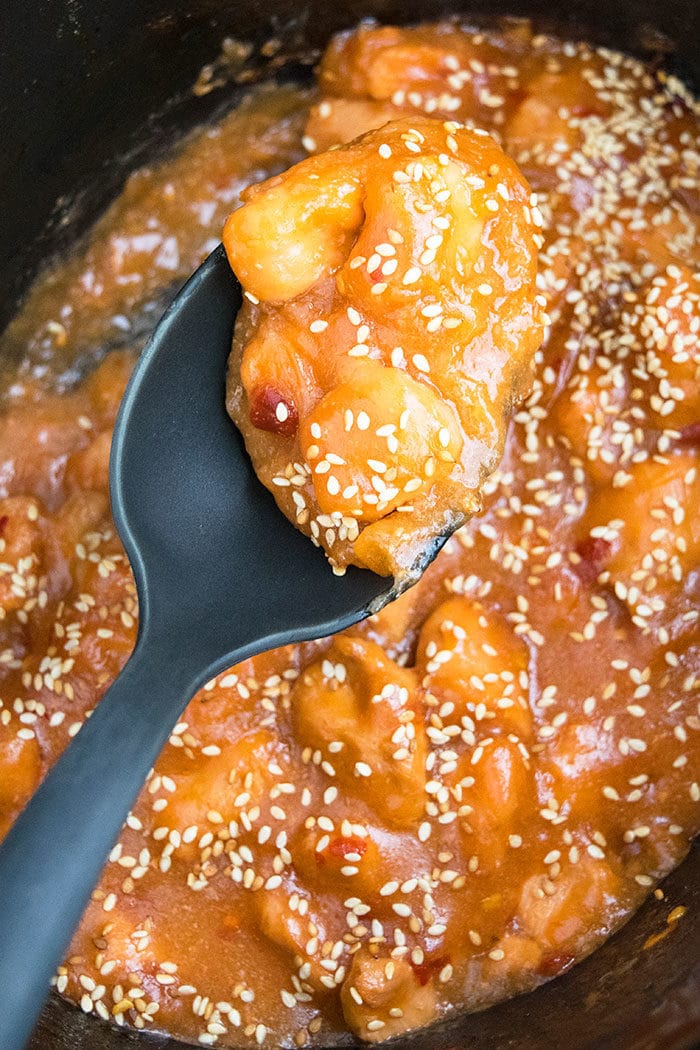 Tips and Techniques
Don't use frozen chicken- That's because it releases a lot of water and your sauce can become too thin.
What cut of chicken to use? You can use whole chicken breasts or cut them into small 1 inch cubes. The small size allows them to cook faster. You can also use thighs or drumsticks. I don't recommend using wings because they start falling apart, when cooked for so long.
Garnish options- Finely chopped green onions and roasted sesame seeds.
Adjust the heat– This is based on your preference. The heat is controlled by the use of red chili flakes.
Adjust the sweetness– This is also based on your preference. Add more or less honey.
Use low sodium soy sauce– Because it prevents this meal from becoming too salty.
This tastes best when it's fresh but leftovers can be stored in the fridge for up to 2 days. The sauce will probably be very thick. I recommend heating on low heat in a non-stick saucepan with a splash of water.
2 sources of sesame flavor– Sesame seeds and sesame oil are both required in this recipe. I highly recommend dry roasting sesame seeds because that enhances the nutty flavor and aroma. Also, don't skip the sesame oil because even though it is a small amount, it adds a lot of flavor to this recipe.
How to thicken the sauce? Use dissolved cornstarch. Mix it with some water and then add it in the slow cooker because this prevents little lumps from forming in the sauce. Also, do not replace it with flour because even though it can be used to thicken the sauce, it definitely changes the flavor.
Cooking time may vary– This is based on the brand of slow cooker you are using.

Other Crockpot Meals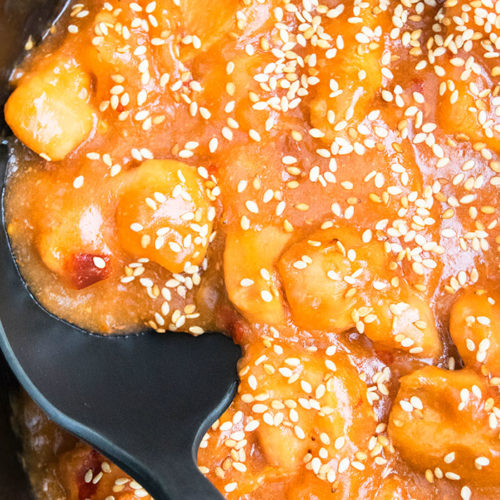 Crockpot Sesame Chicken Recipe
Quick, easy crockpot sesame chicken recipe, homemade with simple ingredients. Tender chicken breast is coated in healthy sweet, spicy, sticky Chinese sauce.
Yield: People
Ingredients
2.5 cups Chicken breast, Cut into small cubes
2 tbsp Onion, Finely chopped
1 cup Honey
1/2 cup Soy sauce, Low sodium
1/2 cup Bbq sauce
1 tsp Sesame oil
1 tbsp Olive oil
1 tsp Ginger powder
2 cloves Garlic, Finely minced
1/2 tsp Red chili flakes, Optional
Salt, To taste
Pepper, To taste
3 tbsp Cornstarch
3 tbsp Water
1-2 tsp Sesame seeds, Roasted
2 tbsp Green onions, Finely chopped
Instructions
In a slow cooker, add chicken, onion, honey, soy sauce, bbq sauce, sesame oil, olive oil, ginger, garlic, red chili flakes, salt and pepper. Mix everything together.

Cover and cook on Low for 2 hours or until chicken is cooked thorough.

In a small bowl, mix together cornstarch and water and add this cornstarch slurry in the slow cooker. Mix thoroughly.

Cover and cook on high for 15-20 minutes or until the sauce thickens.

Garnish with roasted sesame seeds and green onions. Enjoy!
Notes
Read all my tips above.
Leftovers can be stored in a sealed container in the fridge for up to 3 days. 
Nutrition
Calories: 489kcal, Carbohydrates: 93g, Protein: 23g, Fat: 4g, Cholesterol: 60mg, Sodium: 2136mg, Potassium: 535mg, Fiber: 1g, Sugar: 82g, Vitamin A: 210IU, Vitamin C: 3.1mg, Calcium: 35mg, Iron: 1.8mg
Happy cooking everyone!