Biscuits and Gravy (One Pot)
The best, classic, Southern, quick and easy biscuits and gravy recipe from scratch, homemade with simple ingredients in one pot over stovetop in 15 minutes. Rich and creamy white sausage gravy is poured over warm, crispy biscuits.
Making this dish is one of my favorite ways to start a lazy Saturday with the family. It's a meal that feels so gourmet and decadent, but truly only takes a few minutes of your time. My Homemade Brown Gravy Recipe (One Pot) is a different option to try but it's just not as classic as this Easy Sausage Gravy (One Pot).
This is the BEST recipe for biscuits and gravy ever!
Quick to prepare.
Requires simple ingredients.
Rich and creamy.
Never fails.
A Southern classic!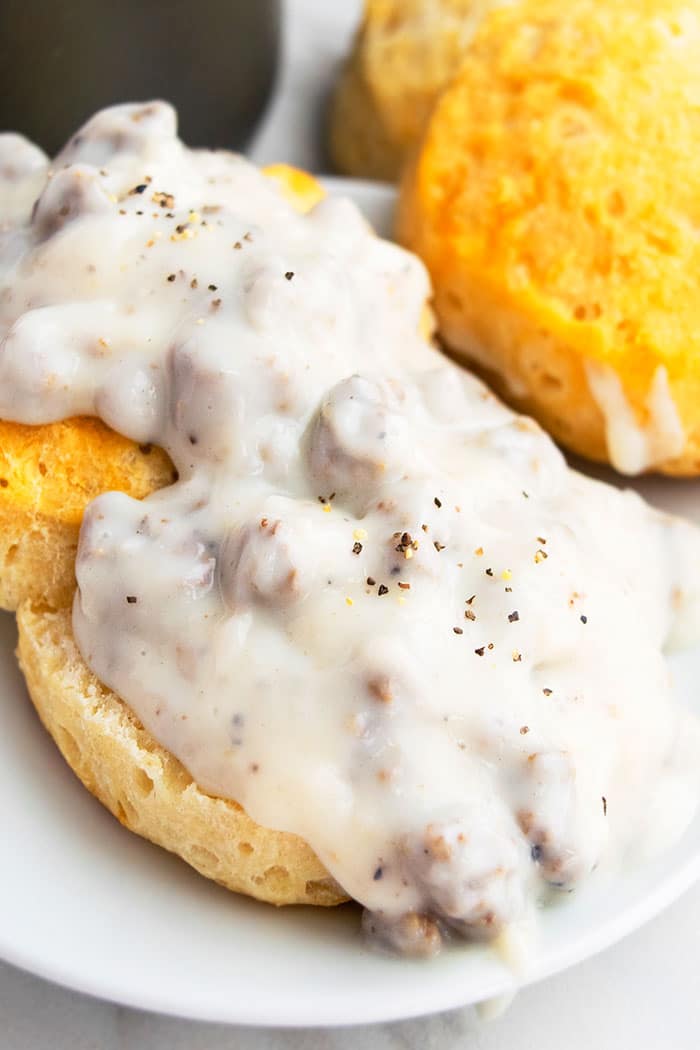 How to make biscuits and gravy?
Heat butter–Until fully melted.
Add sausage, garlic, salt, pepper– Cook until no longer pink.
Add flour- Mix until combined.
Add milk– Pour it gradually and stir everything together until thickened.
Enjoy- Serve over biscuits and dig in!
What to serve with best homemade sausage gravy and biscuits?
This meal is pretty heavy on its own and no other sides are really necessary.
If you really want something on the side, try replacing plain buttermilk biscuits with herb biscuits, cheddar biscuits, garlic biscuits. You can even serve with savory puff pastry.
This dish will also do well alongside eggs, omelettes, skillets, grits, breakfast potatoes or even these Oven Roasted Potatoes (One Pan).
Steamed vegetables like carrots, broccoli or green beans should also taste great.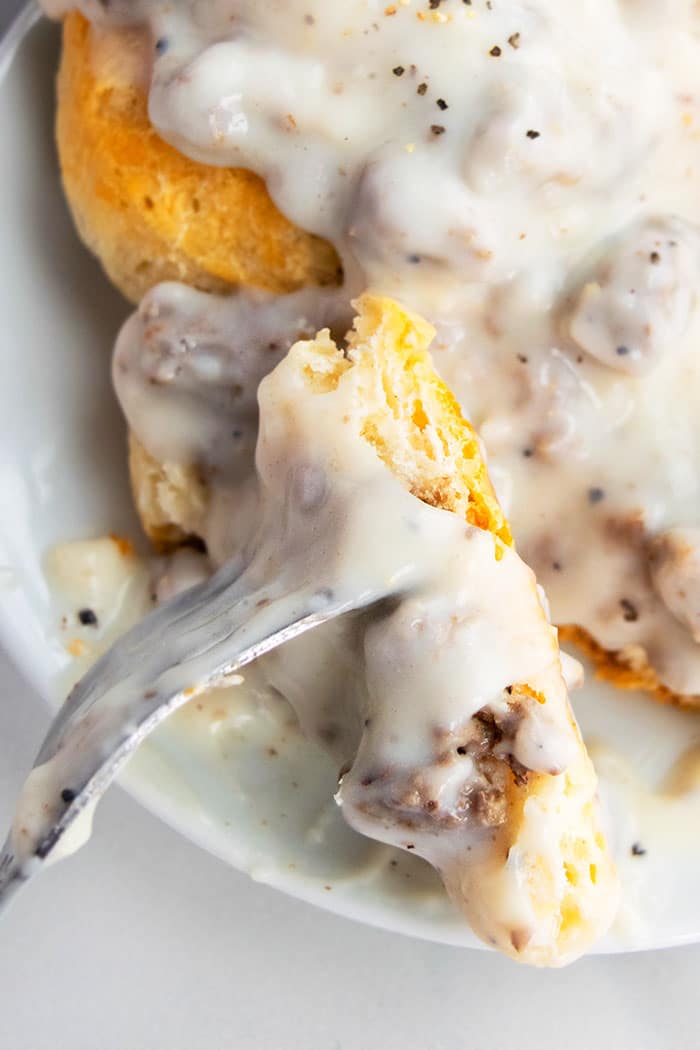 Variations
Turn it into a casserole– Make gravy according to directions, and pour into a greased 13 x 9 casserole dish. Then cover the top with refrigerated biscuits, and bake at 350 degrees for 10-12 minutes or until biscuits are golden brown and cooked through.
Make it spicy– Add red pepper flakes, diced jalapenos, green chiles, or even cayenne pepper for a spicy kick.
Add bacon– Cook it along with sausage or mix in cooked crumbled bacon at the end. It adds a wonderful smoky flavor and texture.
Add cheese– Such as shredded cheddar, Colby jack, Monterrey Jack, Pepper Jack, or mozzarella cheese to make it even more rich and creamy.
Add seasonings- Such as Italian, Cajun, or Mexican seasoning for a flavor twist.
Add herbs– Such as fresh dill, parsley, oregano, basil, cilantro or fennel.
Add mushrooms– Mix in diced mushrooms to make the gravy even more hearty.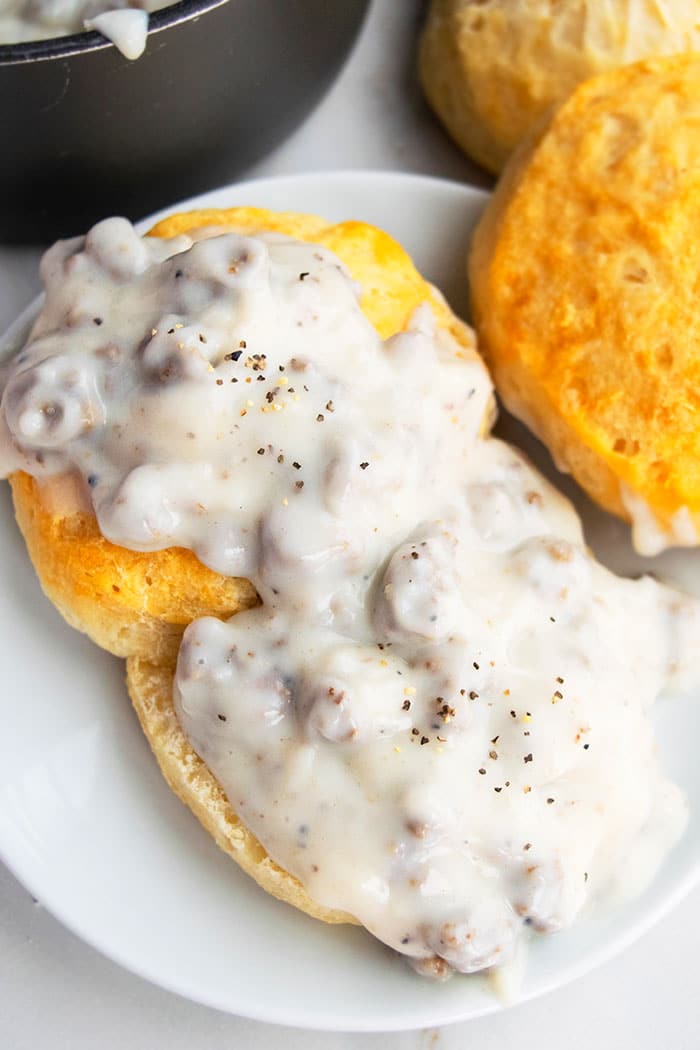 Tips and Techniques
Homemade biscuits vs. Store-bought biscuits– Either will work well in this recipe. Make them from scratch if you have time, or use store bought to save a few more minutes! Just make sure they are warm and freshly baked.
How to thicken gravy? Add more flour to thicken it.
How to make gravy thinner? Add small amounts of milk till you reach desired consistency.
What kind of sausage to use? I used ground pork sausage for this recipe but any type of sausage can work.
What milk to use? Whole, 2%, half and half, and heavy cream all work well because they contain enough fat. Vegan non-dairy milks can also work well such as unsweetened almond milk, coconut milk or even oat milk. However, the overall flavor does change, based on your milk choice.
How to store this dish? Can you freeze biscuits and gravy? You can store them separately in a sealed container in the fridge for up to 3 days. I don't recommend freezing them because they doesn't thaw well. The consistency and texture of the gravy changes and it breaks down. The biscuits obviously become soggy.
Make ahead instructions– You can make the gravy one day in advance and store it in the fridge. Prior to serving, reheat over stovetop with a splash of milk. The biscuits are best served fresh and warm. So, make them when you are ready to serve.
Can you make gravy with water instead of milk? No! Water does not add any richness or flavor to the overall dish. In order to make gravy the correct consistency and flavor you need the trio of fat, flour, and milk. Water can NOT be a substitute.
Should I drain the fat from the sausage? No, you need that fat to create the gravy plus it adds a lot of flavor! Leave it in the pan, and save yourself some clean-up time.
Can I pour the milk in all at once? No, make sure to pour it gradually so that it can develop the correct smooth texture with no lumps.
What type of flour to use? The best results come from all-purpose flour. Whole wheat flour can be used but it changes the color and flavor drastically.
Use nonstick pot or pan- Because this prevents sticking and burning.
More Sausage Recipes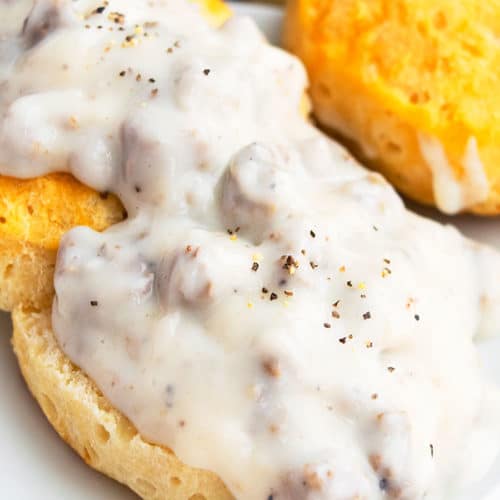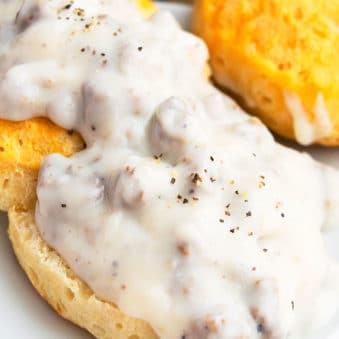 One Pot Gravy and Biscuits
Quick and easy biscuits and gravy recipe from scratch, homemade with simple ingredients in one pot over stovetop in 15 minutes. Rich and creamy!
Yield: People
Ingredients
Instructions
Heat butter a large nonstick pan over medium-high heat.

Add sausage, garlic, salt, pepper and cook until no longer pink.

Add flour and mix.

Pour milk gradually and stir everything together.

Continue cooking, while stirring until mixture is thick and smooth.

Serve over biscuits and enjoy!
Notes
Read all my tips above.
Leftovers can be stored in a sealed container in the fridge for up to 3 days and reheated in the microwave with a splash of milk.
Nutrition
Calories: 463kcal, Carbohydrates: 24g, Protein: 18g, Fat: 32g, Saturated Fat: 12g, Cholesterol: 77mg, Sodium: 822mg, Potassium: 416mg, Fiber: 1g, Sugar: 7g, Vitamin A: 373IU, Vitamin C: 1mg, Calcium: 158mg, Iron: 2mg
Happy cooking everyone!