Sausage and Rice (One Pot)
Quick and easy one pot sausage and rice recipe, made with simple ingredients on stovetop. This best 30 minute meal is spicy, smoky with Cajun seasoning, peppers and onions.
If you liked my One Pot Cajun Chicken and Rice, you are going to love today's recipe. This is also a great option, if you are looking to use up old, leftover boiled rice from a previous dinner. Typically, that's used in fried rice but it can be used here as well. This meal is also referred to as "dirty rice and sausage."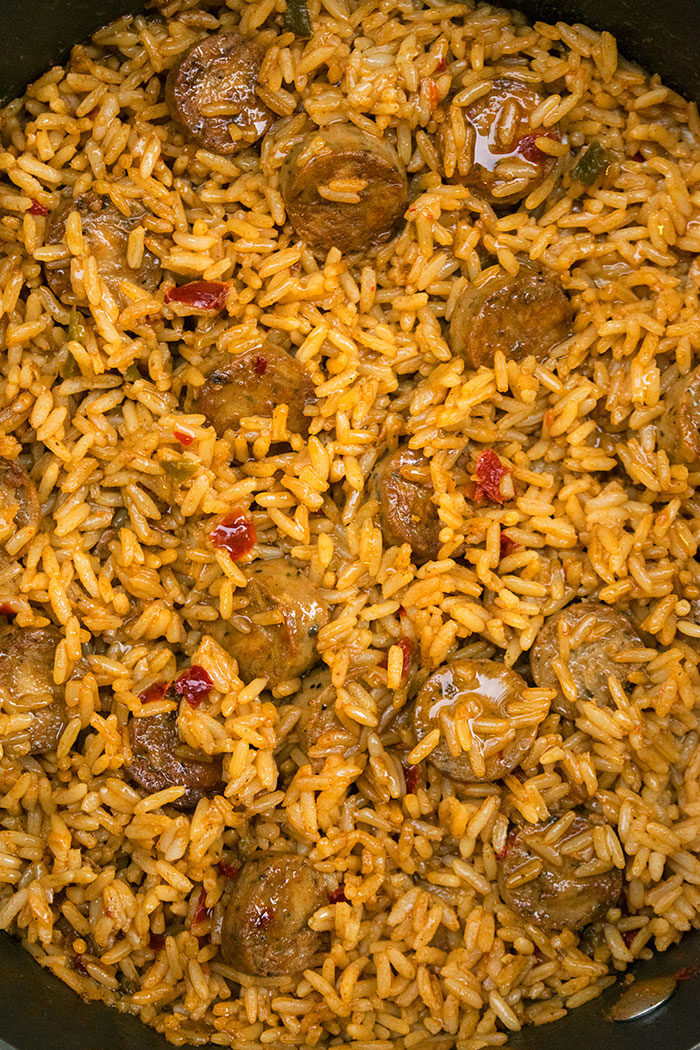 How to make sausage and rice recipes?
Heat oil and saute sausages and keep aside.
Saute onions, peppers and garlic.
Add broth, tomato paste, herbs and seasonings and bring to boil.
Mix in boiled rice.
Then, mix in the cooked sausages.
Garnish and you are done.
What to serve with sausage rice recipe?
The best side dish would be a simple green salad. You can also serve steamed or roasted vegetables such as: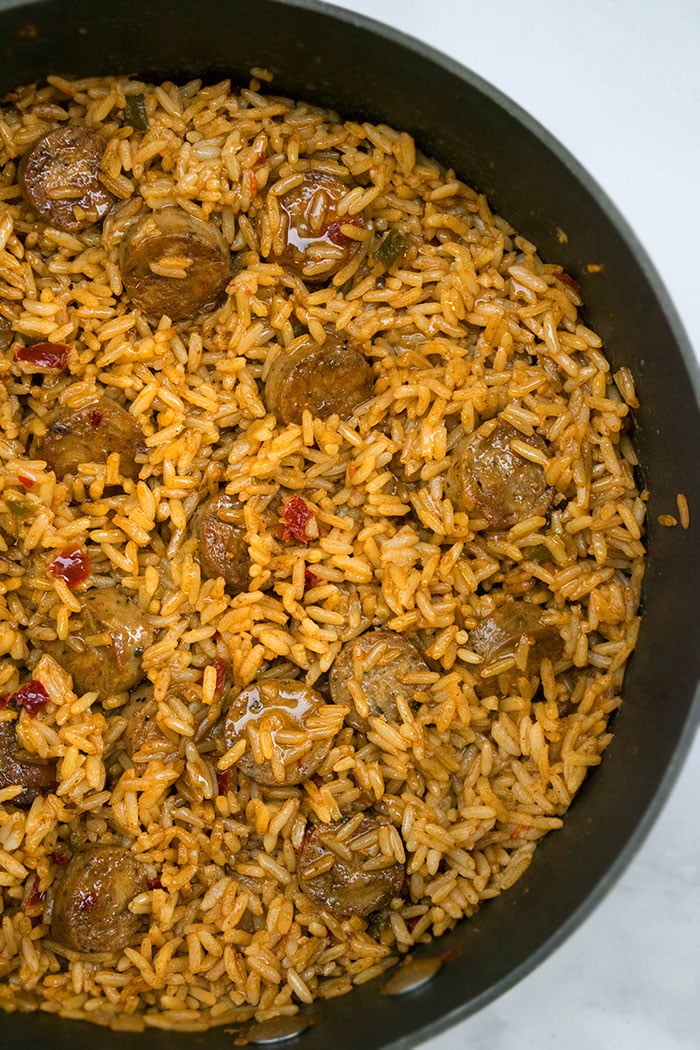 Tips and Techniques
Use wide nonstick pot- Because this prevents burning and sticking and the large/wide size allows even cooking and mixing. Some people even like to use a large skillet.
Use cooked rice- Don't use uncooked rice. You must use BOILED RICE. I like to use leftovers. They must be white rice. I tried brown rice and my family did not like it.
Use tomato paste– NOT tomato sauce. They are not the same thing. The paste is a more concentrated than sauce.
Adjust amount of seasonings- This is based on your preference. Add more or less of whatever you like/ dislike.
Garnish- I don't usually garnish because my son is fussy but you can garnish with finely chopped parsley, cilantro or green onions. It adds an additional subtle flavor.
Use low sodium broth– Because this prevents this dish from becoming to salty.
Adjust amount and variety of peppers– This is based on your preference too. You can add up to 1 cup peppers. Use a combination of red, yellow and green peppers. I finely chopped them because of a picky kid. Thin slices of all three peppers are wonderful and adults love it!
You can use ground sausage– You would cook it first until it's no longer pink and then, drain fat. The rest of the steps would be the same.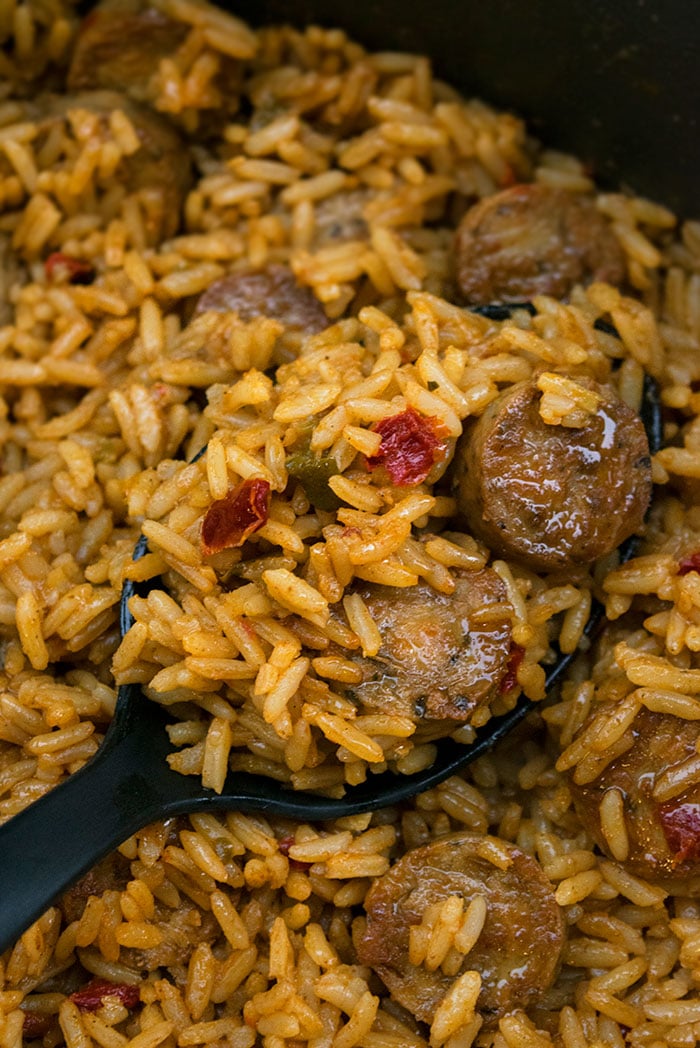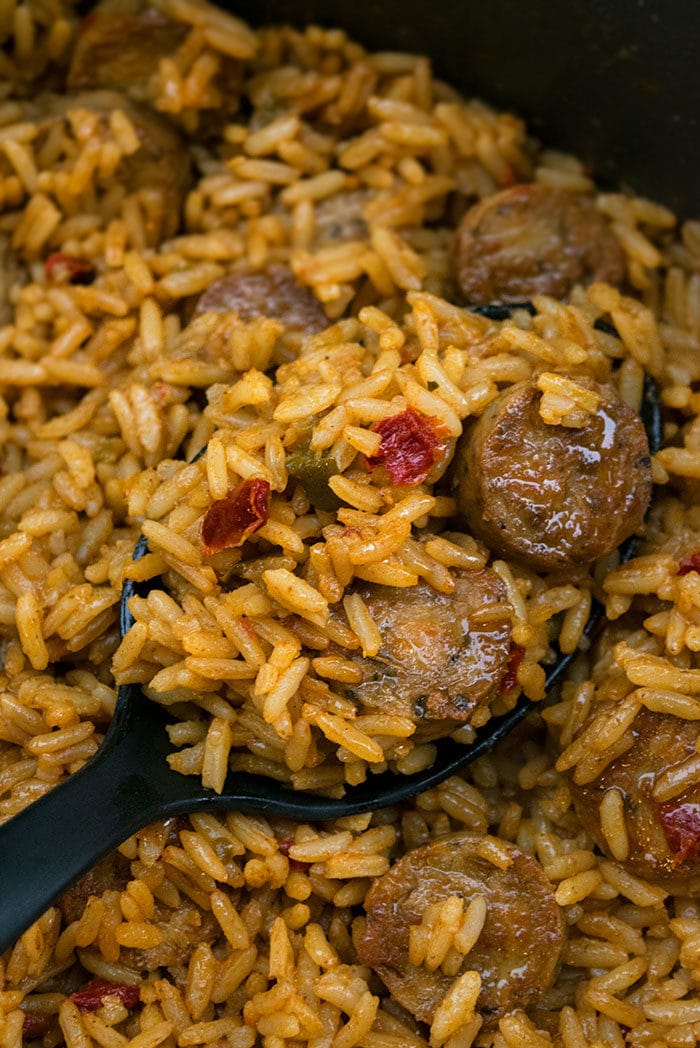 Variations
Make this meal vegetarian– Use veggie sausages and replace chicken broth with vegetable broth.
Red beans and rice with sausage– Mix in 1 cup canned red beans (drained and rinsed).
Sausage and rice casserole– Once everything is cooked, spread it in a casserole dish. Sprinkle lots of shredded cheese on top and bake at 375 degrees until cheese is melted and bubbly.
Get creative with spices- There are so many spice blends available in the market. For Mexican flavor, use taco seasoning. For Italian flavor, use Italian seasoning. I have heard some people even use ranch seasoning but I haven't tried that myself yet. For Asian flavor, use Chinese sauces like soy sauce, Worcestershire sauce e.t.c.
Try other types of sausage- There is a wide variety of sausages now with numerous flavors. Use whatever you like. Make sure they compliment the seasonings you are using. For example, use Italian sausage if you are using Italian seasonings e.t.c.
Make it spicy- Add finely chopped jalapenos or red chili flakes.
Add cheese- Sprinkle shredded mozzarella cheese (or any of your favorite cheeses) on top, prior to serving. The heat will melt it and make this meal very cheesy and ooey gooey.
Transform it into a soup- Add more broth to give it a more "soupy" consistency and adjust seasoning, as needed.
Other One Pot Sausage Recipes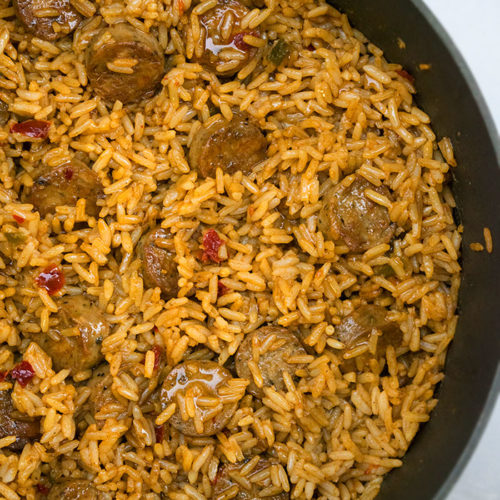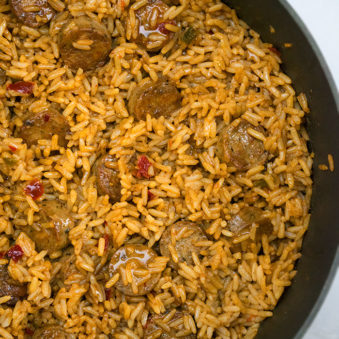 One Pot Sausage and Rice
Quick and easy one pot sausage and rice recipe, made with simple ingredients on stovetop. This best 30 minute meal is smoky with Cajun seasoning & peppers.
Yield: People
Ingredients
2 tbsp Oil
4 Smoked Andouille sausages, Sliced into small circles
3/4 cup Onion, Finely chopped
1/4 cup Green peppers, Finely chopped
1/4 cup Red peppers, Finely chopped
2 cloves Garlic, Finely minced
1 cup Chicken broth, Low sodium
3-4 tbsp Tomato paste
3-4 tsp Cajun seasoning
1 tsp Paprika
1/4 tsp Red chili flakes, Optional
Salt , To taste
Pepper, To taste
4 cups Cooked white rice, Leftovers
Instructions
Add sausages and sear it on both sides. Remove from pot and keep aside.

In the same pot, add onions, green and red peppers (optional), garlic and saute for a 3-4 minutes.

Add broth, tomato paste, Cajun seasoning, paprika, red chili flakes, salt, pepper and bring to a boil.

Reduce heat to medium-low and mix in the cooked rice.

Finally, add the cooked sausages and mix well.

Garnish with parsley or cilantro, if you like. Enjoy!
Notes
Read all my tips above.
Leftovers can be stored in a sealed container in the fridge for up to 2 days.
Nutrition
Calories: 535kcal, Carbohydrates: 53g, Protein: 19g, Fat: 26g, Saturated Fat: 6g, Cholesterol: 55mg, Sodium: 908mg, Potassium: 599mg, Fiber: 3g, Sugar: 4g, Vitamin A: 2315IU, Vitamin C: 48.7mg, Calcium: 47mg, Iron: 2.5mg
Happy cooking everyone!