Black Pepper Chicken (One Pot)
Quick and easy one pot black pepper chicken recipe, made with simple ingredients on stovetop. This 30 minute meal is spicy and inspired by Chinese flavors.
There is no marinading and no frying and there is no mess at all.
Moist and tender pieces of chicken are coated in a spicy gravy with Asian flavors.
Now, black pepper is obviously spicy and a decent amount of that is added in this recipe. So, you better like spicy food because this is not for the faint of heart.
Making this is just as easy as my Cashew Chicken (One Pot) or this Honey Sriracha Chicken (One Pot)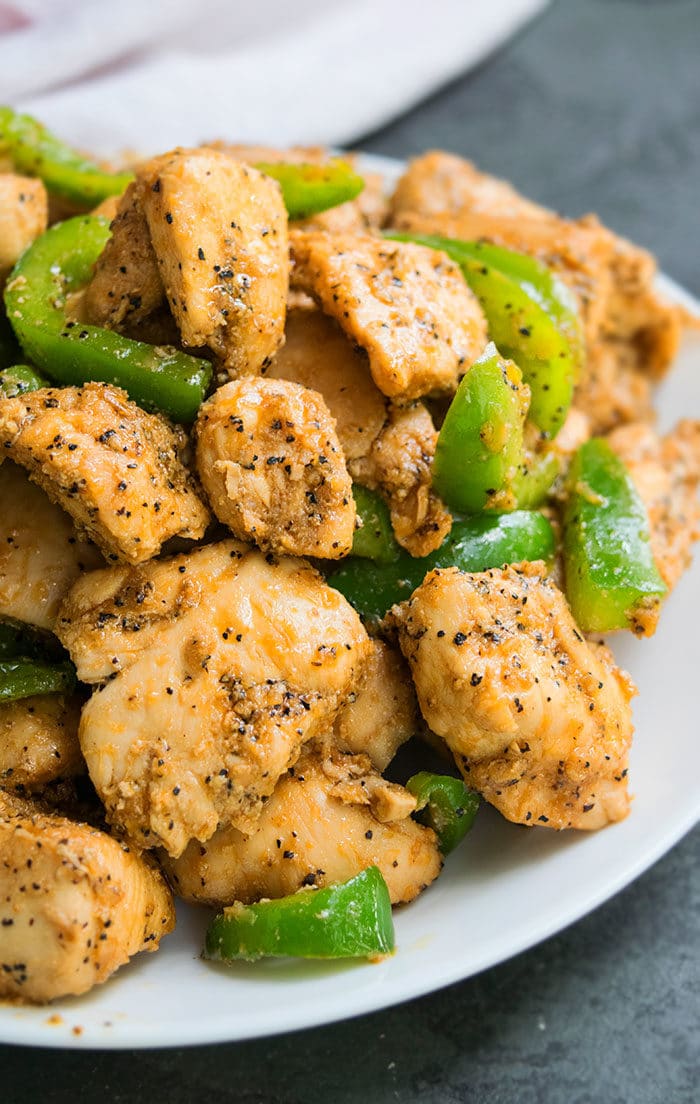 How to make Asian/ Chinese black pepper chicken?
Heat oil.
Saute ginger, garlic, onions.
Add soy sauce, oyster sauce, vinegar, black pepper, salt, red chili flakes, cornstarch, water and mix.
Cover and cook.
Then, add green peppers.
Cook uncovered until sauce thickens and you are done.
What to serve with panda express black pepper chicken stir fry?
Serve with Cauliflower Fried Rice (One Pot) or just regular vegetable fried rice. You can also serve a side of Asian Cucumber Salad (One Bowl).
If you are fond of pasta, serve with Sesame Noodles (One Pot).I suggest replacing regular noodles with very thin angel hair spaghetti because overall, it just works better for this meal.
You can also serve with quinoa or plain boiled rice. Jasmine rice is a great choice!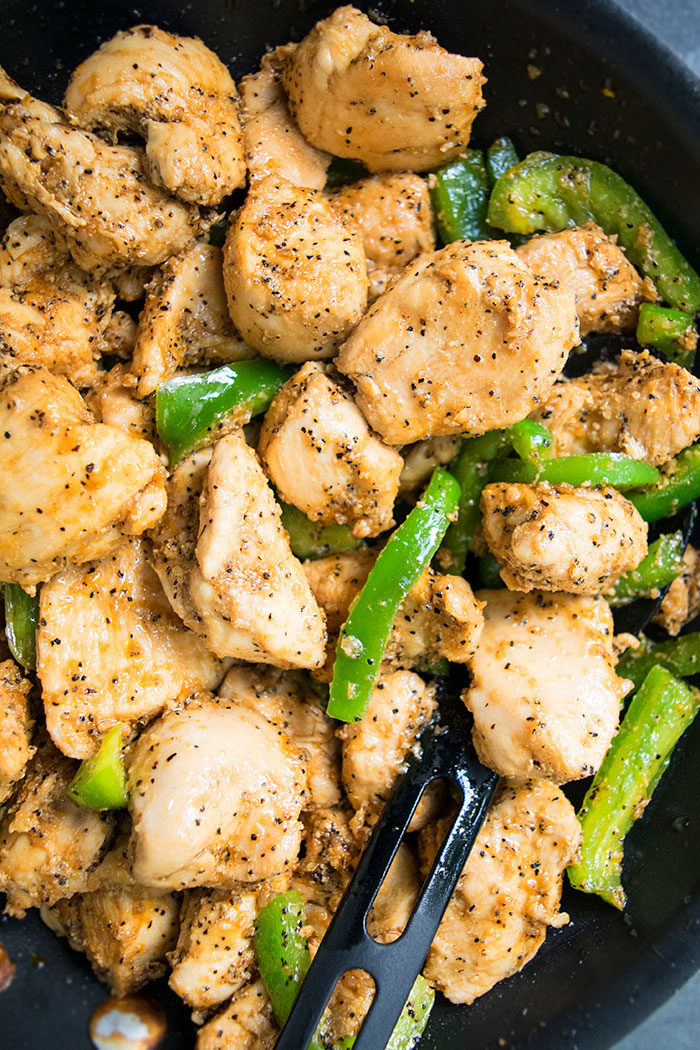 Tips and Techniques
-Use a non-stick pan or a non-stick wok to prevent sticking and burning.
-Use low sodium broth and soy sauce to prevent meal from becoming too salty.
-Don't omit sesame oil because even though it's a small amount, it adds a lot of flavor and aroma.
-Add green peppers near the end to prevent them from becoming too soft and soggy. You want them to be tender but firm.
-The amount of black pepper and red chili flakes can be adjusted, based on your preference.
-Other vegetables of your choice can be added such as celery, small broccoli florets, green beans e.t.c.
–Marinade– You can use all the ingredients in this recipe to marinate chicken wings, thighs, breasts, drumsticks to make black pepper grilled chicken.
–Dry gravy- Cook uncovered on medium heat, near the end to reduce and evaporate liquid until you have a thick gravy that's coating the chicken pieces. Don't reduce the liquid too much because that would make the chicken dry.
–Wet gravy– Add a little more broth or water and don't cook for too long near the end because that would evaporate and reduce the liquid.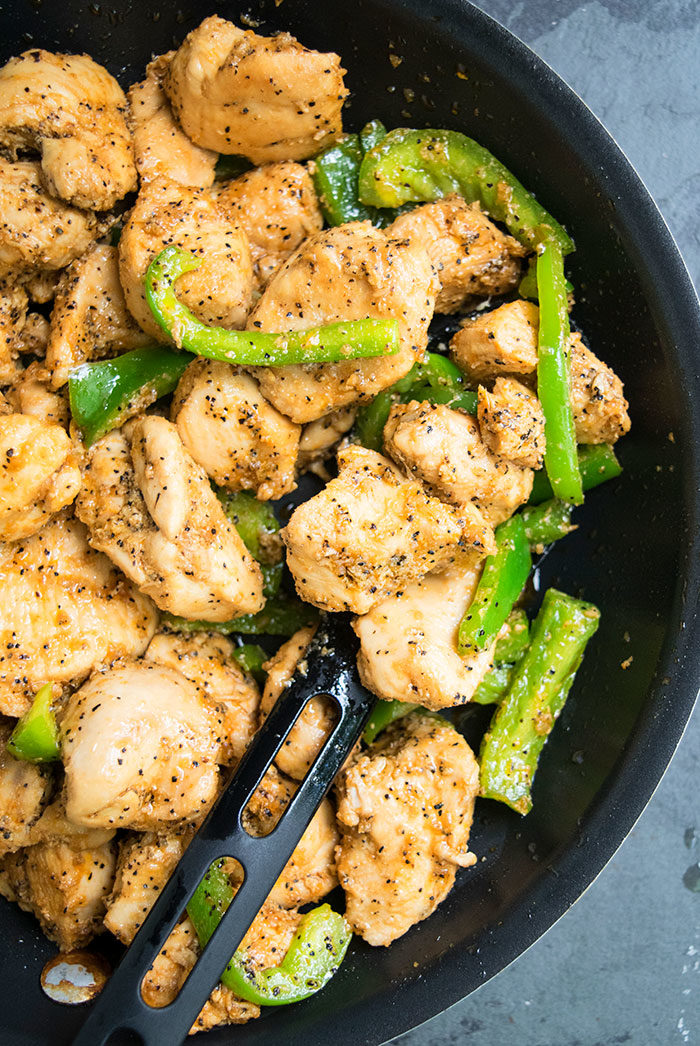 Other One Pot Chicken Recipes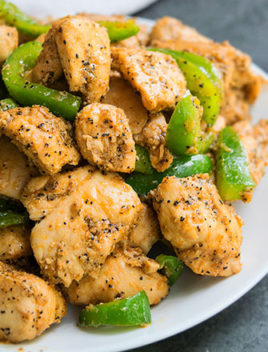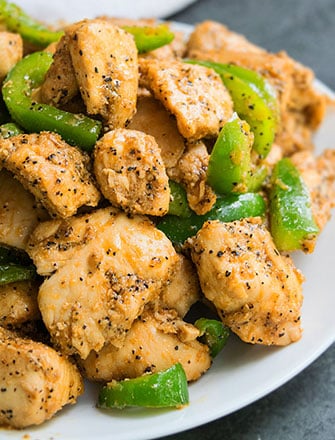 One Pot Black Pepper Chicken Recipe
Servings: 4 People
Course: Main Course
Cuisine: American, Chinese
Keyword: black pepper chicken
Calories: 234 kcal
Ingredients
2 tbsp Olive oil
2 tbsp Sesame oil
2 tbsp Onions Finely chopped
1 tbsp Ginger Finely minced
1.5 tbsp Garlic Finely minced
3 tbsp Soy sauce Low sodium
1 tbsp Oyster sauce Optional
1 tbsp Vinegar
1 tbsp Black pepper
Salt To taste
1/4 tsp Red chili flakes Optional
1 tbsp Cornstarch
3 tbsp Chicken broth Or water
1 pound Chicken breast Cut into 1 inch cubes
1 Green pepper Thinly sliced
Instructions
Heat oil in a nonstick pan over medium high heat.

Add onion, ginger garlic and saute until golden brown.

Add soy sauce, oyster sauce (optional), vinegar, black pepper, salt, red chili flakes, cornstarch and water. Mix thoroughly.
Note: You can dissolve the cornstarch in the broth or water and then pour that mixture into the pan but I usually don't do it.

Cover and cook for 10-12 minutes.

Uncover and cook on medium high heat so as to reduce the liquid a bit.

Add the green peppers and cook for about 2 minutes.

Serve with rice and enjoy!
Recipe Notes
Read all my tips above.
Leftovers can be stored in a sealed container in the fridge for up to 3 days. 
Nutrition Facts
One Pot Black Pepper Chicken Recipe
Amount Per Serving
Calories 234 Calories from Fat 90
% Daily Value*
Total Fat 10g 15%
Saturated Fat 1g 5%
Cholesterol 72mg 24%
Sodium 1116mg 47%
Potassium 541mg 15%
Total Carbohydrates 7g 2%
Dietary Fiber 1g 4%
Sugars 1g
Protein 26g 52%
Vitamin A 3.9%
Vitamin C 33.2%
Calcium 2.3%
Iron 5.8%
* Percent Daily Values are based on a 2000 calorie diet.
Happy cooking everyone!