Sesame Noodles Recipe (One Pot)
Quick and easy sesame noodles with Chinese flavors that's ready in less than 30 minutes on stovetop and makes a simple weeknight dinner. It's light but still very filling.
If I am ever short on time, these HEALTHY sesame noodles are what I mostly end up making for dinner.
Everything comes together so quickly and it's NOT too heavy like my other pasta recipes.
If you are fond of Chinese flavors, you need to give this meal a shot.
I love the subtle crunch from those sesame seeds… YUM!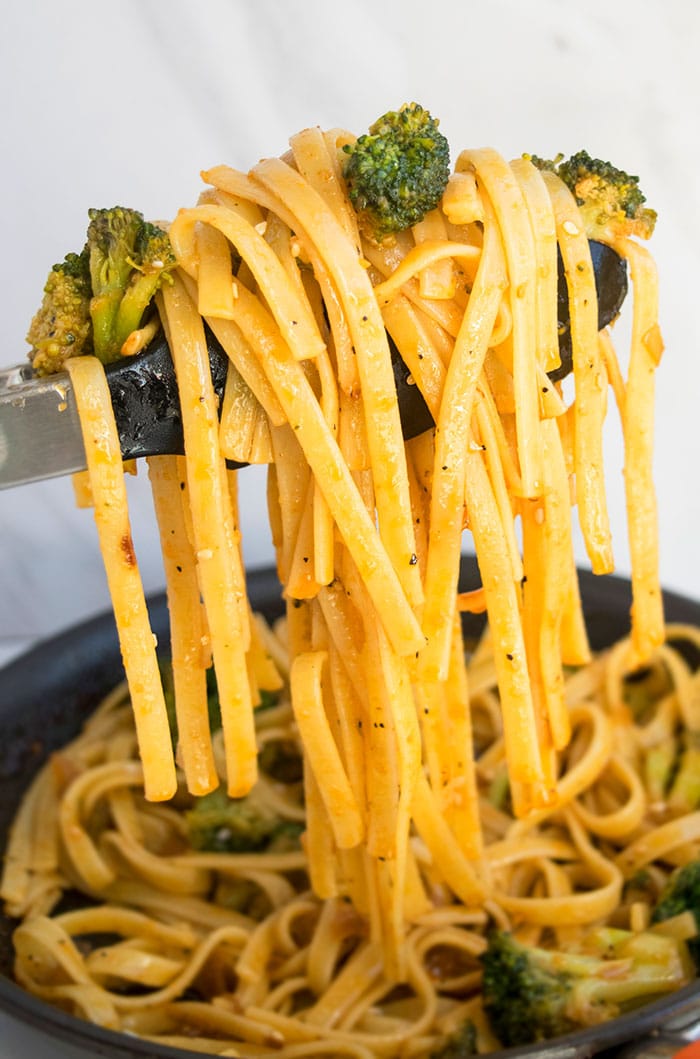 Here are some FLAVOR VARIATIONS you can try with these Chinese sesame noodles:
To make spicy sesame noodles, increase the amount of Sriracha and sprinkle some chili flakes, prior to serving.
To make tahini sesame noodles, add 1/4 cup in the noodles to give it creamy consistency and flavor (I don't like this too much but some of my friends love it!).
To make peanut sesame noodles, add 1/4 cup toasted peanuts in the noddles to give the meal a crunchy, nutty flavor. You can also enjoy leftover cold peanut sesame noodles next day for lunch.
To make sesame noodles with chicken and broccoli, add some shredded rotisserie chicken or cooked chicken cubes in this recipe along with small steamed broccoli florets.
I only used broccoli but you can make sesame noodles with vegetables of your choice. Make sure to use steamed vegetables that you can pick up in the frozen aisles at the grocery store because it's less work for you.
For sesame noodle salad, use bow tie pasta or mini shells along with all the other ingredients below and add toss in whatever veggies you like. Also, stir in lots of toasted sesame seeds and peanuts.
Here are some TIPS for making hot or cold sesame noodles recipe:
Use a NON STICK pot so that there is no sticking or burning.
DON'T omit sesame oil because even though it's a little amount, it adds so much flavor.
Be sure to use TOASTED sesame seeds because the flavor of the seeds gets enhanced by toasting plus the aroma is wonderful.
ADJUST the amount of sriracha, based on your preference. I know some people don't like too much spice in their food.
Use LOW SODIUM soy sauce so as to prevent this meal from getting too salty.
You can use whole wheat spaghetti to make this meal even HEALTHIER.
If you are using broccoli, make sure to use SMALL florets OR you can omit veggies altogether.

How to make sesame noodles?
Boil pasta and drain water. Return pasta to the same pot and add soy sauce, ginger, garlic, sriracha, vinegar, sesame oil, olive oil, salt, pepper, steamed veggies (if using them) and toss everything together. Garnish with green onions and sesame seeds and enjoy!
What to serve with sesame noodles?
You can serve the following sides:
Salad
Spring rolls
Wontons
Dumplings
Asian coleslaw
Steamed vegetables
What kind of noodles to use for sesame noodles?
You can use regular spaghetti, thin spaghetti, linguine or angel hair pasta.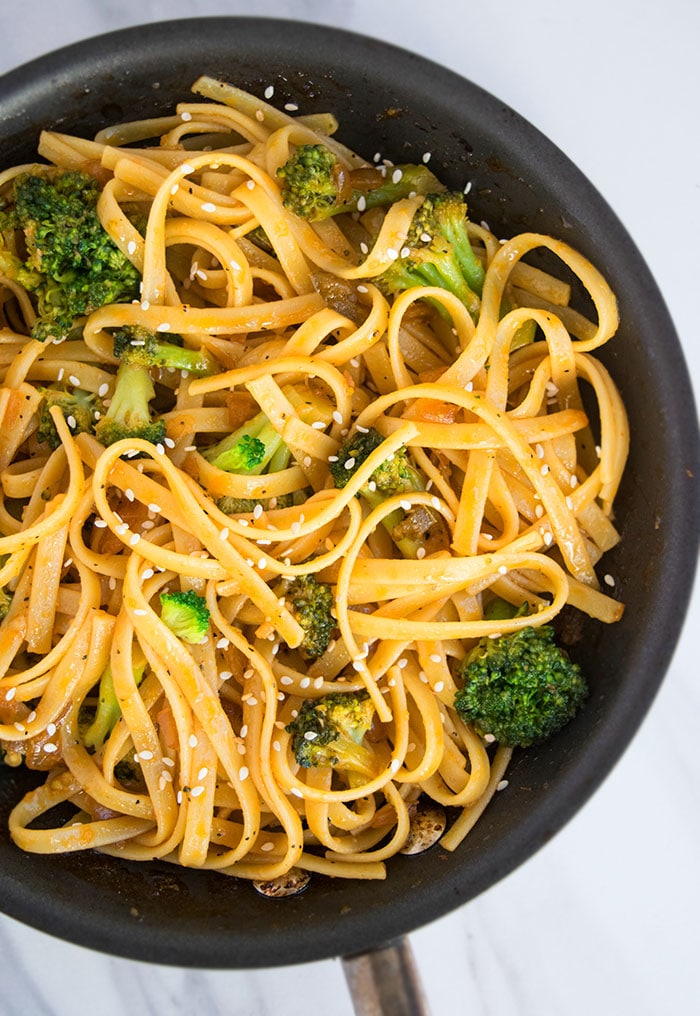 Well, that's all for today.
If you liked this Asian sesame noodles recipe, you may also like garlic chicken pasta (ADD LINK HERE)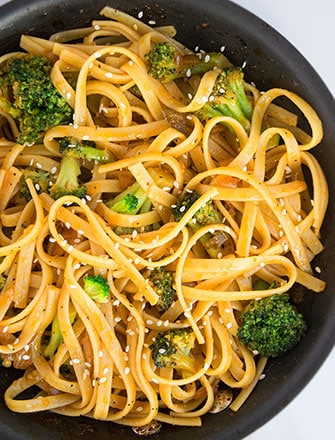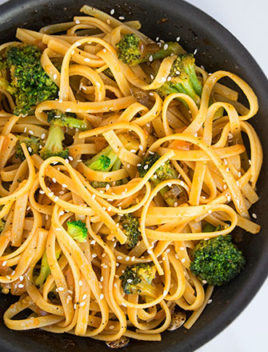 One Pot Sesame Noodles
Quick and easy sesame noodles with Chinese flavors that's ready in less than 30 minutes on stovetop and makes a simple weeknight dinner. It's light but still very filling.
Yield: Servings
Ingredients
16 oz Pasta, Linguine or Spaghetti
1/4 cup Soy sauce, Low sodium
2 tbsp Ginger, Grated
2 tbsp Garlic, Finely chopped
2 tbsp Vinegar, Preferably rice vinegar
2 tbsp Sesame oil
2 tbsp Olive oil
1 tbsp Sriracha , Or chili sauce
Salt, To taste
Pepper, To taste
1 cup Steamed broccoli , Small florets
1 tsp Sesame seeds, Toasted
Instructions
Cook pasta in salted water, according to package instructions. Drain the water and return the pasta the in the same pot.

Add soy sauce, ginger, garlic, vinegar, sesame oil, olive oil, sriracha, salt, pepper, steamed broccoli and toss everything together until pasta is fully coated.

Top off with toasted sesame seeds (and green onions, if you like) and enjoy!
Notes
Read all my tips above.
I think this tastes best when served immediately but you can store leftovers in a sealed container in the fridge for up to 2 days. The flavor gets deeper because it has a chance to soak into the noodles. 
Nutrition
Calories: 408kcal, Carbohydrates: 70g, Protein: 13g, Fat: 7g, Saturated Fat: 1g, Sodium: 773mg, Potassium: 251mg, Fiber: 3g, Sugar: 2g, Vitamin A: 15IU, Vitamin C: 3mg, Calcium: 31mg, Iron: 1.6mg
Happy cooking everyone!